Kale Apple Salad
I love this Kale Apple Salad, and if you haven't had raw baby kale in a salad you might be pleasantly surprised how good this is! I love the sunflower seeds, but use any nuts you prefer.
PIN Kale Apple Salad to try it later!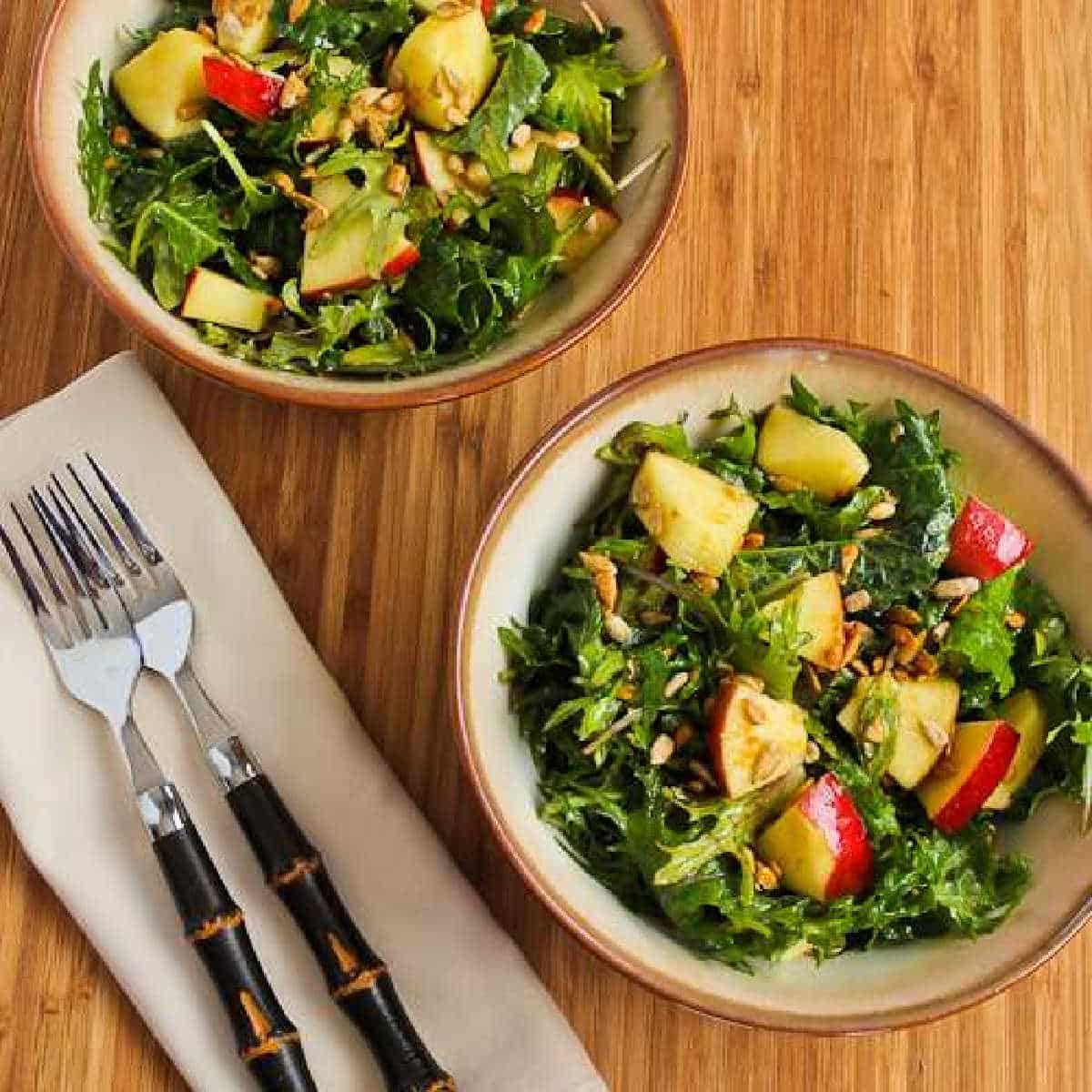 There's no doubt about it, I'm seriously smitten with the Earthbound Farm Baby Kale Mix that suddenly appeared at the Fresh Market store by my house. I've been buying it every time I see it at the store (and so is everyone else apparently, because about half the time they don't have any.) Making a salad with the raw baby kale was a snap and I loved this Kale Apple Salad so much!
This side dish salad couldn't be simpler; it's just raw baby kale, apples tossed in a lemon-Dijon vinaigrette, and crispy sunflower seeds adding a little crunch. The dressing for this is is slightly sweet, so maybe this would be a good one to try out on family members who are on the fence about raw kale.
What ingredients do you need for this recipe?
Do you have to use baby kale?
Although you could make this Kale Apple Salad with bigger leaves of kale, once the leaves get bigger some varieties of kale are pretty strong to be eaten raw. I've had good luck with Red Russian Kale in salads, so if you can't find the baby kale, I recommend that.
What if you don't have Sunflower Seeds?
If you're not a fan of sunflower seeds or don't have them on hand, you can use almonds, cashews, or any nuts you'd enjoy in a salad like this. I think pine nuts would be amazing if that's something you have on hand!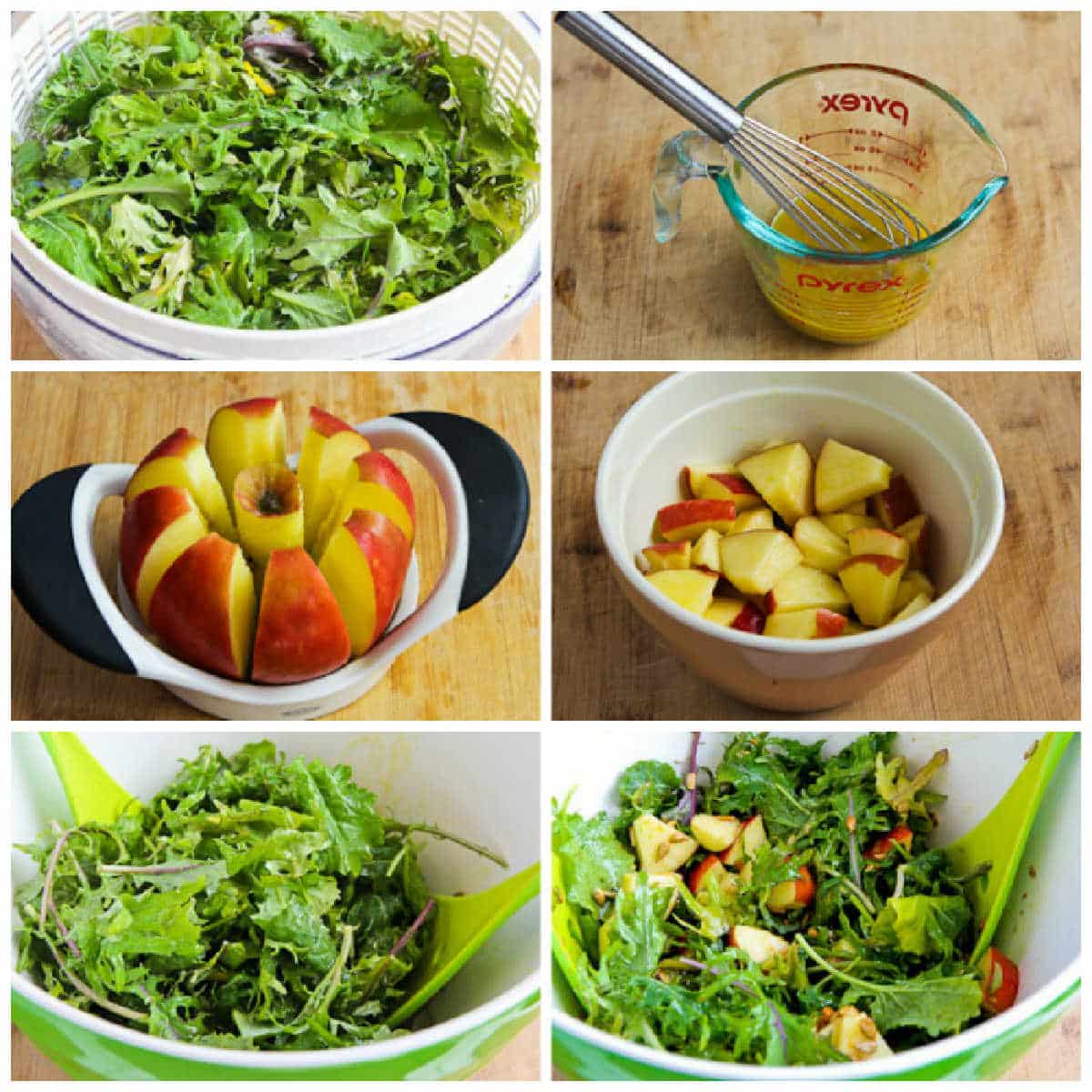 How to make a kale salad with apples:
(Scroll down for complete recipe with nutritional information.)
I used the small package of Earthbound Farm Baby Kale Mix, but use more kale if you prefer. I crisped the kale by giving a cold water bath in the salad spinner. Be sure to spin very dry so the salad doesn't get soggy.
Mix together the white balsamic vinegar (affiliate link), lemon juice, Dijon mustard, and Monkfruit Sweetener (affiliate link) or sweetener of your choice, and then whisk in the olive oil to make the dressing.
If you have this OXO Good Grips Apple Corer (affiliate link), it makes cutting up the apple a breeze.
After I cored and sliced the apple, I cut each section into chunks and then tossed it with about half the dressing. (The lemon in the dressing will keep the apples from turning brown, so be sure all the pieces are coated with dressing.)
Toss the baby kale with the rest of the dressing, or enough that it's well moistened. Then add the apples and sunflower seeds and toss again.
Serve right away and enjoy!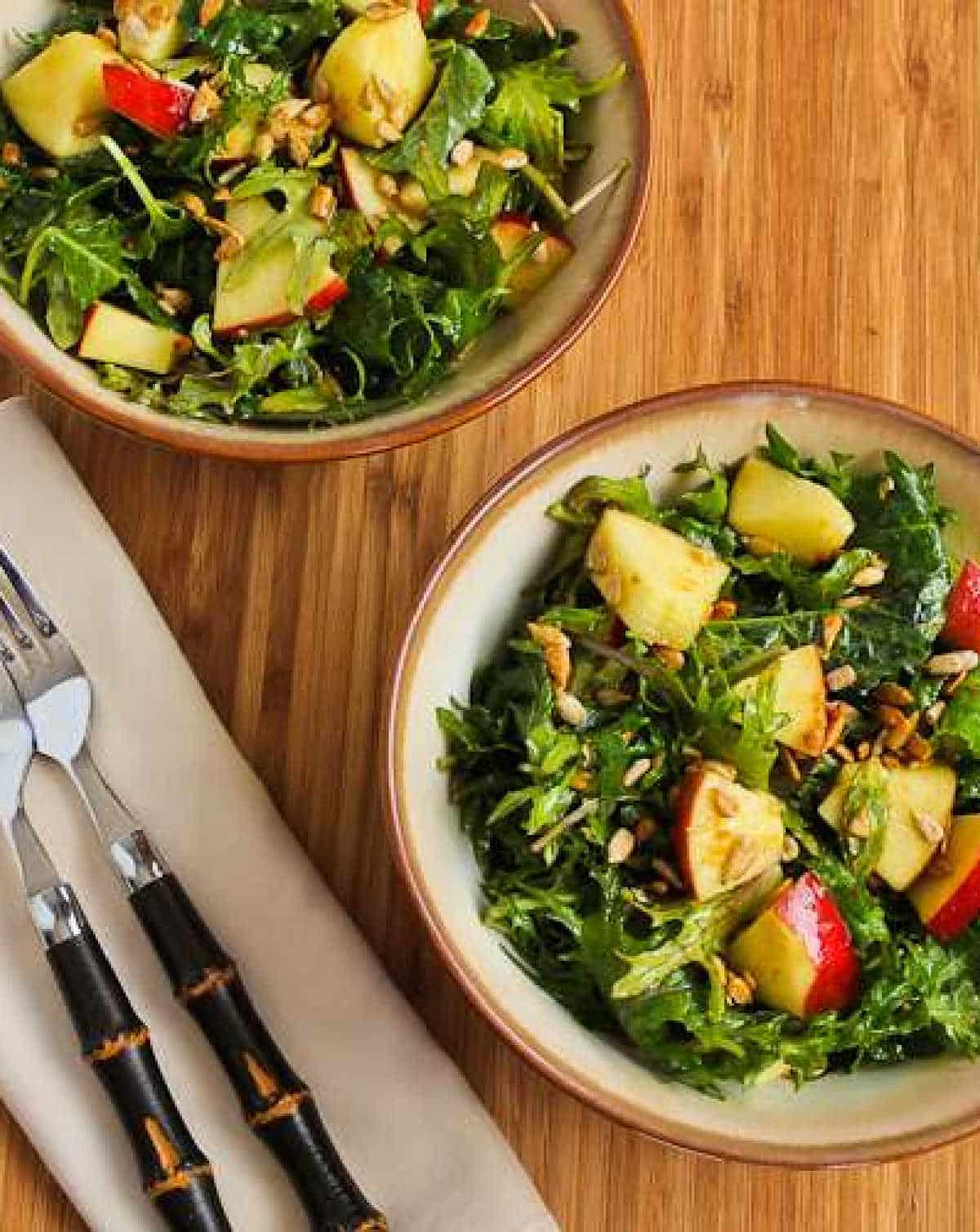 More Tasty Salads with Raw Kale: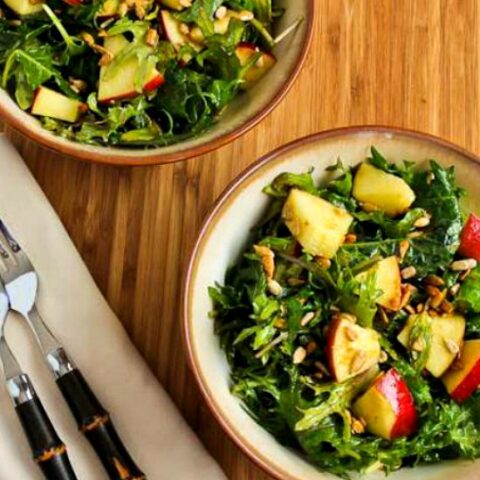 Yield: 4 servings
Kale Apple Salad
Prep Time 20 minutes
Total Time 20 minutes
I love this Kale Apple Salad, and if you haven't had raw baby kale in a salad you might be pleasantly surprised!
Ingredients
Salad Ingredients
5 oz. mixed baby kale leaves (or more)
1 large apple (see notes)
1/4 cup dry-roasted sunflower seeds (see notes)
Dressing Ingredients
2 tsp. fresh-squeezed lemon juice
2 tsp. Dijon mustard
2 tsp. Golden Monkfruit Sweetener or other sweetener of your choice
1 tsp. white balsamic vinegar (see notes)
2 T + 1 tsp. extra virgin olive oil
Instructions
If you can't find the mixed baby kale leaves I highly recommend Red Russian Kale for this salad instead of other kale varieties (I used Earthbound Farm Baby Kale Mix).
If using Red Kale, cut away the rib in each leaf and chop the kale into bite-sized pieces. The baby kale does not need to be chopped.
Whichever kale you use, if it is even a little bit wilted I would crisp it in a salad spinner (affiliate link) with very cold water and then spin dry (or dry with paper towels, until it's very dry.)
Mix together the white balsamic vinegar, lemon juice, Dijon mustard, and sweetener, and then whisk in the olive oil to make the dressing.
Core the apple, cut into slices, and cut each slice into chunks.
Put apple pieces in a small bowl and toss with about half the dressing, making sure each piece of the apple is coated with dressing.
Put the kale into a bowl large enough to hold all the salad, add the rest of the dressing and toss to coat. (If you don't like much dressing, you may not need it all.)
Add the apples coated with dressing and sunflower seeds and toss again.
Notes
I used a Honeycrisp apple, but any flavorful apple will work. Red apples will look prettier! Use any nuts of your choice.
I'd use Monkfruit Sweetener (affiliate link) for this recipe, but use any sweetener you prefer. White balsamic vinegar (affiliate link) will be perfect for this, but any mild white vinegar will work.
This was not bad after being in the fridge overnight, but next time I would only mix as much salad as I could eat at that time.  Refrigerate the extra kale and apples and dressing mixture separately and toss together with the sunflower seeds right before you're eating the leftovers.
Recipe created by Kalyn, probably with inspiration from this Kale and Apple Salad.
Nutrition Information:
Yield:
4
Serving Size:
1
Amount Per Serving:
Calories: 98
Total Fat: 5g
Saturated Fat: 1g
Trans Fat: 0g
Unsaturated Fat: 5g
Cholesterol: 0mg
Sodium: 557mg
Carbohydrates: 12g
Fiber: 3g
Sugar: 7g
Protein: 2g
Nutrition information is automatically calculated by the Recipe Plug-In I am using. I am not a nutritionist and cannot guarantee 100% accuracy, since many variables affect those calculations.
South Beach Diet / Low-Carb Diet Suggestions:
The use of apples in this Kale Apple Salad makes it limited for phase 2 or 3 of the original South Beach Diet, and it's important to use an approved sweetener if you're making it for South Beach. Even though it has fruit, when it's made with sweetener this salad is pretty low in carbs because there's only one apple in four servings; check the nutritional information and see what you think.
Find More Recipes Like This One:
Use Salad Recipes to find more recipes like this one. Use the Diet Type Index to find recipes suitable for a specific eating plan. You might also like to follow Kalyn's Kitchen on Pinterest, on Facebook, on Instagram, or on YouTube to see all the good recipes I'm sharing there.
Historical Notes for this Recipe:
This recipe was first posted in 2013. The recipe was updated with more information in 2022.
We are a participant in the Amazon Services LLC Associates Program, an affiliate advertising program designed to provide a means for us to earn fees by linking to Amazon.com and affiliated sites. As an Amazon Associate, I earn from qualifying purchases.