Spicy Grilled Eggplant (Video)
This Spicy Grilled Eggplant is a perfect summer side dish for anything that's cooked on the grill and red pepper sauce, parsley, and mint add to the flavor!
PIN the recipe to try it later!
I first made this Spicy Grilled Eggplant when I had a garden that was overflowing with eggplant, and I made it every summer for a while when I was growing eggplant. My brother Rand must have been visiting Utah regularly in those days, because this got to be his favorite way to cook eggplant, and he'd tell me he was making it it over and over! Now fast forward a few years, and since then I've had an eggplant recipe that became one of the most popular recipes on my blog. But sadly I had to buy eggplant at the store to make this favorite grilled eggplant again so I could take new photos. Next year I really want to try growing eggplant in the garden again!
Of course this spicy grilled eggplant is perfect for a meatless dinner, but this spicy eggplant is also a fabulous side dish for anything cooked on the grill! I know eggplant is a tough sell for some people, but for years I've been saying give grilled eggplant a chance, and I promise that this spicy eggplant is really delicious.
What ingredients do you need for this recipe?
globe eggplant
salt, to remove water from eggplant
olive oil
chopped parsley
chopped fresh mint
red wine vinegar
fresh lemon juice, I used my fresh-frozen lemon juice
Minced Garlic (affiliate link) from a jar or minced fresh fresh garlic
Aleppo Pepper (affiliate link) (or less, to taste; see notes)
Spike Seasoning (affiliate link) or other all-purpose seasoning blend
What is Aleppo Pepper?
Aleppo Pepper is a type of mild red dried chile pepper that comes from Aleppo, Syria. It's used all over the middle east as a flavor-enhancing addition to many dishes.
How spicy is this spicy eggplant?
You'll want to adjust the amount of spicy red pepper to your personal preference, and the one teaspoon of Aleppo pepper I used in the original recipe is pretty spicy for me now. Maybe it's because I had fresh Aleppo Pepper that I bought in Istanbul! You can also use regular red pepper flakes, or use a smaller amount of Cayenne Pepper (affiliate link).
Want more ideas for vegetables on the grill?
Check out Low-Carb and Keto Grilled Vegetables for more tasty options for vegetables on the grill. You can use Eggplant Recipes to see all the ideas with eggplant on my site.
How to make Spicy Roasted Eggplant:
(Scroll down for complete recipe with nutritional information.)
Cut the eggplant into slices about 3/4 inches thick; lay the slices out on paper towels, sprinkle with salt, and let water drain out for about 20 minutes.
Then turn the eggplant over, salt the other side, and let more water drain out.
Then press down on the eggplant pieces with paper towel to absorb the liquid.
While the eggplant drains, chop the mint and parsley, and mix the spicy sauce.
Preheat the grill to medium high, and brush both sides of the eggplant slices with a little olive oil.
Grill eggplant pieces about 4-5 minutes per side, rotating them after a few minutes if you want to get those criss-cross grill marks.
When the eggplant is done, put in a glass baking dish and spoon a little sauce over each piece. Let the eggplant sit for 10-15 minutes to absorb the sauce.
Serve warm or room temperature, sprinkled with the chopped mint and parsley.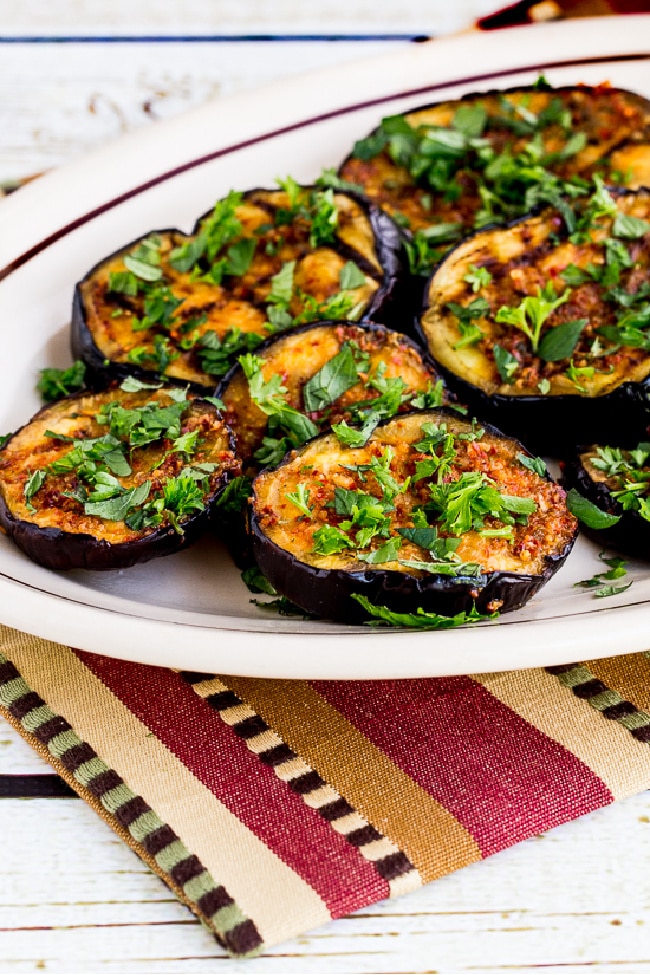 Make it a Low-Carb Meal:
Grilled eggplant would be great with Effie's Cottage Cheese Salad with Za'atar for a low-carb meatless meal. Or just serve with Feta cheese, Kalamata olives, and Mary's Perfect Salad for a light low-carb meal.
More Delicious Recipes for Eggplant:
Spicy Grilled Eggplant and Zucchini Salad
Grilled Eggplant with Feta and Herbs
Julia Child's Eggplant Pizzas
World's Easiest Grilled Vegetables
Yield: 4 servings
Spicy Grilled Eggplant
Prep Time 1 hour
Cook Time 10 minutes
Total Time 1 hour 10 minutes
This Spicy Grilled Eggplant is a perfect when you have eggplant in the garden, but this is so delicious it's worth buying eggplant to make it.
Ingredients
Ingredients
1 large globe eggplant (see notes)
2 tsp. salt, to remove water from eggplant
2 T olive oil, to brush eggplant for grilling
2 T chopped parsley (see notes)
2 T chopped fresh mint (see notes)
Spicy Sauce Ingredients
2 T olive oil
2 tsp. red wine vinegar
2 tsp. fresh lemon juice
1 tsp. garlic puree (from a jar) or finely minced fresh garlic
1 tsp. Aleppo Pepper (or less, to taste; see notes)
1 tsp. Spike Seasoning (optional, but highly recommended)
Instructions
Remove stem end and wash eggplant, but do not peel.
Cut eggplant into slices about 3/4 inch (2 cm) thick, being careful to make all slices the same thickness.
Arrange eggplant in single layer on double-thick paper towels and sprinkle with salt.
Let liquid ooze out for 20 minutes, then turn over and sprinkle other side with salt and let drain 20 minutes more.
While eggplant drains, whisk together olive oil, red wine vinegar, lemon juice, garlic puree, Aleppo Pepper (affiliate link), and Spike Seasoning (affiliate link). Chop mint and parsley.
Preheat gas or charcoal barbecue grill to medium high. (You can only hold your hand there for 3-4 seconds at that heat.)
After the second 20 minutes has finished, cover the eggplant pieces with another layer of paper towels and press down with your hands to squeeze out water.
Wipe eggplant dry. Lay them out on a baking sheet (or paper towels) and brush both sides with olive oil.
Place eggplant on grill and cook 4-5 minutes per side, rotating after a few minutes on each side if you want to get nice grill marks. Watch them carefully because they go from nicely browned to overly dark quite quickly.
When eggplant is done, remove from grill and place in a single layer in a baking dish (or use the same baking sheet you used to oil them.)
Spoon some of the spicy sauce over each piece of eggplant, and let sit 10-15 minutes so eggplant can absorb sauce flavors.
To serve, assemble eggplant on serving plate and sprinkle with mint and parsley.
Serve warm or at room temperature.
Notes
You can also use or 2 small eggplants or 2-3 long Asian eggplants. Asian eggplants don't need to be salted. Cut Asian eggplant on the diagonal to get bigger slices. You can use all mint or parsley if you don't have both, and you can use more herbs if you prefer. Use whatever kind of red pepper flakes you have. I would start with a small amount and taste before you add all the red pepper.
Adapted from a recipe in Williams-Sonoma Complete Grilling Cookbook.
Nutrition Information:
Yield:
4
Serving Size:
1/4 of recipe
Amount Per Serving:
Calories: 185
Total Fat: 14g
Saturated Fat: 2g
Unsaturated Fat: 11.5g
Cholesterol: 0mg
Sodium: 1140mg
Carbohydrates: 16g
Fiber: 4.7g
Sugar: 5.61.7g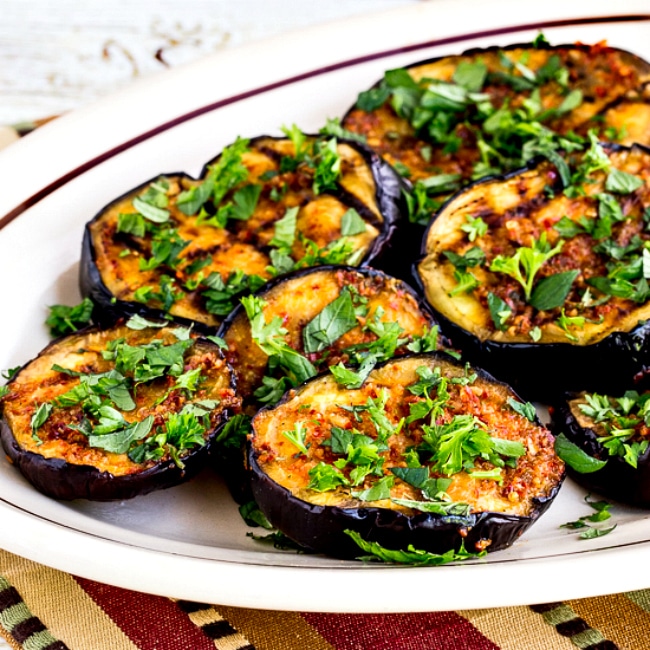 Low-Carb Diet / Low-Glycemic Diet / South Beach Diet Suggestions:
Spicy Grilled Eggplant is a good side dish for any low-carb diet, including any phase of the original South Beach Diet.
Find More Recipes Like This One:
Use Eggplant Recipes or Side Dishes to find more recipes like this one. Use the Recipes by Diet Type photo index pages to find more recipes suitable for a specific eating plan. You might also like to Follow Kalyn's Kitchen on Pinterest to see all the good recipes I'm sharing there.
Historical Notes for this Recipe:
This recipe was first posted in 2007 when I had lots of eggplant in my garden. I've been making it ever since and the recipe was last updated in 2021.
We are a participant in the Amazon Services LLC Associates Program, an affiliate advertising program designed to provide a means for us to earn fees by linking to Amazon.com and affiliated sites. As an Amazon Associate, I earn from qualifying purchases.