Low-Carb and Keto Eggplant Recipes
Summer is prime eggplant season, and here are 26 amazing Low-Carb and Keto Eggplant Recipes from food blogs around the web. If you haven't cooked with eggplant much, I'm urging you to give eggplant a chance!
PIN the Eggplant Recipes to try some later!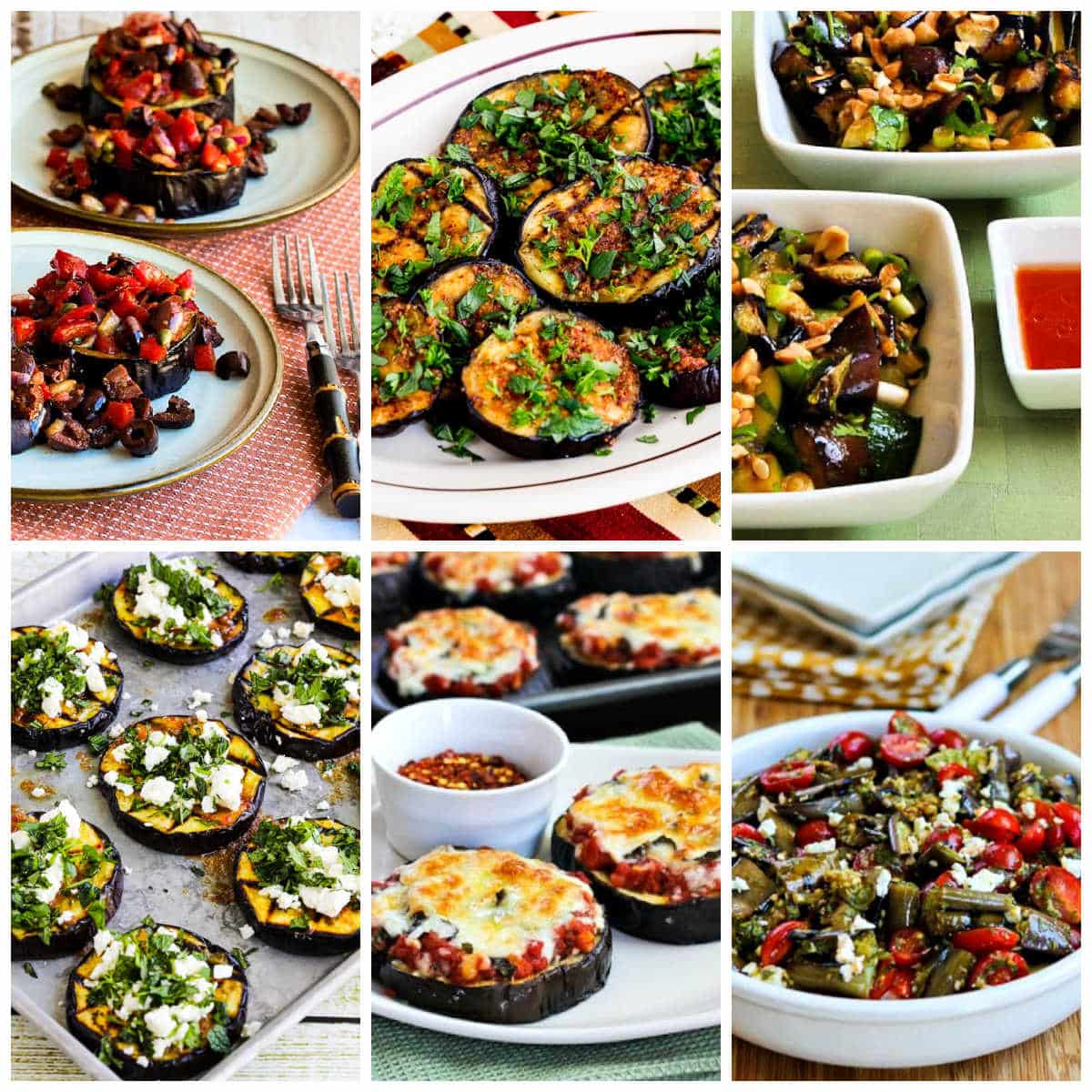 We're in prime summer garden season in Utah, and zucchini recipes have been getting the spotlight. But another veggie that's abundant during summer garden season is eggplant, and I've been a huge eggplant fan ever since I started growing it in my garden. I'm especially fond of grilled eggplant, but through the years I've also made roasted eggplant dishes and eggplant stir-fries that got gobbled up pretty quickly!
This collection has twenty-six amazing Low-Carb and Keto Eggplant Recipes from Kalyn's Kitchen and other great blogs around the web, and there are endless ways to prepare eggplant here. If you're not an eggplant fan (yet!) I hope one of these Keto eggplant recipes might tempt you to try some eggplant.
Is Eggplant good for low-carb diets!
Eggplant is a perfect ingredient for carb-conscious eating, and it's always included on any list of low-carb vegetables. It's not only low in carbs, but also high in fiber, and loaded with nutrients.
What Keto Eggplant Recipes are featured here?
In this round-up you'll find low-carb recipes for grilled eggplant, roasted eggplant, eggplant stir-fries, Eggplant Parmesan, eggplant salads, eggplant pizza, fried eggplant, eggplant patties, and more!
How do you get the complete recipe?
Just click any recipe name to see the full recipe on the original blog. All photos are copyrighted to the blog that posted the recipe.
Want more eggplant recipes?
Use Eggplant Recipes to see all the recipes with eggplant on this site.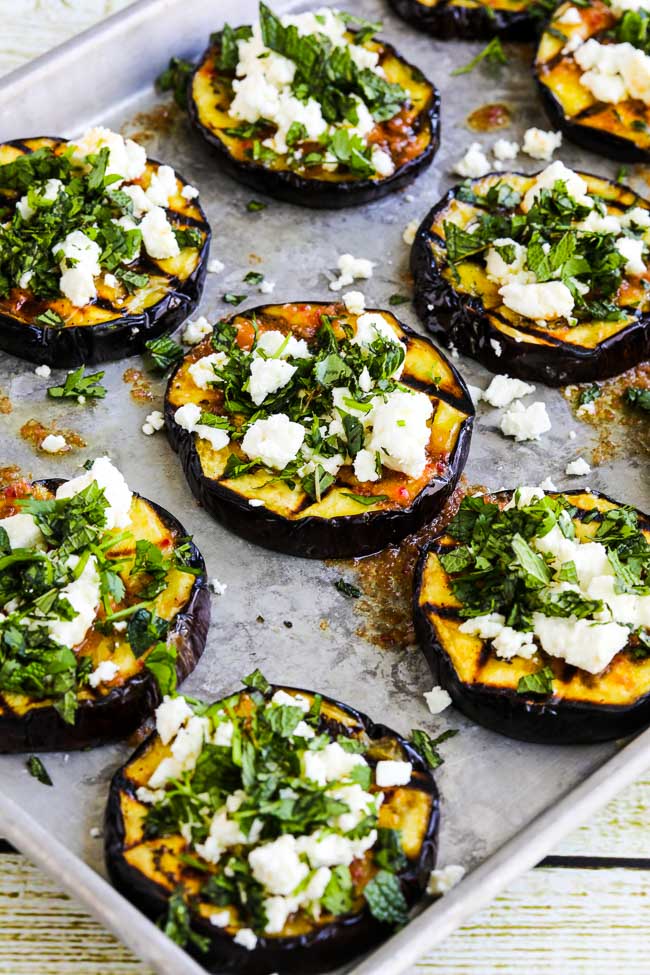 Grilled Eggplant with Feta and Herbs from Kalyn's Kitchen is one of my favorite grilled vegetable recipes.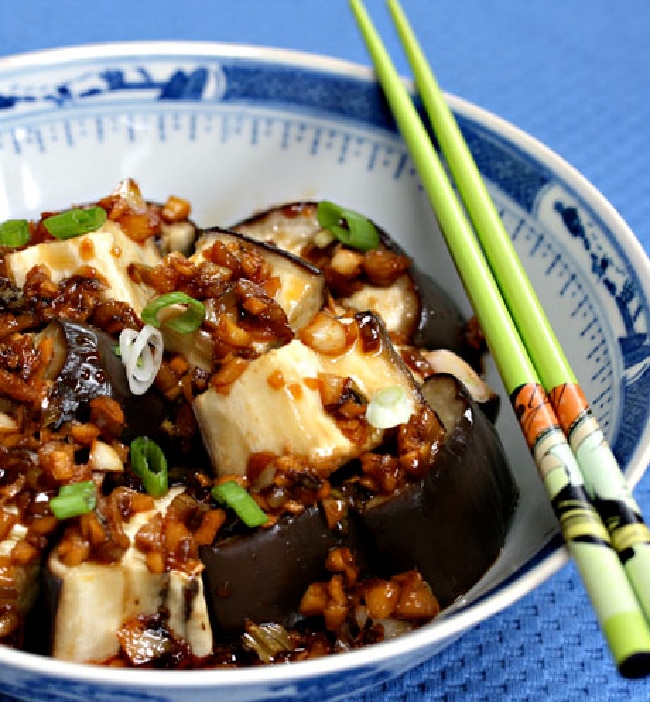 Just replace use an approved sweetener in place of the small amount of sugar in this Cold Aubergine Salad from The Perfect Pantry and it will be a perfect low-carb dish.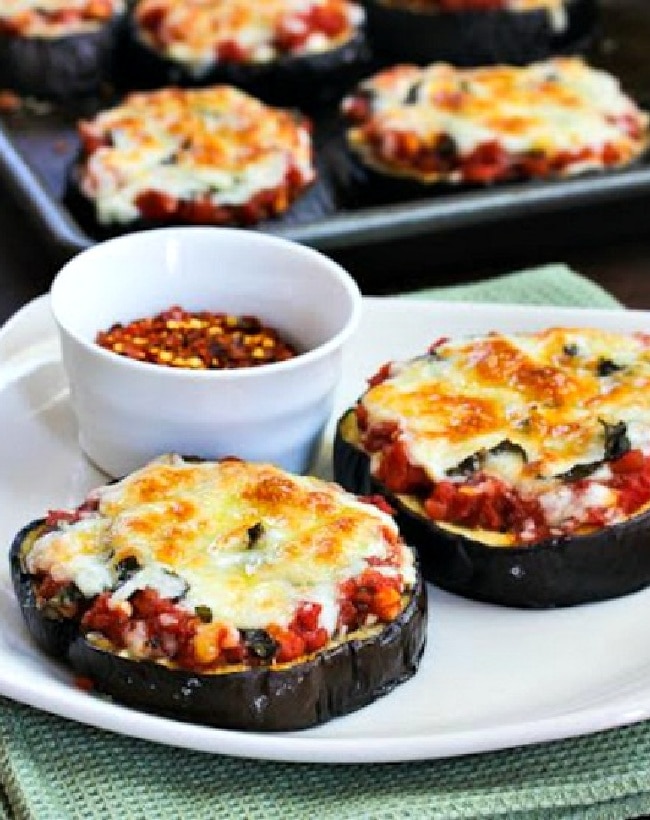 Julia Child's Eggplant Pizza from Kalyn's Kitchen is a recipe that's been hugely popular.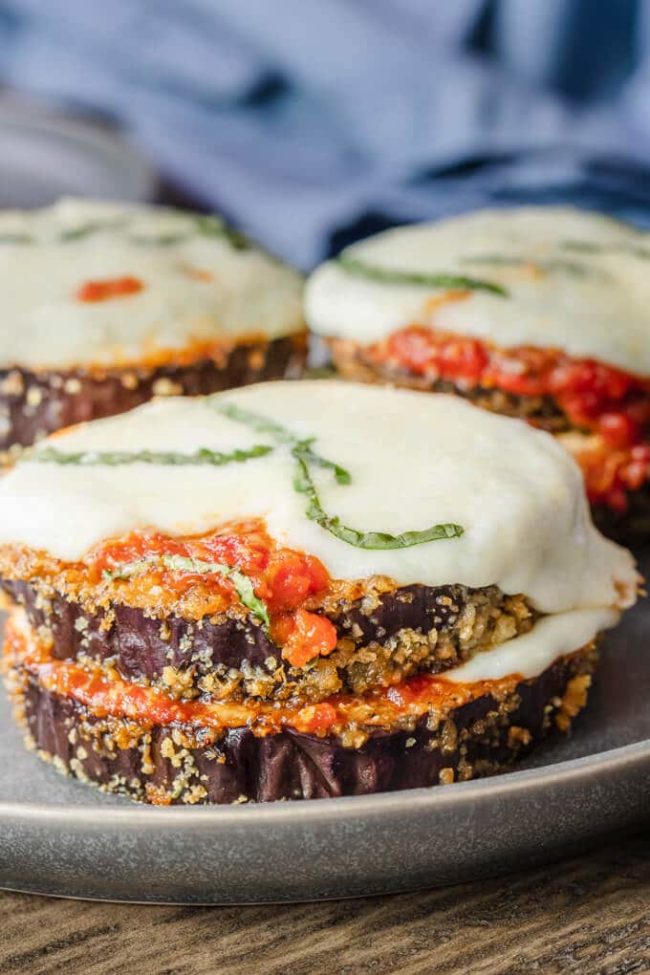 These Keto Eggplant Parmesan Stacks from Low-Carb Maven are a dish that's inspired by Chicken Parmesan, and personally I think this looks amazing!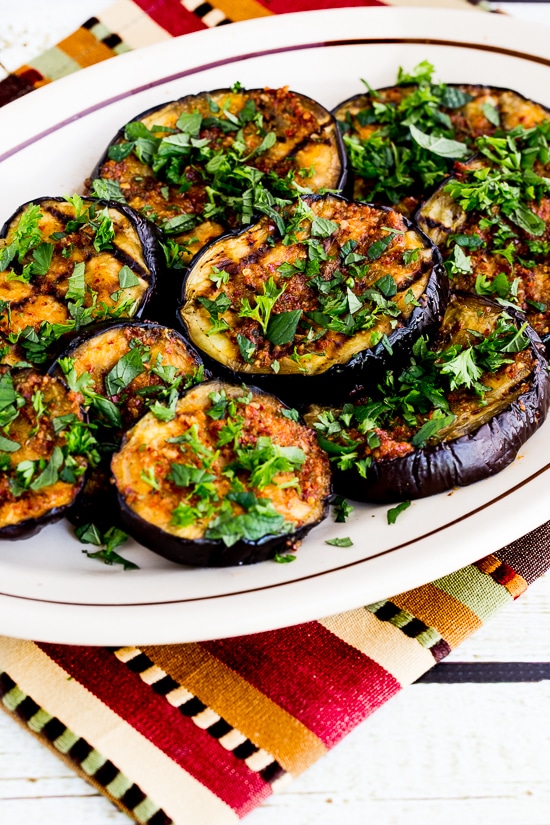 Grilled Spicy Eggplant from Kalyn's Kitchen is a huge favorite of my brother Rand, and you could cook this on a stove-top grilling pan when it's not grilling weather. I know Rand would do that!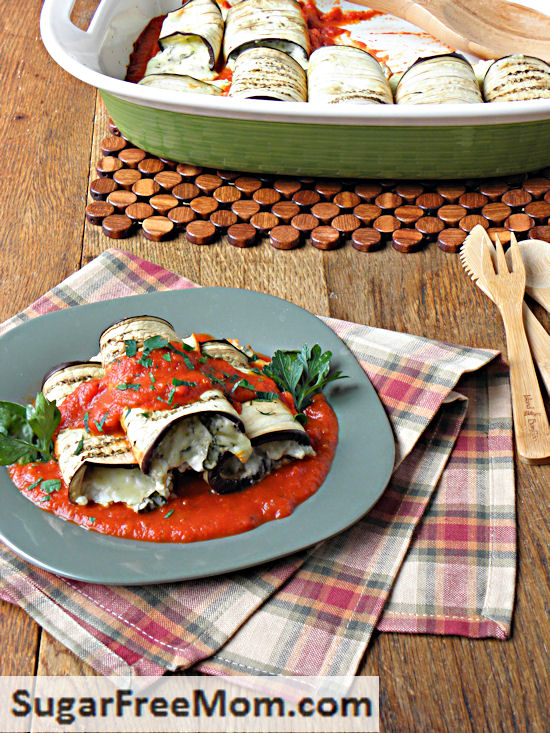 There's no need for pasta with these Baked Stuffed Three Cheese Eggplant Rollups from Sugar Free Mom!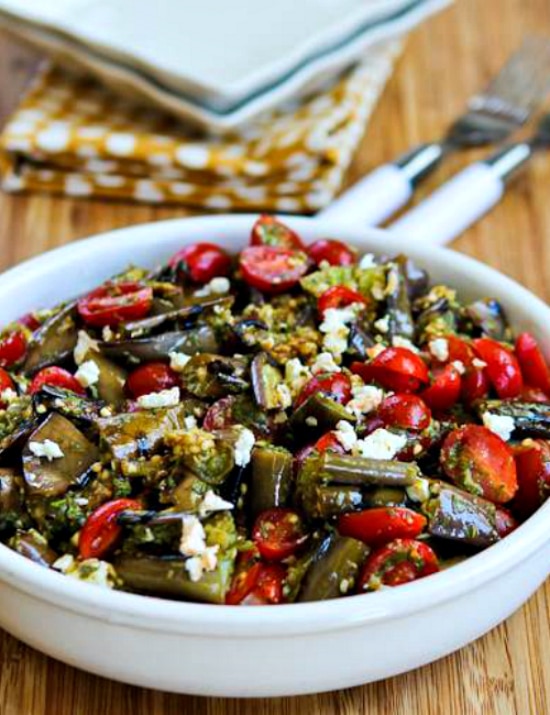 The sauce with basil, parsley, and capers is amazing on this Grilled Eggplant Salad from Kalyn's Kitchen. And there are tomatoes and Feta too!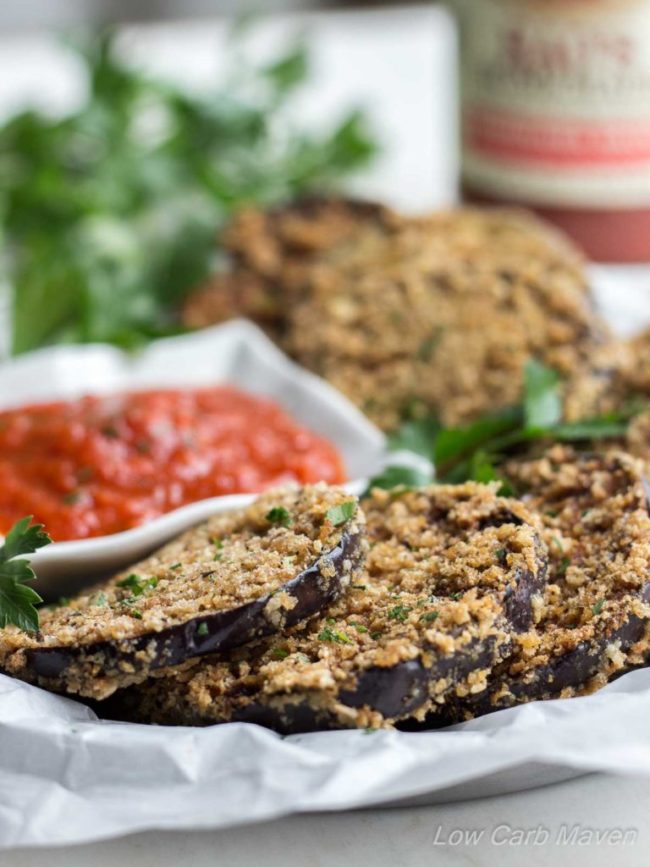 Crispy Fried Eggplant Rounds from Low-Carb Maven use pork rinds for the crispy coating.
Anyone who loves Thai food will like this Thai Eggplant and Zucchini Salad from Kalyn's Kitchen.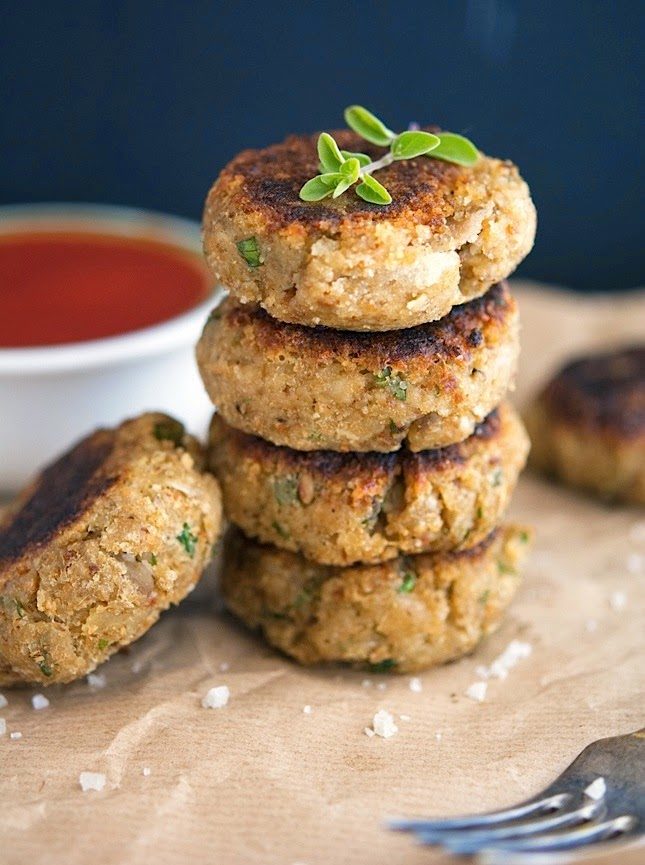 The Best Eggplant Patties from The Iron You have no eggs or breadcrumbs; they're held together with sharp cheese which sounds yummy to me!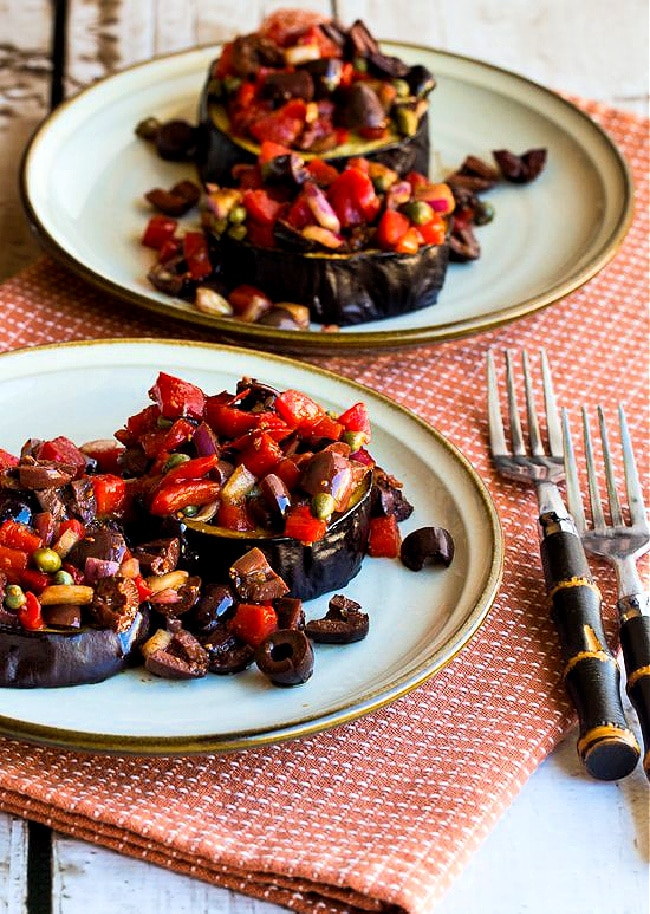 Mediterranean Eggplant from Kalyn's Kitchen has roasted eggplant slices topped with Mediterranean salsa, and this is great for a low-carb vegetarian dish!
More Tasty Low-Carb Eggplant Recipes: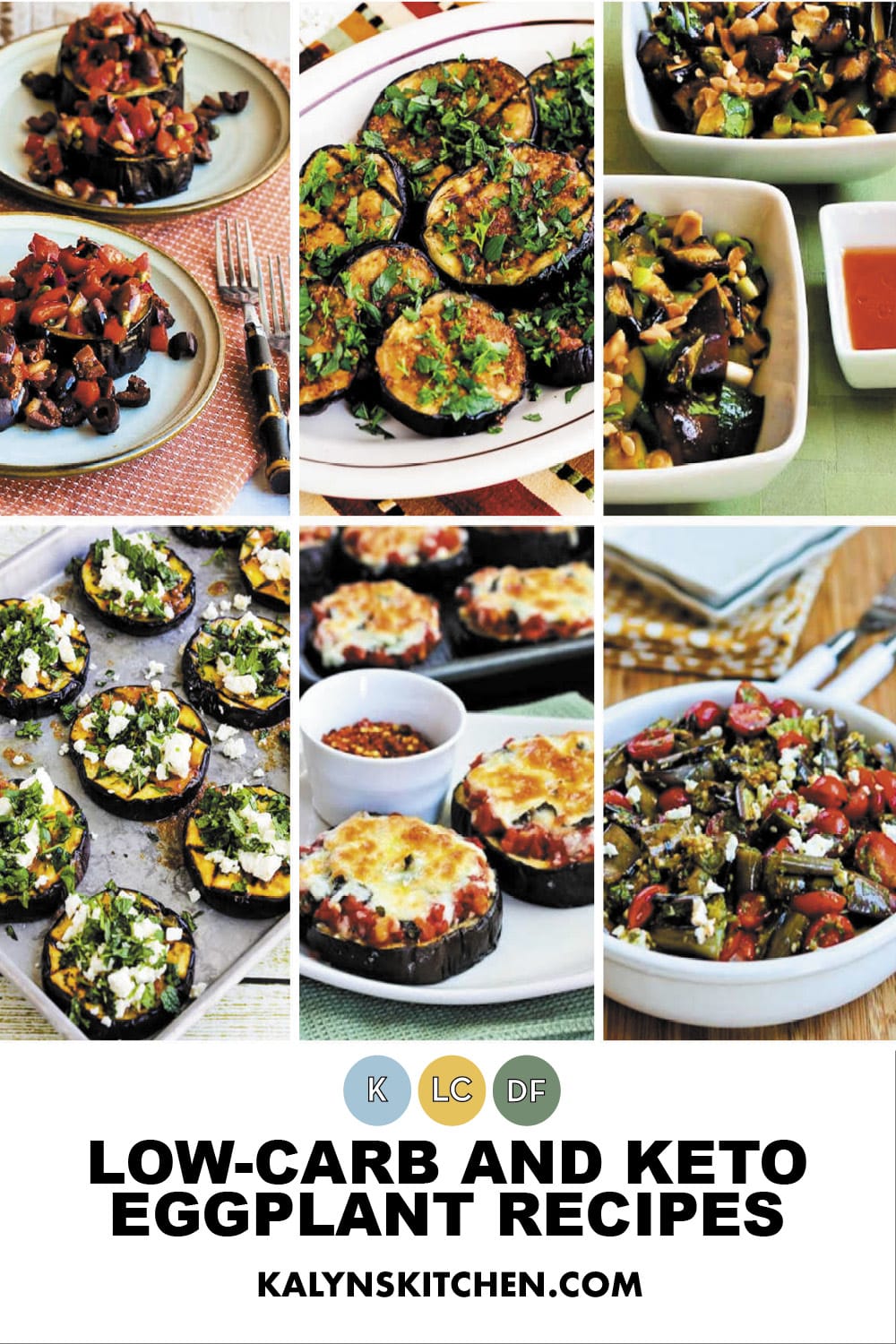 We are a participant in the Amazon Services LLC Associates Program, an affiliate advertising program designed to provide a means for us to earn fees by linking to Amazon.com and affiliated sites. As an Amazon Associate, I earn from qualifying purchases.