Spicy Low-Carb Salads with Peperoncini
This collection of Spicy Low-Carb Salads with Peperoncini is for everyone who loves spicy Greek Peperoncini the way I do; now you can find all my favorite spicy salads in one place. This round-up has 14 amazing salads that use Peperoncini; use Recipe Round-Ups for more recipe collections like this one.
PIN Spicy Low-Carb Salads with Peperoncini to make some later!
This post is about the Spicy Low-Carb Salads with Peperoncini I've been making all summer long, but why am I so infatuated with Greek Peperoncini this summer? If you're following me on Instagram, you might have noticed when I bought a gallon jar of sliced Greek Peperoncini from Costco! At the time some people asked how I'd ever use that much spicy Peperoncini, but now I'm on my second gallon and going strong.
And of course I've been a Peperoncini fan for quite a few years, but there's no doubt that gallon jar is the reason there have been several new salads featuring Peperoncini on the blog. Of course if a gallon of sliced Peperoncini is not in your future, you can buy smaller jars of sliced Peperoncini or buy whole Peperoncini and use my method below to slice them yourself.
What are Peperoncini Peppers?
Peperoncini Peppers are somewhat sweet and relatively mild chili peppers that are usually sold pickled in bring. Read more about Peperoncini Peppers if you're not familiar with them.
Where can you buy Peperoncini Peppers?
You can get Peperoncini Pepper (affiliate link) or Sliced Peperoncini Peppers (affiliate link) at Amazon if you don't find them at your store, but most grocery stores will have these briny slightly spicy peppers sold near the olives and pickles.
How to Slice Peperoncini Peppers:
Use kitchen shears (affiliate link) to cut off the stem end of each of the Peperoncini peppers.
As you cut off the stem, put each Peperoncini into a colander placed in the sink and let the brine drain out.
When you finish cutting off stems, transfer the drained Peperoncini to the cutting board and use your finger to scrape out the seeds from them one at a time, discarding seeds. If they still seem juicy I put them back into the colander to drain more as I remove the seeds.
Then when all the seeds are removed just use kitchen shears again to cut the Peperoncini into slices!
If you like the spicy goodness of these peppers, this method isn't too hard and it's worth the trouble.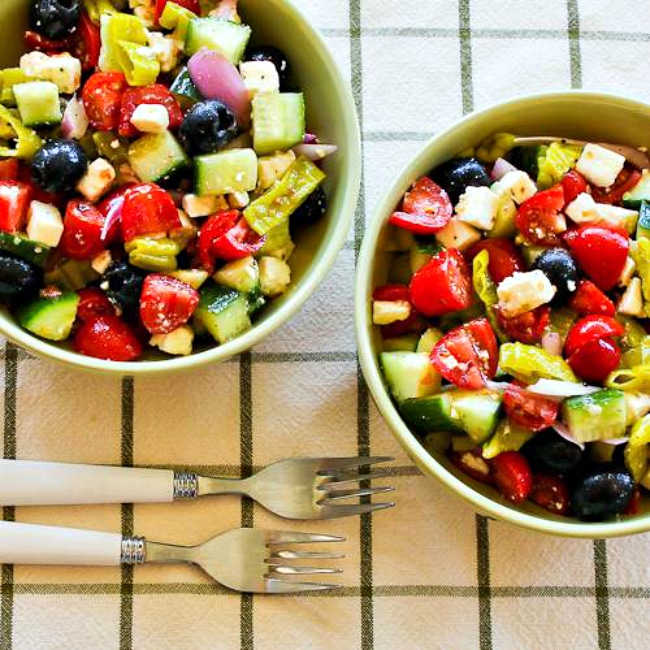 I think this Spicy Chopped Greek Salad with Peperoncini may have been the first salad I made with spicy Greek Peperoncini, and this is still one of my favorite salads!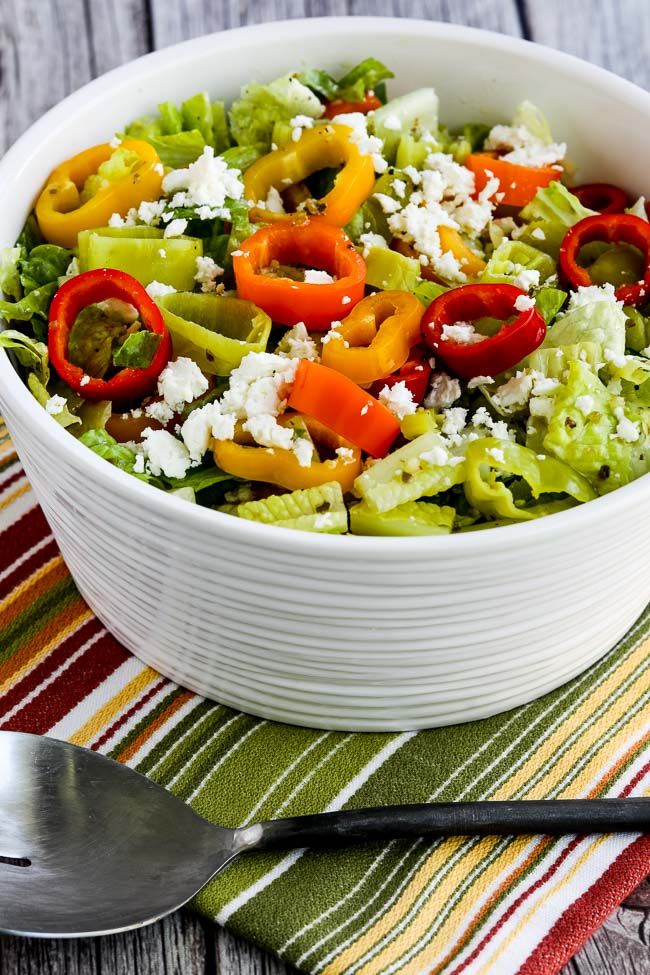 I have a couple of extended family members who are absolutely crazy over this Peperoncini Chopped Salad with Romaine, Peppers, and Feta! I've made this so many times for family parties.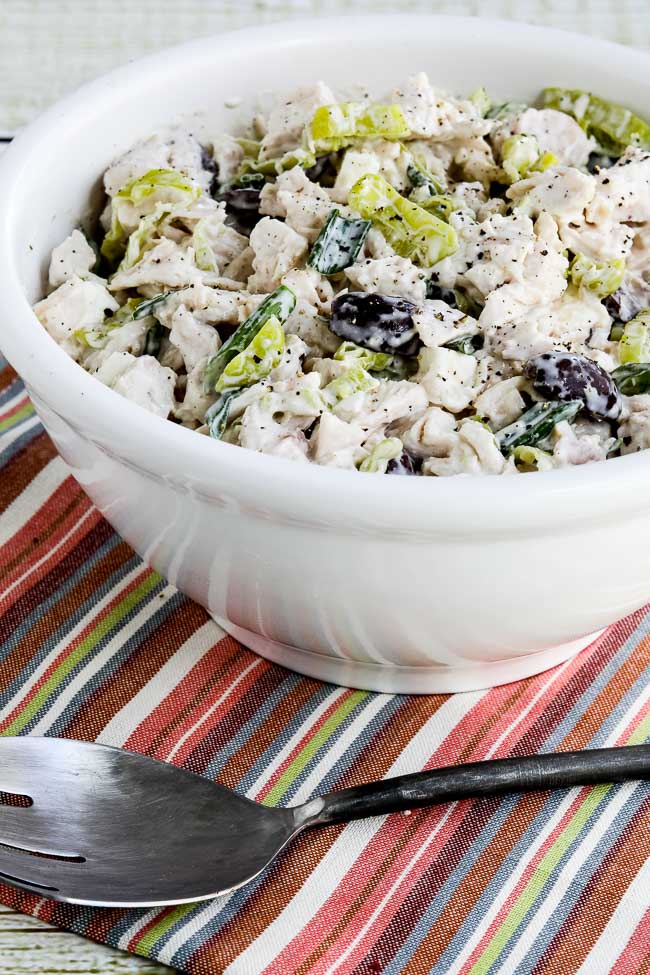 Chicken, olives, Feta Cheese, and Greek Peperoncini make this Greek Peperoncini Chicken Salad a truly memorable salad for people who like these flavors! And this keeps well, so it's great to make for Weekend Food Prep and take to work for lunch.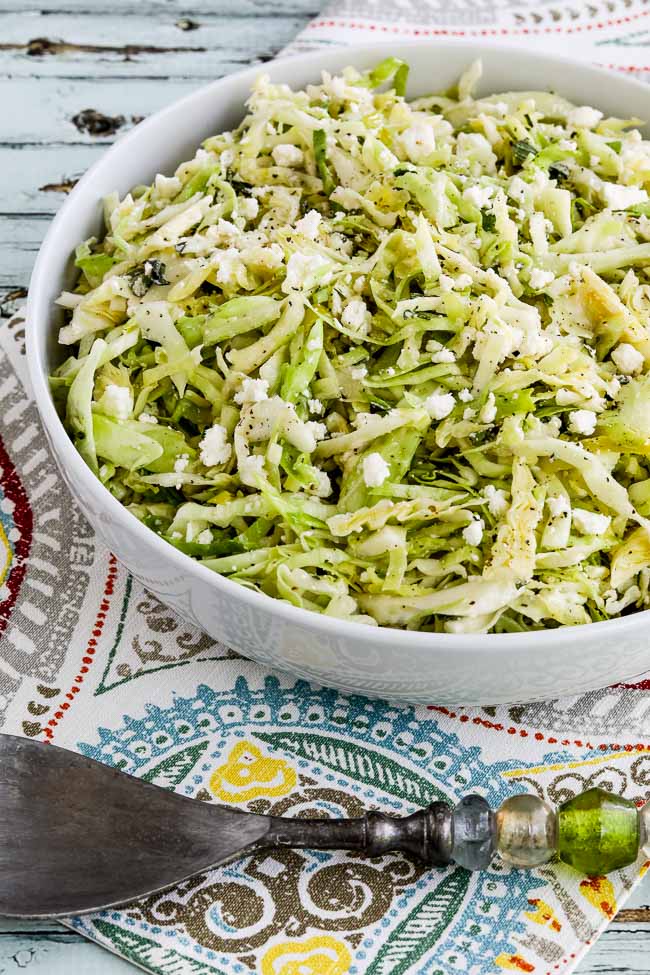 I couldn't resist adding some sliced Peperoncini to this Greek Cabbage Salad, and this combination was really a winner!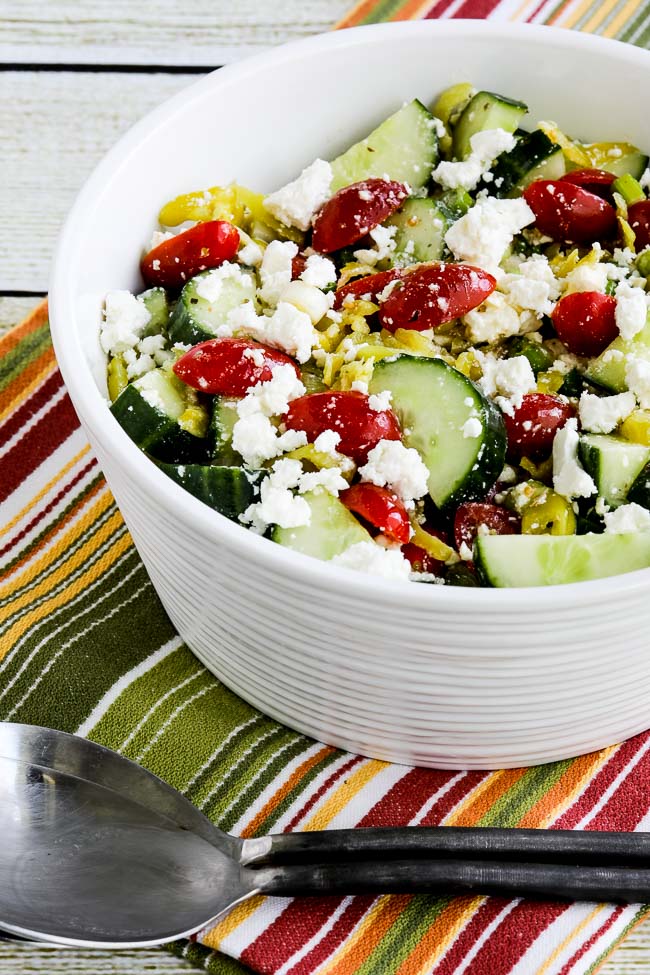 I'm pretty sure this Tomato Cucumber Salad with Peperoncini was the first salad I made after I opened that big jar of sliced Peperoncini, and I've made it over and over this summer. And one of my brother-in-laws who's kind of a veggie avoider made this salad, which I thought was a pretty great recommendation!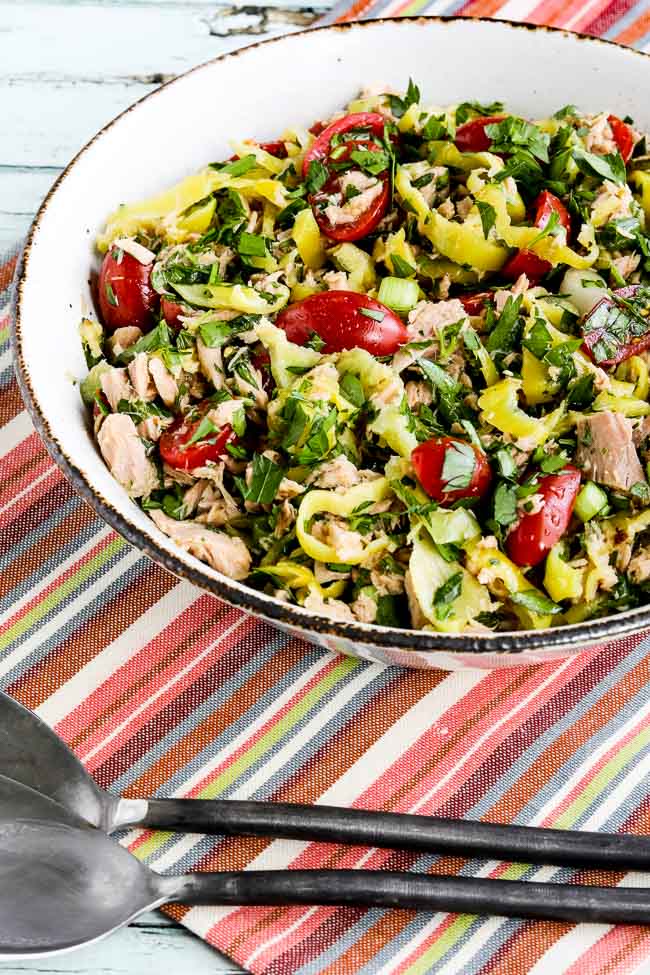 And the newest salad with Peperoncini on the blog is this Tuna Salad with Tomatoes and Peperoncini. I loved this low-carb version of a salad that originally had beans!
Other Bloggers Salads with Peperoncini:
Italian Chopped Salad ~ a Farmgirl's Dabbles
Mediterranean Chopped Tuna Salad ~ Aggie's Kitchen
Italian Chopped Brussels Sprouts Salad ~ Ambitious Kitchen
Peperoncini Vinaigrette ~ Thyme for Cocktails
Low-Carb Olive Garden Salad ~ Low-Carb Nomad
Keto Antipasto Salad ~ Get Fit Laura
Keto Antipasto Salad ~ Forget Sugar
Low-Carb Antipasto Salad ~ Step Away from the Carbs
We are a participant in the Amazon Services LLC Associates Program, an affiliate advertising program designed to provide a means for us to earn fees by linking to Amazon.com and affiliated sites. As an Amazon Associate, I earn from qualifying purchases.