Low-Carb and Keto Grilled Vegetables
This collection of Low-Carb and Keto Grilled Vegetables has the favorite meatless grilling recipes that I make all summer long!
PIN the grilled vegetables to try some later!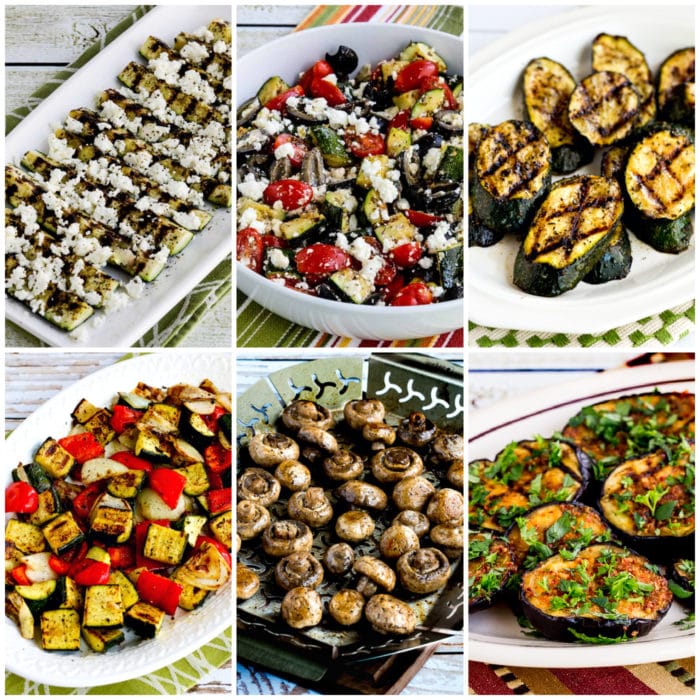 I have so many favorites in this collection of Low-Carb and Keto Grilled Vegetables. This post has 14 different ideas grilled vegetable side dishes, veggie kabobs, and salads featuring grilled vegetables, and all these recipes are things I like so much I'd make them over and over!
Of course I love to grill, and you'll find plenty meat, chicken, pork, and fish in the Grilling Recipes on this blog. But when summer vegetables are abundant, I'm always cooking vegetables on the grill. Partly it's a lack of desire to turn on the stove this time of year, but I also think grilling also adds a little extra flavor to most any kind of vegetable.
Want a great tip for grilled vegetables?
A few of my recipe for low-carb and keto grilled vegetables use a grilling pan with holes (affiiliate link) that sits on the grill grates, and I highly recommend that as one of my best-loved pieces of grilling equipment. But if you don't have a grilling pan or basket like that, there are options for veggies like zucchini and eggplant that sit right on the grill.
Can you make grilled vegetables without an outdoor grill?
You can make grilled vegetables all winter long on a stove-top grill pan with ridges (affiliate link) or on a George Foreman Grill (affiliate link), so try that if you don't have an outdoor grill. And these kinds of grilling gadgets are also great for grilling when it's too cold to cook outside, enjoy!
How do you get the complete recipe?
Just click or tap any recipe title to see the complete recipe on this site, and I hope you'll enjoy these low-carb and Keto grilled veggie options all summer long!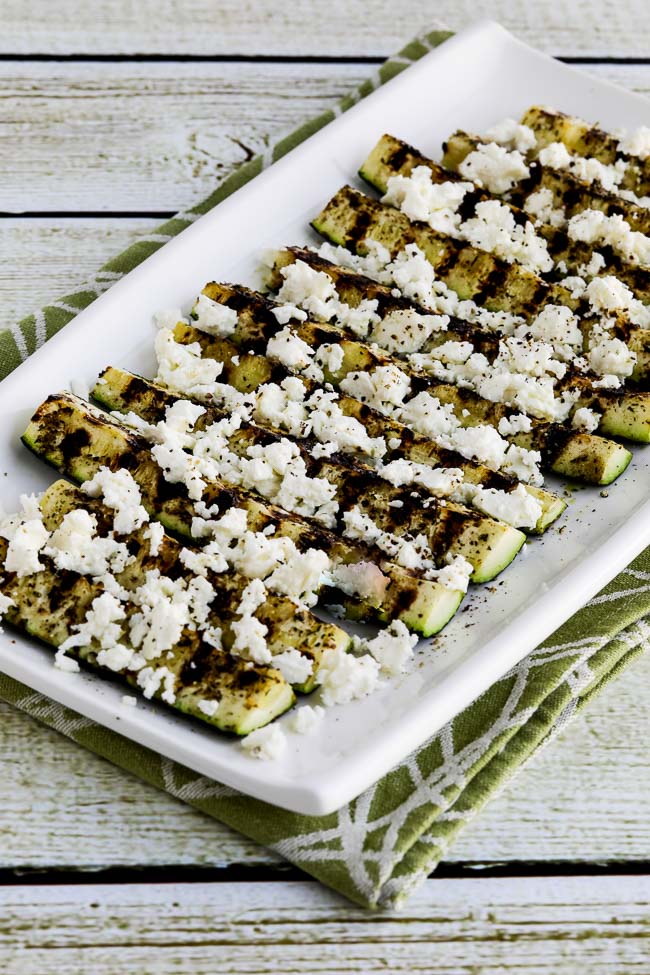 Easy Grilled Greek Zucchini is a recipe that's a total wow for people who like Feta Cheese! (And that includes me, as you can see from this photo.)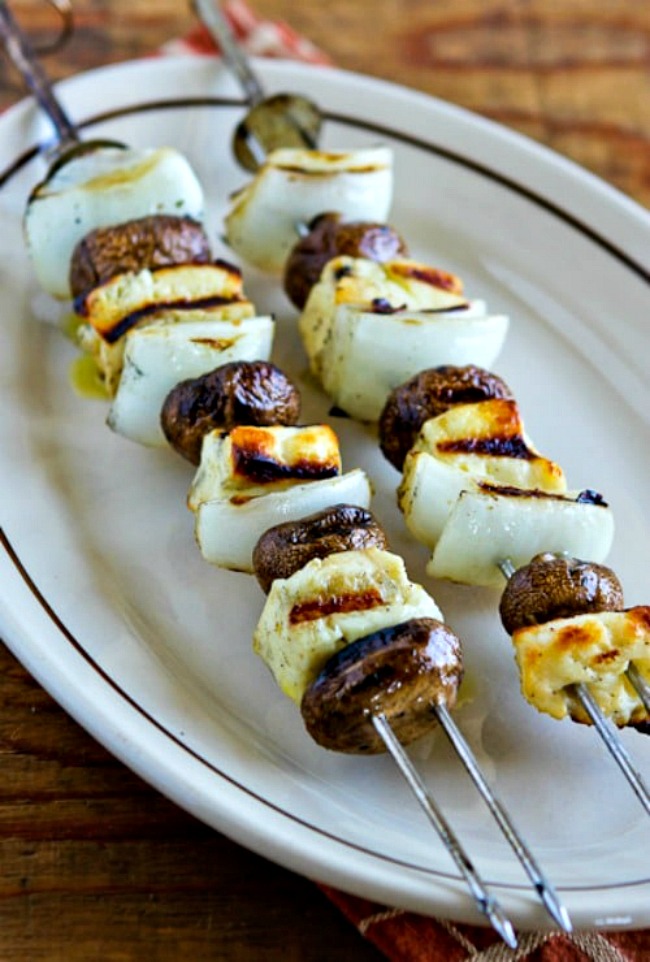 Grilled Halloumi Cheese Skewers with Mushrooms and Sweet Onions will impress anyone you're making it for.
Grilled Zucchini Greek Salad is a great summer dish where pieces of grilled zucchini replace the cucumbers that are traditional in Greek Salad. I have literally been making this year years!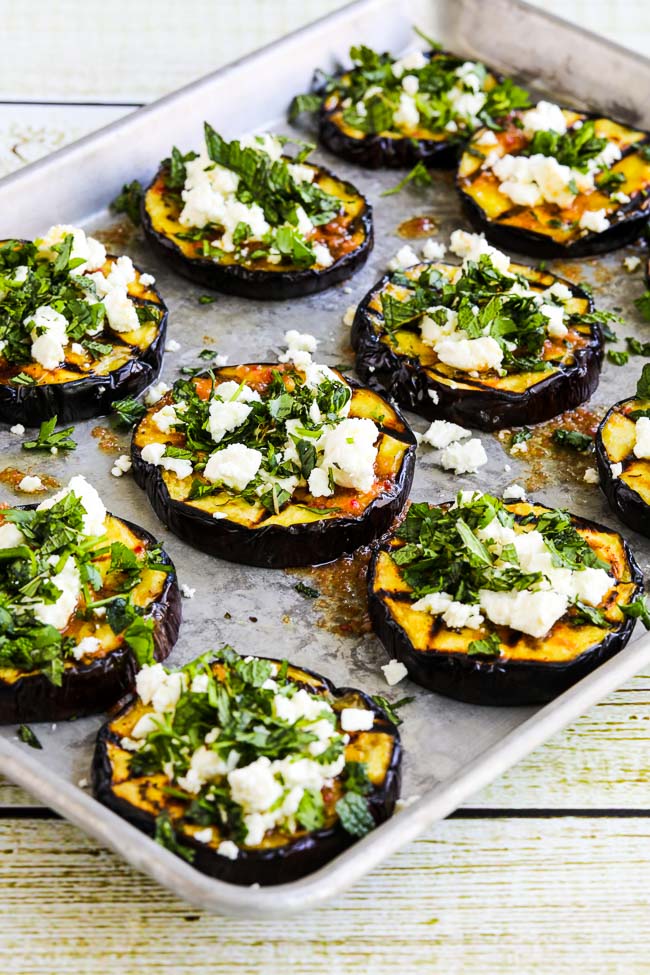 There are several tasty ideas on the blog for grilled eggplant, but of course I love this Grilled Eggplant with Feta and Herbs, (because FETA!)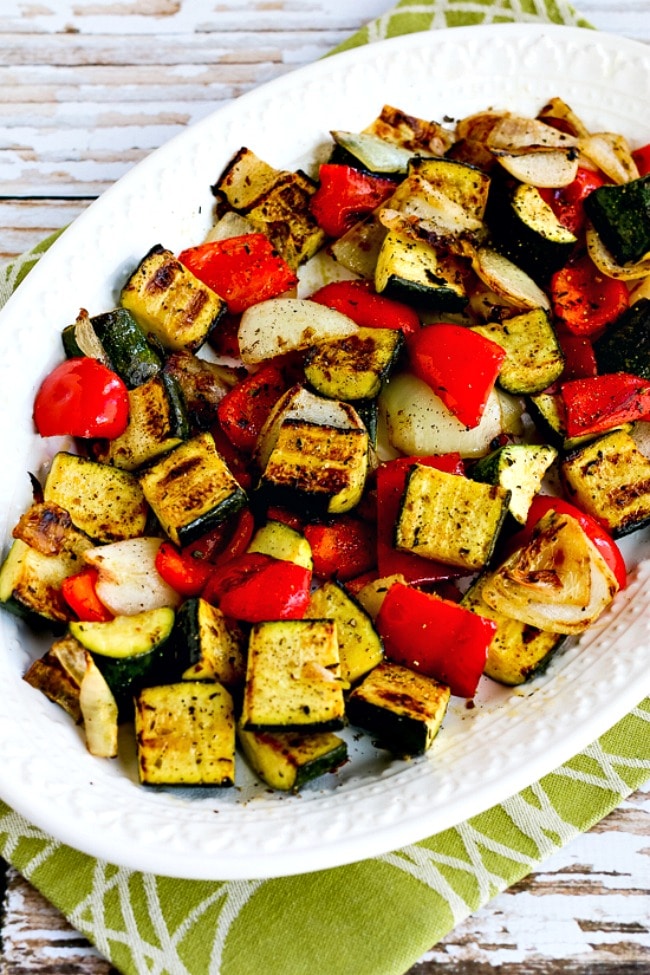 Easy Grilled Vegetables are the veggie side dish I make over and over all summer long.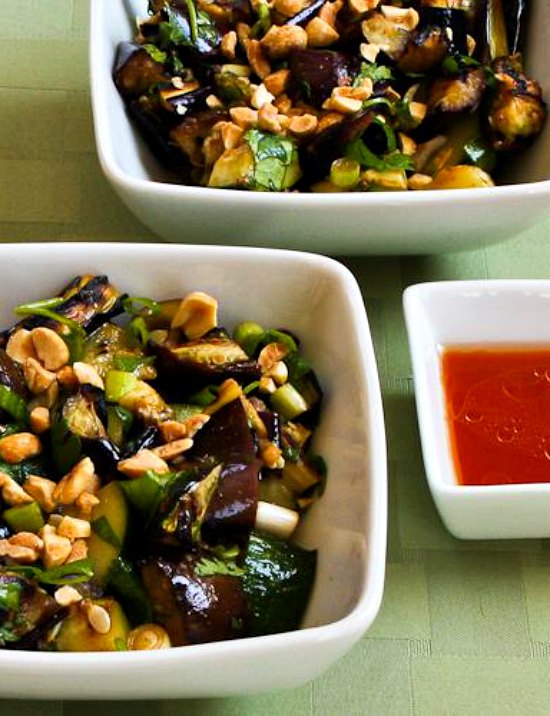 Even if you think you're not that much of an eggplant fan, if you like Thai flavors I bet you'll like this Spicy Grilled Eggplant and Zucchini Salad with Thai Flavors.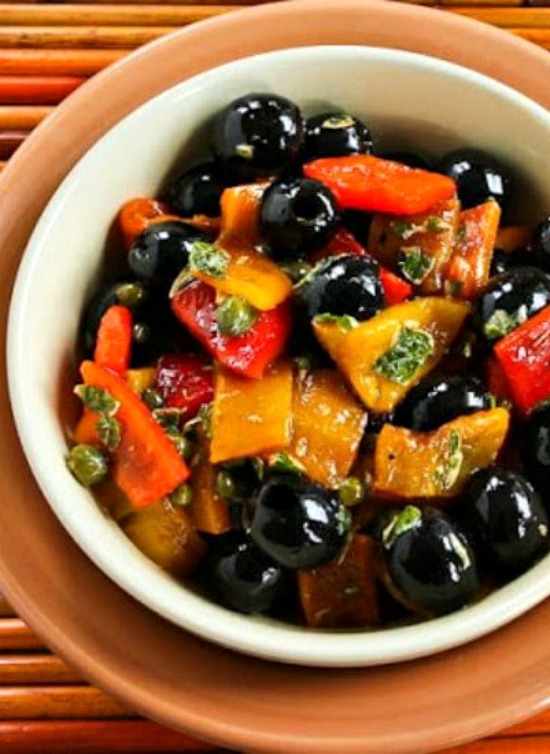 A classic salad that would also be delicious for a summer side dish is this Tapas Salad with Peppers, Olives, and Capers.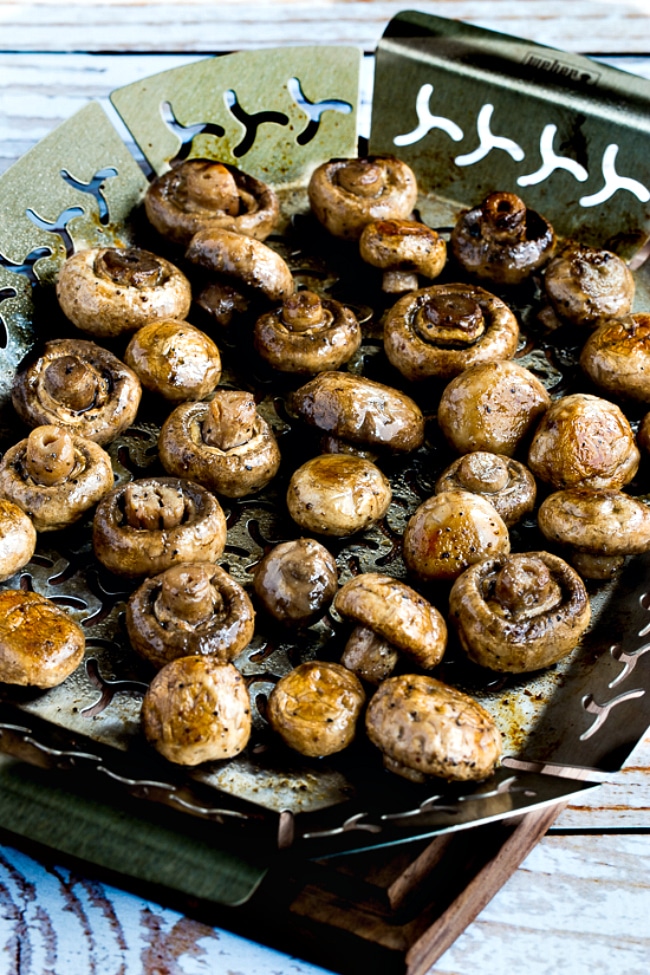 They couldn't be easier, and Grilled Mushrooms are something that will dress up any plate.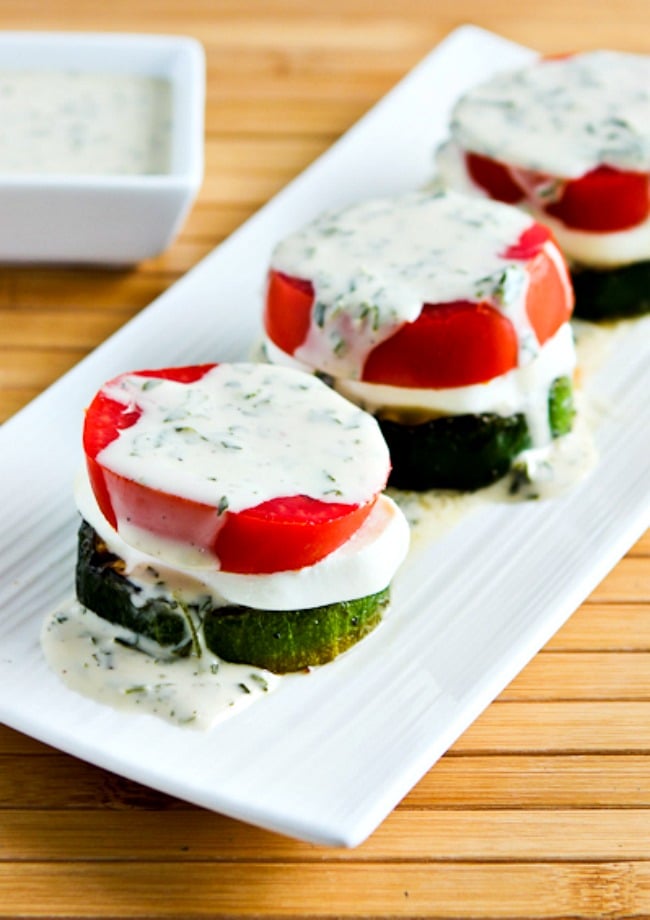 When you get garden-fresh tomatoes, this Grilled Zucchini Caprese Salad just scream summer! You might want to cut tomatoes a little thinner for Keto.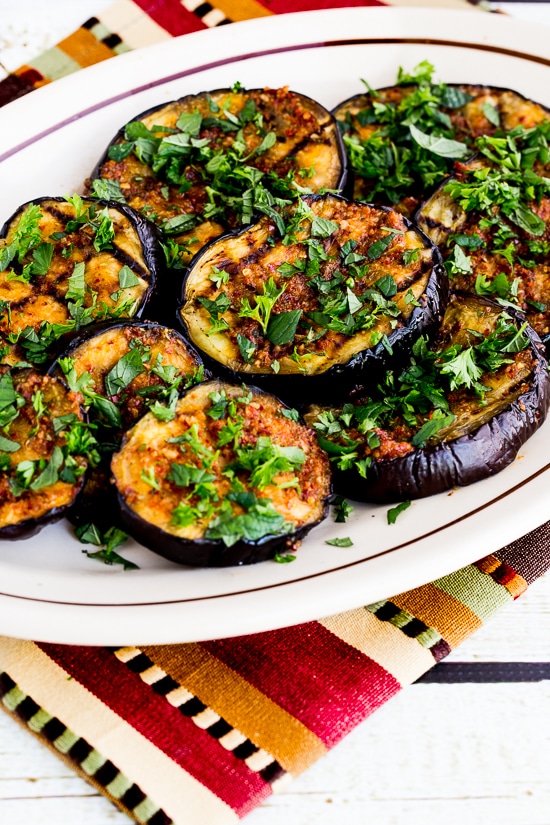 My brother Rand has a lot of favorites on the blog, and one of them is this Spicy Grilled Eggplant that has red pepper, parsley, and mint.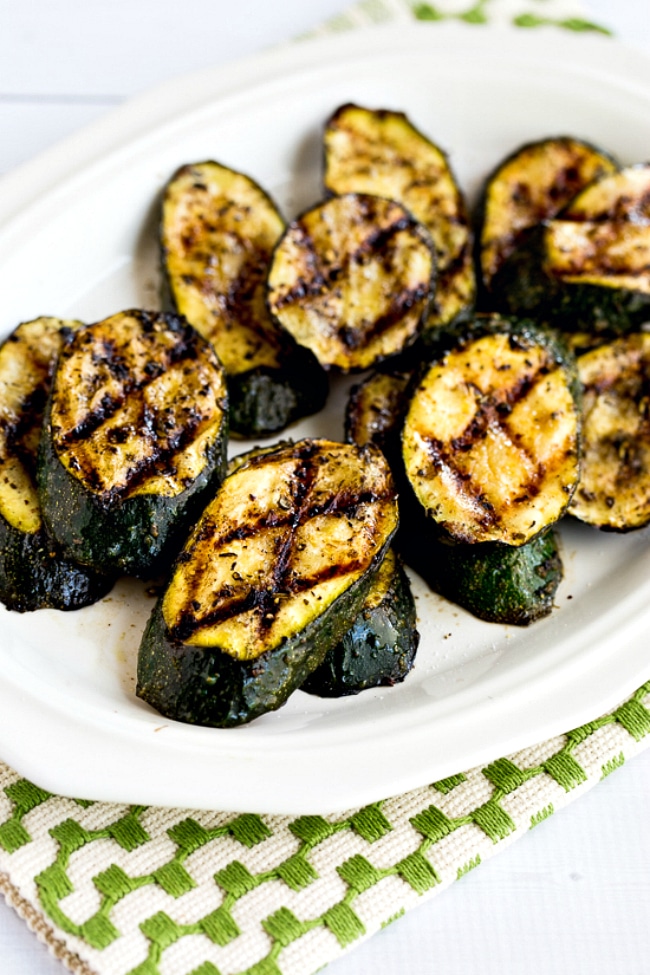 Simple Grilled Zucchini is something else I make all summer long. I might serve this with a sauce like Basil Pesto or Roasted Red Pepper and Garlic Aioli Sauce.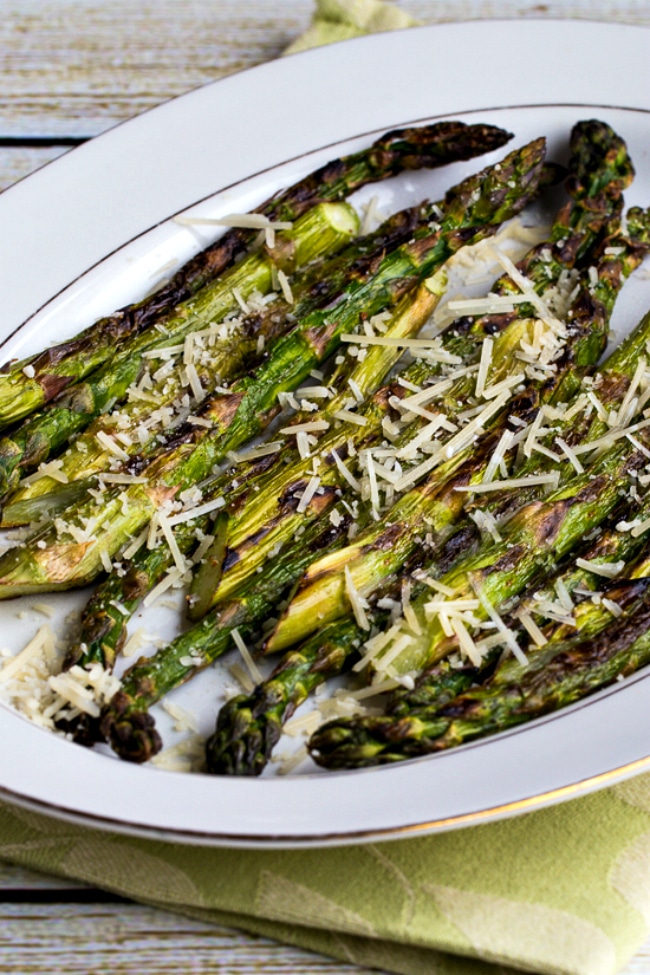 Grilled Asparagus with Parmesan is amazing when you need a side dish that's really a treat!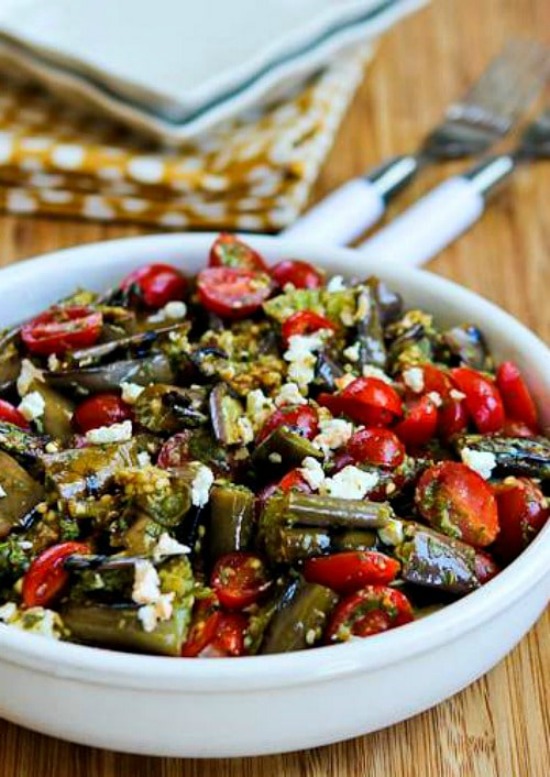 Another delicious take on grilled eggplant is this Grilled Eggplant Salad. The basil, parsley, and caper sauce really makes this a wow!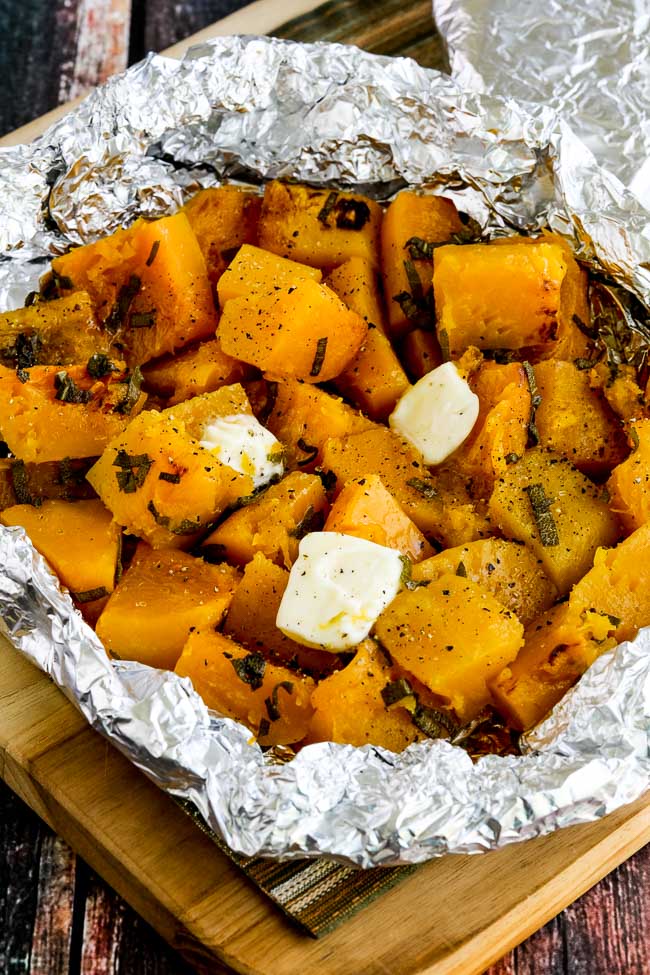 And finally, it's a bit higher in carbs but butternut squash fans will drool over this Foil-Wrapped Grilled Butternut Squash with Sage!
Let us know in the comments about your favorite ideas for vegetables on the grill!
We are a participant in the Amazon Services LLC Associates Program, an affiliate advertising program designed to provide a means for us to earn fees by linking to Amazon.com and affiliated sites. As an Amazon Associate, I earn from qualifying purchases.