Slow Cooker Taco Meat
Slow Cooker Taco Meat cooks in the slow cooker with spices and hot sauce and makes spicy low-carb ground beef for tacos or taco salad! And no need to brown the meat!
PIN Slow Cooker Taco Meat to make some later!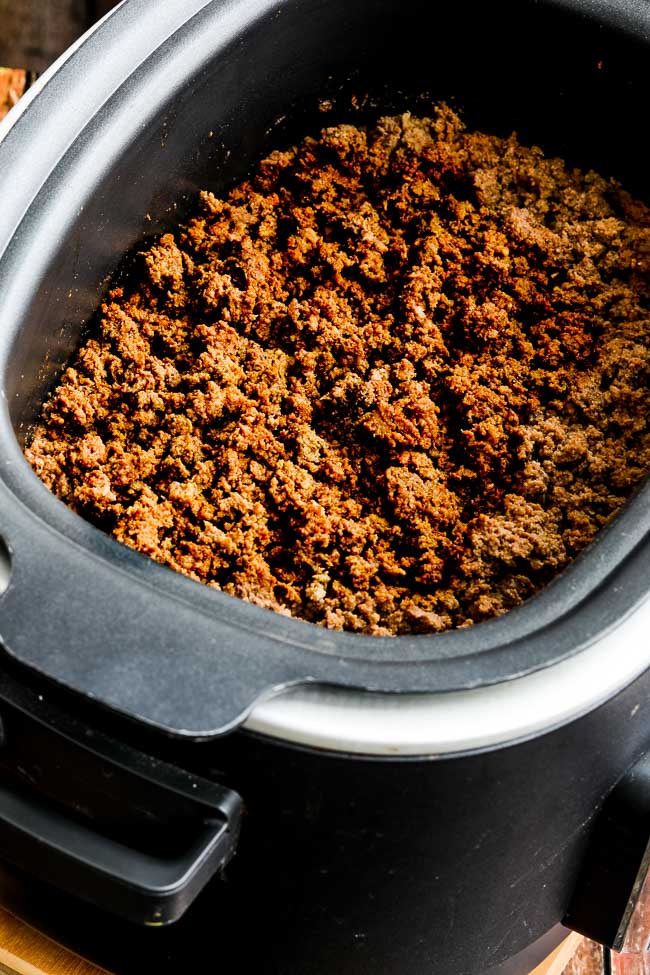 When I used to teach school I'd take Taco Salad for lunch several times a week, and I'm still a huge taco salad fan even now that I have more lunch options. And I love having little containers of this ground beef taco meat in the freezer so I can make taco salad whenever I start to crave it.
So when I first saw this idea for cooking ground beef in the slow cooker without pre-browning the meat, of course I had to try it! Since then I've been a complete convert to this method, and if you stop by my house you'll always find Slow Cooker Taco Meat in the freezer!
There's a lot to love about this low-carb spicy ground beef that browns in the CrockPot, but an added bonus is that you can cook this meat in the slow cooker without heating up the house, so you can enjoy Taco Salad all summer long. And if you prefer using the Instant Pot, check out Instant Pot Taco Meat for an Instant Pot option!
What ingredients do you need for this recipe?
What inspired the taco meat recipe?
I love the ground beef tacos you get at Mexican restaurants, where the meat is highly seasoned and very finely broken apart, so that's what I was going for when I worked on this recipe. I used a very generous amount of Cholula Original Hot Sauce to season the meat, so if you're making this for kids (or adults who don't like much heat) you probably want to use the smaller amount listed in the recipe. I let the meat cook for nearly four hours on high for that broken-apart texture I like so much, mashing with an old-fashioned Potato Masher about once every hour.
Want Slow Cooker Taco Meat with green chile flavors?
If you'd like taco meat with green chile flavors, replace the Cholula hot sauce and water in this recipe with Herdez Salsa Verde (affiliate link).
Toppings for Ground Beef Tacos:
Ground Beef Tacos would be delicious with Tomato-Avocado Salsa, Tomato-Avocado Salsa with cucumber, Avocado Salsa, or Spicy Mexican Slaw.
More Beef in the Slow Cooker:
If you're a slow cooker fan, check out Low-Carb and Keto Slow Cooker Recipes with Beef to find more tasty beef recipes like this one.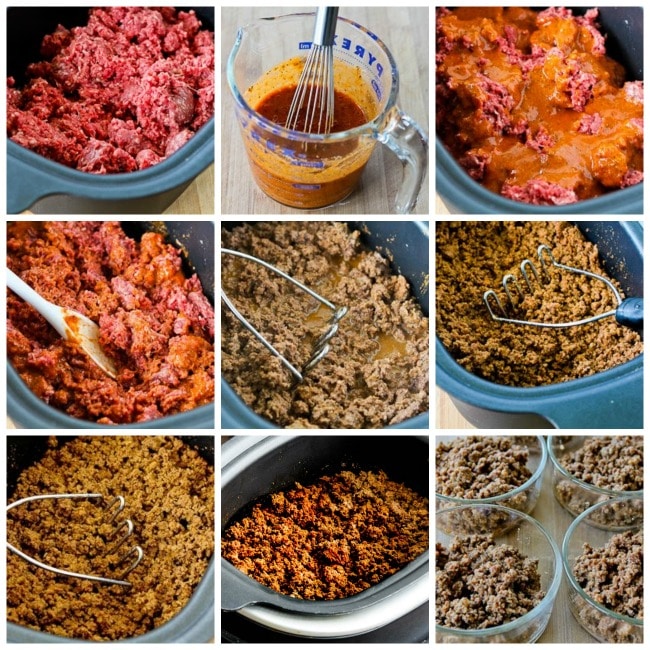 How to Make Slow Cooker Taco Meat:
(Scroll down for complete printable recipe including nutritional information.)
Some people start with frozen ground beef, but that didn't appeal to me so I thawed the meat overnight in the fridge.
Put 3 pounds of lean ground beef in the slow cooker, breaking it apart with your hands. (I used the Ninja Cooker (affiliate link) that Lydia sent me, but you can use any 4-5 quart slow cooker.)
Mix together Cholula hot sauce (affiliate link), ground cumin, garlic powder, onion powder, black pepper, salt, and water.
Pour the spicy mixture over the ground beef. Then use a large spoon to stir the seasoning mixture into the ground beef and start to cook on high.
After an hour I used my Potato Masher (affiliate link) to start to break the meat apart. At this point I was worried that I shouldn't have added the water, but it worked out fine.
At two hours I mashed the mixture with the potato masher again, and the water was being absorbed nicely.
After three hours the ground beef is getting to be just the texture I wanted.
It was probably done enough at this point, but I let it cook about 45 minutes more.
I got quite a few little containers of seasoned ground beef to put in the freezer, and each one was enough to make a large taco salad or several tacos.
I make this Slow Cooker Taco Meat over and over, every time I run out of taco meat in the freezer!
More Tacos in the Slow Cooker or Pressure Cooker:
Weekend Food Prep:
This recipe has been added to a new category called Weekend Food Prep where you'll find recipes you can prep or cook on the weekend and eat during the week!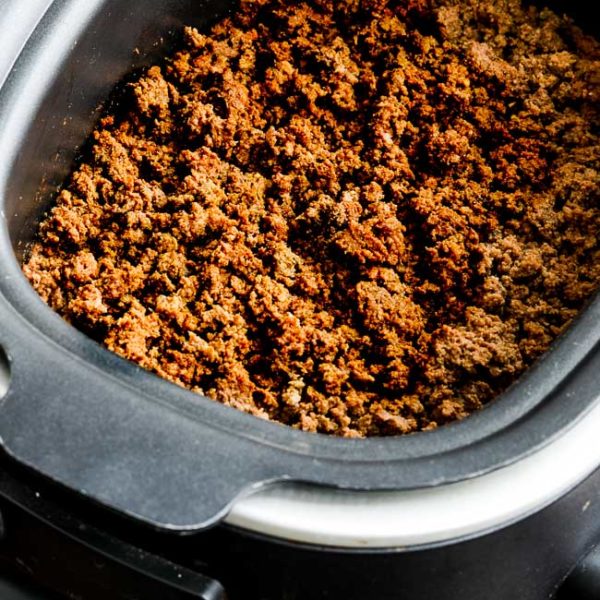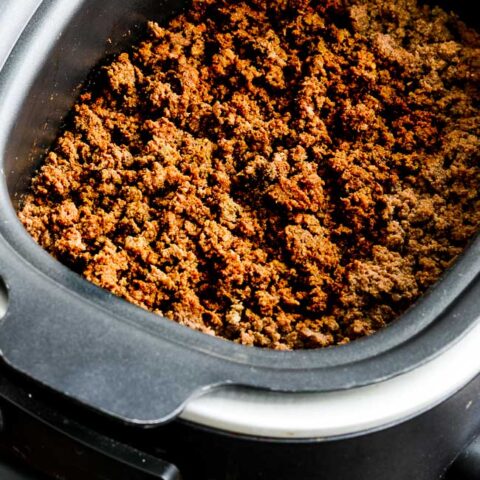 Yield: Makes 9 servings (1/3 pound serving)
Slow Cooker Taco Meat
Prep Time 5 minutes
Cook Time 3 hours 45 minutes
Total Time 3 hours 50 minutes
I love this idea of using the slow cooker to brown ground beef to make spicy taco meat and I make this often so I can always have meat on hand for Perfect Low-Carb Taco Salad!
Ingredients
3 lb. lean ground beef (see notes)
1/2 cup Cholula hot sauce or other hot sauce of your choice. (see notes)
2 T ground cumin
2 T garlic powder
2 T onion powder
1 tsp. coarse grind black pepper (or less, to taste)
salt to taste (I used only about 1/2 tsp.)
1/4 cup water (plus a little more water as needed if you're using the smaller amount of hot sauce)
Instructions
Thaw ground beef overnight in the fridge, or if you forget to plan ahead, thaw in hot water for about 20-30 minutes. Spray slow cooker cooker with non-stick spray, then put the thawed ground beef into the slow cooker, breaking it apart with your hands.
Mix Cholula hot sauce, ground cumin, garlic powder, onion powder, black pepper, salt, and water. Pour the hot sauce mixture over the ground beef and use a large spoon to stir it into the meat.
Cook the meat and spice mixture on high for 3-4 hours. After each hour, remove the lid and use an old-fashioned Potato Masher (affiliate link) to mash the meat mixture about 8-10 times, so that by the time it is done the meat will be finely crumbled.
If you're using the smaller amount of hot sauce, you might want to add a couple of tablespoons of water part way through the cooking time. (You can probably cook this for 6-8 hours on low and mash it every couple of hours, but I haven't tried that.)
Use meat mixture to make Kalyn's Black Bean and Beef Taco Salad, Perfect Low-Carb Taco Salad, or any Ground Beef Tacos, Lettuce Wrap Tacos, or Beef Burritos of your choice. I freeze mine in small containers so I can thaw it quickly in the microwave whenever that Taco Salad craving hits me.
Notes
This recipe made with 1/2 cup of hot sauce is only mildly spicy; I often use as much as 3/4 cup of Cholula when I make it. But you can use even less than 1/2 cup hot sauce at first if you prefer. Then taste it part way through and decide if you want even more hot sauce.
I used Cholula hot sauce for this recipe, which doesn't have any carbs. Buy the big size bottle at Costco or at a Mexican market.
I used lean ground beef with 9% fat; I wouldn't use very fatty ground beef since you're not draining the meat.
This recipe created by Kalyn but inspired by quite a few other variations I saw on Pinterest!
Nutrition Information:
Yield:
9
Serving Size:
1
Amount Per Serving:
Calories: 367
Total Fat: 19g
Saturated Fat: 7g
Unsaturated Fat: 9g
Cholesterol: 135mg
Sodium: 550mg
Carbohydrates: 4g
Fiber: 1g
Sugar: 0g
Protein: 44g
Nutrition information is automatically calculated by the Recipe Plug-In I am using. I am not a nutritionist and cannot guarantee 100% accuracy, since many variables affect those calculations.
Low-Carb Diet / Low-Glycemic Diet / South Beach Diet Suggestions:
This low-carb and gluten-free Slow Cooker Taco Meat is perfect for Kalyn's Perfect Taco Salad, or eat the meat inside lettuce cups or over cauliflower rice or slaw for a meal that's suitable for low-carb eating plans and the original South Beach Diet. You can also use low-carb tortillas and make tacos if you prefer.
Find More Recipes Like This One:
Check out Slow Cooker Recipes for more easy ideas in the slow cooker. Use the Diet Type Index to find recipes suitable for a specific eating plan. You might also like to follow Kalyn's Kitchen on Pinterest, on Facebook, on Instagram, or on YouTube to see all the good recipes I'm sharing there.
We are a participant in the Amazon Services LLC Associates Program, an affiliate advertising program designed to provide a means for us to earn fees by linking to Amazon.com and affiliated sites. As an Amazon Associate, I earn from qualifying purchases.