Zucchini with Pesto
This quick-and-easy Zucchini with Pesto is a perfect low-carb and Keto summer side dish! I used my early summer Spinach and Basil Pesto for this, but use any pesto you have on hand!
PIN the recipe to try it later!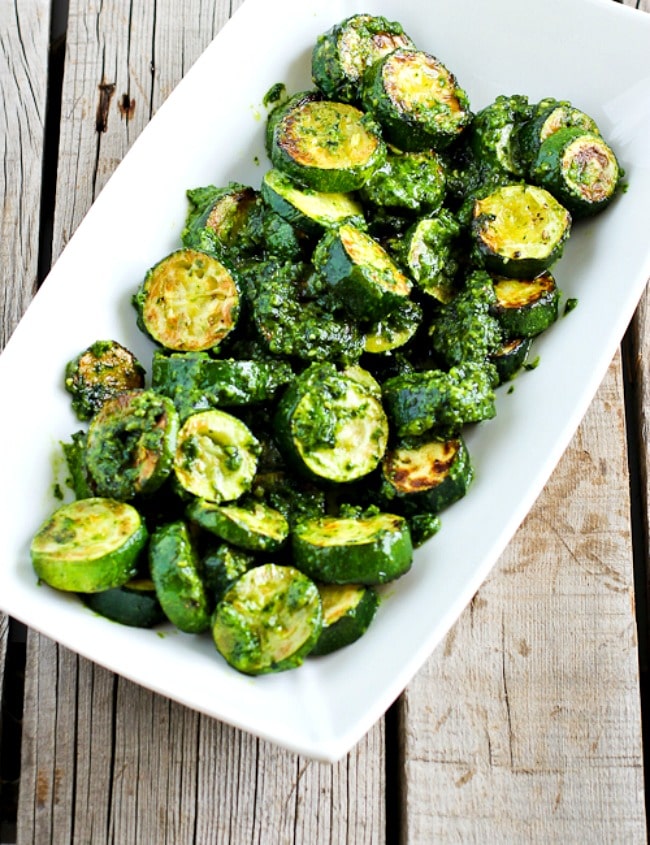 A few days ago I shared the updated recipe for Spinach and Basil Pesto and this delicious recipe for Zucchini with Pesto is one great way to use that delicious pesto. I'd love this dish with any kind of pesto, and my Basil Pesto with Lemon that I make every summer would be perfect here as well.
If you're growing a vegetable garden, you probably don't have any zucchini yet, but bookmark this recipe now so you can find it in August when the zucchini are in overdrive. I don't have zucchini planted at my new house this year, so I'll be visiting the farmer's market in my new town to satisfy that zucchini craving. For those of you who are lucky enough to have a garden, you can never have too many zucchini recipes, so check after the main recipe for some more zucchini dishes I've enjoyed.
What ingredients do you need for this recipe?
zucchini
olive oil
large cloves of garlic, sliced
Pesto
salt and fresh ground black pepper to taste
What kind of pesto can you use for this recipe?
If you don't want to make special pesto for this recipe, you can definitely make it with any kind of pesto, even my favorite pesto from a jar, and it will still be delicious; enjoy! Check out My Favorite Low-Carb and Keto Recipes with Pesto for more tasty ideas for using basil pesto!
How to make the recipe:
(Scroll down for complete recipe with nutritional information.)
Wash zucchini and cut into slices that are about 1/2 inch thick.
Heat the oil and then saute the garlic slices for 1-2 minutes, or until you smell garlic. (This is called "seasoning the oil" in Chinese cooking.)
Add zucchini to the hot pan, in a single layer if possible.
Cover and cook about 4 minutes, turning the zucchini once or twice so it gets browned on all sides.
Here's my zucchini the first time I turned them, just starting to get brown.
When I turned them again I was getting more of the nice browned color I wanted. After four minutes, remove lid and cook zucchini a minute or two longer if needed, or until the zucchini is nicely browned and is tender-crisp.
As soon as it reaches that point, stir in the Spinach and Basil Pesto, Basil Pesto with Lemon, my favorite pesto from a jar, or whichever pesto you're using.
Stir around gently until all the zucchini is coated with pesto, season with salt and fresh ground black pepper, and serve immediately.
Ten Amazing Zucchini Recipes from Kalyn's Kitchen:
Easy Cheesy Zucchini Bake
Garlic-Lover's Vegetable Stir-Fry
Vegetarian Stuffed Zucchini
Zucchini Bake with Feta and Thyme
How to Grill Zucchini – Perfect Every Time
Zucchini Carpaccio (Raw Zucchini Salad with Lemon, Herbs, and Goat Cheese)
Grilled Zucchini Greek Salad
Roasted Summer Squash with Feta Cheese and Basil
Zucchini Crust Vegetarian Pizza Margherita
Marinated Zucchini Salad with Olives, Artichokes, and Red Pepper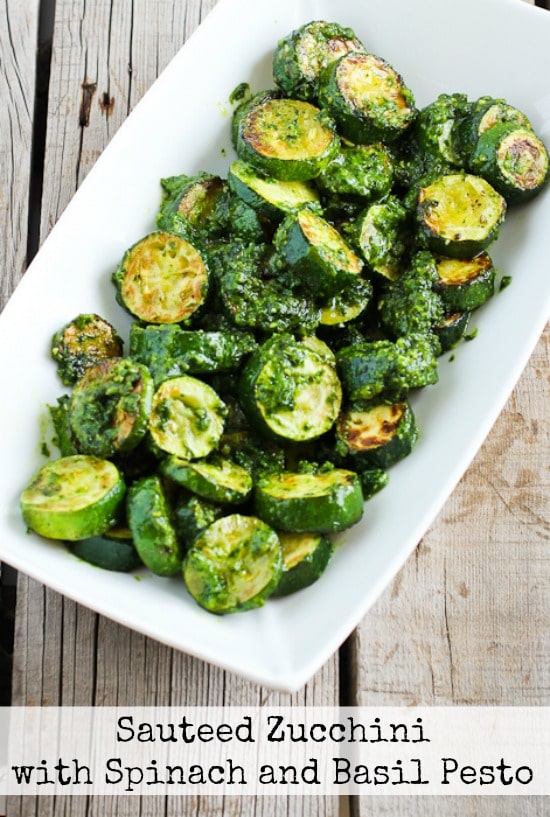 Yield: 4 servings
Zucchini with Pesto
Prep Time 10 minutes
Cook Time 10 minutes
Total Time 20 minutes
This recipe for Zucchini with Pesto is a perfect summer side dish; use whatever type of pesto you prefer or have on hand!
Ingredients
3 medium sized zucchini
1 T olive oil
3 large cloves of garlic, sliced
1/2 cup Pesto (see notes)
salt and fresh ground black pepper to taste
Instructions
If using pesto that has been refrigerated, remove it and let come to room temperature.
Wash zucchini and trim off ends. Cut zucchini into 1/2 inch slices. (For larger zucchini, I would cut in half lengthwise and then into slices.
Heat olive oil over medium-high heat in large heavy frying pan with lid.
Add garlic cloves and saute 1-2 minutes, just until you start to smell the garlic, then remove garlic cloves and discard.
Add zucchini to hot pan, arranging them in a single layer if possible.
Turn heat to medium, then cover and cook about 4 minutes, turning the zucchini once or twice.
After 4 minutes, check to see if both sides are browned and the squash is getting as tender as you'd like it.
Cook 1-2 more minutes, uncovered, as needed until zucchini is tender-crisp and any liquid is evaporated.
Turn off heat and spoon pesto over zucchini and stir gently. Let it melt for a minute or two, season the zucchini to taste with salt and fresh-ground black pepper, put into serving dish, and serve immediately.
Nutrition Information:
Yield:
4
Serving Size:
1
Amount Per Serving:
Calories: 223
Total Fat: 20g
Saturated Fat: 4g
Trans Fat: 0g
Unsaturated Fat: 15g
Cholesterol: 8mg
Sodium: 313mg
Carbohydrates: 8g
Fiber: 3g
Sugar: 3g
Protein: 6g
Nutrition information is automatically calculated by the Recipe Plug-In I am using. I am not a nutritionist and cannot guarantee 100% accuracy, since many variables affect those calculations.
Low-Carb Diet / Low-Glycemic Diet / South Beach Diet Suggestions:
This is a perfect side dish for any low-carb diet plan as well as phase of the South Beach Diet. Although pesto like this is relatively high in fat, the spinach here makes this more nutritious than many pestos, and the pine nuts and olive oil are both considered "good fat" by South Beach.
Find More Recipes Like This One:
Use Zucchini Recipes to find more recipes like this one.Use the Recipes by Diet Type photo index pages to find more recipes suitable for a specific eating plan. You can also Follow Kalyn's Kitchen on Pinterest to see all the good recipes I'm sharing there.
Historical Notes for this Recipe:
This recipe was first posted in 2007, when I was making pesto with spinach from my garden! The recipe was last updated in 2021.
We are a participant in the Amazon Services LLC Associates Program, an affiliate advertising program designed to provide a means for us to earn fees by linking to Amazon.com and affiliated sites. As an Amazon Associate, I earn from qualifying purchases.