Amazing Salads with Zucchini
These Amazing Salads with Zucchini can come in handy if you end up with too much zucchini and need ideas for using it! There are 20 delicious ideas here for low-carb zucchini salad recipes from blogs around the web.
PIN the Zucchini Salad Recipes to try some later!
In Utah summer temperatures are often close to 100F, and anything that heats up the kitchen doesn't sound that appealing. So this collection of Amazing Salads with Zucchini can help you use the your zucchini while you're staying cool!
And all these tasty zucchini salads are low in carbs, which might be important to some people; if you haven't thought of using zucchini in a salad, have fun experimenting with these recipes!
What kinds of Zucchini Salad Recipes will you find here?
There are salads here with raw zucchini, with zucchini that's par-boiled or grilled, and with Zucchini Noodles, and a few of these zucchini salads are some of my favorite recipes that I've made over and over. I'm also including zucchini salads from some of my food blogging friends.
The Gardener's Problem of Too Much Zucchini:
Did you know that there's a holiday called Sneak Some Zucchini onto Your Neighbor's Porch Day? When I had a big garden I used to love having the problem of too much zucchini! If you're lucky enough to have a zucchini surplus, check out of my picks for The Top Ten Low-Carb Zucchini Recipes or 50 Amazing Zucchini Recipes. It's obvious that I'm a huge zucchini fan and I've come up with a lot of good zucchini recipes through the years.
How do you get the complete recipe?
Just click or tap any recipe title to see the complete recipe on the original blog. All photos are copyrighted to the blog that originally posted the recipe.
Zucchini Carpaccio from Kalyn's Kitchen is a raw zucchini salad with lemon, fresh herbs, and goat cheese, and this is perfect for hot weather!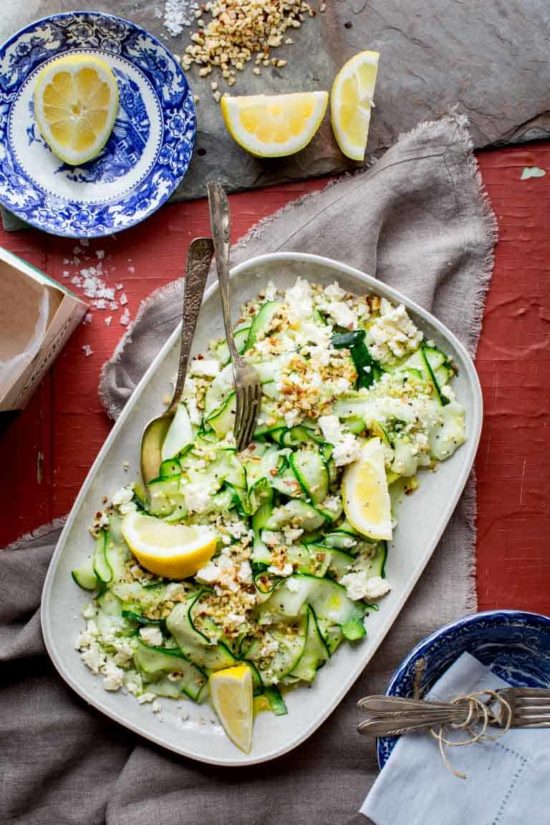 I'm seriously swooning over this Zucchini Ribbon Salad from Healthy Seasonal Recipes!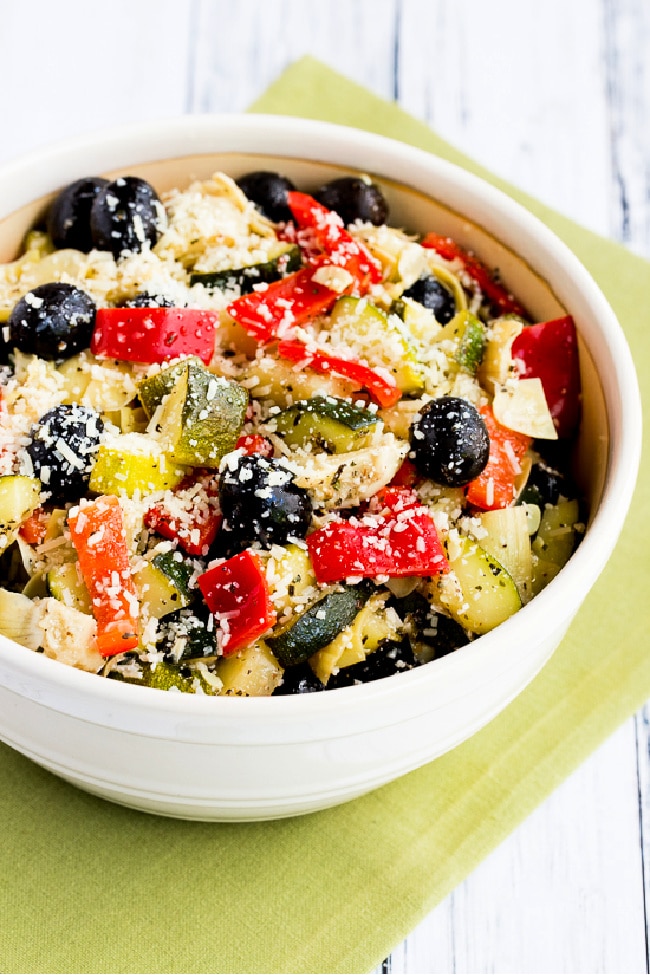 Marinated Zucchini Salad from Kalyn's Kitchen is a salad I have enjoyed for years and I've made this many times for parties!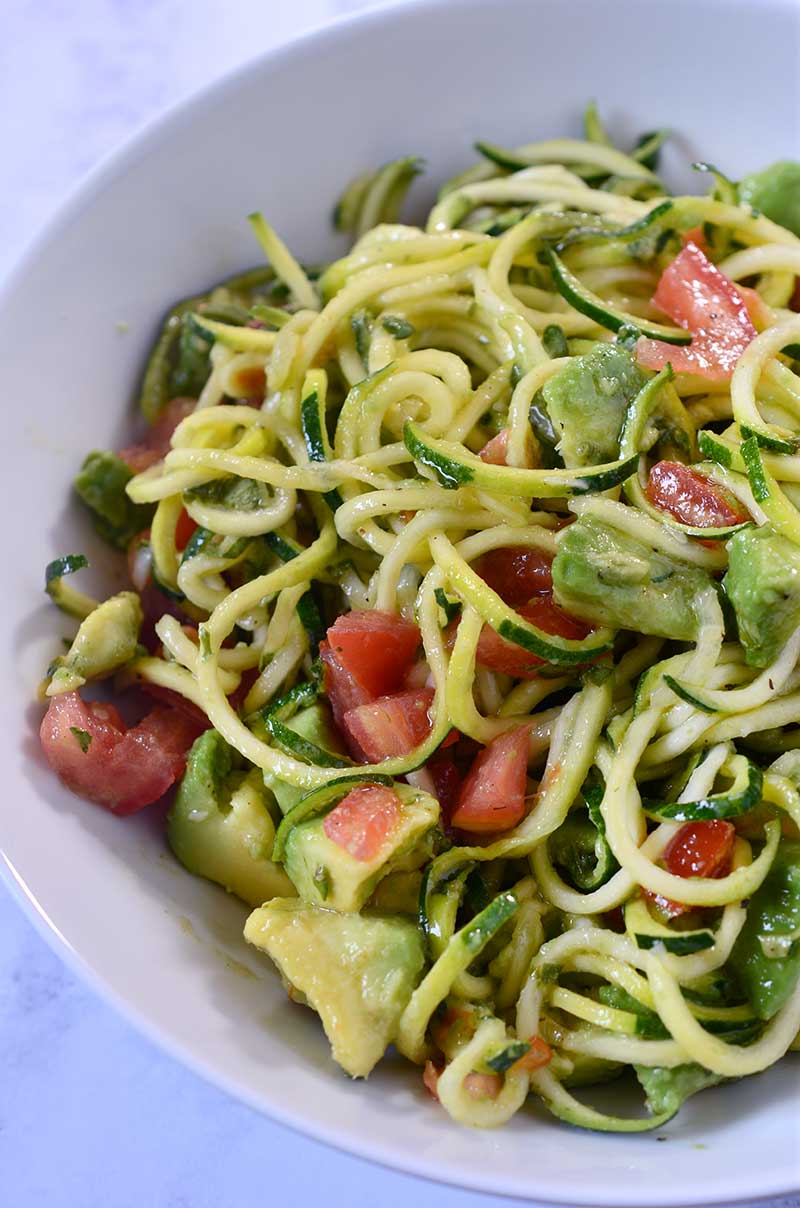 I absolutely love the addition of avocado in this Zucchini Noodle, Tomato, and Avocado Salad from Life's Ambrosia, and this is loaded with all the flavors of summer!
Raw Summer Squash Salad with Arugula and Feta from Kalyn's Kitchen is a delicious idea when it's too hot to cook and you have fresh-from-the-garden summer squash that needs to be used!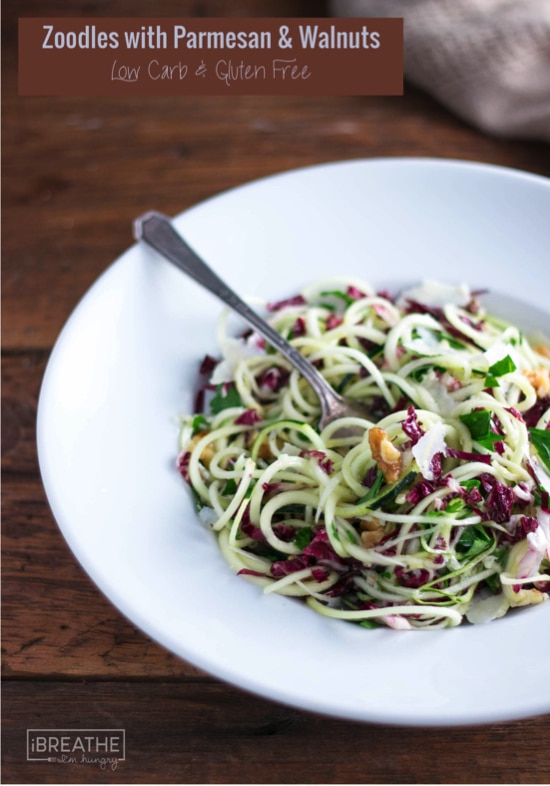 I love the addition of radicchio, parsley, and walnuts in this Zucchini Noodles Salad with Parmesan and Walnuts from I Breathe I'm Hungry!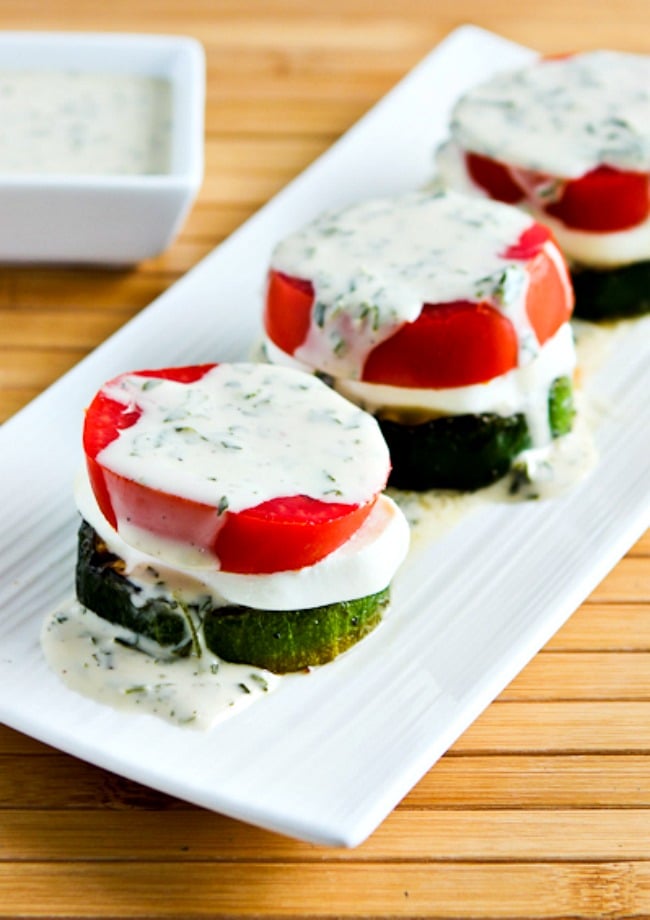 Grilled Zucchini Caprese Salad from Kalyn's Kitchen is a lovely composed salad for a dinner party! I promise this one will impress your guests.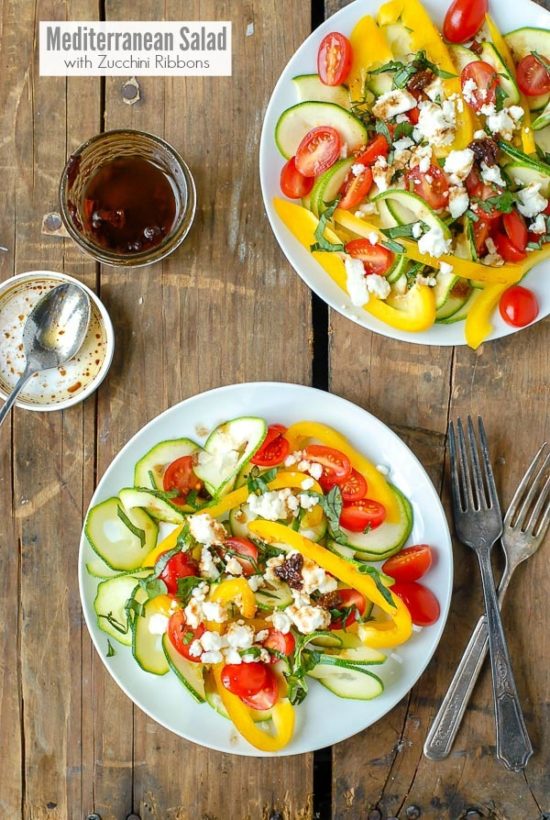 There are so many good flavors in Zucchini Noodle Mediterranean Salad from Boulder Locavore!
Grilled Zucchini Greek Salad from Kalyn's Kitchen replaces the cucumber that's traditional in Greek Salad with grilled zucchini and this one continues the zucchini + Feta theme!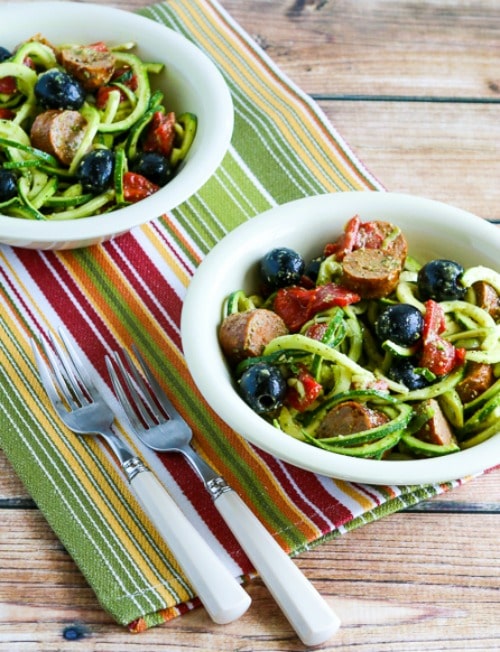 It's the pieces of spicy Italian sausage that makes me absolutely LOVE, LOVE, LOVE this Zucchini Noodle Mock Pasta Salad from Kalyn's Kitchen.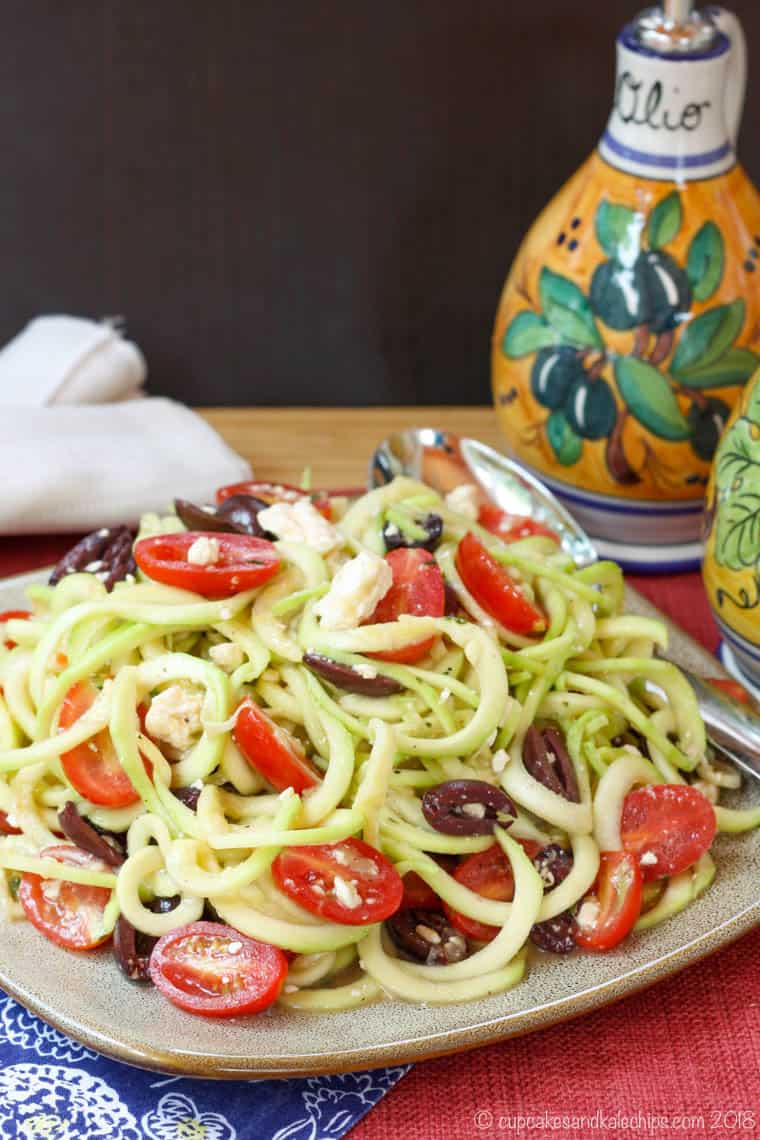 Zucchini Noodles Greek Salad from Cupcakes and Kale Chips has all those Greek flavors I like so much!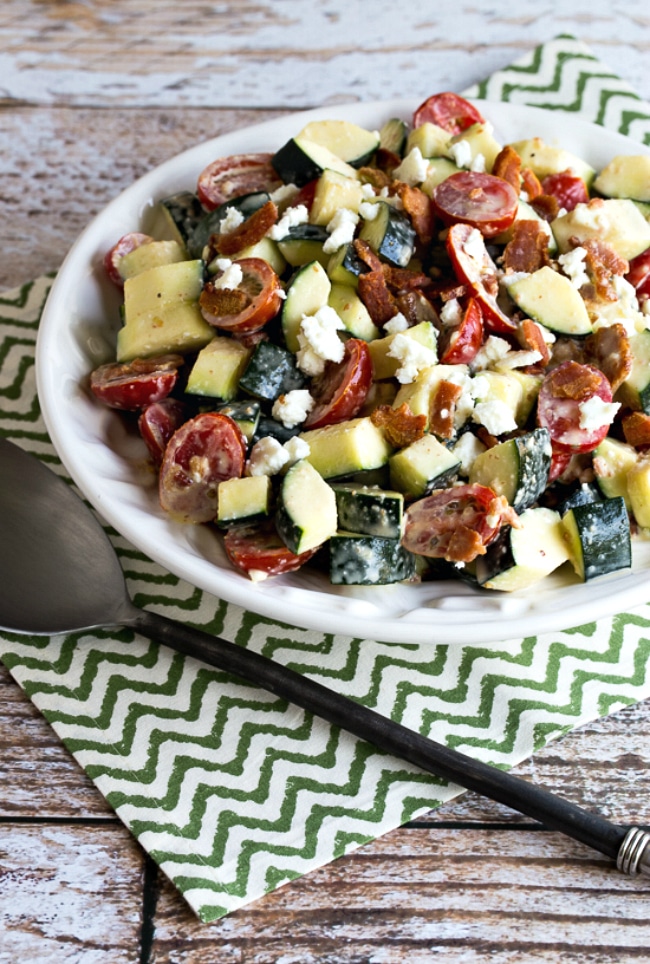 And one more think-outside-the-box idea for raw zucchini salad is this Raw Zucchini Salad with Bacon, Tomato, and Feta from Kalyn's Kitchen!
More Low-Carb Salads with Zucchini:
We are a participant in the Amazon Services LLC Associates Program, an affiliate advertising program designed to provide a means for us to earn fees by linking to Amazon.com and affiliated sites. As an Amazon Associate, I earn from qualifying purchases.