Roasted Summer Squash with Feta Cheese and Basil
This delicious Roasted Summer Squash with Feta Cheese and Basil cooks the summer squash with the Feta, for a unique version of roasted zucchini.
PIN this favorite zucchini recipe to try it later!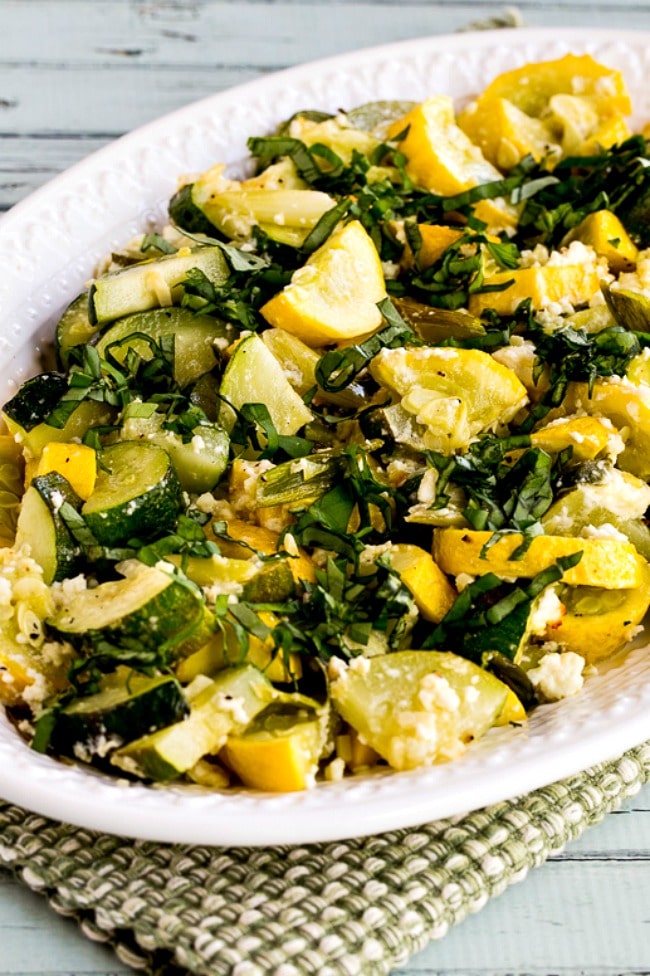 I know zucchini season is winding down, but when I updated the photos for this Roasted Summer Squash with Feta Cheese and Basil, I decided this was just too good to save until next summer. And now that the nights are getting a little cooler but zucchini is still abundant, I think roasted zucchini is the best idea ever!
In fact, I don't know who's in charge of delegating certain days or months as food holidays, but I think September should be called Roasted Zucchini Month. Are you with me on that?
I do have several other favorite roasted zucchini recipes, but what makes this one different is that the feta cheese is sprinkled over the summer squash before it's roasted, which lets it melt while the squash cooks and create kind of a sauce. It's important not to have the zucchini too crowded in the roasting pan, or the liquid from the squash won't evaporate and there will be too much liquid in the finished dish. Choose a pan where you can put all the vegetables in a single layer as much as possible.
Of course I'm a huge Feta cheese fan, but I must say I thought this roasted squash coated with melty Feta and then sprinkled with fresh basil was just UH-MAY-ZING. As in, I could hardly stop eating it!

What ingredients do you need for this recipe?
zucchini
yellow summer squash
green onions
Minced Garlic (affiliate link)
sea-salt to taste
fresh-ground black pepper to taste
extra-virgin olive oil
feta cheese
fresh basil, optional (other herbs such as oregano or parsley could also be used)

How to make this recipe:
(Scroll down for complete recipe with nutritional information.)
Preheat oven to 400F/200C. Spray a large baking sheet with nonstick spray.
Wash the squash, cut off ends, cut lengthwise and then slice.
Slice green onions and chop the garlic, and measure out the crumbled Feta Cheese.
Toss the cut squash and green onions with olive oil, salt, pepper and chopped garlic, and spread out on a baking sheet, in a single layer as much as possible.
Sprinkle Feta cheese over the squash.
Roasted the squash 25-30 minutes, stirring once or twice if you can so the melted Feta will coat all sides of the squash.
While the squash cooks, thinly slice the basil or whatever herbs you're using. I used my Herb Scissors (affiliate link) to cut the basil.
Serve hot, with basil sprinkled over!
Make it a Low-Carb Meal:
I think this would be a great side dish for Grilled Chicken, Low-Carb Meatballs, or Grilled Kabobs.
More Delicious Zucchini Recipes to Try:
Slow Cooker and Instant Pot Zucchini Recipes ~ Slow Cooker or Pressure Cooker
The Top Ten Low-Carb Zucchini Recipes from Kalyn's Kitchen
Yield: 6 servings
Roasted Summer Squash with Feta Cheese and Basil
Prep Time 15 minutes
Cook Time 30 minutes
Total Time 45 minutes
In this recipe the summer squash cooks with the Feta resulting in a unique version of roasted zucchini that's served with fresh basil, yum!
Ingredients
3 medium green zucchini (see notes)
2 medium yellow summer squash (see notes)
8 green onions
6 cloves garlic, finely minced (see notes)
sea-salt to taste
fresh-ground black pepper to taste
2 T extra-virgin olive oil
1 cup feta cheese, or more (measure after crumbling, loosely packed)
1/4 cup chiffonade of fresh basil, optional (other herbs such as oregano or parsley could also be used)
Instructions
Preheat oven to 400F/200C.
Choose a roasting pan that will hold the vegetables in a single layer, and spray with non-stick spray or mist with olive oil.
Wash zucchini and summer squash and trim off stem ends.
Cut squashes lengthwise down the middle and then cut each piece into half-moon pieces about 1/2 inch thick.
Clean the green onions and slice into diagonal pieces about 1 inch long.
Chop the garlic. (I used my Williams-Sonoma Garlic Chopper for the garlic.)
Put sliced squash and onions into a plastic bowl.
Mix together olive oil, salt, pepper, and minced garlic and toss with squash.
Arrange vegetables on roasting pan and crumble feta cheese over.
Roast about 25-30 minutes or until the vegetables are barely tender.
Stir the vegetable-cheese mixture once or twice during roasting so melted feta is coating some of the squash by the time it's done.
Serve hot, with thinly sliced basil (chiffonade) or other fresh herbs sprinkled over if desired.
Notes
You can use all green zucchini or all yellow summer squash if that's what you have. Of course you can use minced garlic from a jar, but fresh garlic is best here.
This recipe originally inspired by two different now-abandoned blogs.
Nutrition Information:
Yield:
6
Serving Size:
1
Amount Per Serving:
Calories: 157
Total Fat: 11g
Saturated Fat: 5g
Trans Fat: 0g
Unsaturated Fat: 5g
Cholesterol: 22mg
Sodium: 334mg
Carbohydrates: 12g
Fiber: 3g
Sugar: 6g
Protein: 6g
Nutrition information is automatically calculated by the Recipe Plug-In I am using. I am not a nutritionist and cannot guarantee 100% accuracy, since many variables affect those calculations.
Low-Carb Diet / Low-Glycemic Diet / South Beach Diet Suggestions:
This Roasted Summer Squash with Feta Cheese and Basil is a good side dish for any low-glycemic or low-carb diet, including any phase of the original South Beach Diet.
Find More Recipes Like This One:
Use Zucchini Recipes to find more recipes like this one. Use the Recipes by Diet Type photo index pages to find more recipes suitable for a specific eating plan. You might also like to Follow Kalyn's Kitchen on Pinterest to see all the good recipes I'm sharing there.
We are a participant in the Amazon Services LLC Associates Program, an affiliate advertising program designed to provide a means for us to earn fees by linking to Amazon.com and affiliated sites. As an Amazon Associate, I earn from qualifying purchases.