Spaghetti Squash with Mizithra Cheese and Browned Butter
Spaghetti Squash with Mizithra Cheese and Browned Butter is a low-carb version of Spaghetti with Mizithra Cheese and Browned Butter! And if you love that iconic Spaghetti Factory dish, this will rock your world!
PIN Spaghetti Squash with Mizithra Cheese and Browned Butter!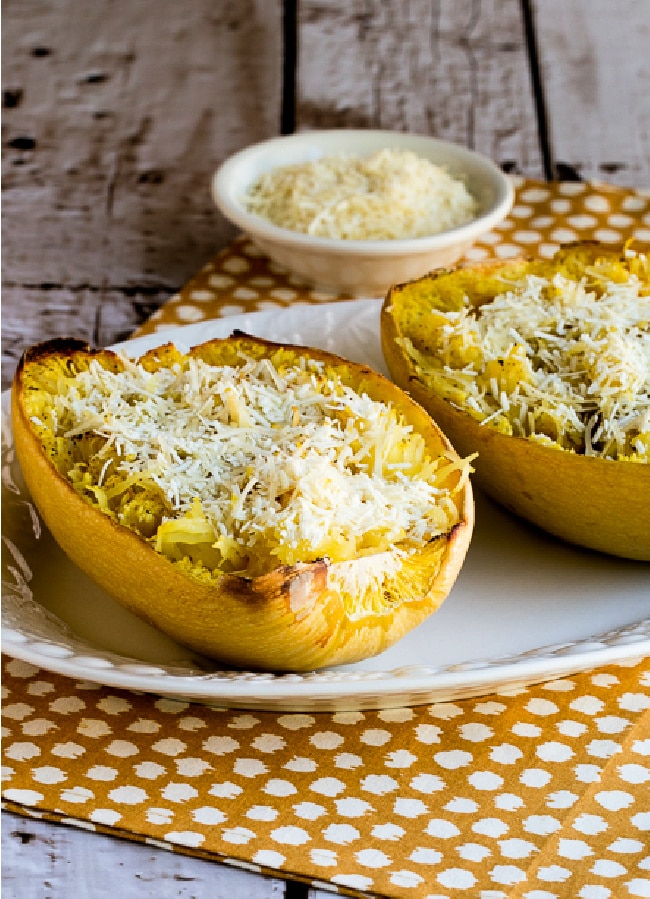 Spaghetti Squash is starting to show up in the stores, so today I am reminding you about this fantastically delicious Spaghetti Squash with Mizithra Cheese and Browned Butter! If you're living in the U.S. and you're familiar with Mizithra Cheese, there's a good chance you learned about it at The Old Spaghetti Factory!
I've been a long-time fan of this famous dish, but these days a big plate of spaghetti isn't something I'd splurge on for dinner very often. That's why I decided to try to create a version of this iconic recipe that was suitable for a carb-conscious diet.
Jake and I first tried using Mizithra and browned butter on zucchini noodles, an experiment that was not a keeper. Then we had the idea of trying it on spaghetti squash, and oh my, happy tastebuds! The Spaghetti Squash with Mizithra Cheese and Browned Butter was amazing.
Everything about this combination worked perfectly, and when we tested the recipe Jake and I had to use ultimate self control not to eat it all at once! This low-carb and gluten-free version of The Old Spaghetti Factory's classic dish would also be great for Keto, and it's a perfect side dish for a low-carb meal; enjoy!
What ingredients do you need for this recipe?
spaghetti squash
Olive Oil (affiliate link)
salt and black pepper
butter
Mizithra Cheese
What is Spaghetti Squash?
Spaghetti Squash is a type of winter squash that's popular with vegetable gardeners. It's famous for the way the cooked squash strings apart in strings, resembling spaghetti. And if you grow your own spaghetti squash you can also cook unripe spaghetti squash as a summer squash, which is one of my personal favorites!
What is Mizithra Cheese?
Mizithra Cheese is a type cheese that comes from Greece or the Island of Crete. It's most often sold as an aged, hard cheese that's grated like Parmesan. It has a distinctive nutty flavor, and in the United States this cheese was made famous by The Old Spaghetti Factory, where Spaghetti with Mizithra Cheese and Browned Butter has been the most popular dish since 1969.
What is Browned Butter?
Browned Butter is simply butter that's cooked until it foams and the milk fat darkens and develops a nutty flavor. Here is How to Brown Butter if you've never tried it.
Do you have to roast the spaghetti squash?
Roasting dries out the spaghetti squash a bit and we loved the roasted spaghetti squash in this dish. But you can also cook the spaghetti squash in the Instant Pot or the Slow Cooker if you prefer.
Want more cheesy Spaghetti Squash?
Check out Cheesy Low-Carb Spaghetti Squash Recipes for more more tasty ideas with spaghetti squash + cheese!
How to Make Spaghetti Squash with Mizithra Cheese and Browned Butter:
(This is just a summary of the steps shown in the photo; scroll down to see the complete recipe including nutritional information.)
Carefully cut away the ends of the spaghetti squash and cut it in half.
Scrape out seeds, brush with olive oil, season with salt and fresh-ground black pepper and roast the squash about 60 minutes, or until it shreds apart easily.
When it's done, shred apart into strings, keeping them inside the squash skin as a serving vessel.
Make browned butter and pour over the shredded squash.
Top with a generous amount of Mizithra and serve.
One spaghetti squash makes enough for four side-dish servings of this, and you'll want to eat it as a side dish unless you're really having a splurge; enjoy!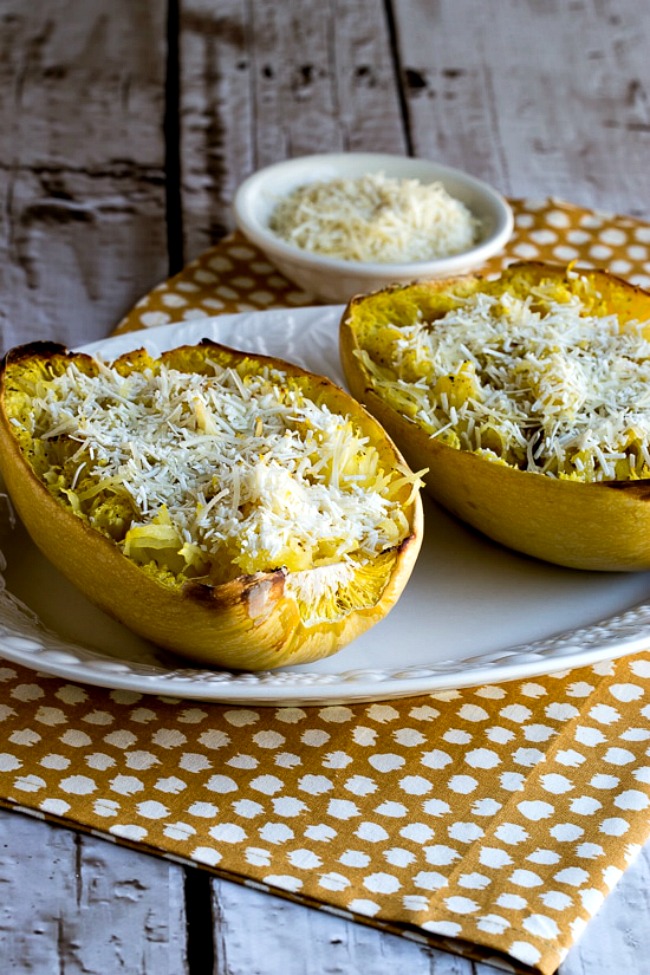 Make it a Low-Carb Meal:
For a tasty low-carb meal serve this Spaghetti Squash with Roasted Salmon with Avocado Salsa, Cucumber Salad with Balsamic Dressing, Rosemary Mustard Grilled Chicken, Lemon Parmesan Kale Salad, or Grilled Boneless Pork Chops.
More Ideas with Spaghetti Squash:
Greek Salad Spaghetti Squash Bowl
Mediterranean Spaghetti Squash
Mock Lasagna Spaghetti Squash Casserole
Yield: 4 servings
Spaghetti Squash with Mizithra Cheese and Browned Butter
Prep Time 25 minutes
Cook Time 1 hour 5 minutes
Total Time 1 hour 30 minutes
Spaghetti Squash with Mizithra Cheese and Browned Butter is a lower-carb version of the famous Spaghetti with Mizithra Cheese and Browned Butter at The Old Spaghetti Factory!
Ingredients
1 spaghetti squash (see notes)
2 tsp. olive oil
salt and fresh ground black pepper to taste
1/3 cup browned butter (see notes)
1/2 cup grated Mizithra Cheese
Instructions
Preheat oven to 400F/200C.
Spray a baking sheet with oil or non-stick spray.
Pierce the spaghetti squash with a fork and microwave about 5 minutes on high to soften, so it's easier to cut through the skin. (You can skip this step if you don't have a microwave, but it does make the squash easier to cut.)
Cut just the very end off each piece of squash, removing the stem.
Cut squash lengthwise into two equal pieces and scrape out the seeds.
Place squash onto the baking sheet and brush the surface with the olive oil.
Season to taste with salt and fresh-ground black pepper.
Roast squash about 50-60 minutes, or until the pieces shred apart easily with a fork to make "spaghetti."
Larger pieces of squash may take a little more than an hour.
When the squash is done, remove from the oven and use a fork to shred the squash strands apart, keeping them in the serving vessel made by the skin of the squash.
Cut the butter into pieces and place in a small frying pan.
Heat over medium heat until the butter is melted.
Then continue cooking the butter, whisking constantly, until it starts to foam up and turns slightly brown.
The butter should have some brown flecks in the bottom of the pan and smell slightly nutty when it's done.
You can strain to remove the foam if you wish, although it's not necessary.
Here's more about How to Brown Butter if you haven't done it.
Drizzle the browned butter over the squash and top with desired amount of the grated Mizithra Cheese.
Serve hot, with a little more cheese to pass at the table if desired.
Notes
Use a spaghetti squash that's at least 2 1/2 pounds for this recipe. Use just over half of a stick of butter.
Nutritional information is based on a serving size of about one cup of spaghetti squash.
This recipe created by Kalyn and Jake with inspiration from The Old Spaghetti Factory.
Nutrition Information:
Yield:
4
Serving Size:
1
Amount Per Serving:
Calories: 259
Total Fat: 23g
Saturated Fat: 13g
Unsaturated Fat: 8g
Cholesterol: 55mg
Sodium: 394mg
Carbohydrates: 11g
Fiber: 2.3g
Sugar: 4g
Protein: 4.7g
Nutrition information is automatically calculated by the Recipe Plug-In I am using. I am not a nutritionist and cannot guarantee 100% accuracy, since many variables affect those calculations.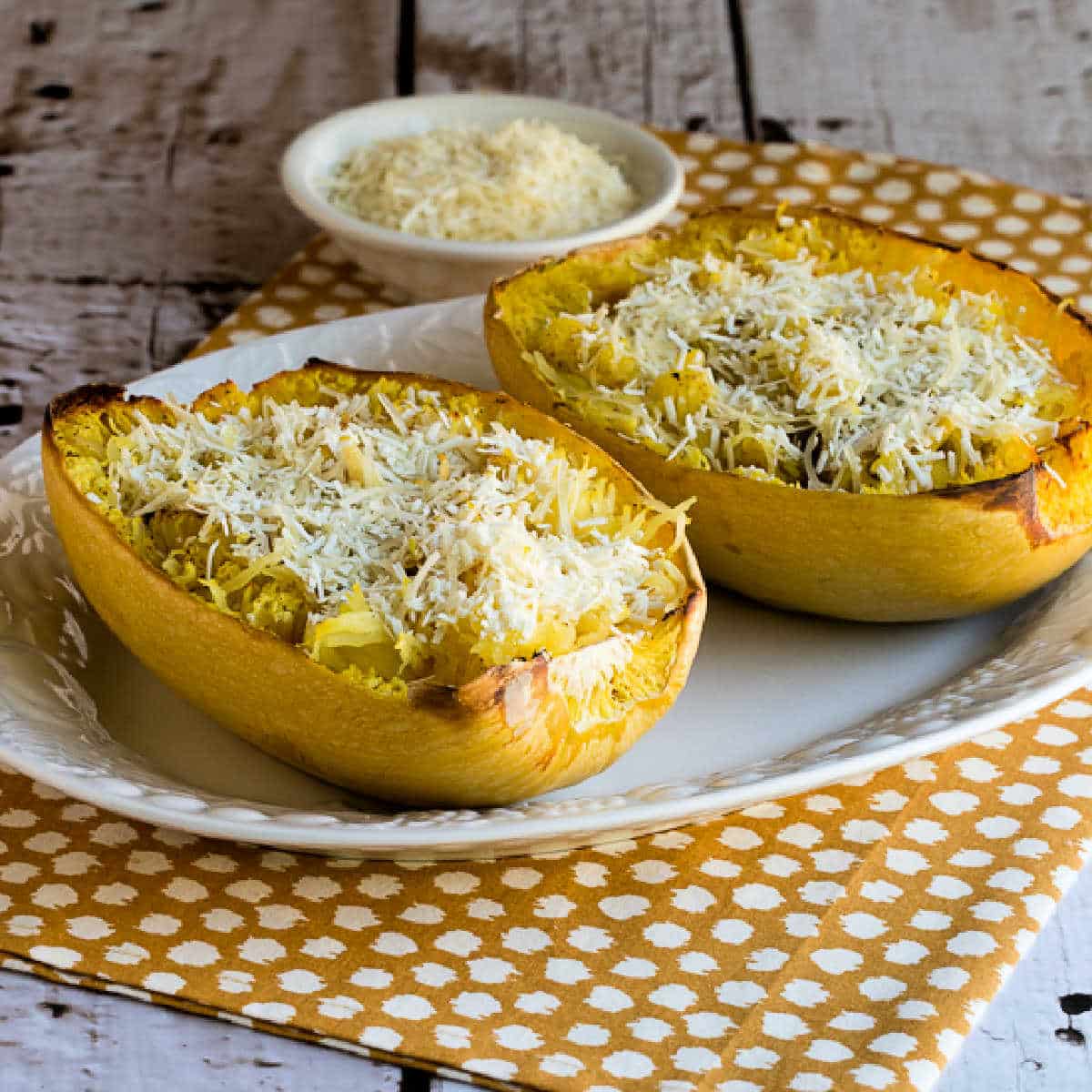 Low-Carb Diet / Low-Glycemic Diet / South Beach Diet Suggestions:
This is a great dish for low-carb diets, even Keto. If you're following the letter of the law for the original South Beach Diet, this Spaghetti Squash with Mizithra Cheese and Browned Butter is probably an occasional treat even for phase three, due to the saturated fat in the butter and cheese.
Find More Recipes Like This One:
Use Side Dishes or Spaghetti Squash to find more recipes like this one. Use the Diet Type Index to find recipes suitable for a specific eating plan. You might also like to follow Kalyn's Kitchen on Pinterest, on Facebook, on Instagram, on TikTok, or on YouTube to see all the good recipes I'm sharing there.
Historical Notes for this Recipe:
This recipe was posted in 2015. It was last updated with more information in 2022.
We are a participant in the Amazon Services LLC Associates Program, an affiliate advertising program designed to provide a means for us to earn fees by linking to Amazon.com and affiliated sites. As an Amazon Associate, I earn from qualifying purchases.