Cheesy Low-Carb Spaghetti Squash Recipes
Spaghetti squash is a perfect ingredient for low-carb eaters, and here's a great collection of 20 Cheesy Low-Carb Spaghetti Squash Recipes. There are recipes here from blogs around the web, and all of them have spaghetti squash with plenty of cheese!
PIN the Cheesy Low-Carb Spaghetti Squash Recipes to try some later!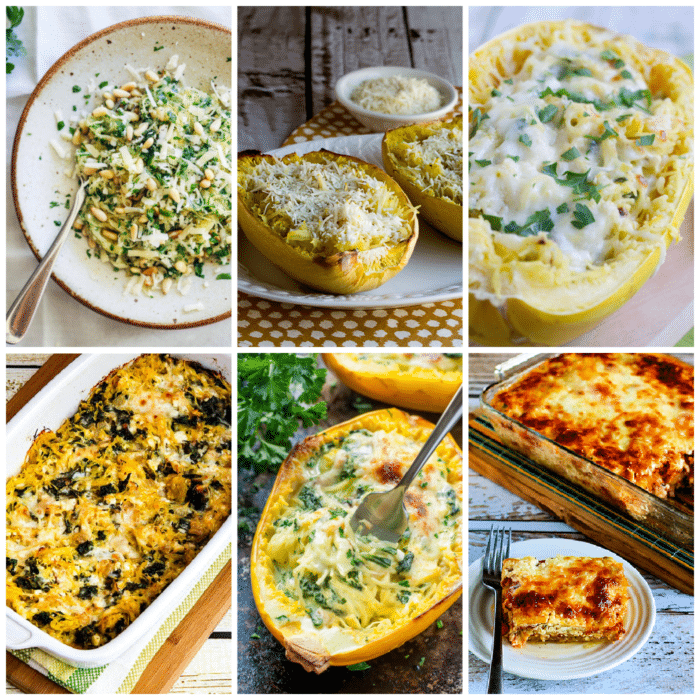 For a long time I wasn't a lover of spaghetti squash. I think my mistake was thinking of it only as a low-carb substitute for pasta. But after I started thinking of spaghetti squash as an ingredient in its own right I really liked using it, and I've discovered that there are endless creative ways to use this popular winter squash. And cheesy spaghetti squash is something that's always great!
If you're already a spaghetti squash fan, I hope you'll find something that intrigues you in this updated collection of Cheesy Low-Carb Spaghetti Squash Recipes! Here. you'll find lots of recipes for that Spaghetti Squash + cheese combination that's so tasty, and most of these are Keto spaghetti squash recipes as well. And if you haven't cooked spaghetti squash or eaten it that much, I bet you'll like it when plenty of cheese is involved!
What's the easiest way to cook spaghetti squash?
Many of my spaghetti squash recipes start with a squash that's cut in half, had the seeds scraped out, and roasted until it strings apart, but here's How to Make CrockPot or Instant Pot Spaghetti Squash if you'd like to try one of those methods!
What kinds of recipes will you find here?
Besides cheese, lots of these low-carb and Keto spaghetti squash recipes have other ingredients that are some of my favorites like spinach, pine nuts, artichokes, sausage, and pesto! I found so many creatives ideas with spaghetti squash that can be low-carb or Keto; check after the photos for even more recipe ideas! And if you're a spaghetti squash fan, here's an informative Guide to Spaghetti Squash.
How do you get the complete recipe?
Just click any recipe name to see the full recipe on the original blog. All photos are copyrighted by the blog that originally published the recipe. You can also check out Recipe Round-Ups if you'd like to find more low-carb recipe round-ups like this one
Twice-Baked Spaghetti Squash with Pesto from Kalyn's Kitchen is one of the oldest and most popular spaghetti squash recipes on my blog, and this is always a winner!
Cheesy Garlic and Parmesan Spinach Spaghetti Squash from Peas and Crayons sounds amazing, and for a bonus, this recipe uses a whole 5 oz. package of spinach!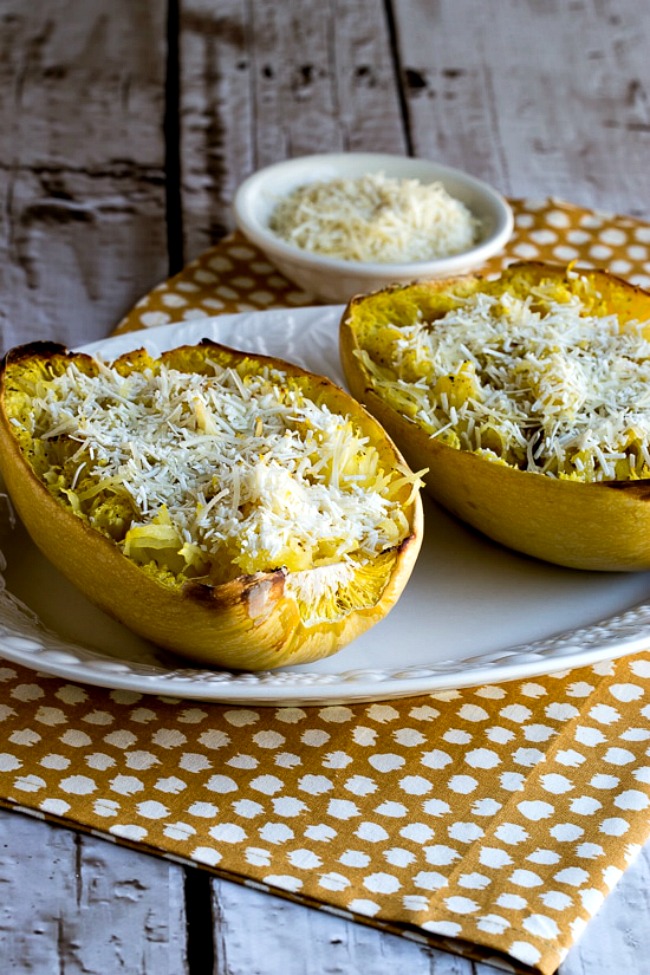 If you've enjoyed the Spaghetti with Mizithra and Browned Butter at The Old Spaghetti Factory, you're going to go crazy over this Spaghetti Squash with Mizithra Cheese and Browned Butter from Kalyn's Kitchen. I LOVE this recipe.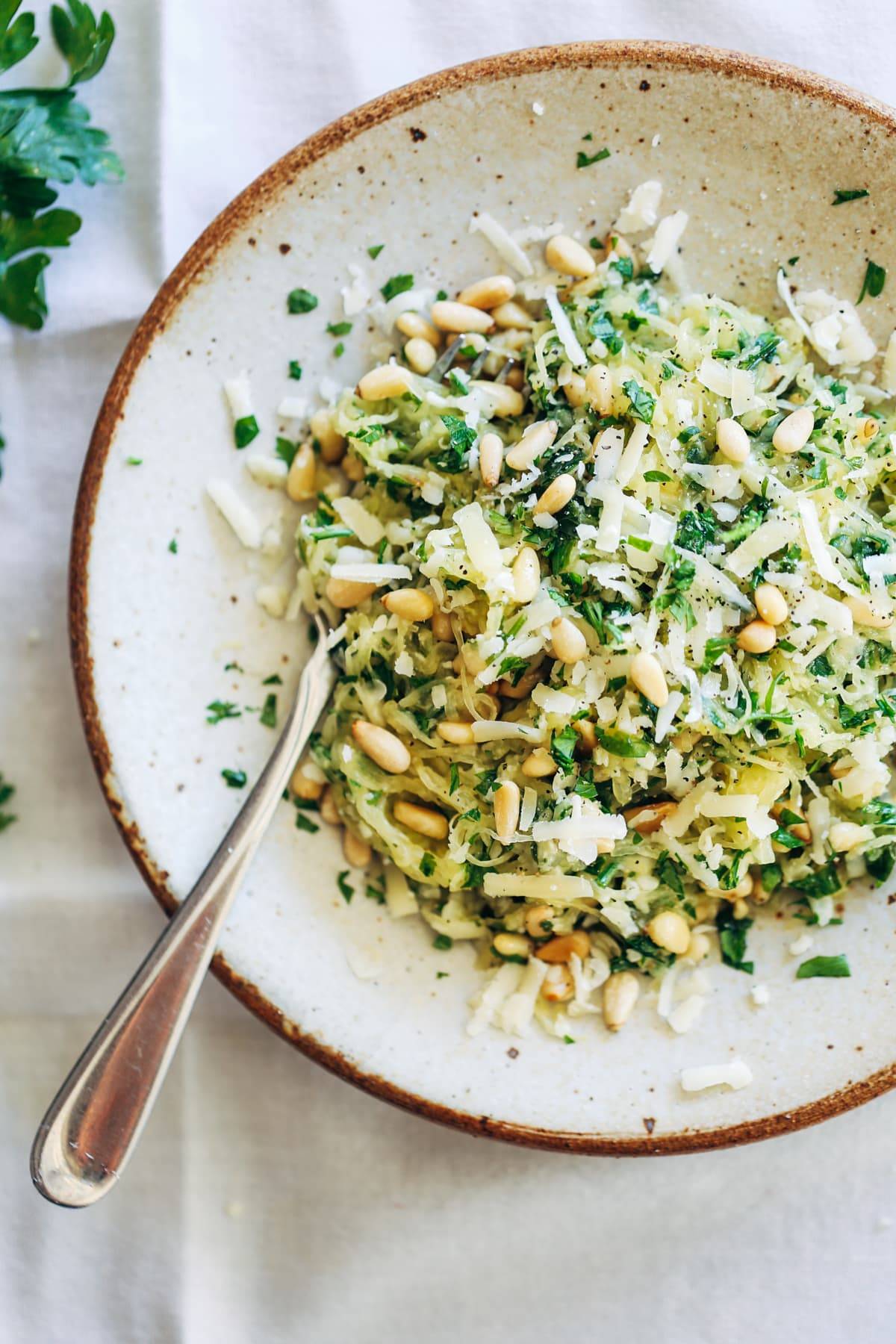 Garlic Spaghetti Squash with Herbs from Pinch of Yum also has pine nuts, which always bumps up the yum factor in my book!
Mock Lasagna Spaghetti Squash Casserole from Kalyn's Kitchen does have a bit more carbs than some of these, but this is so, so delicious!
Spinach and Artichoke Spaghetti Squash from Taste and Tell has a lot of cheesy goodness, plus artichokes. Yes, please!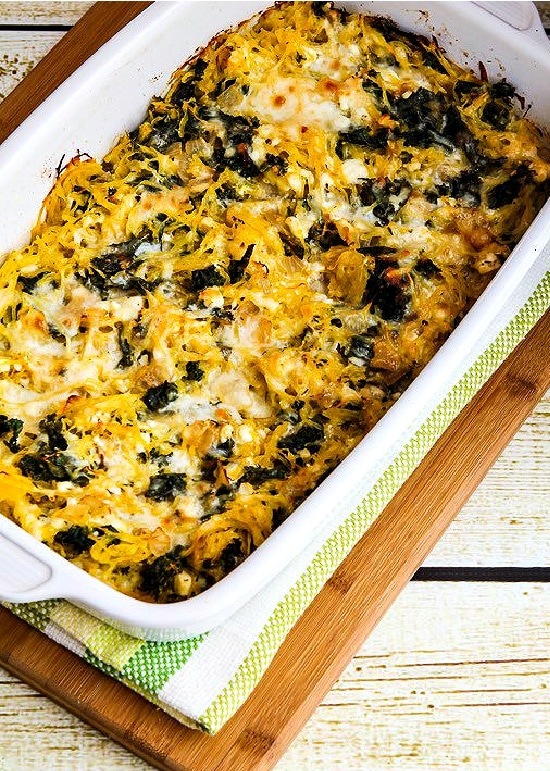 I love the combination of kale and Feta in this Twice-Baked Spaghetti Squash with Kale from Kalyn's Kitchen.
Spaghetti Squash Boats with Chicken sound delicious at Well Plated! And did you notice there's bacon?
Cheesy Spaghetti Squash Skillet from I breathe I'm Hungry looks cheesy and delicious!
More Low-Carb Spaghetti Squash Recipes to Swoon Over:
What's your favorite way to cook Spaghetti Squash? Tell us in the comments!
We are a participant in the Amazon Services LLC Associates Program, an affiliate advertising program designed to provide a means for us to earn fees by linking to Amazon.com and affiliated sites. As an Amazon Associate, I earn from qualifying purchases.