Parsley Hummus
If you like parsley and middle eastern flavors, you'll love Parsley hummus, and you must try this if you're growing parsley in your garden! And you may be surprised at how the flavor of fresh chopped parsley livens up the hummus!
PIN Parsley Hummus to try it later!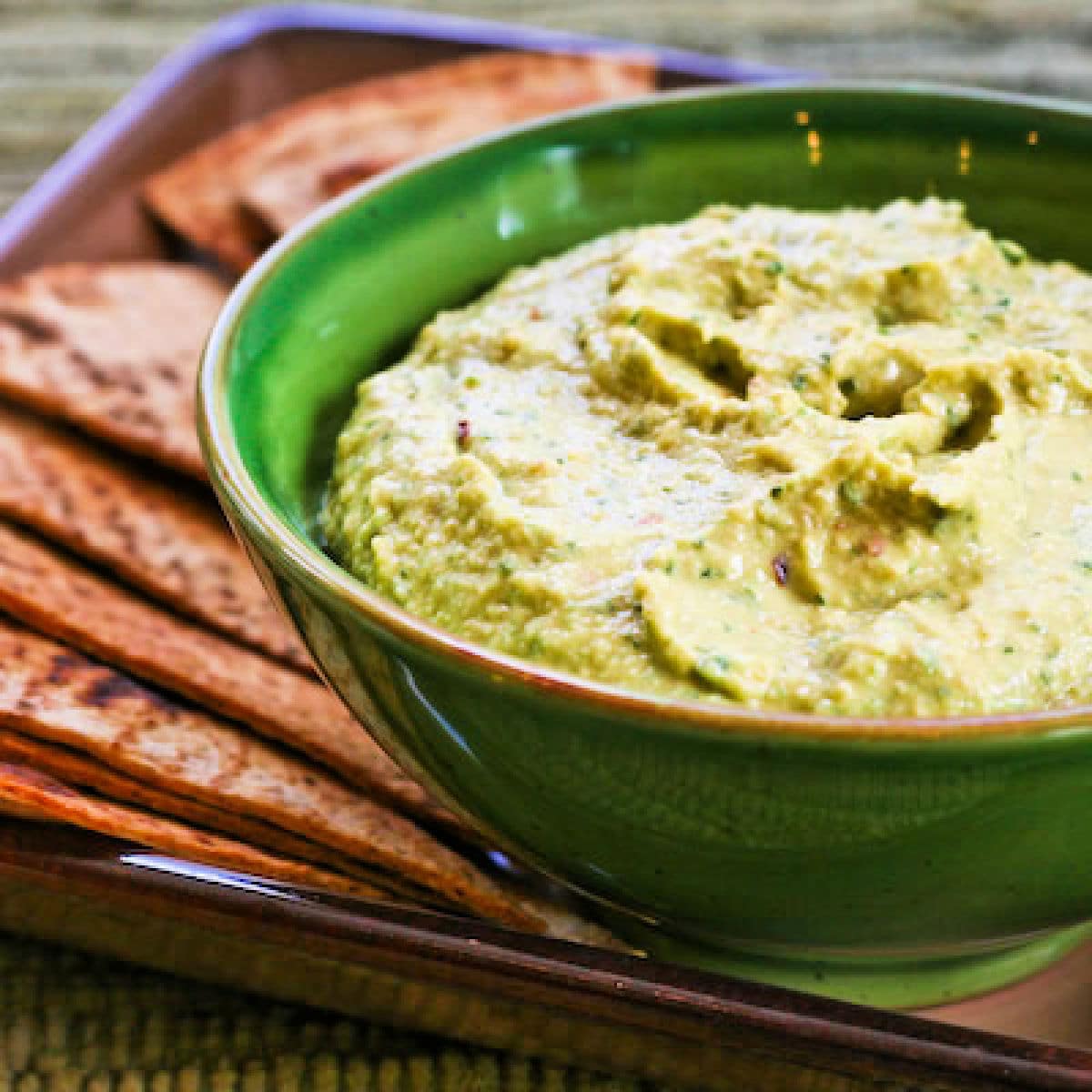 I love parsley and middle eastern flavors, so this Parsley Hummus is something I've loved for a snack with pita chips made from my favorite low-carb pita bread. This interesting version of hummus has lots of parsley, tahini, sesame oil, cumin, and lemon juice.
If you have friends who like interesting flavors, make this and ask them what the seasonings are, and I doubt they'll be able to guess. But I bet everyone who likes recipes like Tabbouleh, Quinoa Tabbouleh, or Middle Eastern Tomato Salad that use lots of fresh parsley is also going to like this hummus with parsley flavor!
What ingredients do you need?
(This is only a list of ingredients; please scroll down for complete printable recipe. Or if you use the JUMP TO RECIPE link at the top of the page, it will take you directly to the complete recipe.)
What kind of parsley did I use?
In spite of a widespread belief that flat parsley is better, I love curly parsley and that's what I used in this recipe. I grow flat Italian parsley too, but when I made this the curly parsley was looking more perky in the garden. Use any kind of parsley you prefer, but do give this a try when you want to expand your hummus options!
What Pita Bread did we use to eat with the Parsley Hummus?
We ate this with Joseph's Low-Carb Pita Bread (affiliate link) which is quite low in net carbs. For a lower-carb and gluten-free option you could eat it with celery, cauliflower, or red pepper strips.
Want more ideas for using fresh parsley?
If you have a garden where you're growing parsley or just like the flavor of it, check out my post on Cooking with Fresh Parsley for lots more ideas for using it!
How to Make Parsley Hummus:
(This is only a summary of the steps for the recipe; please scroll down for complete printable recipe. Or if you use the JUMP TO RECIPE link at the top of the page, it will take you directly to the complete recipe.)
Start by draining a can of chickpeas (garbanzo beans) into a colander and rinsing well. Of course you can use freshly cooked chickpeas, but for hummus where the beans will be pureed, canned beans are fine.
Rinse the parsley and spin dry in salad spinner (affiliate link), or wipe dry with paper towels. I love this mini salad spinner that I use for herbs.
Use the food processor to chop the parsley and garlic well, then add chickpeas and process about one minute. Add rest of ingredients and process until smooth, about 2 minutes more.
I'm not sure why I didn't take a photo of the finished hummus in the food processor, but I think until my house is finished I'll blame all these missed photo opportunities on distractions from having a house full of workers!
I adapted this recipe from one in The Bon Appetit Cookbook: Fast Easy Fresh (affiliate link), and they served it with cauliflower crudites in the book. I liked that combination, but in the photos you're seeing it with low-carb pita chips, that I made from my favorite low-carb pita bread, lightly toasted on a cookie sheet.
More Interesting Ideas for Hummus
Yield: 6 servings
Parsley Hummus
Prep Time 20 minutes
Total Time 20 minutes
This Parsley Hummus with middle eastern flavors would be great to make if  you're growing parsley in your garden!
Ingredients
one 15 oz. can garbanzo beans, drained and rinsed
1/2 cup chopped parsley
1 tsp. minced garlic
1/4 cup sour cream
3 T tahini sauce
1 1/2 T lemon juice
2 T sesame oil
2 T olive oil
1 1/2 tsp. cumin
1 tsp. salt (more or less to taste)
1/4 tsp. cayenne pepper or hot sauce
1 T water (more or less, depending on how thick you like it)
Instructions
Drain chickpeas (garbanzo beans) into a colander placed in the sink, then rinse until no more foam appears.
Let the water drain off.
Put parsley and garlic into bowl of food processor fitted with the stainless steel blade.
Process about 1 minute, until parsley is well chopped.
Add drained chickpeas and process 1-2 minutes, until beans are mostly smooth.
Add sour cream, Tahini sauce, lemon juice, sesame oil, olive oil, cumin, salt, and cayenne or hot sauce.
Process until mixture is very smooth.
Test thickness and add a bit of water if you'd like it to be a little thinner.
Serve hummus with toasted whole wheat pita chips, cauliflower, celery, carrot sticks, or red bell pepper strips.
Nutrition Information:
Yield:
6
Serving Size:
1
Amount Per Serving:
Calories: 264
Total Fat: 17g
Saturated Fat: 3g
Trans Fat: 0g
Unsaturated Fat: 13g
Cholesterol: 6mg
Sodium: 717mg
Carbohydrates: 22g
Fiber: 6g
Sugar: 4g
Protein: 8g
Nutrition information is automatically calculated by the Recipe Plug-In I am using. I am not a nutritionist and cannot guarantee 100% accuracy, since many variables affect those calculations.
Low-Carb Diet / Low-Glycemic Diet / South Beach Diet Suggestions:
Hummus is made from beans, so it's too high in carbs for a low-carb diet plan except for an occasional treat. You could make this better for low-carb diets and also acceptable for any phase for the original South Beach Diet by using celery, cauliflower, or red pepper strips to dip into the hummus.
Find More Recipes Like This One:
Use Appetizer Recipes to find more recipes like this one. Use the Diet Type Index to find recipes suitable for a specific eating plan. You might also like to follow Kalyn's Kitchen on Pinterest, on Facebook, on Instagram, on TikTok, or on YouTube to see all the good recipes I'm sharing there.
Historical Notes for this Recipe:
This Parsley Hummus was first posted in 2009 when I had lots of parsley growing in my garden. It was last updated with more information in 2023.
We are a participant in the Amazon Services LLC Associates Program, an affiliate advertising program designed to provide a means for us to earn fees by linking to Amazon.com and affiliated sites. As an Amazon Associate, I earn from qualifying purchases.