Balela Salad (Middle Eastern Bean Salad)
Balela Salad is a classic middle eastern bean salad that's loaded with interesting flavors and healthy ingredients. This makes a great lunch or side-dish salad any time of year, but when you have fresh garden tomatoes it will be even better! See tips for making a version with fewer carbs if you prefer that option.
PIN Balela Salad to try it later!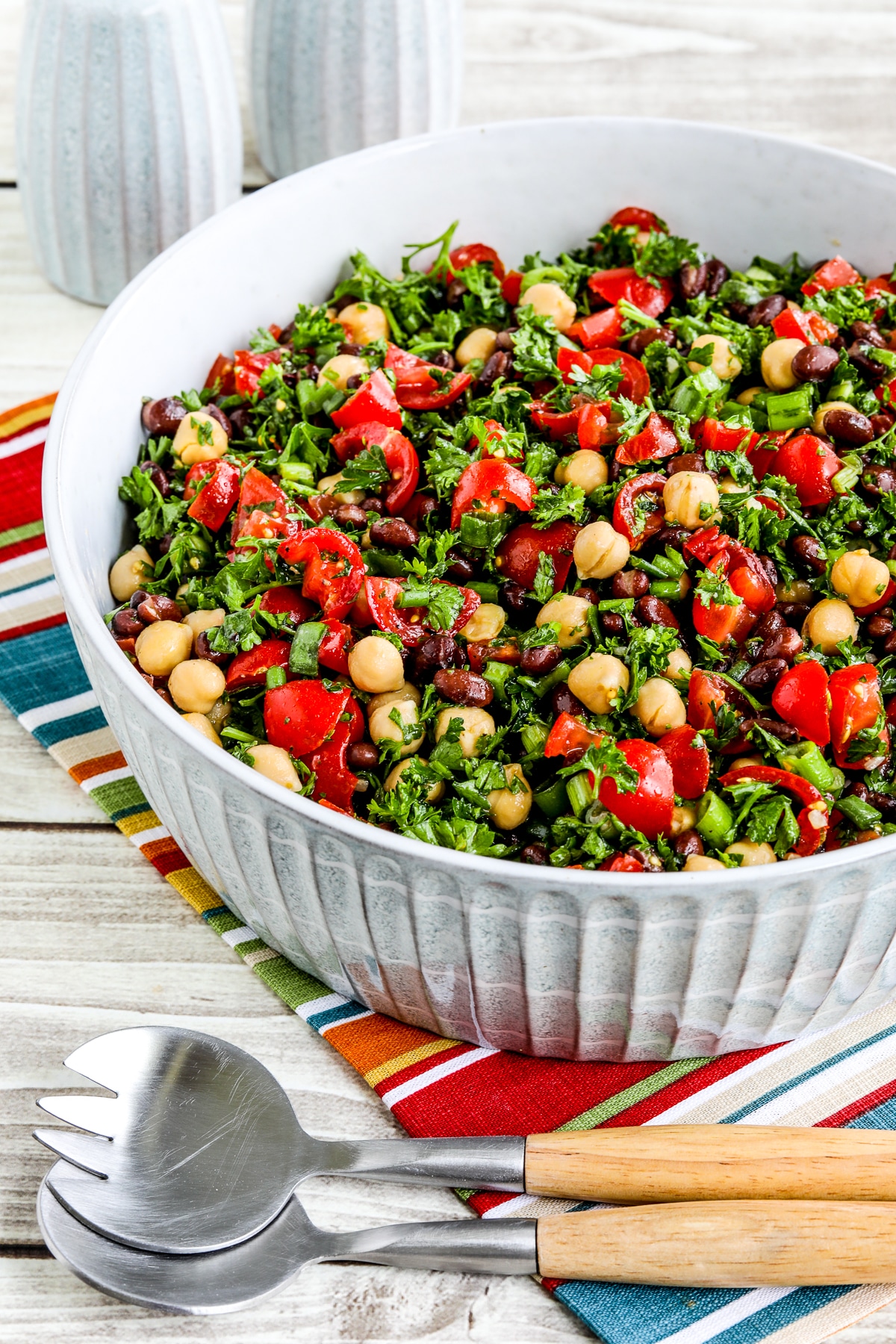 I started my healthier eating journey many years ago following the original South Beach Diet, which encouraged eating dried beans and called them a "good carb." Now beans are more of a carb splurge for me, but I do still have a few favorite bean salads that I make for a treat when it's hot and I just want salad for dinner. And this Balela Salad has been one of my favorites for many years!
There are countless variations of this middle eastern bean salad, but it always has a generous amount of fresh herbs. For my version I used a whole cup of fresh chopped parsley, and this would also be a perfect salad to add some chopped fresh mint if you have that in the garden.
The salad has a garlicky lemon dressing that's combined with the garbanzos and black beans so they can marinate for a bit while you chop up the other ingredients. Then after about 30 minutes (or as long as you can wait) just stir in the chopped tomatoes, chopped parsley, and green onion for a simple salad that's bursting with flavor.
What ingredients do you need for this recipe?
canned black beans
canned garbanzo beans
green onion
chopped fresh tomato
finely chopped fresh parsley
fresh-squeezed lemon juice, I used my fresh-frozen lemon juice
garlic puree or Minced Garlic (affiliate link)
extra-virgin olive oil
salt or use Vege-Sal (affiliate link) if you have some
fresh ground black pepper to taste
Where does the name Balela come from?
The word Balela means "cooked chickpeas" in Arabic, and Balela is an ancient Middle Eastern Chickpea Salad. There are different variations of this all over the world, but they always include chickpeas and fresh herbs
Will the salad stay good in the fridge?
The salad was surprisingly not bad after bring in the fridge overnight. But I prefer not to refrigerate tomatoes, and if I wanted to eat this over several days I'd leave out the tomato and add a fresh-chopped tomato to each portion of salad when I ate it.
How can you make the Balela Salad lower in carbs?
This recipe has 18 net carbs per serving as written, which might not work if you're really trying to limit your carbs. To make a lower-carb version of Balela I'd try adding some lower-carb vegetables like chopped red bell pepper, chopped cucumber, chopped celery, chopped radishes, or even chopped raw zucchini. You could also make a tasty lower-carb Balela Salad by combining this recipe with a generous amount of chopped lettuce. I'd love to hear how these variations work if anyone tries some.
More tasty ideas for parsley fans!
I'm a huge fan of fresh parsley and think it's greatly under-used in many American kitchens. If you like parsley like I do, you might want to check out my collection of recipes for Cooking with Fresh Parsley for more ideas!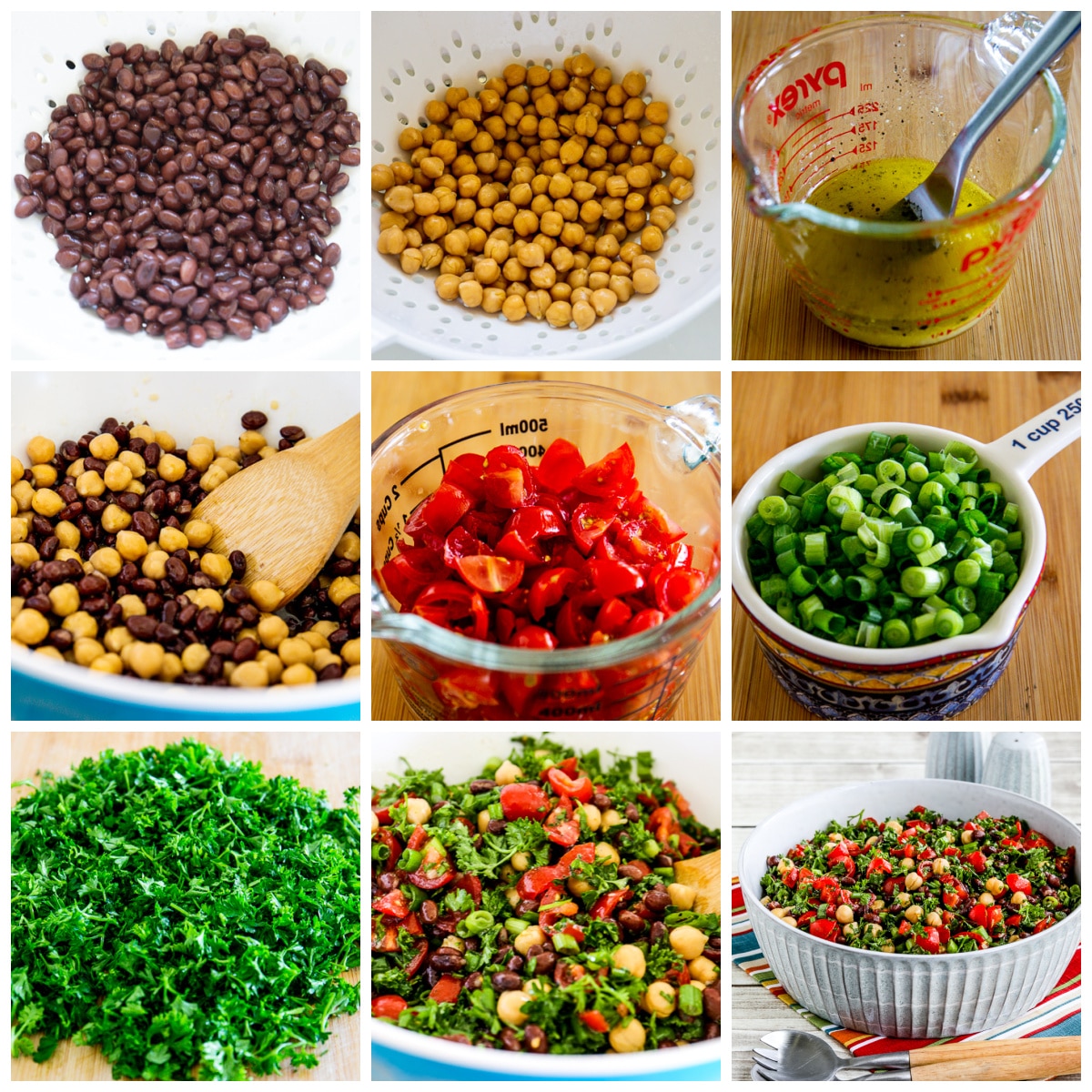 How to make Balela Salad:
(Scroll down for complete recipe with nutritional information.)
Pour chickpeas and black beans one at a time into a colander placed in the sink, rinse well until no more foam appears, and let drain. (I blot them dry with a paper towel if they seem quite wet.)
While beans are draining, whisk together lemon juice, olive oil, minced garlic, salt (or Vege-Sal), and pepper to make the dressing.
Put the well-drained beans into a bowl and mix in half the dressing.
While beans marinate hop the tomatoes, green onions, and parsley.
When beans have marinated 30 minutes (or as long as you can wait), mix in tomatoes, green onions, and parsley and gently combine.
Season to taste with more salt and fresh-ground black pepper as desired and serve.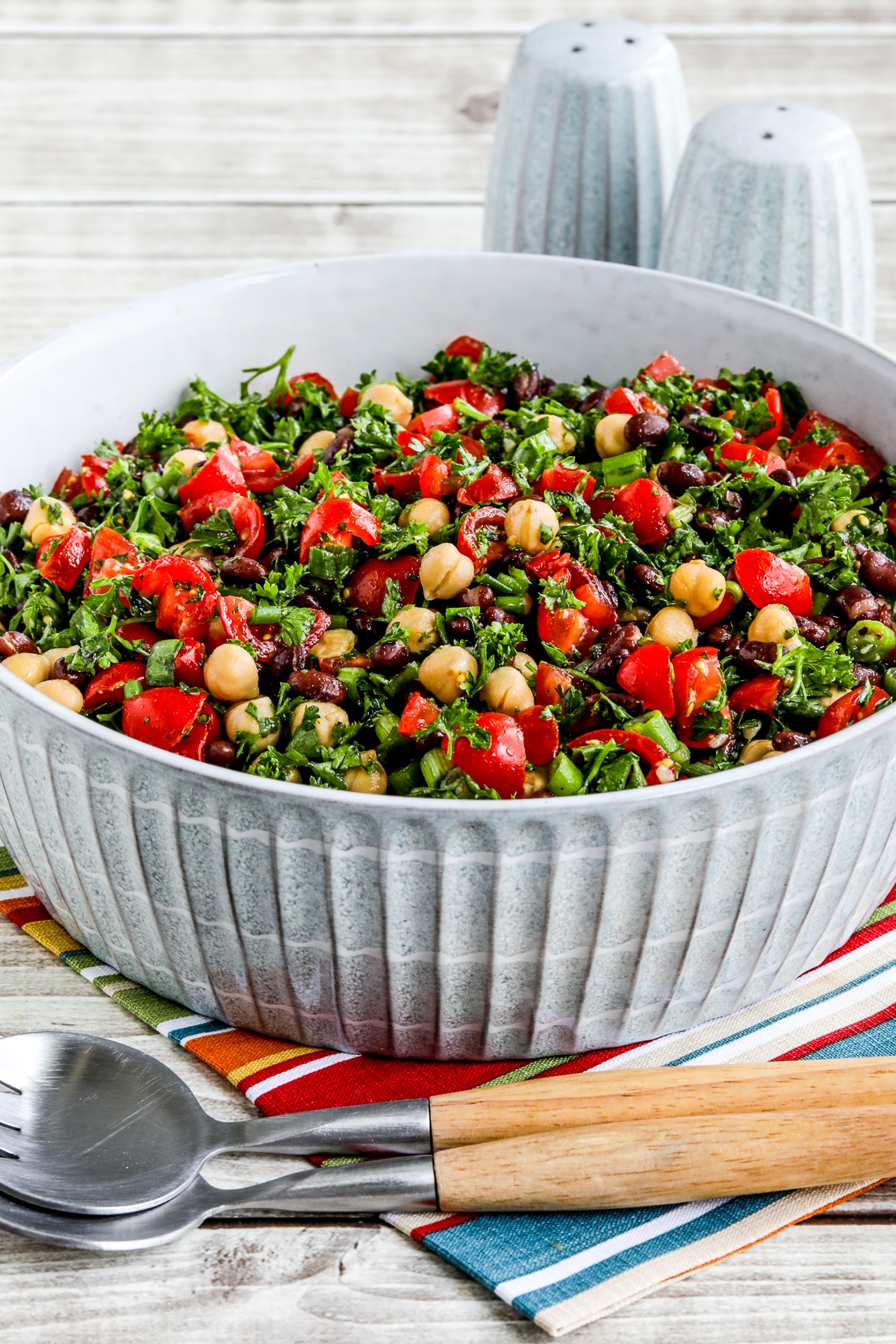 Make it a Meal:
Balela Salad would taste great as a side dish for something like Pan-Grilled Steak with Olive Sauce, Grilled Chicken with Balsamic Vinegar, Middle Eastern Beef Pitas, Greek Lamb Souvlaki, or Slow Cooked Salmon. Or serve it as a main dish salad for a meatless meal!
More Salads with Chickpeas: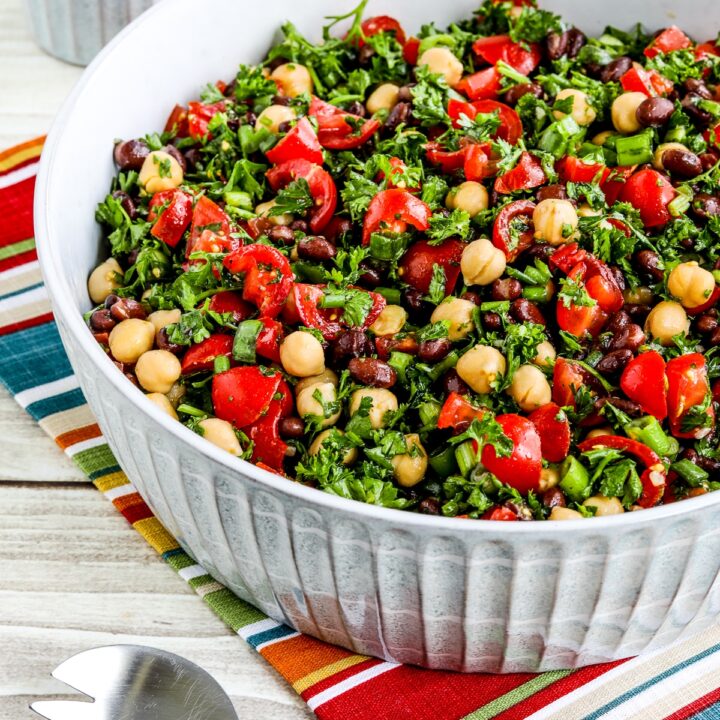 Yield: 6 servings
Balela Salad
Prep Time 15 minutes
Additional Time 30 minutes
Total Time 45 minutes
Balela Middle Eastern Bean Salad makes a great lunch or side-dish salad and a generous amount of fresh chopped parsley and lemon make this an extra-flavorful dish.
Ingredients
Ingredients:
1 can (15 oz.) black beans, rinsed well and drained
1 can (15 oz.) garbanzo beans, rinsed well and drained
1 cup chopped green onion (or less)
2 cups chopped fresh tomato (about 6 small tomatoes)
1 cup finely chopped fresh parsley
Dressing Ingredients:
3 T fresh-squeezed lemon juice
1/2 tsp. minced garlic (or use finely minced fresh garlic)
1/4 cup extra-virgin olive oil
1/2 tsp. salt (see notes)
fresh ground black pepper to taste
Instructions
One at a time, empty canned beans into a colander placed in the sink, rinse well with cold water until no more foam appears, then let beans drain well. (I blot them dry with a paper towel if they seem wet.)
While beans drain mix the lemon juice, minced garlic, olive oil, salt, and pepper to make the dressing.
Put well-drained beans into a plastic or glass bowl.
Add about half the dressing and let beans marinate, at least while you chop the other ingredients but 30 minutes marinating time is recommended if you can wait that long.
While beans marinate, chop green onions, tomatoes, and parsley.
When marinating time is finished, gently mix other ingredients into the beans.
Taste the salad and season with a bit more salt (or Vege-Sal) and fresh-ground black pepper if desired.
Despite the fact that tomatoes shouldn't be refrigerated, this was actually very tasty even after being in the fridge overnight. But if you know you won't eat it all, I would mix together everything but the tomatoes and add chopped tomatoes right before you eat it.
Notes
I would probably use Vege-Sal for this salad.
This recipe adapted from Middle Eastern Bean Salad at MeleCotte who adapted it from the Balela Recipe at Relish.
Nutrition Information:
Yield:
6
Serving Size:
1
Amount Per Serving:
Calories: 181
Total Fat: 10g
Saturated Fat: 1g
Trans Fat: 0g
Unsaturated Fat: 8g
Cholesterol: 0mg
Sodium: 496mg
Carbohydrates: 23g
Fiber: 5g
Sugar: 9g
Protein: 5g
Nutrition information is automatically calculated by the Recipe Plug-In I am using. I am not a nutritionist and cannot guarantee 100% accuracy, since many variables affect those calculations.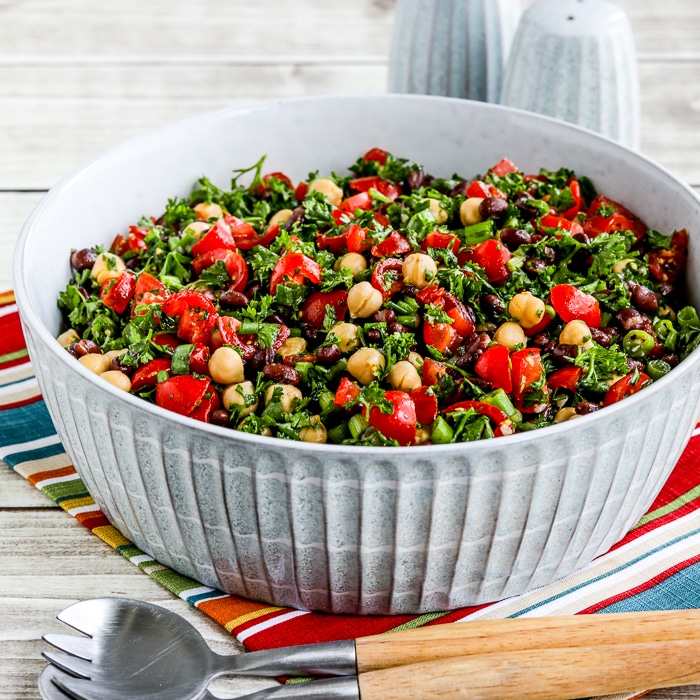 Low-Carb Diet / Low Glycemic Diet / South Beach Diet Suggestions:
Salads like this with low-glycemic ingredients are a great choice for any phase of the original South Beach Diet, but this Balela Salad is probably too high in carbs for a low-carb diet. See the tips above to make a version that's lower in carbs.
Find More Recipes Like This One:
Use Meatless Recipes or Salad Recipes to find more recipes like this one.Use the Diet Type Index to find more recipes suitable for a specific eating plan. You might also like to follow Kalyn's Kitchen on Pinterest, on Facebook, on Instagram, or on YouTube to see all the good recipes I'm sharing there.
Historical Notes for this Recipe:
This salad was first posted in 2009, inspired by another blogger's version that's no longer online. It was updated with greatly improved photos and more information in 2022.
We are a participant in the Amazon Services LLC Associates Program, an affiliate advertising program designed to provide a means for us to earn fees by linking to Amazon.com and affiliated sites. As an Amazon Associate, I earn from qualifying purchases.