Leafy Greens Salad with Chickpeas and Feta
Leafy Greens Salad with Chickpeas and Feta is perfect with my Mediterranean Salad Dressing, but any lemony vinaigrette will work.
PIN Leafy Greens Salad with Chickpeas and Feta!
I just shared a recipe for my new favorite salad dressing, and this Leafy Greens Salad with Chickpeas and Feta is just perfect for that Mediterranean Salad Dressing that has red wine vinegar, lemon juice, and Ground Sumac (affiliate link). This is the type of salad I might make if I was having friends for dinner and wanted a side salad that was a bit of a wow, or I'd eat a double portion of it for a big lunch salad.
Of course there are endless salad combinations that would taste good with the Mediterranean Salad Dressing, but the leafy greens, roasted chickpeas, and Feta in this salad really complement the dressing. You can use a variety of different types of greens in this salad, but I encourage you to use two different types of greens for more flavor variety and to bump up the nutrients.
I made the salad in the photos with green leaf lettuce and spinach, but other greens that would be good include Romaine lettuce, butter lettuce, red leaf lettuce, baby mixed greens, kale, and arugula.
What ingredients do you need for this recipe?
How to Make Leafy Greens Salad with Chickpeas and Feta:
(Scroll down for complete recipe with nutritional information.)
Preheat the oven to 400F/200C while you rinse and drain a can of garbanzo beans. (I pick off the skins, but you don't have to if you're not quite as fussy as me.)
Toss the chickpeas with 2 tsp. each of olive oil and finely minced fresh garlic.
Spread chickpeas out on a baking sheet and roast until they're just starting to get crispy, about 20-25 minutes (depending on how crisp you like them.)
Tear up 3 cups of lettuce of your choice and wash in the salad spinner with cold water so it's nice and crisp, then spin dry.
I also used 3 cups of this organic baby spinach, but you could also use baby kale, arugula, or mixed baby greens. I also washed the spinach with cold water and dried so it would be crisp.
Toss the 6 cups of crisp greens with about 3 tablespoons of the Mediterranean Salad Dressing or other lemony vinaigrette.
I used 2 ounces of Feta for four side-dish salads, but you could use less if you're not a huge fan of feta, or use any type of cheese that appeals to you.
Sprinkle each salad with some of the roasted chickpeas and Feta and serve right away.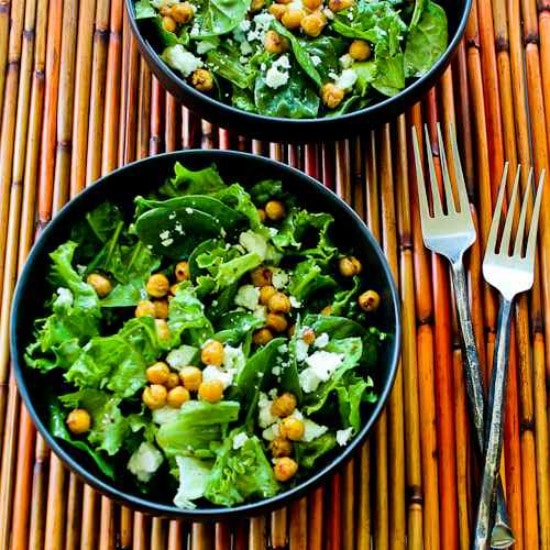 More Salads with Sumac
Fattoush Lebanese Salad with Sumac and Pita Chips
Chickpea Salad with Red Pepper, Mint, and Sumac
Yield: 4 side salads
Leafy Greens Salad with Chickpeas and Feta
Prep Time 10 minutes
Cook Time 25 minutes
Total Time 35 minutes
Ingredients
one 15 oz. can garbanzo beans, rinsed and drained well
2 tsp. olive oil
2 tsp. finely minced garlic
3 cups of washed lettuce
3 cups of washed greens
2 oz. crumbled Feta
3 T Mediterranean Salad Dressing (or other lemony vinaigrette)
salt and fresh ground black pepper to taste
Instructions
Preheat oven or toaster oven to 400F/200C.
Put the chickpeas in a colander placed in the sink and rinse well with cold water (until you no longer see foam.)
Let chickpeas drain well (or blot dry with paper towels.)
When chickpeas are dry, toss with the olive oil and garlic and spread out on a roasting pan that you've sprayed with olive oil or nonstick spray.
Roast until the chickpeas are starting to crisp, about 20-25 minutes. Let cool.
Wash the lettuce and greens one at a time in a salad spinner, using cold water to crisp the greens.
Be sure to spin so they're very dry.
Put lettuce and greens in a bowl and toss with enough Mediterranean Salad Dressing (or other dressing) to moisten the greens.
Arrange greens in four salad bowls, sprinkle one-fourth of the chickpeas and one-fourth of the crumbled Feta over each, season with salt and fresh ground black pepper, and serve right away.
Nutrition Information:
Yield:
4
Serving Size:
1
Amount Per Serving:
Calories: 302
Total Fat: 13g
Saturated Fat: 4g
Trans Fat: 0g
Unsaturated Fat: 8g
Cholesterol: 16mg
Sodium: 646mg
Carbohydrates: 35g
Fiber: 13g
Sugar: 6g
Protein: 14g
Nutrition information is automatically calculated by the Recipe Plug-In I am using. I am not a nutritionist and cannot guarantee 100% accuracy, since many variables affect those calculations.
Low-Carb Diet / Low-Glycemic Diet / South Beach Diet Suggestions:
Everything in this Leafy Greens Salad with Chickpeas and Feta and in the Mediterranean Salad Dressing is a low-glycemic ingredient, great for any phase of the original South Beach Diet or any type of low-glycemic eating plan. With the chickpeas this salad isn't a low-carb dish but if you calculate the net carbs you'll see that if you don't eat too many chickpeas, it's pretty low in carbs as well.
Find More Recipes Like This One:
Use Salad Recipes to find more recipes like this one. Use the Recipes by Diet Type photo index pages to find more recipes suitable for a specific eating plan. You might also like to Follow Kalyn's Kitchen on Pinterest to see all the good recipes I'm sharing there.
We are a participant in the Amazon Services LLC Associates Program, an affiliate advertising program designed to provide a means for us to earn fees by linking to Amazon.com and affiliated sites. As an Amazon Associate, I earn from qualifying purchases.