Green Gazpacho
Green Gazpacho is a tasty chilled soup to make with Green Zebra Tomatoes, and this is perfect when it's too hot to cook! And this tasty soup keeps the green theme going with cucumber and avocado!
PIN Green Gazpacho to try it later!
I'm excited to remind you about this delicious Green Gazpacho, and I love this chilled soup that uses the much loved Green Zebra Tomatoes that I grow every year. But you can make this tasty soup with any variety of green tomato, and this soup is a perfect way to cool off when the weather is just too HOT!
I loved this Green Gazpacho when I first made it, and today it seems like the perfect recipe to feature this week when there's a heat wave hitting the U.S. with a vengeance!
And this year I planted TWO Green Zebra tomato plants so I can make plenty of recipes with this favorite tomato! If you have green or yellow tomatoes and the weather is making it too hot to turn on the stove, I hope you'll try it this favorite chilled summer soup of mine.
What ingredients do you need for this recipe?
(This is only a list of ingredients; please scroll down for complete printable recipe. Or if you use the JUMP TO RECIPE link at the top of the page, it will take you directly to the complete recipe.)
large garlic cloves
fresh-squeezed lemon juice (I used my fresh-frozen lemon juice)
green pepper
cucumber
Green Zebra tomatoes, or other tomatoes that are green when they ripen
avocados
sea salt to taste
Green Tabasco Sauce (affiliate link) to taste
What are Green Zebra Tomatoes?
I've written a few times about my love for Green Zebra Tomatoes. Green Zebra is a tomato variety that's green with golden stripes when it's ripe, and it's a bit more tangy in flavor than some tomato varieties. Wikipedia says there is some controversy about whether Green Zebras are an heirloom tomato, but I don't care about that, I just think they're delicious!
What is Green Gazpacho?
If you've never had Gazpacho, the chilled tomato soup that comes from Spain, you may be skeptical about whether a soup like this can really taste like anything special. I know I was, but when I first tried Gazapacho with some of my blogging friends, I was really blown away by how delicious it was. This Green Gazpacho is simple a variety of Gazpacho made with tomatoes that are green when they're ripe.
Want a recipe for traditional Red Gazpacho?
If you don't have green tomatoes or prefer traditional Gazpacho with red tomatoes, check out this delicious Gazpacho from Kalyn's Kitchen!
How do I make Gazpacho that's low-carb and gluten-Free?
Traditional Gazpacho has bread, but I make mine without any bread to make it lower in carbs and gluten-free. Of course tomatoes do have some carbs, but this carb-conscious gazpacho recipe also has cucumber, green pepper, and avocado, and it's something you eat in relatively small amounts.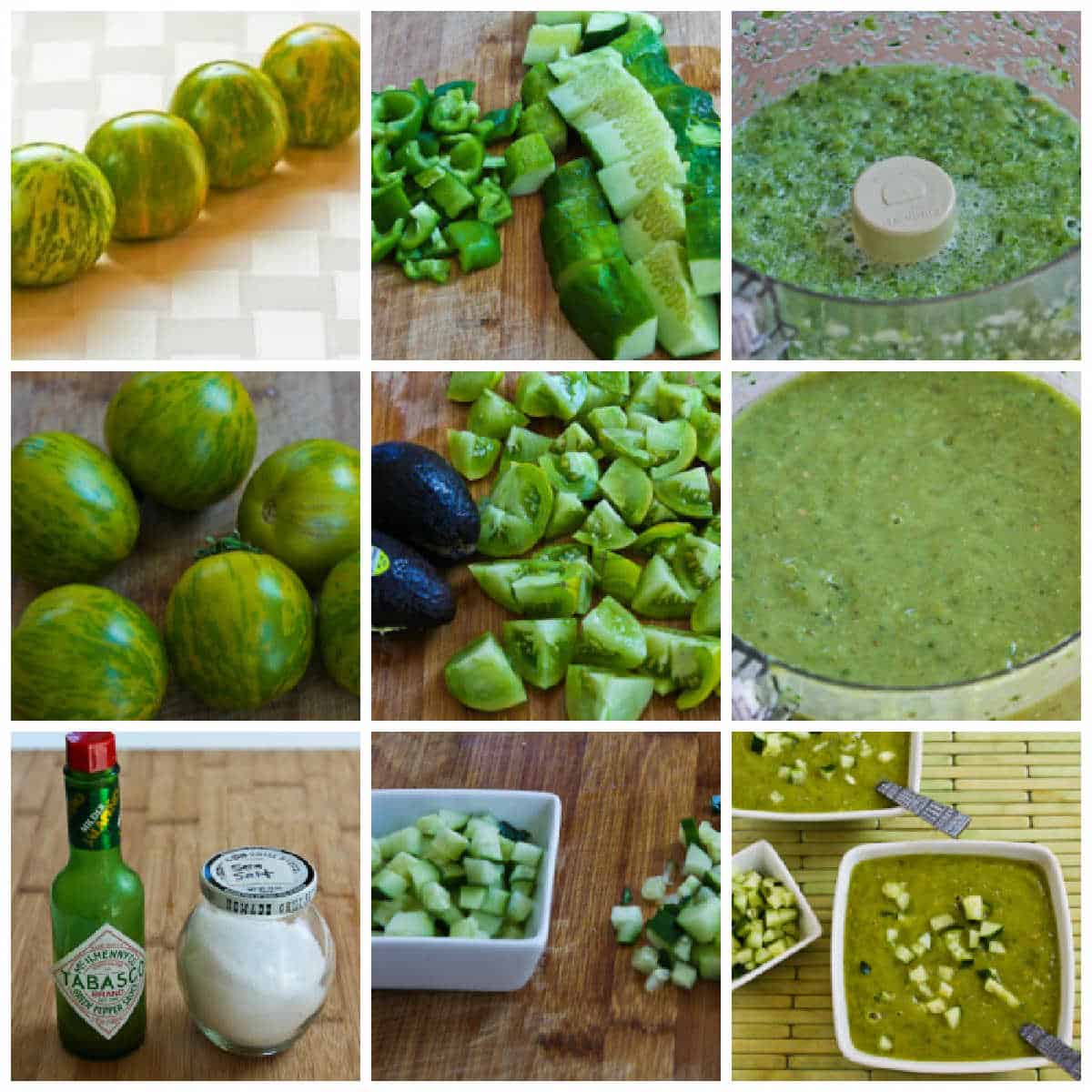 How to Make Green Gazpacho:
(This is only a summary of the steps for the recipe; please scroll down for complete printable recipe. Or if you use the JUMP TO RECIPE link at the top of the page, it will take you directly to the complete recipe.)
The first photo shows how Green Zebra Tomatoes get more gold colors when they are ripe. Use tomatoes at the peak of ripeness to make this soup if you can!
Chop up one large cucumber and a green bell pepper.
Put the minced fresh garlic, lemon juice, bell pepper, and cucumber into the food processor and process until it's mostly chopped.
I used six Green Zebra Tomatoes for this, but you could use any type of green or yellow tomatoes. (If you only have red tomatoes, I'd probably make this Gazpacho instead.)
I chopped up the tomatoes and dug two avocados out of the fridge. (They were a little past their prime, which didn't matter at all in a soup like this!)
Add the chopped tomatoes and the scooped out avocado to the food processor and continue to process until it's a finely blended as you'd like. (I like it just a little chunky, but mostly liquid.)
Add the Green Tabasco Sauce (affiliate link) and sea salt and process for a few seconds. Then taste the Gazpacho to see if you'd like it a bit saltier or spicier. (I like it pretty strongly flavored.)
I loved the crunch of a few cucumbers on top as a garnish for the soup, but that's completely optional!
Gazpacho is best when it's chilled for a few hours or longer, but I couldn't resist eating a little of this as soon as I made it.
More Recipes with Tomatoes and Cucumbers: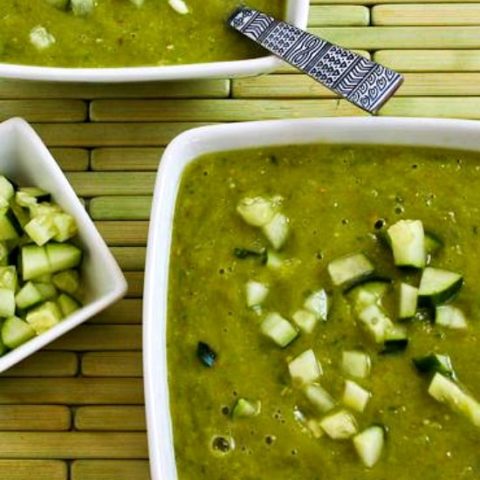 Yield: 5 cups
Green Gazpacho
Prep Time 20 minutes
Total Time 20 minutes
This Green Gazpacho with cucumber and avocado may be my new favorite thing to make with Green Zebra Tomatoes. And you can make this tasty chilled soup with any variety of tomatoes that is green when it's ripe.
Ingredients
5 large garlic cloves, minced (or less if you're not that much of a garlic fan)
1/4 cup fresh squeezed lemon juice
1 green pepper, seeds removed and coarsely chopped
1 large cucumber, chopped (plus more for garnish if desired.)
6 Green Zebra tomatoes (see notes)
2 avocados
sea salt to taste
Green Tabasco Sauce to taste (see notes)
Instructions
Chop garlic and squeeze lemon juice. Remove seeds from green bell pepper and coarsely chop. Chop cucumbers.
Put garlic, lemon juice, green bell pepper, and cucumber into food processor fitted with steel blade and process until the mixture is mostly chopped. (This will take a minute or two.)
While the mixture chops, cut up tomatoes and cut avocados in half and remove the seeds.
When you think peppers and cucumbers are chopped enough add the diced tomatoes and scooped-out avocado flesh to the food processor and process about 1 minute more, or until the mixture is as finely blended as you'd like it. (I like it slightly chunky.)
Add the sea salt and Green Tabasco Sauce (affiliate link), starting with about 1 tsp. of each and blending for a few seconds, then tasting to see if it is salty and spicy enough for you. (I used a little more than a teaspoon of each, but I like strong flavors.)
Put Gazpacho into a glass or plastic container and chill in the fridge for a few hours to develop flavors.
Serve cold, garnished with a little bit of finely chopped cucumber if desired.
Notes
Use other ripe green or yellow tomatoes to make this if you don't have Green Zebras.
I love Green Tabasco Sauce (affiliate link) but any green Jalapeno sauce will work.
This will keep in the fridge for several days, but it probably won't last too long!
Recipe created by Kalyn after she got infatuated with Gazpacho and Green Zebra tomatoes.
Nutrition Information:
Yield:
5
Serving Size:
1
Amount Per Serving:
Calories: 172
Total Fat: 12g
Saturated Fat: 2g
Trans Fat: 0g
Unsaturated Fat: 10g
Cholesterol: 0mg
Sodium: 156mg
Carbohydrates: 17g
Fiber: 8g
Sugar: 6g
Protein: 4g
Nutrition information is automatically calculated by the Recipe Plug-In I am using. I am not a nutritionist and cannot guarantee 100% accuracy, since many variables affect those calculations.
Low-Carb Diet / Low-Glycemic Diet / South Beach Diet Suggestions:
Tomatoes are relatively high in carbs, but you could eat a small serving of this for low-carb eating plans since there are other ingredients with some fiber and fewer carbs. Green Gazpacho made with tons of healthful vegetables is a great choice for any phase of the original South Beach Diet. I'd love this as a light summer lunch, but it would also be delicious as a starter soup for a dinner.
Find More Recipes Like This One:
Use the Tomato Recipes to find more ideas for tomatoes! Use the Diet Type Index to find recipes suitable for a specific eating plan. You might also like to follow Kalyn's Kitchen on Pinterest, on Facebook, on Instagram, on TikTok, or on YouTube to see all the good recipes I'm sharing there.
Historical Notes for this Recipe:
This recipe was posted in 2011. It was updated with more information in 2019 and again in 2023.
We are a participant in the Amazon Services LLC Associates Program, an affiliate advertising program designed to provide a means for us to earn fees by linking to Amazon.com and affiliated sites. As an Amazon Associate, I earn from qualifying purchases.