Marinated Zucchini Salad (Video)
This Marinated Zucchini Salad has olives, artichoke hearts, and red pepper, and you'll love this salad when it's zucchini season. And this tasty zucchini salad recipe is one of the Top Ten Low-Carb Zucchini Recipes on my site, and it's the perfect alternative to pasta salad.
PIN the Marinated Zucchini Salad to try it later!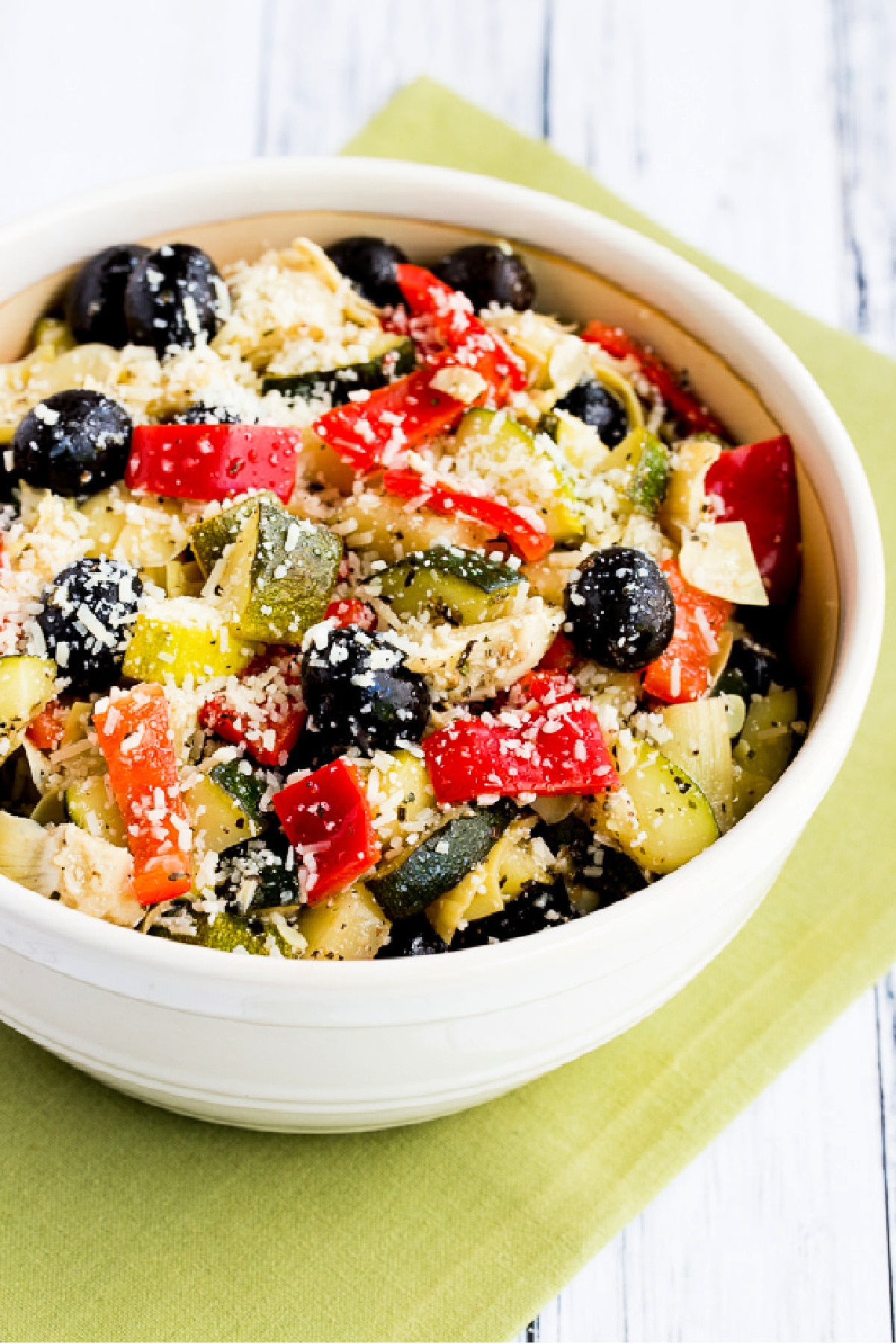 I'm not sure when I created this recipe for Marinated Zucchini Salad but I know it was one of the first recipes I posted on my blog in 2005. But I remember sharing the recipe with people at the Utah Education Association when I was on the Board of Directors there, in about 1999. So obviously I've been making this zucchini salad recipe for a long time now!
Recently I was making this again for a family party and decided to take better photos for this salad that's one of my favorite things to make when I have a lot of zucchini. And if you happen to end up with extra large zucchini in the garden, they can be used here if you scoop out the seeds and trim away most of the pithy white part, then cut the zucchini into small pieces .
This time when I made the salad I decided to omit the red onion that was in the original version, so you can use onion or not depending on your preferences. And by all means, use this zucchini salad recipe as merely a starting point, because there are lots of other raw or cooked vegetables that would be good here, so have fun with this one!
What ingredients do you need for this recipe?
(This is only a list of ingredients; please scroll down for complete printable recipe. Or if you use the JUMP TO RECIPE link at the top of the page, it will take you directly to the complete recipe.)
Why do I marinate the zucchini for this zucchini salad recipe?
I do love zucchini, especially when it's fresh from the garden. But I think it's rather bland unless you use a technique that adds flavor. Marinating the zucchini makes it so much more flavorful than just tossing it with the dressing!
Want more tasty salad recipes with zucchini?
Take a look at Amazing Salads with Zucchini for more salad recipes using many people's favorite summer vegetable!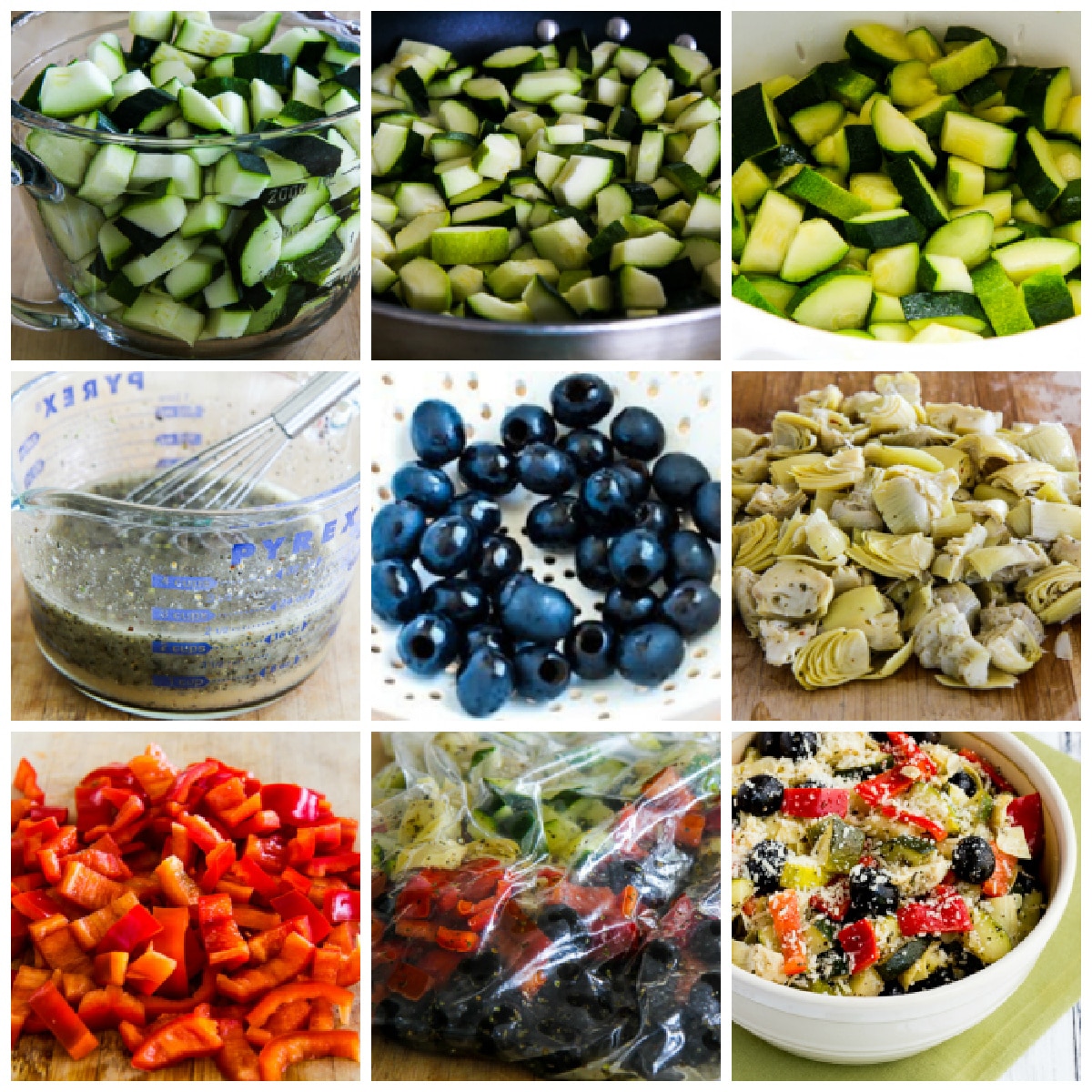 How to make Marinated Zucchini Salad:
(This is only a summary of the steps for the recipe; please scroll down for complete printable recipe. Or if you use the JUMP TO RECIPE link at the top of the page, it will take you directly to the complete recipe.)
Cut up zucchini into bite-sized pieces. (If you're using older zucchini, cut away the large seeds and most of the white part before you cut it into pieces.)
Steam or saute the zucchini pieces for about 3 minutes, and then drain.
Whisk together the salad dressing, lemon juice, Parmesan, basil, and oregano to make the dressing.
Dump one can pitted olives into a colander and drain well.
Drain artichoke hearts and cut them up if they're large.
Chop up red bell pepper into bite-sized pieces. (I kept the peppers raw for some crunch, but you can saute them for a few minutes if you prefer.)
Put the barely-cooked zucchini, olives, peppers, and artichokes (plus chopped red onion if using) into a Ziploc bag or a plastic container with a tight-fitting lid, and pour over enough dressing to completely moisten ingredients.
Let salad marinate 4-8 hours in the fridge.
When you serve, stir in a bit more dressing and sprinkle with freshly grated parmesan cheese.
Leftovers will keep in the fridge for a few days, but you might want to add more dressing to brighten the flavors!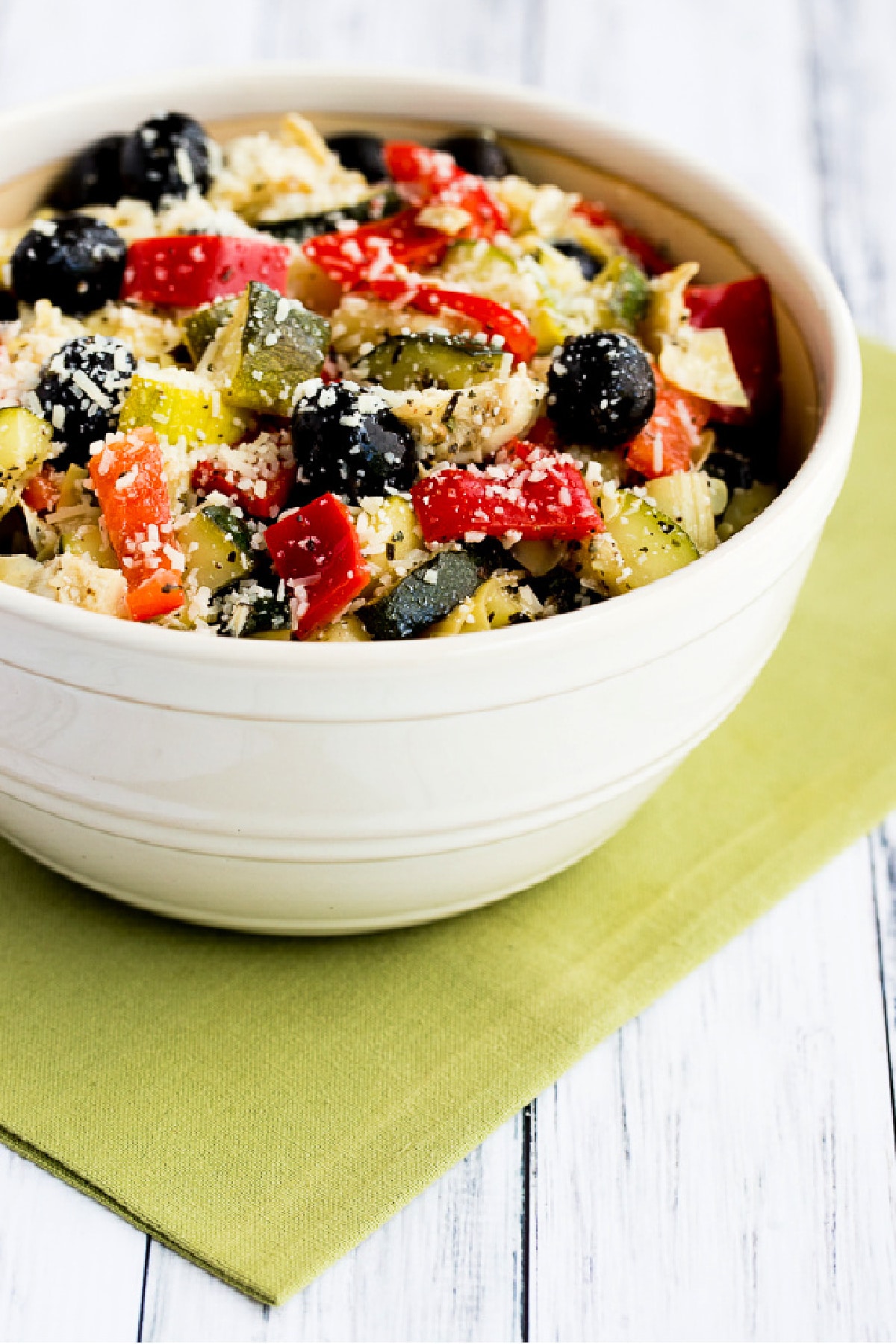 Make it a low-carb meal:
For a low-carb meal, this zucchini salad would taste great with Rosemary-Mustard Grilled Chicken, Low-Carb Grilled Fusion Chicken, Baked Parmesan Crusted Chicken, Baked Cilantro Lime Chicken, or Marinated Grilled Flank Steak.
Recipe Round-Ups to help you use up that zucchini: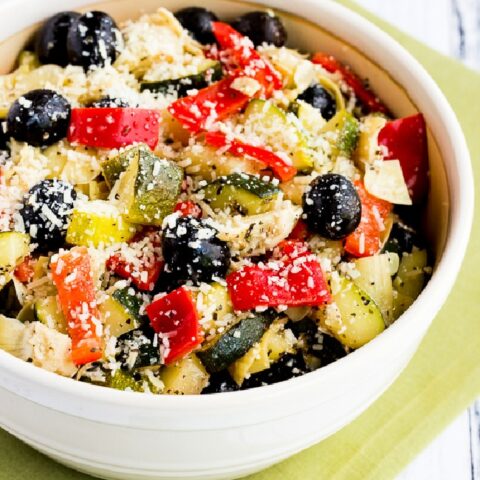 Yield: 6 servings
Marinated Zucchini Salad
Prep Time 15 minutes
Cook Time 3 minutes
Total Time 18 minutes
This Marinated Zucchini Salad has olives, artichoke hearts, and red pepper, and this is the perfect low-carb alternate to pasta salad.
Ingredients
Ingredients:
5 small zucchini, cut into half moon slices about 1/2 inch thick (or bite sized pieces)
one 6 oz. can large pitted black olives, drained very well
6 oz. marinated artichoke hearts, drained very well (or more, see notes)
1 red pepper chopped into bite-sized pieces
1/2 red onion chopped into bite-sized pieces (optional)
Dressing Ingredients:
1 cup Newman's Own Olive Oil and Vinegar Dressing (see notes)
2 T fresh-squeezed lemon juice
1/2 cup grated Parmesan cheese, divided
1 T dried basil (see notes)
1 tsp. dried oregano
Instructions
Cut zucchini into quarter slices or bite sized pieces. (If you're using large zucchini, cut away the seeds and most of the white part.)
Steam or stir-fry zucchini until barely tender/crisp, about 3 minutes for steaming and slightly longer for pan frying, then drain very well.
While zucchini is cooking, open olives and artichoke hearts and dump into a colander to drain well. (Draining the zucchini and olives well is essential or the finished salad will be watery.)
Chop the red bell pepper (and red onion if using) into bite-sized pieces.
Combine zucchini, olives, artichoke hearts, red pepper (and red onion if using) in Ziploc bag (or plastic or glass container with a snap-tight lid.)
Pour dressing over, just enough to cover veggies, and stir gently. (I only use part of the dressing to marinate the veggies and then stir in a little more dressing when I serve it.)
Marinate in refrigerator 4-8 hours.
If you can turn it over once in a while to keep the vegetables covered with dressing that would be great, but it's not essential.
Just before serving stir in a little of the reserved dressing and 1/4 cup of the Parmesan cheese.
Sprinkle the salad with the other 1/4 cup freshly grated Parmesan cheese when serving.
At the risk of sounding like a cheese snob, let me say that this is best with freshly grated cheese. I like to grate it on the large side of the grater and serve the salad with the final sprinkle of grated cheese not mixed in. However if all you have is pre-grated Parmesan, not to worry. It will still be yummy.
Notes
Use more or less artichoke hearts, depending on how expensive they are when you're looking for them. If you have some you can replace the dried basil with 2 T basil pesto or 3 T. finely chopped fresh basil for the dressing.
I use Newman's Own Olive Oil and Vinegar Dressing (affiliate link) to make this salad, but use any vinaigrette that's low in sugar.
If you're looking at the carb count, remember that artichokes are high in fiber, so low in net carbs.
This recipe created by Kalyn many years ago!
Nutrition Information:
Yield:
6
Serving Size:
1
Amount Per Serving:
Calories: 100
Total Fat: 6g
Saturated Fat: 2g
Trans Fat: 0g
Unsaturated Fat: 3g
Cholesterol: 7mg
Sodium: 452mg
Carbohydrates: 9g
Fiber: 3g
Sugar: 3g
Protein: 5g
Nutrition information is automatically calculated by the Recipe Plug-In I am using. I am not a nutritionist and cannot guarantee 100% accuracy, since many variables affect those calculations.
Low-Carb Diet / Low-Glycemic Diet / South Beach Diet Suggestions:
This Marinated Zucchini Salad is perfect low-carb and Keto eating plans and for any phase of the original South Beach Diet, but be sure to choose a dressing with less than 2 grams of sugar per serving.
Find More Recipes Like This One:
Use the Zucchini Recipes or Salad Recipes to find more recipes like this one. Use the Diet Type Index to find more recipes suitable for a specific eating plan. You might also like to follow Kalyn's Kitchen on Pinterest, on Facebook, on Instagram, on TikTok, or on YouTube to see all the good recipes I'm sharing there.
Historical Notes for this Recipe:
This Marinated Zucchini Salad recipe was one of the earliest recipes on my blog, from the early days when I just typed in a recipe with no photos! The recipe was updated with better photos in July 2016, and the post was last updated with more information in 2023.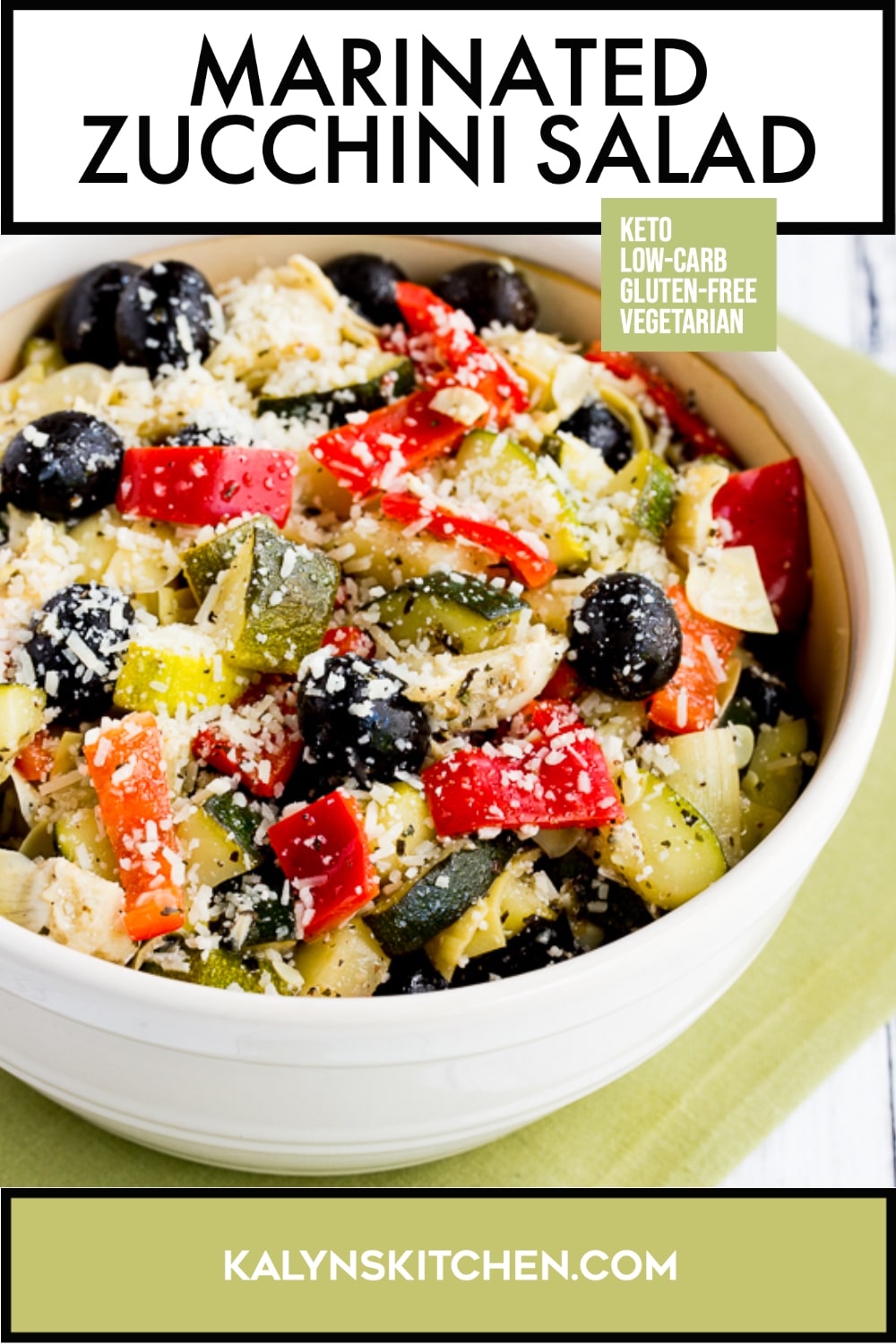 We are a participant in the Amazon Services LLC Associates Program, an affiliate advertising program designed to provide a means for us to earn fees by linking to Amazon.com and affiliated sites. As an Amazon Associate, I earn from qualifying purchases.