Low-Carb and Keto Canned Tuna Recipes
Tuna packed in olive oil is something I love to grab from the pantry for lunch, and this post has Low-Carb and Keto Canned Tuna Recipes. And Genova Tuna Packed in Olive Oil is the one I buy over and over, and I like this tuna so much I started buying it online when my store stopped carrying it!
PIN Low-Carb and Keto Canned Tuna Recipes to try some later!
Many years ago I fell in love with the flavor of Italian tuna packed in olive oil, which I first found out about from an amazing tuna salad posted by my blogging friend S'Kat. Since then I've always had some olive-oil packed tuna in the pantry, and these Low-Carb and Keto Canned Tuna Recipes are recipes I make often when I want an easy meal that's quick to put together.
These favorite canned tuna recipes are all things I've made over and over, and if you're a canned tuna fan I bet you're going to find some ideas here you're really going to love; enjoy!
What canned tuna do I love?
When I realized this thing with the tuna in olive oil was turning into a long term relationship, I started paying attention to the price. There are some wonderful imported Italian tunas if money is no object, but I was thrilled to discover Genova Tuna Packed in Olive Oil (affiliate link) distributed in the U.S. by the same company that makes Chicken of the Sea. This brand compares favorably with imported tunas and I love this this tuna so much and I've been buying it for so long that it's definitely a Kalyn's Kitchen Picks recommendation! (And for anyone who might be wondering, Chicken of the Sea has not sent me any free tuna or paid me in any way to write an endorsement of their tuna.)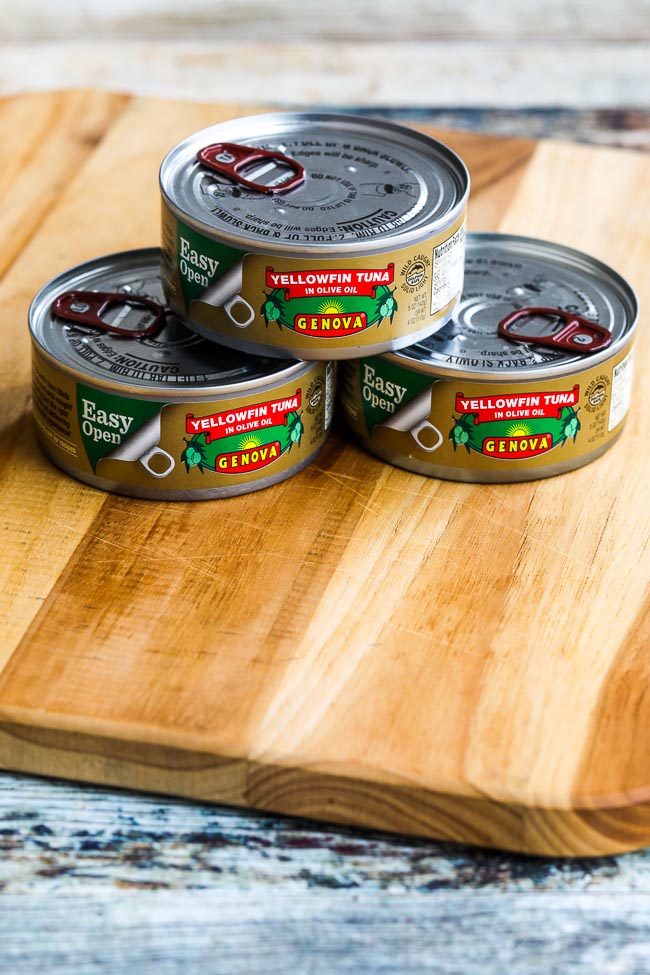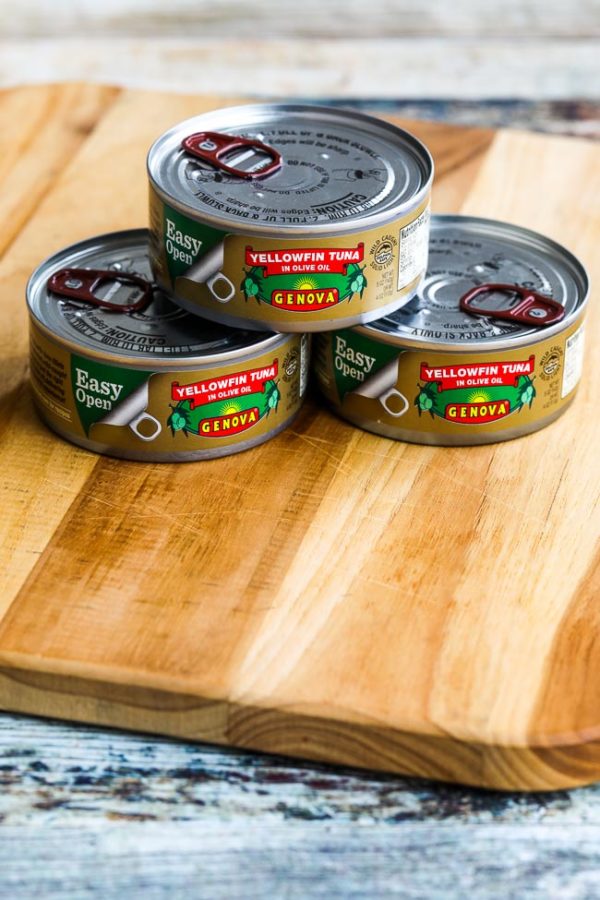 Where to Buy Genova Tuna Packed in Olive Oil:
If you're lucky you might find this amazing tuna at your favorite store. A few years ago I couldn't find it any more it at any of the stores where I looked, so I started to buy Genova Tuna Packed in Olive Oil (affiliate link) from Amazon.com. I use this regularly, so I buy 24 cans at a time, and from Amazon it comes out to $1.64 per can which is an amazing price compared to the Italian tuna I used to buy. This is definitely a product I'll be buying for a long time.
Low-Carb and Keto Canned Tuna Recipes: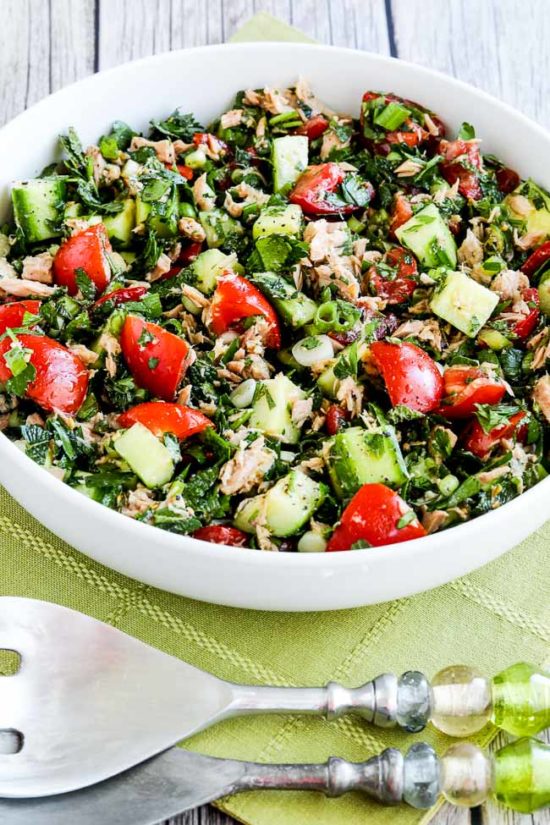 Tuna Salad with Tomatoes, Cucumbers, Parsley, and Mint has that mint-parsley combination I love so much with tomatoes!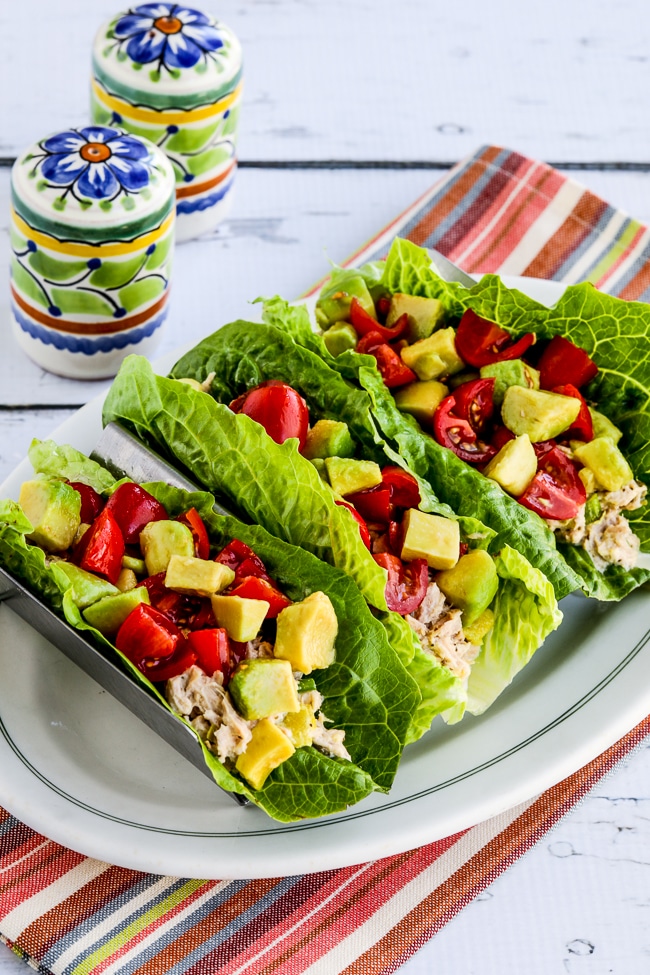 Tuna Salad Lettuce Wraps are something I would absolutely devour for a quick tasty lunch any time of year!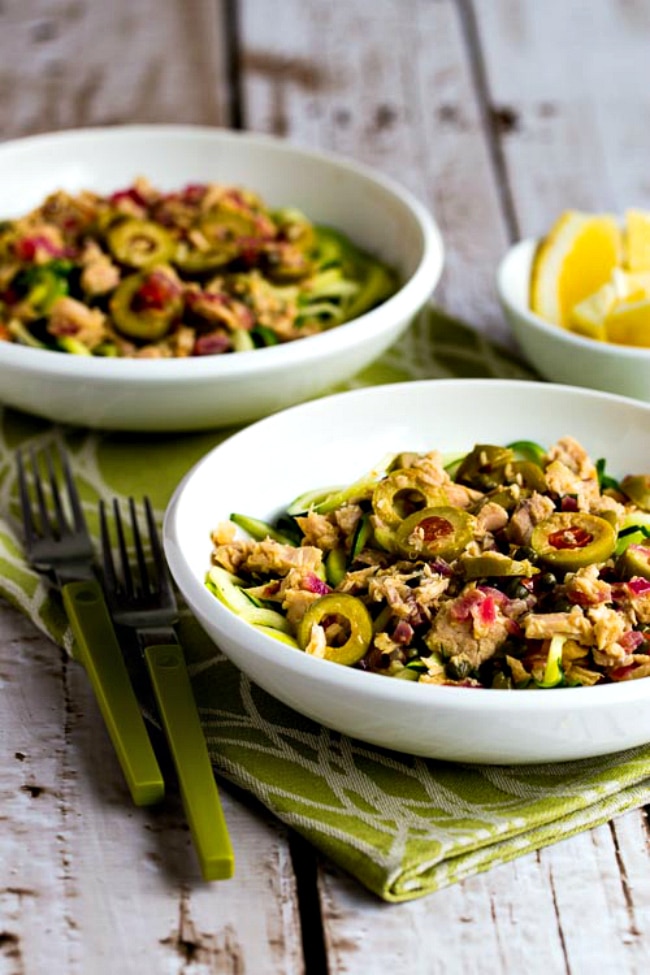 Zucchini Noodles with Tuna and Green Olives really are an amazing dish for tuna lovers who also like green olive lovers and want a think-outside-the-box idea for combining them.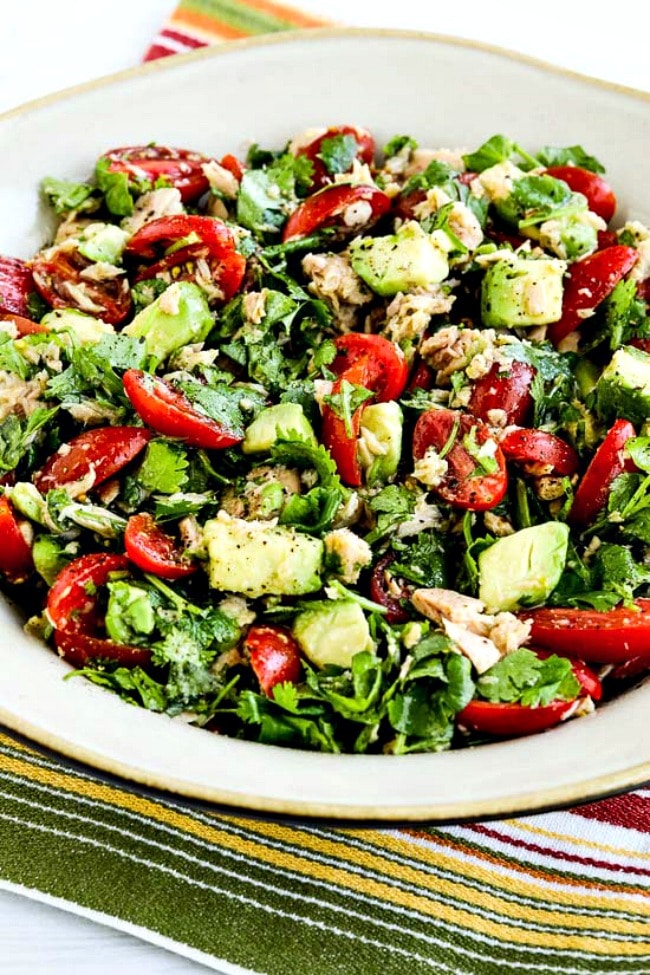 Tuna Avocado Tomato Salad gets lots of flavor from lime and cilantro, or use thinly-sliced green onion if you're not a cilantro fan.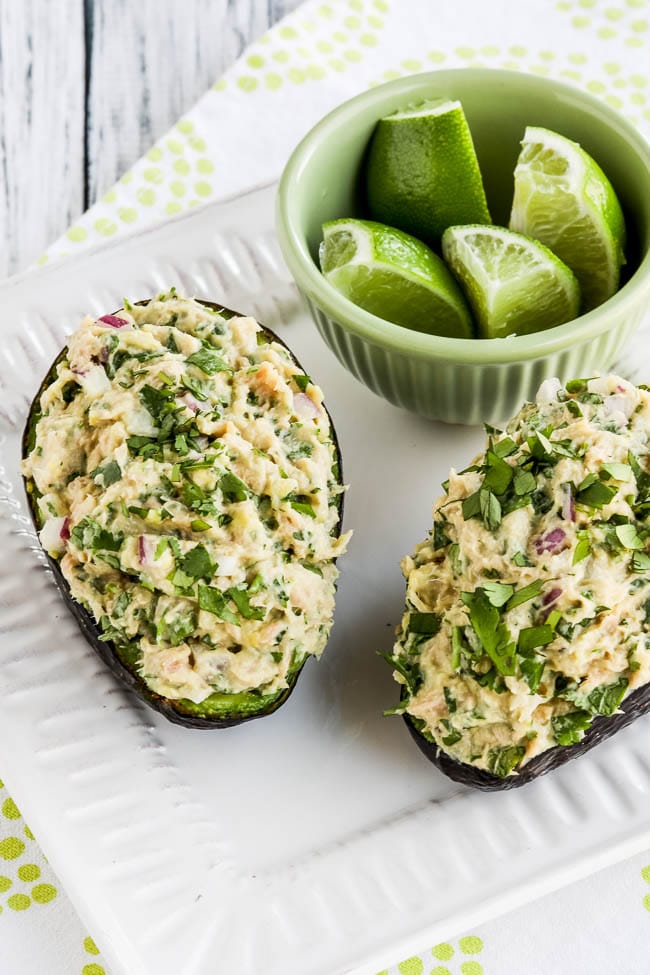 Tuna Stuffed Avocado is a wow salad idea, and it's really not that had to make. Use thinly sliced green onion instead of cilantro if you prefer.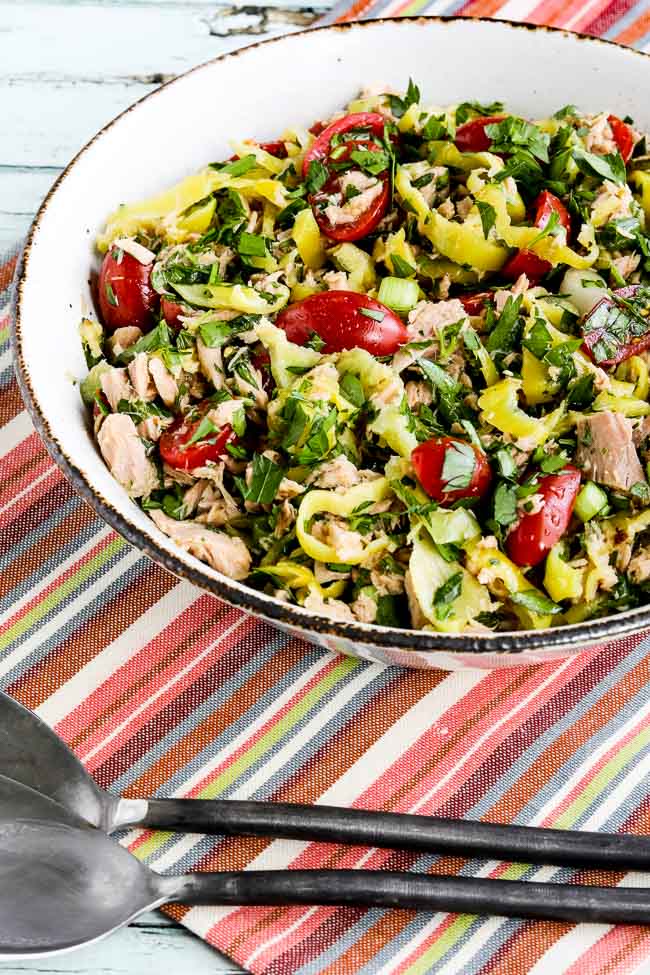 Spicy Tuna Salad that has tomatoes, Peperoncini, and Parsley is another recipe documenting my love of those spicy peperoncini peppers!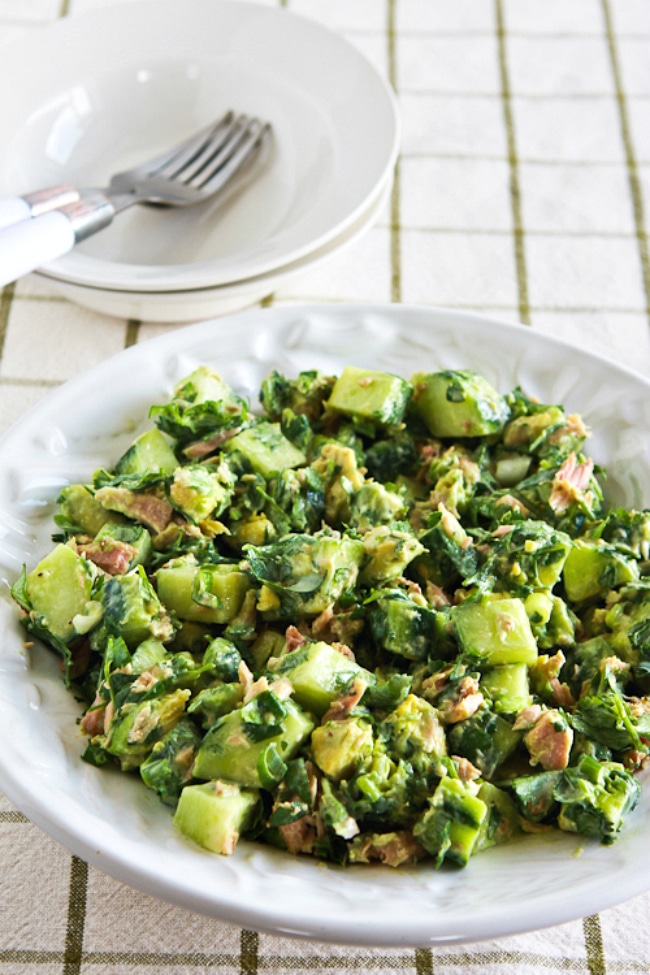 Cucumber Avocado Salad with Tuna is perfect for a summer lunch, and the lime juice adds amazing flavor. Use thinly sliced green onion instead of cilantro if you like.
Tuna Tomato Salad is such a great combination and personally I'd never skip the sunflower seeds!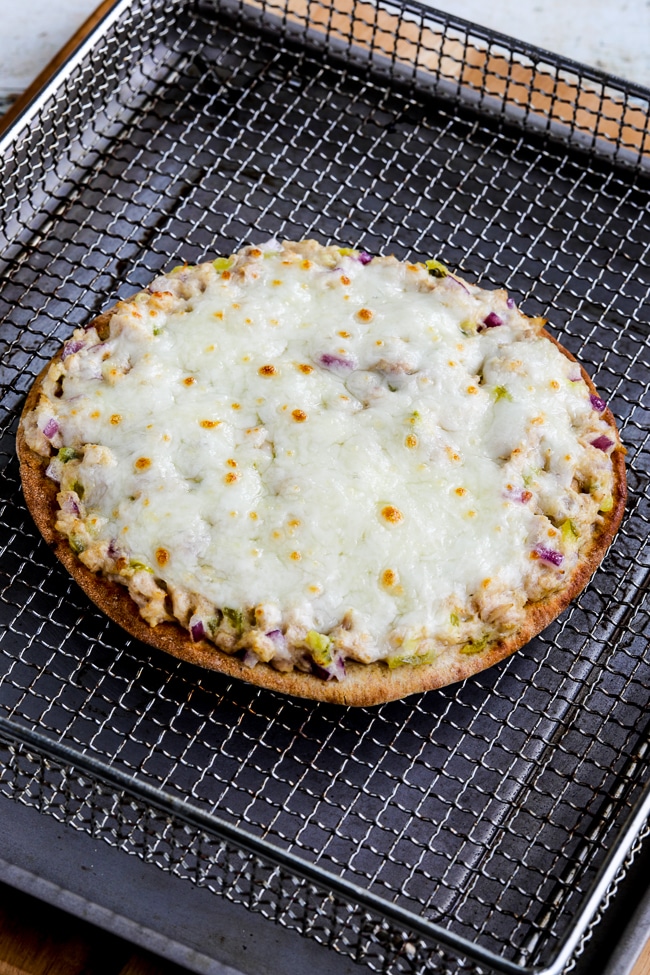 Air Fryer Tuna Melt is a simple recipe that's fun to make and if you use my favorite low-carb pita bread this is low in carbs (although probably not suitable for strict Keto).
About the Food Products Featured on Kalyn's Kitchen:
I purchased the Genova Tuna Packed in Olive Oil myself and the company has no idea whatsoever that I'm writing about their product. All items featured as Kalyn's Kitchen Picks are things I would happily buy over and over, and so readers know that my opinions are completely unbiased, I don't accept review products from the many companies who offer to send them to me. You can see the complete list of products I've chosen to feature at Kalyn's Kitchen Picks.
We are a participant in the Amazon Services LLC Associates Program, an affiliate advertising program designed to provide a means for us to earn fees by linking to Amazon.com and affiliated sites. As an Amazon Associate, I earn from qualifying purchases.