Red Boat Fish Sauce (and Recipes!)
I'm a long-time fan of Red Boat Fish Sauce, and here's a great collection of Low-Carb Recipes Using Fish Sauce! Fish Sauce can add that extra something to Asian dishes, but see my suggestions for vegetarian or low-sodium options if you prefer.
Pin Red Boat Fish Sauce and Recipes Using Fish Sauce for later!
Today I'm adding Red Boat Fish Sauce to my list of Kalyn's Kitchen Picks, where I feature the products I love and buy over and over! Years ago I started hearing talk about this special brand of fish sauce, and when I saw it in a market in Salt Lake, I had to try it.
Some of the buzz surrounding Red Boat Fish Sauce comes from the fact that it contains only fresh caught wild black anchovies and sea salt, making it Paleo and Whole 30 approved, and of course it also has zero carbs. But if you like the umami-laden flavor of fish sauce, for me the main reason to spend more for this brand is for the taste, which is amazingly smooth and has just the right combination of fishy-salty flavor notes.
Fish sauce is not something you use in huge amounts, so for me it's worth the money for a fish sauce that tastes this good. And this shout-out has links to all my favorite low-carb recipes that use fish sauce, hope you enjoy trying some!
Where Can You Buy Red Boat Fish Sauce?
Most natural foods stores will probably carry Red Boat Fish Sauce but you can also get Red Boat Fish Sauce (affiliate link) online if you can't find it where you live.
What Can You Use for Vegetarian or Lower-Sodium Fish Sauce?
If you're vegan or vegetarian and don't want to use fish sauce, Vegetarian Fish Sauce (affiliate link) is available online or at many Asian markets, and many of the vegetarian fish sauce products are much lower in sodium than regular fish sauce. You can also make your own vegan fish sauce. And in most of these recipes you can also just replace the fish sauce with more soy sauce and the flavor will still be tasty, although not quite as authentic as it would be if you used fish sauce.
Favorite Low-Carb Recipes Using Fish Sauce: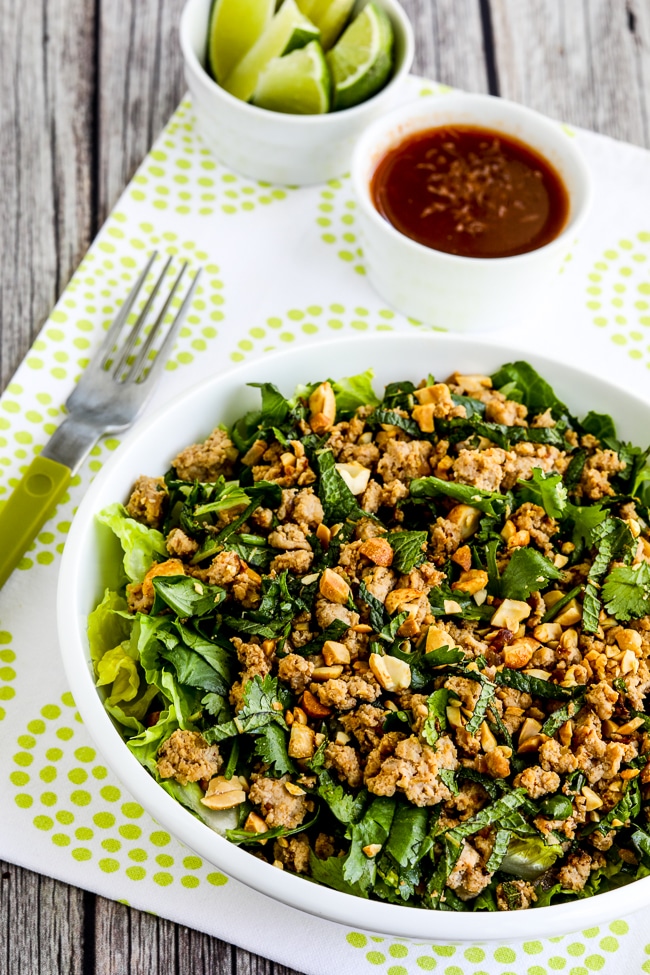 Thai-Inspired Turkey Larb Salad is one of my long-time favorite dishes that use fish sauce.

Cucumber Noodle Salad with Shrimp is refreshing and delicious!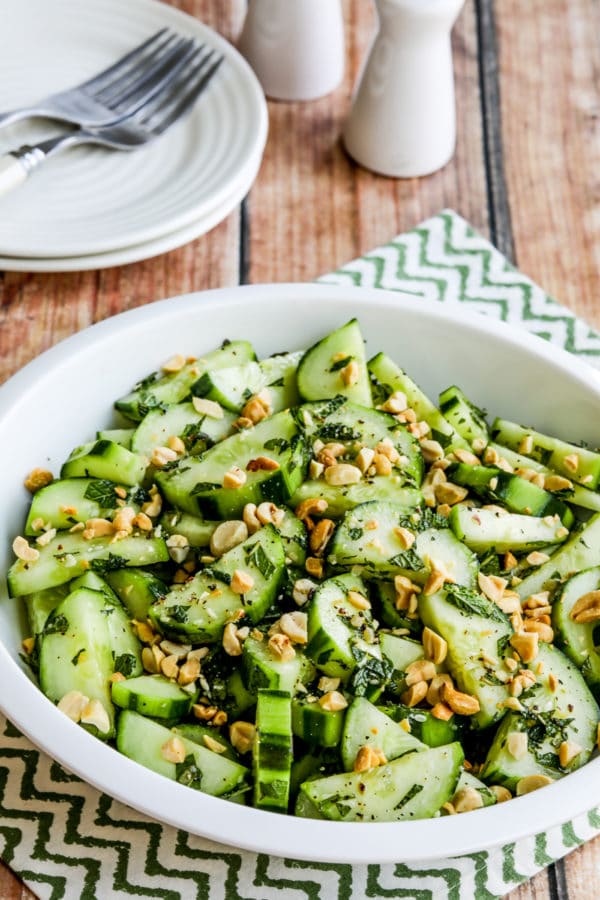 I'm pretty crazy about this Thai Cucumber Salad and I make this as a side dish all year.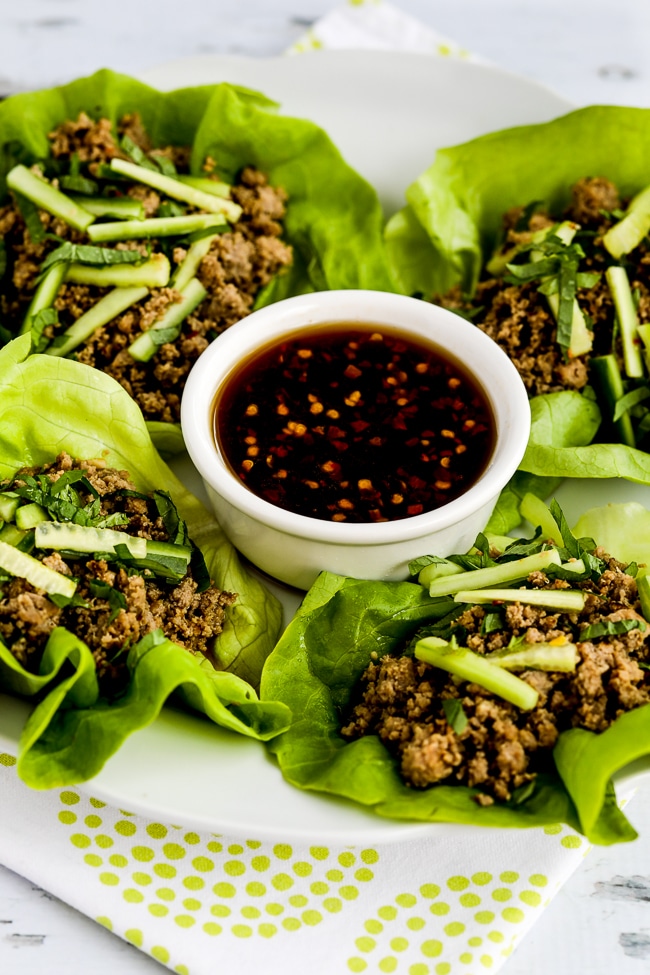 Thai Turkey Lettuce Wraps are so delicious and easy to make, and this makes a lot so you might have enough for another meal!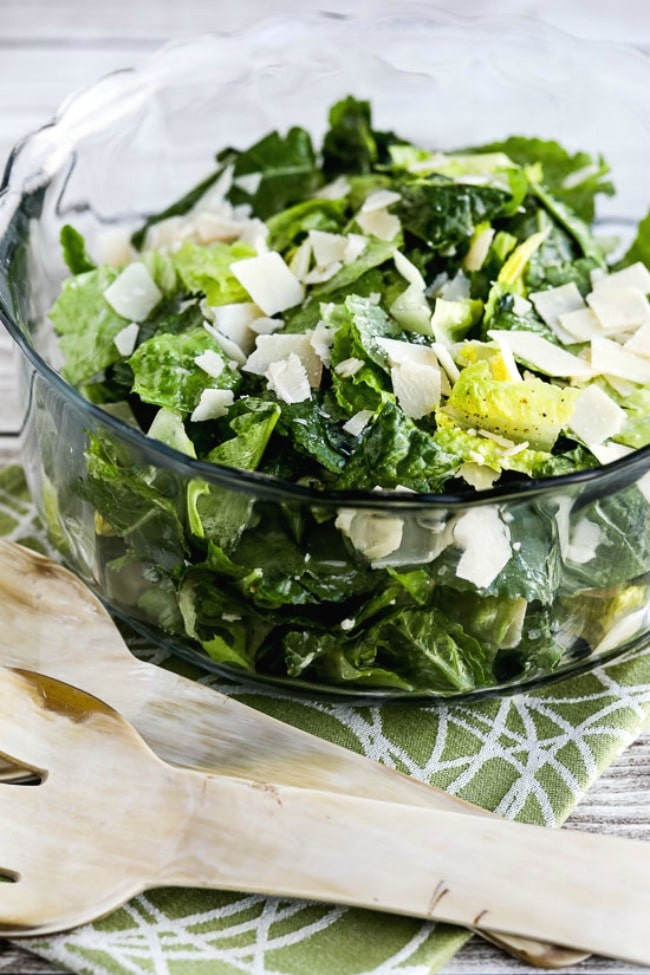 In this tasty Caesar Salad with Kale, Romaine, and Shaved Parmesan you can use fish sauce to replace the anchovies that are traditional in Caesar Salad dressing!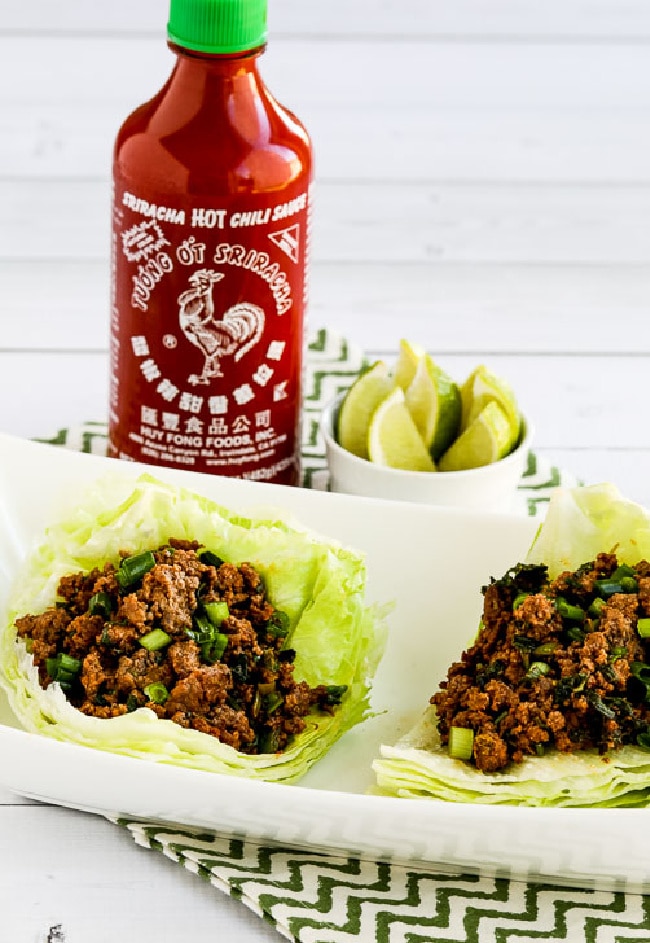 Sriracha Beef Lettuce Wraps are something I've made over and over for a quick low-carb dinner option.

Thai-Inspired Ground Turkey Stir-Fry is a stir-fry recipe that's been super popular on the blog!

Asian Lettuce Cups with Spicy Ground Turkey are a favorite dinner in my extended family, and this is a dinner that's always so tasty!

Thai Cabbage Salad is an interesting slaw variation that's loaded with Thai flavors.

Sriracha Beef Cabbage Bowl is another favorite recipe, inspired by Low-Carb Sriracha Beef Lettuce Wraps!
More Low-Carb Recipes with Fish Sauce:
About Kalyn's Kitchen Picks:
I purchased Red Boat Fish Sauce myself and this company has no idea that I'm writing about their product. All items featured as Kalyn's Kitchen Picks are things I happily buy over and over, and because I want readers to know that my opinions are completely unbiased, I don't accept review products from the many companies who offer to send them to me. You can see the complete list of products I've chosen at Kalyn's Kitchen Picks.
We are a participant in the Amazon Services LLC Associates Program, an affiliate advertising program designed to provide a means for us to earn fees by linking to Amazon.com and affiliated sites. As an Amazon Associate, I earn from qualifying purchases.