Roasted Broccoli with Garlic
If you like broccoli and garlic, this Roasted Broccoli with Garlic is an absolute WOW for a low-carb four-ingredient side dish! Don't be afraid to use this much garlic because roasting mellows the garlic and makes it taste amazing!
PIN the Roasted Broccoli with Garlic to try it later!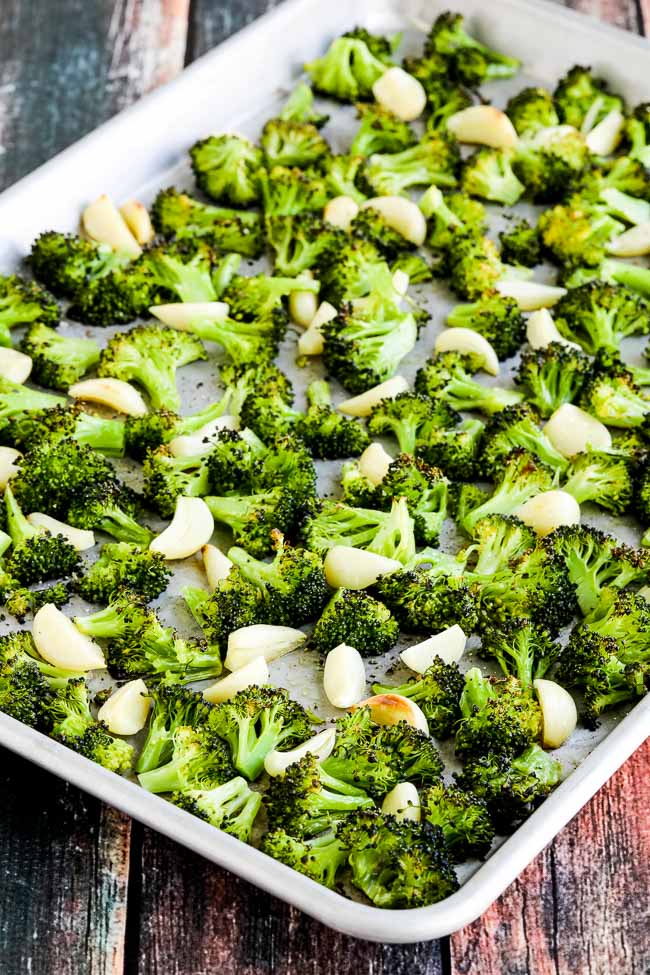 If you've never tasted Roasted Garlic you might not understand why this recipe for Roasted Broccoli with Garlic is so special, but trust me. This is not only one of the easiest broccoli recipes I've made, but also one of the tastiest broccoli dishes you can imagine.
Roasting sweetens the garlic and brings out the flavor of the broccoli in a most delightful way. Try it once and I'll bet whenever you're cooking something in the oven, tossing in some broccoli to roast is going to be your favorite way to cook broccoli.
And this recipe couldn't be healthier or more versatile; hope you will try it soon! And I predict that if you do your family will ask for it over and over!
What ingredients do you need?
broccoli, cut into bite sized flowerets
extra virgin olive oil
fresh garlic cloves
salt and fresh ground black pepper to taste
A tip for the garlic cloves used for this recipe:
If you shop at Costco, they sell big bags of garlic cloves that make the prep for this recipe so easy. Other places probably also carry them.
Why are roasted vegetables so good?
Roasting is the perfect way to cook vegetables because cooking at high heat concentrates the flavor and brings out the sweetness in broccoli and other vegetables, and the veggies all the nutritional benefits since they aren't cooked in water.
More Roasted Broccoli you might enjoy:
Making Roasted Broccoli with Garlic:
(This is just a description of the steps; see below for the complete printable recipe with nutritional information.)
Cut up broccoli into bite-sized flowerets.
Prepare garlic cloves, trimming off any brown ends and cutting the larger cloves into halves or even thirds. (Use more or less garlic to taste.)
Toss together the broccoli pieces, sliced garlic cloves, olive oil, salt and pepper and stir around until the broccoli pieces are well-coated with the oil.
Arrange garlic on a cookie sheet so the pieces are in a single layer as much as possible. (If the broccoli is too crowded the pieces will steam instead of roasting.)
Roast about 20 minutes, or until broccoli is bright green and starting to brown and garlic is barely getting browned on the edges.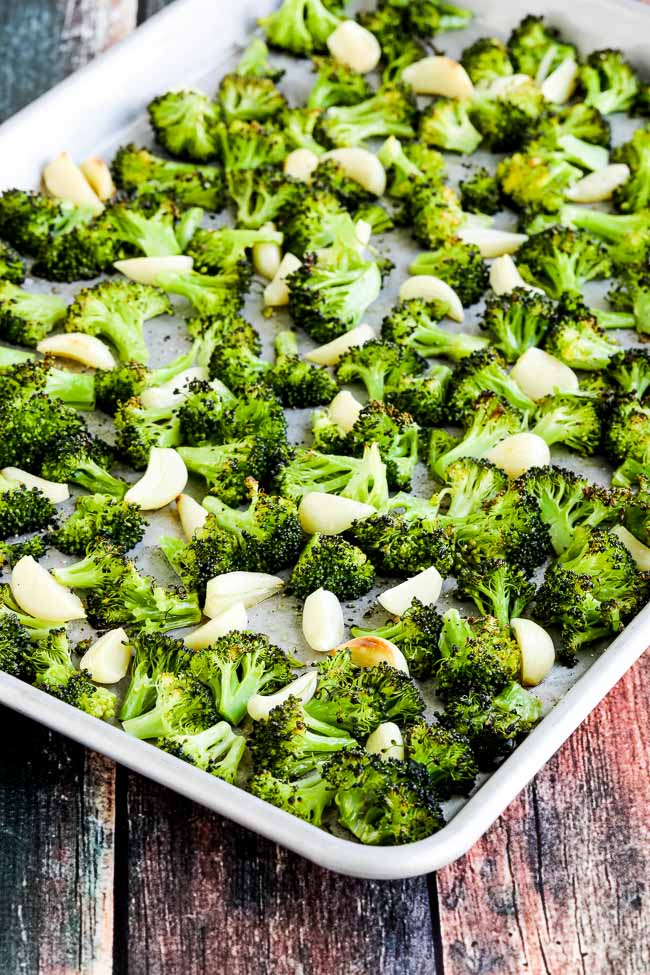 More tasty recipes featuring broccoli: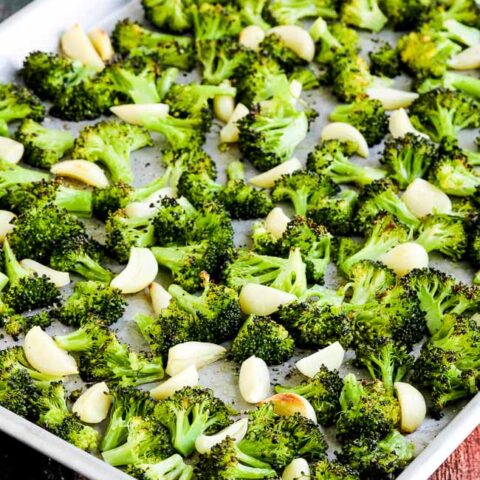 Yield: 4 servings
Roasted Broccoli with Garlic
Prep Time 10 minutes
Cook Time 20 minutes
Total Time 30 minutes
Roasted Broccoli with Garlic is so delicious and this is one of the easiest broccoli recipes you can make.
Ingredients
1 bunch broccoli, about 1 pounds, cut into bite sized flowerets
3 T extra virgin olive oil
1/2 cup fresh garlic cloves (more or less to taste)
salt and fresh ground black pepper to taste
Instructions
Preheat oven to 450F/230C.
Trim garlic cloves, and cut the cloves in half or thirds if they're especially large.
Cut broccoli into bite sized pieces.
Toss broccoli with olive oil, garlic, salt, and fresh-ground black pepper; then spread broccoli and garlic out on a baking sheet, trying to get it in a single layer as much as possible.
Roast until broccoli is bright green and edges are starting to brown slightly, about 20 minutes. Don't let the garlic get too brown or it will start to taste bitter.
Serve hot.
Nutrition Information:
Yield:
4
Serving Size:
1
Amount Per Serving:
Calories: 120
Total Fat: 10g
Saturated Fat: 1g
Unsaturated Fat: 9g
Cholesterol: 0mg
Sodium: 152mg
Carbohydrates: 7g
Fiber: 1g
Sugar: 0g
Protein: 1g
Nutrition information is automatically calculated by the Recipe Plug-In I am using. I am not a nutritionist and cannot guarantee 100% accuracy, since many variables affect those calculations.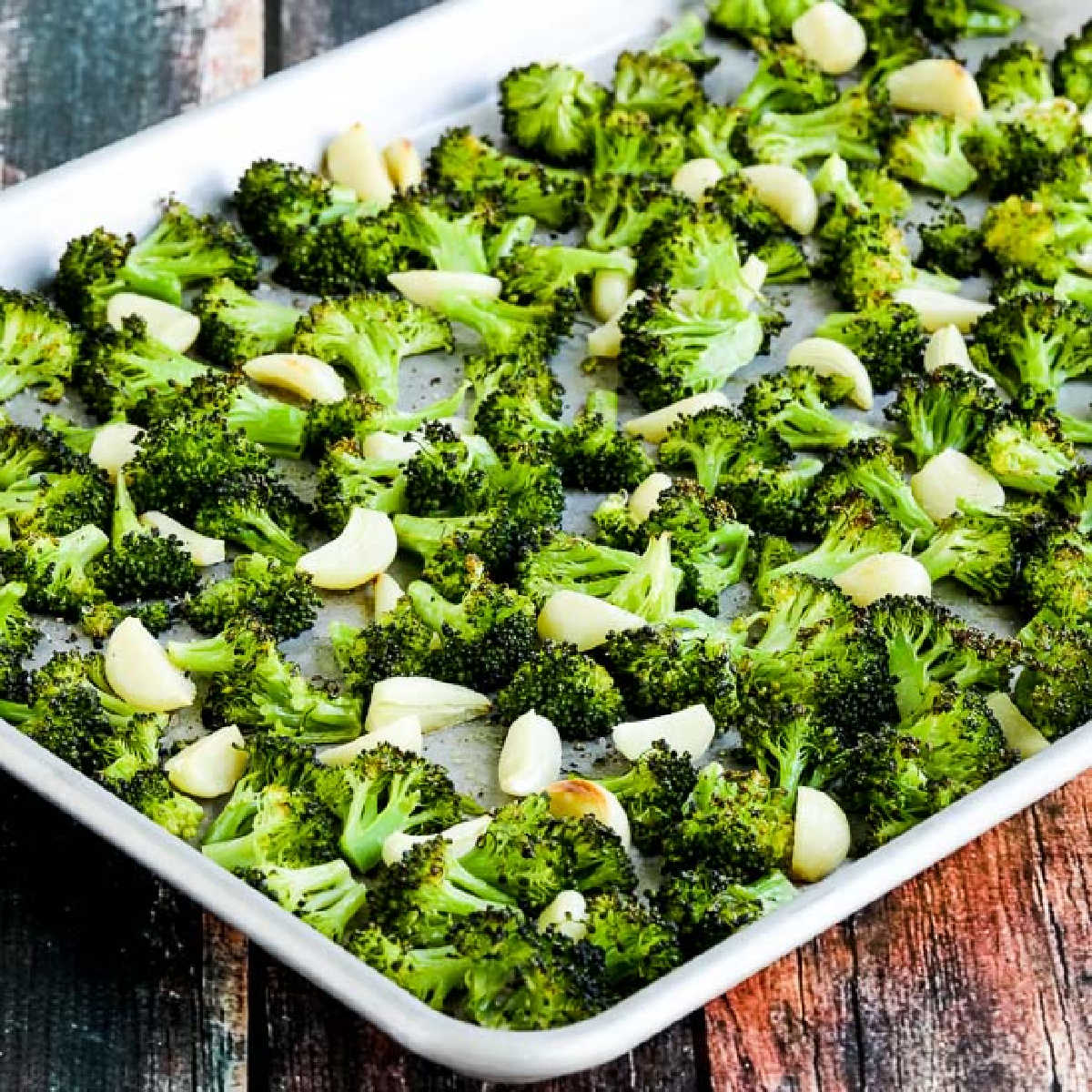 Low-Carb Diet / Low-Glycemic Diet / South Beach Diet Suggestions:
This Roasted Broccoli with Garlic is a perfect side dish for low-carb and Keto diet plans, and it would be suitable for any phase of the original South Beach Diet.
Find More Recipes Like This One:
Use Side Dishes to find more recipes like this one. Use the Diet Type Index photo index pages to find more recipes suitable for a specific eating plan. You might also like to follow Kalyn's Kitchen on Pinterest, on Facebook, on Instagram, on TikTok, or on YouTube to see all the good recipes I'm sharing there.
We are a participant in the Amazon Services LLC Associates Program, an affiliate advertising program designed to provide a means for us to earn fees by linking to Amazon.com and affiliated sites. As an Amazon Associate, I earn from qualifying purchases.