Kalyn's Kitchen Picks: OXO Good Grips Avocado Tool
After I had a pretty serious accident cutting up an avocado, I am sold on this inexpensive little Avocado Tool!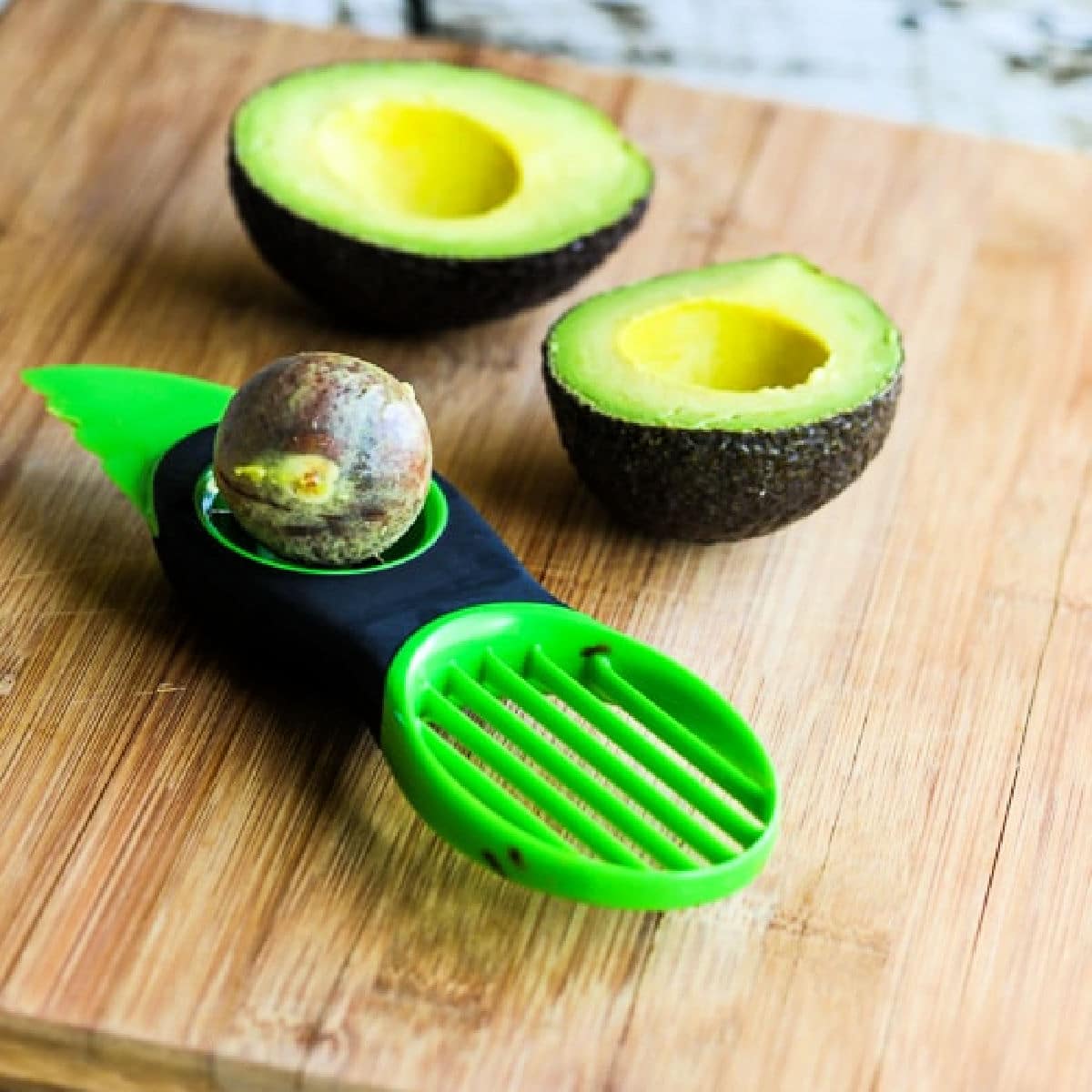 If you happen to be following me on Instagram you might remember that a few months ago I had a pretty scary accident where I was cutting up an avocado and when I stabbed the pit (like I had done hundreds of times before) and the knife went into a natural split in the seed and right into my hand, clear to the bone! It bled like crazy and I ended up with a visit to the emergency room.
That was a wake-up call for me about cutting avocados and several people recommended this OXO Good Grips Avocado Tool (affiliate link). I like kitchen gadgets, but I probably never would have considered buying an avocado tool like this if I hadn't gotten injured. But so many people recommended this exact same one that I bought it a few days later on Amazon.com.
Why do I love this Avocado Tool?
And wow, do I ever love it. It's really the plastic knife part of the 3-in-1 avocado tool that cuts through the skin and the little teeth that grab the seed (covered by the avocado pit in this photo) that I like most, but the slicing part is pretty cool too. I've used it multiple times since my avocado accident, and I'm loving it a bit more every time I use it. And since I'm loving this Avocado Slicer so much I decided to make it one of my Kalyn's Kitchen Picks, where I spotlight foods and kitchen stuff I love!
10 Avocado Salads where I'd use the Avocado Tool:
About Kalyn's Kitchen Picks:
I purchased the OXO Good Grips 3-in-1 Avocado Tool myself and this company has no idea that I'm writing about their product. All items featured as Kalyn's Kitchen Picks are things I would happily buy over and over, and because I want readers to know that my opinions are completely unbiased, I don't accept review products from the many companies who offer to send them to me. You can see my other kitchen and food picks at the page forKalyn's Kitchen Picks.</p
We are a participant in the Amazon Services LLC Associates Program, an affiliate advertising program designed to provide a means for us to earn fees by linking to Amazon.com and affiliated sites. As an Amazon Associate, I earn from qualifying purchases.