My Favorite No-Sugar Peanut Butter (and Recipes using Peanut Butter)
Here's a shout-out for my favorite no-sugar peanut butter and a collection of easy and delicious recipes using Peanut Butter. And most of the recipes are low in carbs and some are Keto!
PIN the low-carb recipes with peanut butter to try some later!
Is Peanut Butter something you always have in the house? I never liked peanut butter sandwiches, but I love the creaminess and the flavor peanut butter adds to sauces and salad dressings, and of course it's great for cookies!
So here's a shout-out for My Favorite No-Sugar Peanut Butter that's the one I always buy! And there's a collection of low-carb recipes using peanut butter, so if you're a fellow peanut butter fan who always has some peanut butter on hand, I hope you find something here that you'd like to try!
What No-Sugar Peanut Butter do I Recommend?
I loved this Adams 100% Natural Peanut Butter (affiliate link) from the first time I tried it. Now the chunky and smooth varieties are something I always have in my fridge. I use chunky the most, but I buy Adams No-Stir Creamy Peanut Butter (affiliate link) to use in sauces!
What to do if Natural Peanut Butter has Separated:
When you bring natural peanut butter home from the store it will be likely be separated with a layer of oil on top. I buy the big jars, and when I'm ready to start on a new jar from the pantry, I put the peanut butter and oil into my food processor and pulse until the oil is completely combined. It's a bit of a messy job, but completely effective. Keep natural peanut butter in the fridge once it's been opened.
Favorite Recipes Using No-Sugar Peanut Butter:

Chicken with Peanut Sauce has been a favorite of mine for years, and this recipe recently got new photos!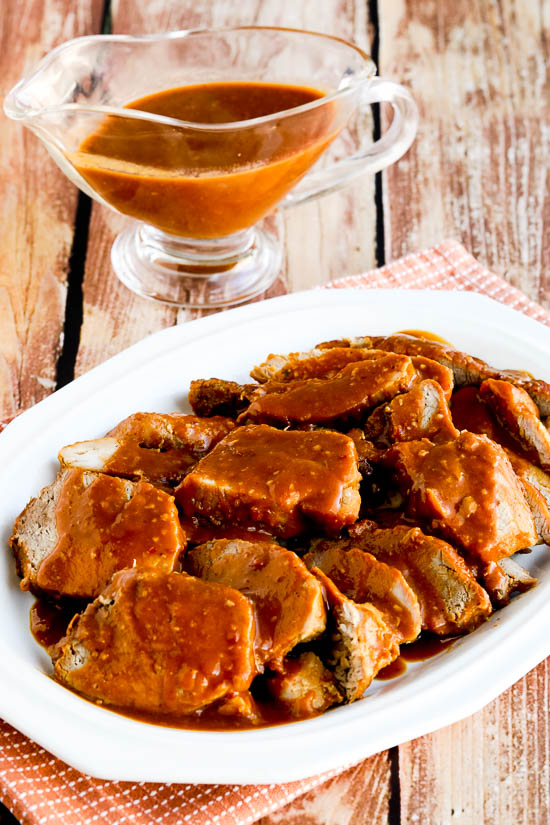 I'd guess this Pork Roast with Spicy Peanut Sauce might be the most popular peanut butter recipe on the blog, and you can make it in the slow cooker or the Instant Pot!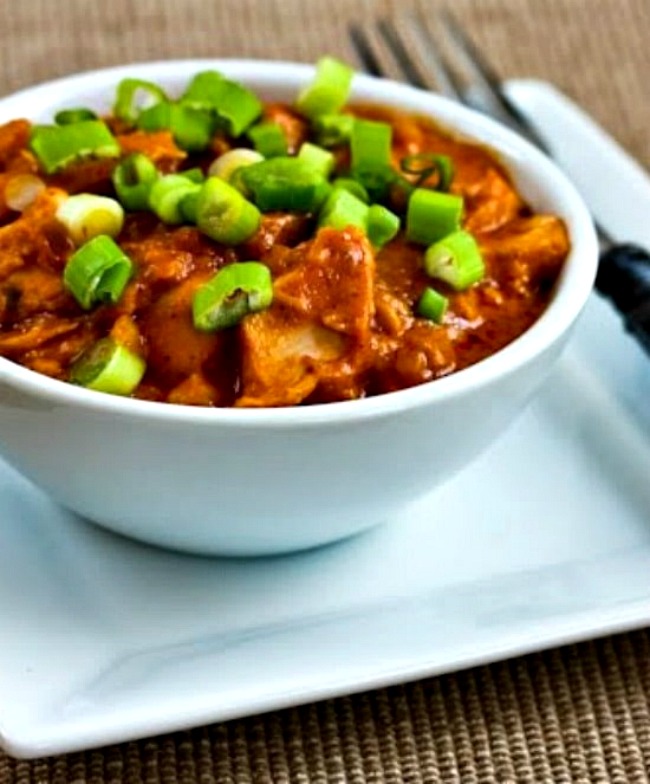 West African Chicken Stew is a delicious and quick dinner idea that uses leftover rotisserie chicken in a delightful peanut sauce!

Chicken Broccoli Salad with a tasty peanut butter dressing does have some carbs, but it's also high in fiber, and this is so tasty!

Peanut Butter Tofu with Sriracha is great for a meatless dinner and I use Monkfruit Sweetener which makes this super low in carbs! This recipe has been super popular through the years.

Ground Beef Zucchini Noodles with Peanut Sauce are a tasty dinner idea with spicy ground beef served over zucchini noodles, topped with a peanut butter and tahini sauce. And you can make this sauce with all peanut butter if you don't have Tahini Sauce (affiliate link).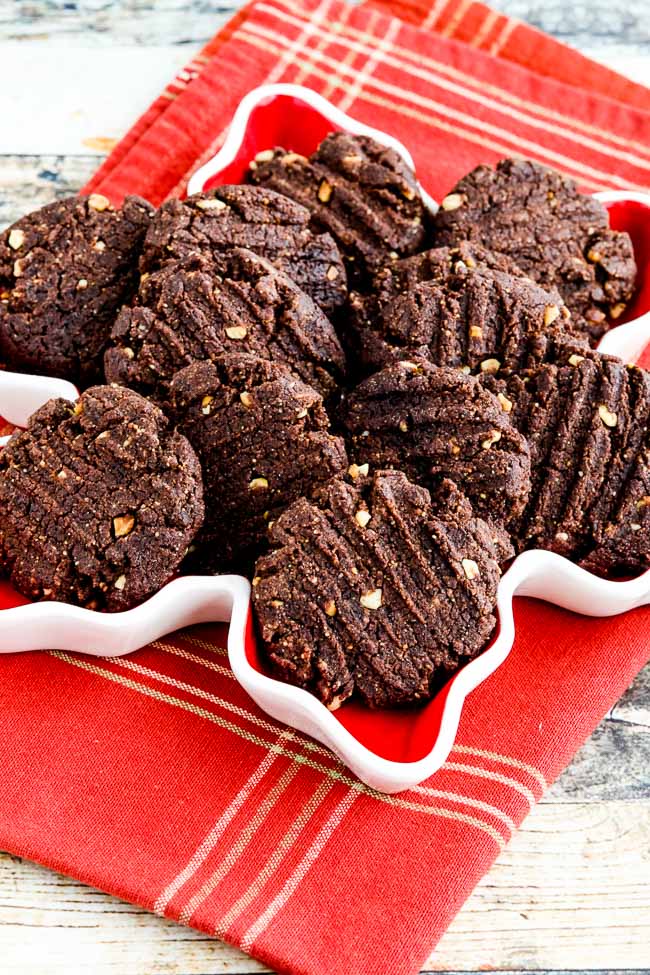 Flourless Sugar-Free Peanut Butter Chocolate Cookies are another favorite sugar-free cookies that uses peanut butter!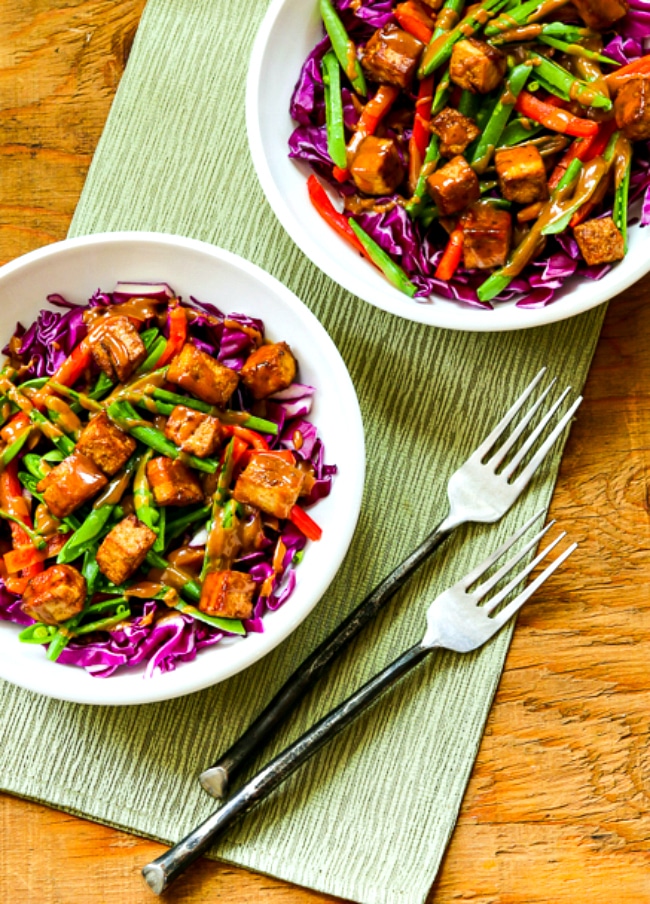 Cabbage Bowl with Tofu and Peanut Sauce is another meatless dish with peanut butter that's delicious and easy to make! This does have some carbs, but check the net carbs and remember it's an entire meal.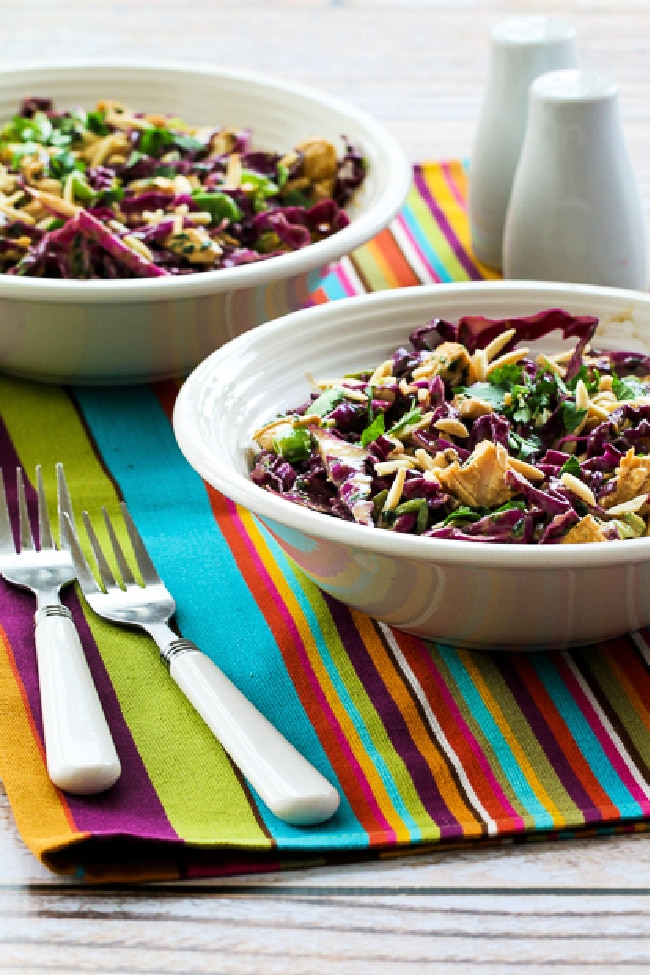 And this Asian Red Cabbage Salad with Chicken is one of my favorite salads with red cabbage and you can use sliced green onion in the peanut buttery dressing if you're not a cilantro fan!
More Recipes with No-Sugar Peanut Butter:
About the Food Products Featured Here:
I purchased the peanut butter in the photos myself and this company has no idea whatsoever that I'm writing about their product. All items featured as Kalyn's Kitchen Picks are things I buy over and over, and so readers will know my opinions are completely unbiased I no longer accept review products from the many companies who offer to send them to me. You can see the complete list of products I've chosen to feature at Kalyn's Kitchen Picks.
Historical Notes for this Post:
This love letter to Adams Natural Peanut Butter was first posted September 2011 and updated with more information in 2023.
We are a participant in the Amazon Services LLC Associates Program, an affiliate advertising program designed to provide a means for us to earn fees by linking to Amazon.com and affiliated sites. As an Amazon Associate, I earn from qualifying purchases.