Quick and Easy Peanut Butter Oatmeal
Quick and Easy Peanut Butter Oatmeal is perfect when you need breakfast in a hurry, and this is a treat you can literally make in minutes! And everyone who loves peanut butter is going to enjoy this easy four-ingredient oatmeal recipe.
PIN the Peanut Butter Oatmeal to try it later.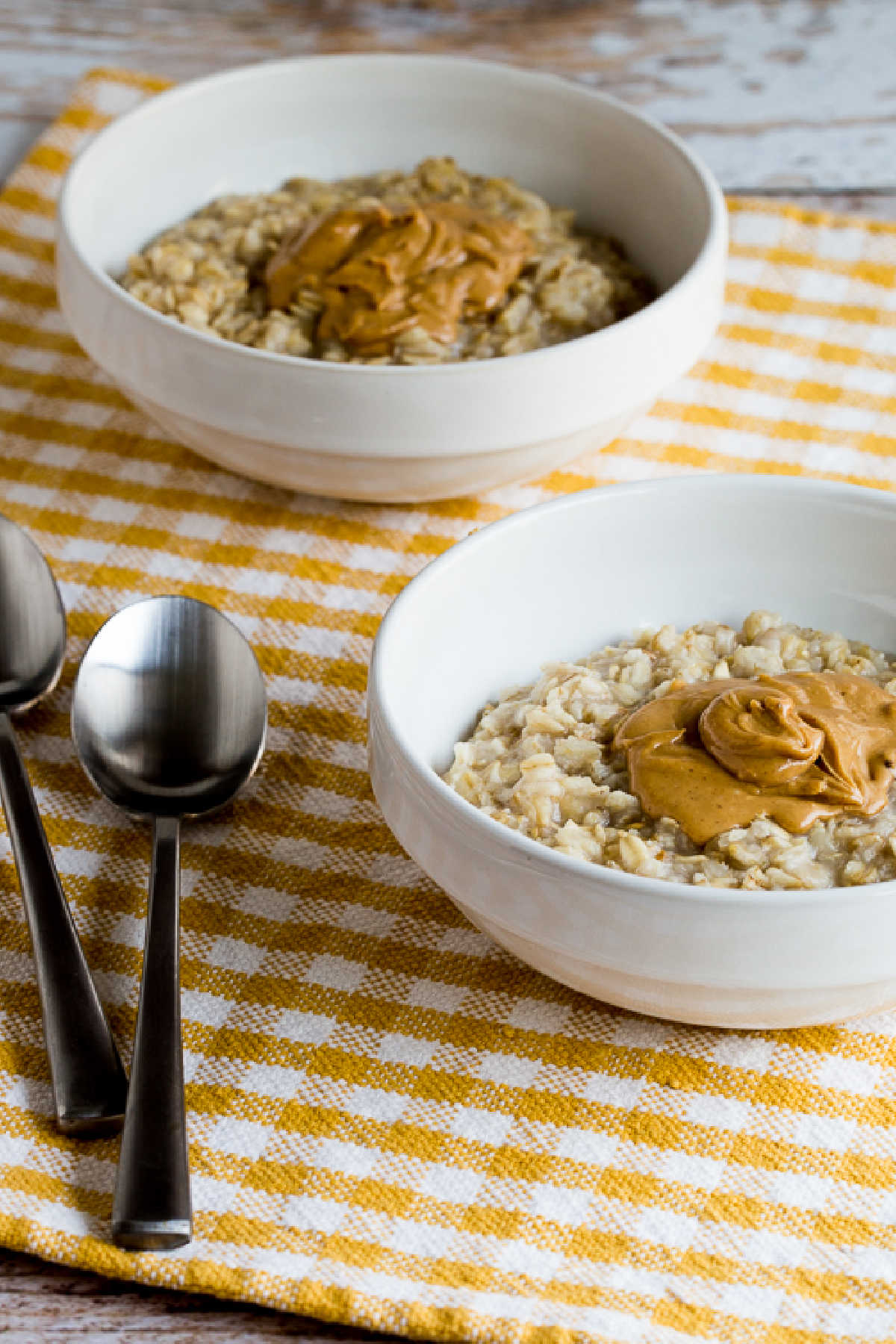 Most people who cook at home regularly have favorite recipes they make over and over, and this Quick and Easy Peanut Butter Oatmeal that I learned to make from fellow food blogger Alanna Kellogg is one of my favorite things to make when I need a really quick breakfast and want a treat.
This simple four ingredient breakfast treat combines microwaved extra-thick oatmeal with a generous scoop of peanut butter, for a simple easy breakfast that tastes delicious and will keep you going until lunch. This is a splurge on carbs for me, but oatmeal does have some fiber so check the nutritional information.
This is ridiculously easy to make, but there is a little technique to the recipe or the oatmeal will bubble over in the microwave. And if you have a 4-cup glass measuring cup, that's the perfect tall container for making two servings. (Of course if you don't have a microwave or don't want to use it, you can make regular oatmeal on the stove and then stir in the peanut butter, although that breakfast won't be quite as quick and easy.)
What ingredients do you need for this recipe?
What Type of Oatmeal Do I Use for Peanut Butter Oatmeal?
There are three types of oatmeal: instant oatmeal, quick oatmeal, and regular oatmeal (also called rolled oats). Some people also like steel cut oats, which are even more nutritious but not suitable for microwave cooking like this! Here's some information about all the types of oats from Cook's Thesaurus.
Since less processed foods are lower on the glycemic index, regular oatmeal is best for carb-conscious eaters or South Beach Dieters. I always use Bob's Red Mill Extra Thick Rolled Oats (affiliate link) for this recipe. (That's an affiliate link, and because I know some of you are wondering, Bob's Red Mill has not compensated me in any way to promote their oatmeal!)
What peanut butter do I use for Peanut Butter Oatmeal?
I always use Adams 100% Natural Peanut Butter (affiliate link), which is the brand I've been using for many years. I like chunky peanut butter best in this for a little extra crunch.
Can Peanut Butter Oatmeal Be Made Ahead?
I knew some of you who scramble to even find a couple of minutes in the morning would want to know this, so I tried it, and yes you can make this, refrigerate overnight, and then heat the next day. Add a bit of water and microwave for about 1 minute to reheat. However, you're only saving minutes, and it's much better freshly made.
Tips for Making Peanut Butter Oatmeal:
The basic ratio for Quick and Easy Peanut Butter Oatmeal is one part oatmeal to not quite two parts water. I use 1/2 cup of Bob's Red Mill Extra Thick Rolled Oats for a single serving for myself. Don't forget to add a pinch of salt for each portion of oatmeal. Then microwave the oatmeal until it's done (see below for timing), add the peanut butter and let it melt, and stir. That's it. And peanut butter oatmeal is meatless, vegan, South Beach Diet Phase Two, dairy-free, and kid-friendly!
Want a fun kid-friendly variation for this oatmeal with peanut butter?
If you're a mom or dad who's making breakfast for kids it would be easy to turn this into peanut butter and jelly oatmeal, which would still be a really nutritious breakfast for a school-day morning.
How to Make Quick and Easy Peanut Butter Oatmeal:
(Scroll down for complete printable recipe with nutritional information.)
For two servings of oatmeal, you'll need about 1 cup rolled oats (not instant), 1 3/4 cups of water (or a little more if you like thinner oatmeal), and a little salt.
Stir the oatmeal, water, and salt together in a 4-cup glass measuring cup (or a bowl with high sides) and microwave on high for 2 minutes.
Then stir and cook the oatmeal 40-60 seconds more, stirring once or twice, until it's as thick and soft as you prefer.
I always use my favorite Adams 100% Natural Peanut Butter (affiliate link), but choose a peanut butter without added sugar if that's important to you.
Add 4 tablespoons peanut butter, let it melt a couple of minutes, then stir into the oatmeal.
That's it! Peanut butter oatmeal is easy and delicious for a quick healthful breakfast.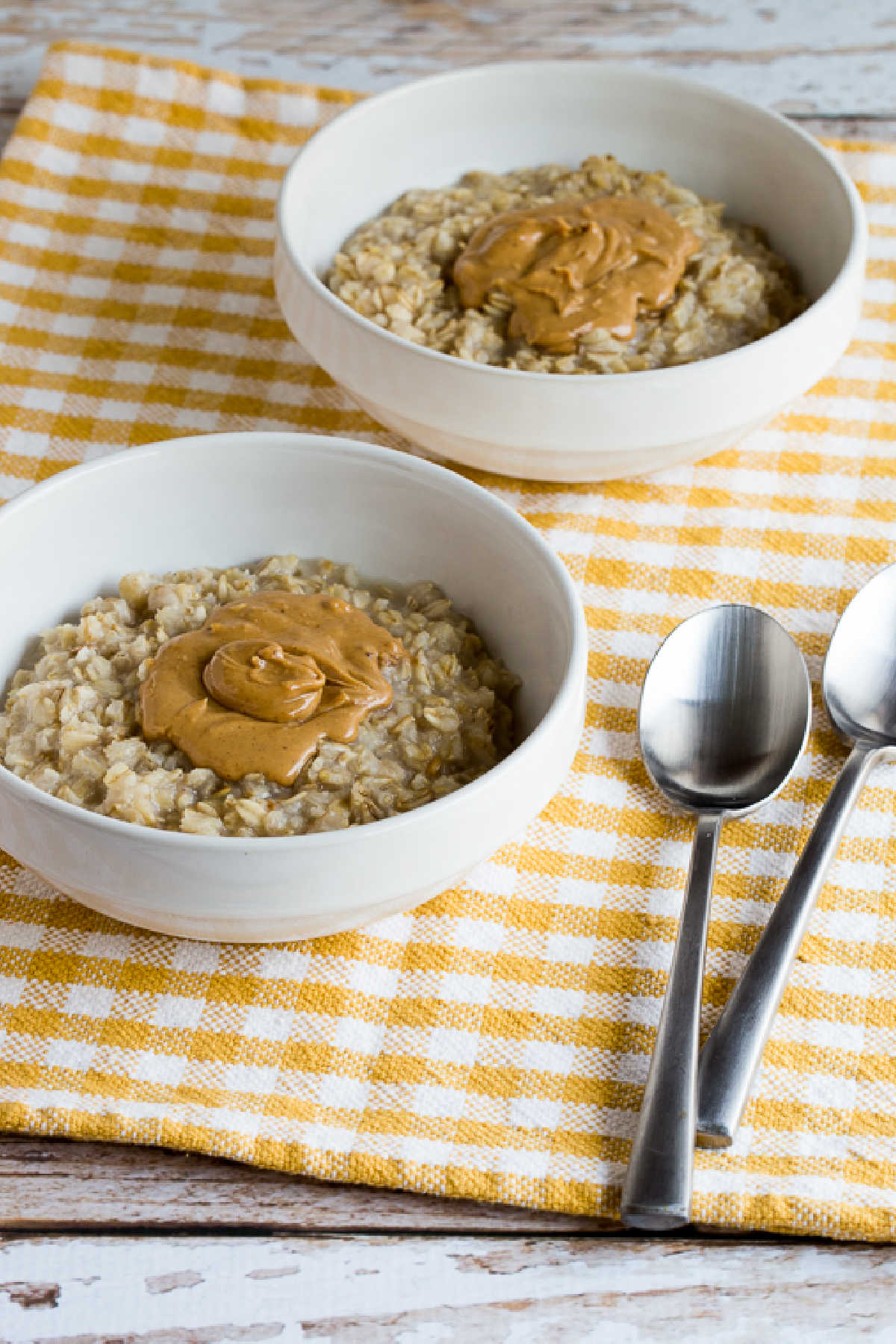 More Tasty Recipes that use Oatmeal:
Yield: Makes 2 servings
Quick and Easy Peanut Butter Oatmeal
Prep Time 10 minutes
Cook Time 3 minutes
Total Time 13 minutes
This Quick and Easy Peanut Butter Oatmeal makes a great  breakfast in a hurry! And this will be a hit with anyone who likes peanut butter.
Ingredients
1 cup oatmeal
1 3/4 cup water (or slightly more if you prefer a thinner oatmeal)
1/4 tsp. salt (or to taste, but do not leave out the salt)
4 T peanut butter
Some people like this with a sprinkle of ground cinnamon, but I never use that.
Instructions
Put 1 cup oatmeal in a 4-cup glass measuring cup (or a microwave-proof bowl with high sides) and sprinkle with salt.
Stir in 1 3/4 cup warm water, or slightly more, depending on how thick you like your finished oatmeal.
Microwave for two minutes on high, remove from microwave and stir.
Continue to microwave in 20 second intervals, stirring after each 20 seconds, until oatmeal reaches the desired consistency.
The oatmeal in these photos was cooked for three minutes, but you may prefer it slightly more chewy or softer, so experiment to get the consistency you like.
Be sure to use a container with high sides or the oatmeal will boil over when you get to the end of the cooking time.
Remove oatmeal and add Adams 100% Natural Peanut butter (affiliate link) or your favorite peanut butter. Let it melt for a minute or so and then stir into the oatmeal. (I always use chunky peanut butter)
Sprinkle with ground cinnamon if desired.
Serve hot.
Recipe can be cut in half or increased as desired.
Notes
I always use Bob's Red Mill Extra Thick Rolled Oats (affiliate link) for this. Be sure you the oats you use are certified Gluten-Free if needed; some oats are not gluten-free.
This recipe created and generously shared by my friend Alanna.
Nutrition Information:
Yield:
2
Serving Size:
1
Amount Per Serving:
Calories: 274
Total Fat: 18g
Saturated Fat: 3g
Trans Fat: 0g
Unsaturated Fat: 11g
Cholesterol: 0mg
Sodium: 456mg
Carbohydrates: 23g
Fiber: 5g
Sugar: 2g
Protein: 10g
Nutrition information is automatically calculated by the Recipe Plug-In I am using. I am not a nutritionist and cannot guarantee 100% accuracy, since many variables affect those calculations.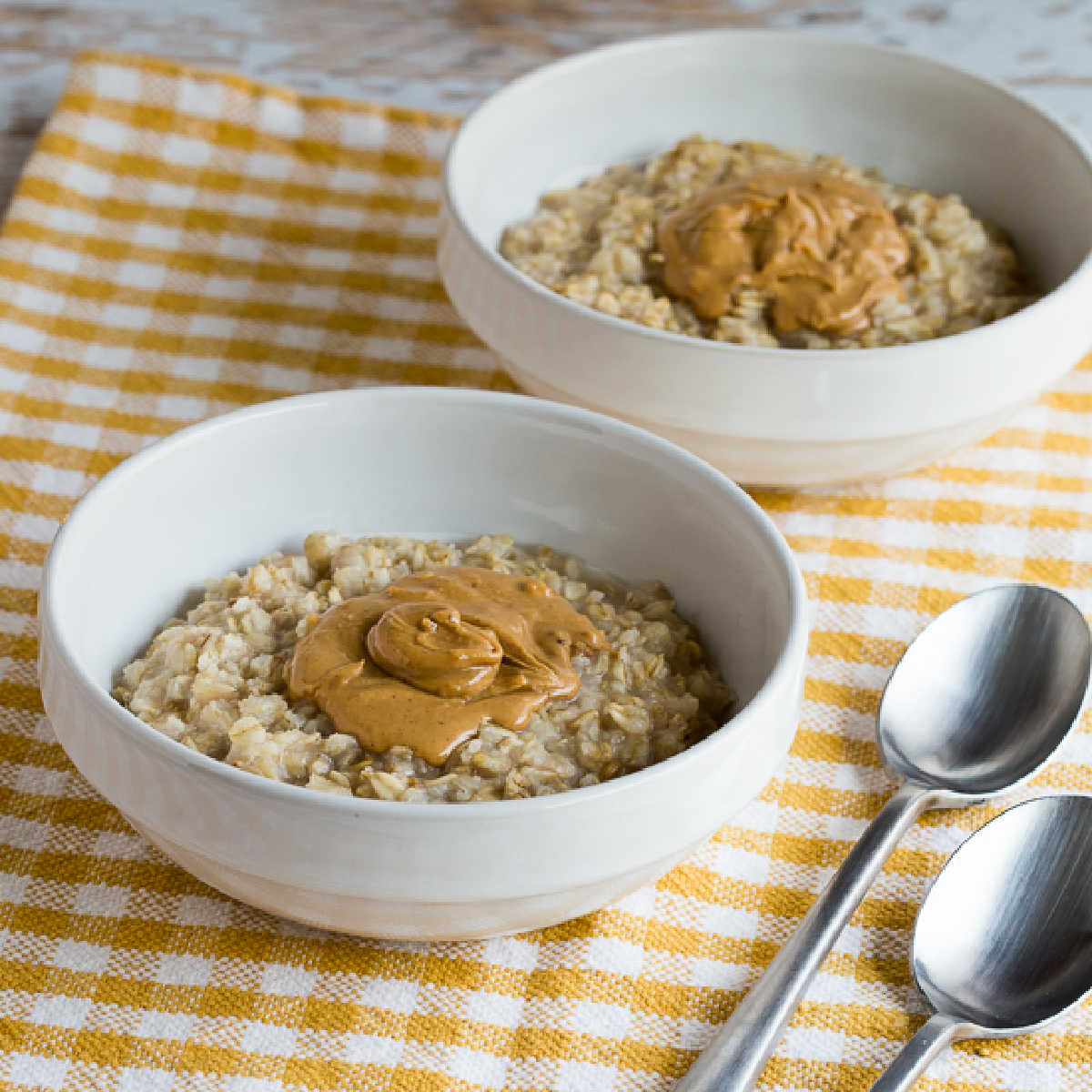 Low-Carb Diet / Low-Glycemic Diet / South Beach Diet Suggestions:
Oatmeal is too high in carbs for a traditional low-carb diet, but this Quick and Easy Peanut Butter Oatmeal is low-glycemic and is approved for phase two or three of the original South Beach Diet.
Find More Recipes Like This One:
Use Breakfast Recipes to find more recipes like this one. Use the Diet Type Index to find recipes suitable for a specific eating plan. You might also like to follow Kalyn's Kitchen on Pinterest, on Facebook, on Instagram, on TikTok, or on YouTube to see all the good recipes I'm sharing there.
Historical Notes for this Recipe:
This super-easy peanut butter oatmeal recipe was first posted in 2006! When I used to rush off to school in the morning this was a breakfast I made regularly. The recipe was last updated with more information in 2022.
We are a participant in the Amazon Services LLC Associates Program, an affiliate advertising program designed to provide a means for us to earn fees by linking to Amazon.com and affiliated sites. As an Amazon Associate, I earn from qualifying purchases.