How to Make Minced Garlic for the Freezer
This post has tips to show you How to Make Minced Garlic for the Freezer and then you can stop paying high prices for minced garlic in a jar! Don't you agree that minced garlic in a jar is so handy, but those little jars of garlic can be pricey if you use a lot of garlic!
Pin How to Make Minced Garlic for the Freezer!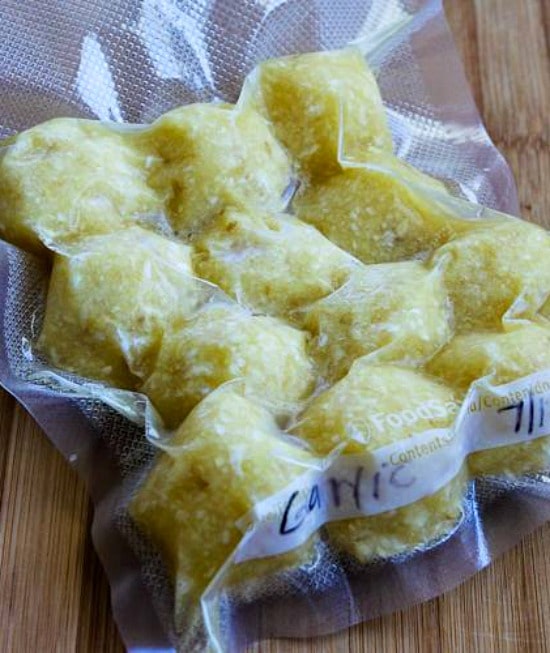 I know some of you are total garlic purists who'd never use anything but freshly peeled and minced garlic, and those people won't need this tip. I do use fresh garlic for any dish where I want that sharp garlic flavor, and love my little garlic chopper when I need to chop a lot quickly.
But for lots of recipes, especially when the garlic is going to be simmered in a sauce, soup, or stew, I like the convenience of pre-peeled garlic cloves, or (gasp) even minced garlic in a jar. What I don't like is paying too much money for little jars of minced garlic that only last a week or two, so I started making my own pre-minced garlic for the freezer. This post will show you How to Make Minced Garlic for the Freezer.
I'm a fan of these Christopher Ranch Garlic Cloves, and buy them at Costco. (This product used to come in a jar.) I can't use this big bag of garlic cloves before they start to go bad in the fridge, so I came up with the idea of mincing the garlic and freezing it. (Christopher Ranch has no idea I a'm recommending their garlic and they haven't paid me to promote it here!)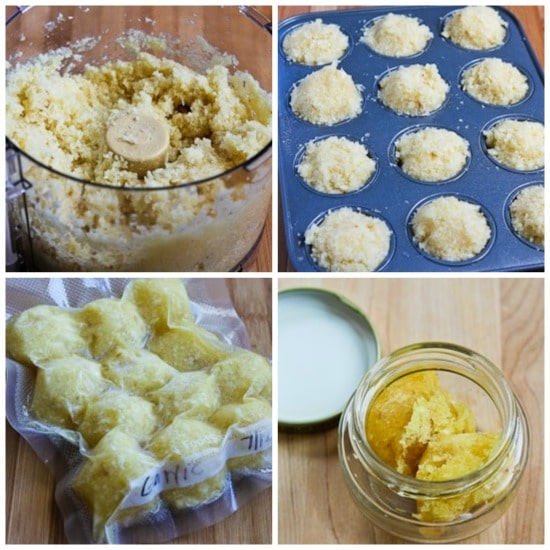 Steps for Making and Freezing Minced Garlic:
I minced the garlic in my Cuisinart Food Processor (affiliate link) fitted with the steel blade. I wanted chunky minced garlic, so I pulsed the machine on and off until I had the texture I wanted. You could let it go longer for garlic puree.
I chopped up about half the bag of garlic cloves, which just filled this mini-muffin tin (affiliate link) and I froze the garlic in this muffin tin overnight. Each little ball of garlic is 2-3 tablespoons of minced garlic.
You can also also use an ice-cube tray to freeze the garlic, although a plastic ice cube tray will absorb the garlic smell.
When the garlic was frozen hard I sealed all the little cubes of frozen garlic into a bag, using my FoodSaver Vacuum Sealing Machine. (affiliate link) Then the whole package went back into the freezer. (Label it so you know when you put it in there!)
When I need to use some minced garlic, I cut open the bag and take out two cubes at a time, which I store in a little jar in the fridge. Reseal the bag with the rest of the garlic and put it back into the freezer.
The frozen-and-thawed minced garlic will keep in the fridge for a little over a week, and I like the idea that it doesn't have any preservatives, which the expensive jars of minced garlic often contain.
More Freezing Tips:
My Favorite Tips for Freezing Garden Tomatoes, Fresh Herbs, and Vegetables
Freezing Fresh Lemon Juice and Lime Juice: How and Why I Do It
How to Freeze Fresh Basil (all phases)
How to Freeze Fresh Herbs: Rosemary and Thyme
More About Freezing Fresh Herbs: Thai Basil, Sage, Tarragon, and Mint
How to Make and Freeze Tomato Sauce
Making Pistou Sauce for the Freezer (in honor of Julia Child)
See Cooking Tips for more posts like this one.
Blogger Disclosures:
All the kitchen gadgets or products mentioned in this post are things I purchased myself or received as a gift from a friend, and none of these companies know that I am mentioning their product on my blog.
We are a participant in the Amazon Services LLC Associates Program, an affiliate advertising program designed to provide a means for us to earn fees by linking to Amazon.com and affiliated sites. As an Amazon Associate, I earn from qualifying purchases.