Sausage and Basil Marinara Sauce for the Freezer
If you've got an abundance of fresh garden tomatoes, use them to make this wonderful Sausage and Basil Marinara Sauce for the freezer. And you can make this flexible sauce recipe with all canned tomatoes if you don't have fresh ones!
PIN Sausage and Basil Marinara Sauce for the Freezer!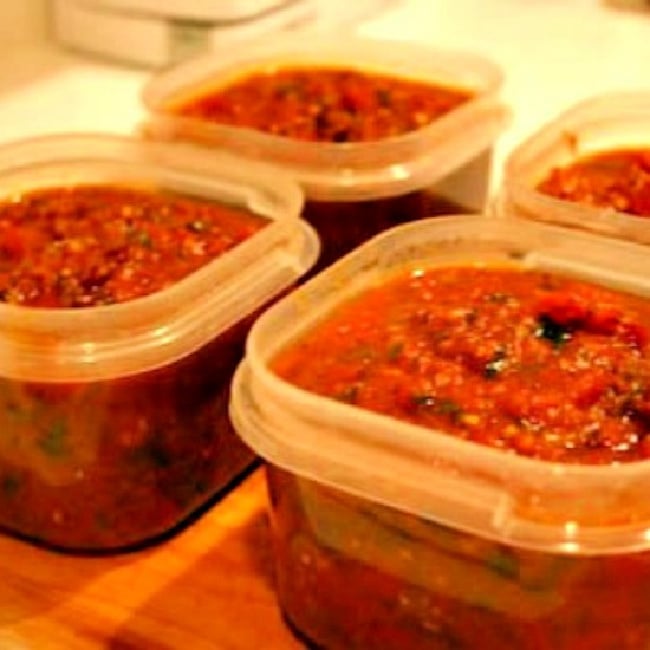 My garden tomatoes are in overdrive, and I've been frantically making things like roasted tomatoes, Gazpacho, and now Sausage and Basil Marinara Sauce! And at this time of year I'm always happy when it's time to make this sauce, my all-time favorite pasta sauce, and something I've been making for years.
If you come to my house in the winter and open the freezer, you'll see square containers like the ones in the photo filled with this sauce. I'll eat it served over Zucchini Noodles for a low-carb dinner, or with whole wheat spaghetti if I'm not as concerned about carbs, but this would be great with any type of pasta you prefer. And I never get tired of this favorite sauce.
What ingredients do you need for this recipe?
What makes this a flexible recipe?
This is a very flexible recipe. I always use fresh tomatoes, but if you don't have them available, you can use canned, diced tomatoes and still get a good result. I use turkey Italian Sausage most often, but pork sausage would taste great too. I used a combination of dried and fresh herbs for more depth of flavor, but you could still make a pretty good sauce even if you only have dried herbs. I add a lot of fresh basil, but if you don't have a good supply of fresh basil like I do, you could get by with a lot less. But please, please, please, don't skip the ground fennel. That's one of the things that makes this sauce over-the-top good.
Would you prefer Instant Pot Pasta Sauce?
Here's an absolutely delicious Instant Pot Pasta Sauce with sausage, tomatoes, and herbs if you prefer that method!
Steps for Making Sausage and Basil Marinara Sauce with Fresh Tomatoes:
Peel ripe tomatoes (instruction below), and chop into pieces. Roma tomatoes are best, but I roasted most of my Romas, so this batch of sauce was made with Celebrity tomatoes.(These photos are double the amounts of the recipe.)
Add tomato sauce, canned tomatoes, dried basil, dried oregano, ground fennel, minced fresh garlic, and dried bay leaves to fresh tomatoes and simmer 1-2 hours.
Brown turkey sausage well in a small amount of olive oil. Don't rush this step. Add the sausage to the sauce, scraping out all the browned bits. Simmer 2-3 more hours.
When sauce has thickened to desired consistency, add a generous amount of chopped fresh basil, a little fresh oregano, and a bit of olive oil and simmer 10-15 minutes more. This has reduced so much I actually put it into a smaller pan to get a better photo, and the flavor is great. If you'd like, divide the sauce into individual containers to freezer or to eat during the week!
More Recipes with Fresh Garden Tomatoes:
Tomato-Basil No-Cook Pasta Sauce
Middle Eastern Tomato Salad
Summer Tomato Salad with Goat Cheese
Weekend Food Prep:
This recipe has been added to a new category called Weekend Food Prep to help you find recipes you can prep or cook on the weekend and eat during the week!
Yield: 20 servings
Sausage and Basil Marinara Sauce for the Freezer
Prep Time 45 minutes
Cook Time 5 hours
Total Time 5 hours 45 minutes
Use your fresh garden tomatoes to make this Sausage and Basil Marinara Sauce.
Ingredients
20 very ripe tomatoes, peeled and diced in pieces 1/2 to 1 inch
two 8 oz. cans tomato sauce
two 14.5 oz. cans diced tomatoes
3 T dried basil
3 T dried oregano
2 T ground fennel seed
3 T minced garlic or garlic puree
5 dried bay leaves
two 19.5 oz pkg. turkey Italian Sausage (see notes)
1/4 cup olive oil plus 1-2 T for browning sausage
1/4 cup chopped fresh oregano (more or less, depending on what you have)
1/2 cup chopped fresh basil (more or less, depending on what you have)
Instructions
To peel tomatoes: Bring a deep pot of water to a slight boil.
Wash tomatoes, then cut a V into the top of each tomato, cutting away stem area.
Put tomatoes with stem area removed into boiling water 1-2 minutes.
Remove tomatoes to cutting board, and peel off skin, which should come off easily. If it doesn't slip right off, leave tomatoes in boiling water a tiny bit longer.
I do 4-5 tomatoes at a time, and usually let them cool for a minute or two before peeling them.
Chop tomatoes and put in large heavy pot.
Add tomato sauce, canned diced tomatoes, dried basil, dried oregano, ground fennel, minced garlic, and bay leaves and let sauce simmer 1-2 hours.
Heat 1-2 T olive oil in a large frying pan.
Squeeze sausage out of casing and brown, breaking up with heavy turner or potato masher, until sausage is well browned.
Add browned sausage to sauce mixture and simmer 2-3 hours more.
Add olive oil, fresh oregano and fresh basil to sauce and simmer 10-15 minutes.
Let sauce cool before refrigerating or freezing.
This sauce will keep for close to a year in the freezer if it is stored in a plastic container with a tight fitting lid.
Notes
You can use one package of sausage if you prefer. Use mild or hot sausage, whichever you like.
Nutritional information is based on 1/2 cup serving size.
This recipe created by Kalyn and has been made over and over for years!
Nutrition Information:
Yield:
20
Serving Size:
1
Amount Per Serving:
Calories: 125
Total Fat: 7g
Saturated Fat: 1g
Trans Fat: 0g
Unsaturated Fat: 5g
Cholesterol: 29mg
Sodium: 278mg
Carbohydrates: 8g
Fiber: 3g
Sugar: 4g
Protein: 9g
Nutrition information is automatically calculated by the Recipe Plug-In I am using. I am not a nutritionist and cannot guarantee 100% accuracy, since many variables affect those calculations.
Low-Carb Diet / Low-Glycemic Diet / South Beach Diet Suggestions:
Every ingredient in this Sausage and Basil Marinara Sauce is friendly for all phases of the original South Beach Diet and most other types of low-carb eating plans, although tomatoes definitely have some carbs. This would be perfect served over Zucchini Noodles for a low-carb meal or for South Beach Phase One.
Find More Recipes Like This One:
Use Tomato Recipes or Sauces for more ideas like this one. Use the Diet Type Index to find recipes suitable for a specific eating plan. You can also Follow Kalyn's Kitchen on Pinterest to see all the good recipes I'm sharing there.
Historical Notes for this Recipe:
This recipe was posted in 2006 and I've probably made it every year since then! It was last updated with more information in 2021.
We are a participant in the Amazon Services LLC Associates Program, an affiliate advertising program designed to provide a means for us to earn fees by linking to Amazon.com and affiliated sites. As an Amazon Associate, I earn from qualifying purchases.