2009 Garden Update #9 (The Herbs are Flourishing!)
For anyone who's forgotten (or is new to the blog) Friday Night Photos is a feature I started to encourage me to practice using my camera for something besides carefully staged food shots. It's fun, but lots of times the pictures show how much I have to learn as a photographer. Let me make it clear that these are not what I would consider good photos! I have a new lens, so I wandered out into the garden in the early morning and took a few photos, and when I saw the pictures I realized I should have bumped up the ISO (and a few were so blurry they were immediately deleted.) But even when the photos are bad, I do like remembering how the herbs are growing, and this year's crop of herbs has been stellar. I have two boxes (2 feet X 10 feet) with herbs, so starting from the west, on the end we have lots of basil. It's definitely time to give the basil a good trimming and
freeze some basil
, but I've made quite a few batches of
basil vinaigrette
the last month, so it's been a good year for basil.
Next to the basil is chives, an herb I only started using last year. I grew it along the fence first, but this year I moved it into the herb box, where I'm more likely to remember to snip some chives to use in a
Garden Veggie Frittata
or to sprinkle over some
Tuscan Baked Eggs
.
After chives comes Silver Thyme, which is the type of thyme I like most for using in cooked dishes like
Roasted Mushrooms
,
Onion Gratin
, or
Farro with Mushrooms and Thyme
. (By the way,
thyme can easily be frozen
and used all winter long.)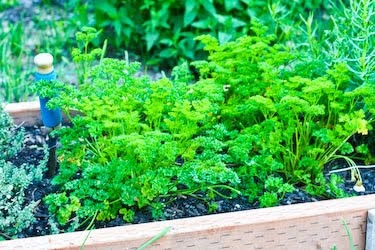 After the Silver Thyme comes curly parsley, a plant I've neglected a bit this summer, although I used some in
Parsley Hummus
and
Bulgur Salad
. Probably my favorite recipe that uses curly parsley is
White Bean Salad with Tuna and Parsley
, which I haven't made once this year!
And at the end of the first box we have a jungle of French Tarragon. I love this herb, but if you're planning to grow it, one plant will be plenty! Trust me on this, because for two years nwo I've given away tarragon to anyone I could get to take it. I love to use French Tarragon in
Chicken Salad with Tarragon and Peas
or
Tarragon Mustard Deviled Eggs
. I'll definitely
freeze some tarragon
before winter gets here.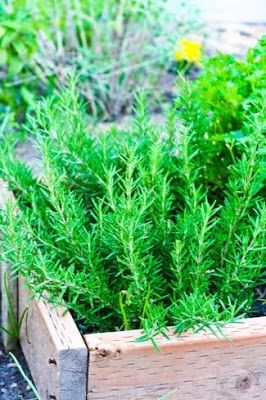 At the start of the second box is a healthy crop of rosemary, which hardly ever over-winters in Utah (and I've been thinking about trying to bring it inside; anyone tried that?)
Rosemary Mustard Grilled Chicken
is my signature recipe using fresh rosemary, but last summer I also used it in a wonderful
Zucchini and Yellow Squash Soup
. (
Rosemary can also be frozen
, and it's nice to have on hand in the winter.)
After the rosemary comes flat leaf parsley, which many cooks prefer although I actually like both kinds about the same. I used this recently when I swooned over
Fattoush Lebanese Salad
, and it's also good in
Turkey and Wild Rice Soup
and
Chimichurri Sauce
. (I've never tried freezing parsley since I can buy it cheaply all year, but would love to hear how it worked if anyone has tried it.)
After the flat parsley is this Italian Oregano, which has smaller leaves and is a bit milder than Greek Oregano. I used dried oregano when I made
Cannellini Bean and Sausage Stew
, but I'm guessing that oregano can also be frozen and I think I'll freeze some of this for soups this winter.
Next to the Italian Oregano we have Lemon Thyme, which I just used in an interesting recipe I'll be posting next week. This is the type of thyme I'd be most likely to use raw, but it's also good in cooked dishes like Roasted Butternut Squash.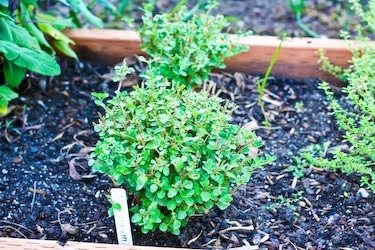 I just gave these marjoram plants a healthy trimming, which is why they're so small. Marjoram is something I hadn't used much until my sister Sandee gave me the recipe for
Marinated Tomatoes with Parsley and Marjoram
that breaks all the rules for tomato salads, but tastes so great.
If I was just going by looks, this purple sage would probably be my favorite herb, but it's something that I don't use as much as I should.
Sage can also be frozen
, and it's nice to add to soup or stew in the winter.
Finally, at the far end of this box is my very healthy crop of Greek Oregano, something I love to use in salads, although I'd say fresh oregano is an acquired taste. I've enjoyed it in
Lentil Salad
,
Cucumber and Tomato Salad with Garbanzo Beans
, and
Greek-Style Roasted Mushrooms
.
I do have a few more herbs growing along my fence, including dill, Golden Oregano, and of course, the ever-hardy mint, and this year I planted a lavender plant in one of my flower beds. As you can probably tell, I love having herbs in the garden, even when the photos don't turn out to be that great! If you have a garden, what herbs do you like to grow?
We are a participant in the Amazon Services LLC Associates Program, an affiliate advertising program designed to provide a means for us to earn fees by linking to Amazon.com and affiliated sites. As an Amazon Associate, I earn from qualifying purchases.