Farro with Mushrooms
This delightful side dish of Farro with Mushrooms is seasoned with thyme and balsamic vinegar and farro is so delicious! This makes a perfect side dish, and the leftovers can be refrigerated and reheated.
PIN Farro with Mushrooms to try it later!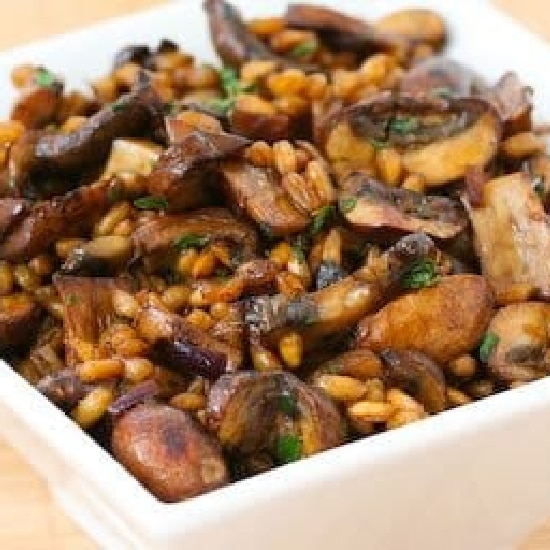 I'm accumulating a lot of cookbooks, and sometimes I just don't get around to trying anything from them, even when the recipes look great. That's been the case with Lorna Sass' great book, Whole Grains, Every Day Every Way (affiliate link). I've been reading this informative book for months, but this Farro with Mushrooms is the first thing I've cooked from it.
The book has gotten me interested in grains I'm not familiar with like farro, spelt, amaranth, and millet. I wanted to try farro for months, but I couldn't find it anywhere in Salt Lake, not even Whole Foods! Then my generous brother Rand got some at the Ferry Building in San Francisco and sent it to me.
What ingredients do you need?
What kind of mushrooms did I use?
I made this Farro with Mushrooms with brown Cremini mushrooms (sometimes called Baby Bella Mushrooms.) Those are especially flavorful, but use any mushrooms you prefer.
What if you don't have fresh thyme?
If you don't have fresh thyme to season the Farro with Mushrooms, just use a smaller amount of dried thyme. This is also perfect to make with frozen thyme if you happen to have some.
What is Farro?
Farro is the Italian name for Emmer wheat, an ancient grain which is often confused with spelt (and in Italy it's also called spelt, which adds to the confusion.) Apparently Farro (Triticum dicoccum) and spelt (Triticum speltum) are cousins, but they're not the same grain. Both grains are high in protein but low in gluten, with spelt being even lower than farro. Both are also very high in B vitamins.
Farro is grown in many parts of Italy, Southern Europe and Morocco, and is often used as a whole grain side dish or in soups or risotto. Cooked farro has a pleasantly chewy texture and a slightly nutty flavor. Some types of farro need to be pre-soaked, but most farro imported from Italy to the U.S. will be "semi-perlato" which means that much of the bran has been removed, and it cooks quickly.
Because the plant produces low yields, it's relatively expensive compared to other types of grain, but that doesn't seem to be stopping it from gaining increased popularity among health-conscious food lovers.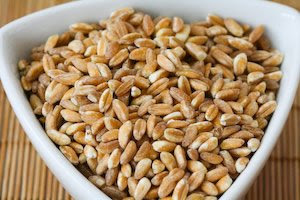 This is the way the farro looked before it was cooked. You can almost tell by looking that some of the bran has been removed, so this is definitely "semi-perlato."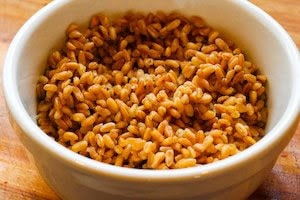 I followed Lorna Sass' instruction for cooking the farro in water, and here's how it looked once it was cooked.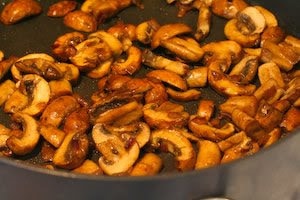 Browning the mushrooms well is essential to the flavor of this dish. I cooked them about 5 minutes over fairly high heat.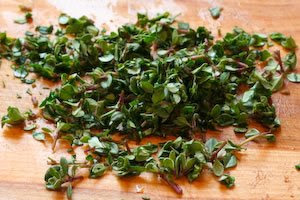 I was quite excited that I had fresh thyme from my garden to make this, but you could also use frozen thyme or even dried thyme.
Make it a Meal:
This would taste great with Pork Chops with Balsamic Glaze or Chicken and Roasted Asparagus with Tahini Sauce.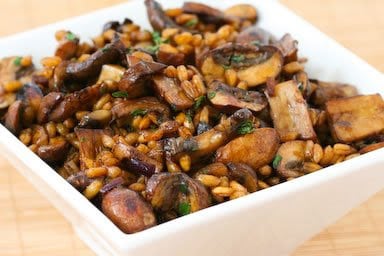 More Bloggers Who've Discovered Farro:
Farro and Roasted Butternut Squash from 101 Cookbooks
Farro with Asparagus and Green Onion Sauce from A Veggie Venture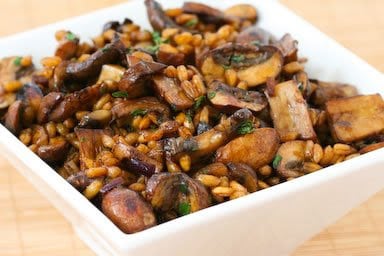 Yield: 6 servings
Farro with Mushrooms
Prep Time 20 minutes
Cook Time 40 minutes
Total Time 1 hour
Farro with Mushrooms makes a tasty side dish and this farro recipe is flavored with fresh thyme and balsamic vinegar!
Ingredients
1 cup uncooked farro
3 T olive oil
2 cloves garlic. each cut in half lengthwise
1/2 cup diced red onions (see notes)
24 oz. sliced baby bella (Crimini) mushrooms, sliced in 1/2 inch slices
pinch salt
1/4 cup balsamic vinegar mixed with 1 T water
1 T chopped fresh thyme (see notes)
Instructions
To make 3 cups cooked Farro you will need 1 cup farro, 1 3/4 cups water, and a pinch of salt.
Have the water heating in a teakettle or pan so it will be boiling when you're ready to add it to the farro.
Use a heavy pan with a tight-fitting lid.
Add the farro to dry pan and toast over medium-high heat until it starts to look and smell toasted, about 3 minutes.
Turn off heat, and then carefully pour in the boiling water (it will boil up and sputter, so be careful.)
Add the salt, then turn heat back on to a low simmer, cover pan, and let cook until the farro is tender, but chewy, about 20 minutes. (I would start checking after about 15 minutes. You may need to add a tiny bit more water.)
Use a large heavy frying pan for the second part of the recipe.
Heat the oil, then add the onion and garlic and saute until onions are starting to soften, about 3 minutes. Remove garlic and discard.
Add sliced mushrooms and stems, sprinkle with a pinch of salt, and saute over medium high heat until mushrooms have released their liquid and are well browned, about 5 minutes (or longer, depending on your pan.)
Stir in the balsamic vinegar/water mixture and cook until liquid is mostly evaporated, about 2 minutes. (If using dried thyme, add it with the balsamic vinegar.)
Add cooked farro and heat 2-3 minutes, stirring gently. If your pan is not non-stick, you may need to add a bit of water when you heat the farro.
When farro is heated through and moistened, add the fresh thyme (or use 2 tsp. frozen thyme , thawed) , stir, season with salt if desired and serve hot.
Notes
You can use shallots instead of red onion if you prefer.
If you don't have fresh thyme you can use 2 tsp. frozen thyme or 1 tsp. dried thyme.
If you can't find farro make this with brown rice or barley.
This recipe is adapted from Whole Grains, Every Day Every Way. (affiliate link)
Nutrition Information:
Yield:
6
Serving Size:
1
Amount Per Serving:
Calories: 214
Total Fat: 8g
Saturated Fat: 1g
Trans Fat: 0g
Unsaturated Fat: 6g
Cholesterol: 0mg
Sodium: 27mg
Carbohydrates: 32g
Fiber: 5g
Sugar: 6g
Protein: 6g
Nutrition information is automatically calculated by the Recipe Plug-In I am using. I am not a nutritionist and cannot guarantee 100% accuracy, since many variables affect those calculations.
Low-Carb Diet / Low-Glycemic Diet / South Beach Diet Suggestions:
Low-Carb Diet / Low-Glycemic Diet / South Beach Diet Suggestions
Whole grains like the the farro used in this Farro with Mushrooms, Thyme, and Balsamic Vinegar are a perfect side dish for phase 2 or 3 of the original South Beach Diet, or any low-glycemic eating plan. This is too high in carbs for a low-carb diet.
Find More Recipes Like This One:
Use Side Dishes to find more recipes like this one. Use the Diet Type index to find recipes suitable for a specific eating plan. You might also like to follow Kalyn's Kitchen on Pinterest or on Facebook to see all the good recipes I'm sharing there.
We are a participant in the Amazon Services LLC Associates Program, an affiliate advertising program designed to provide a means for us to earn fees by linking to Amazon.com and affiliated sites. As an Amazon Associate, I earn from qualifying purchases.