Favorite Low-Carb and Keto Grilling Recipes
I love to cook chicken, pork, beef, lamb, fish, and vegetables on the grill, and this round-up has some of my Favorite Low-Carb and Keto Grilling Recipes! And all these tasty grilling recipes are also gluten-free!
PIN Favorite Low-Carb and Keto Grilling Recipes to try some later!
In the United States Memorial Day Weekend is the unofficial starting of summer, and for me that means grilling season! And I'm someone who grills outside on a covered deck as soon as it gets warm enough to dash outside and check the food, so this blog has a lot of grilling recipes!
But I forced myself to narrow it down and pick my Favorite Low-Carb and Ket Grilling Recipes for this post, and the 20 grilling faves I ended up with are also gluten-free. And check after the main dishes for 10 suggestions for low-carb side dishes to cook on the grill!
And I promise, all these grilling recipes are absolutely delicious, and I hope this round-up will be enough to entice you to get outside and cook dinner on the grill.
What if You Don't have an Outdoor Grill?
For anyone without an outdoor grill, all these recipes can be cooked on a stove-top grill pan with ridges or a George Foreman Grill as well. (affiliate links) Use Grilling Recipes to find more ideas for grilling. (This collection of Favorite Low-Carb and Keto Grilling Recipes was updated May 2020.)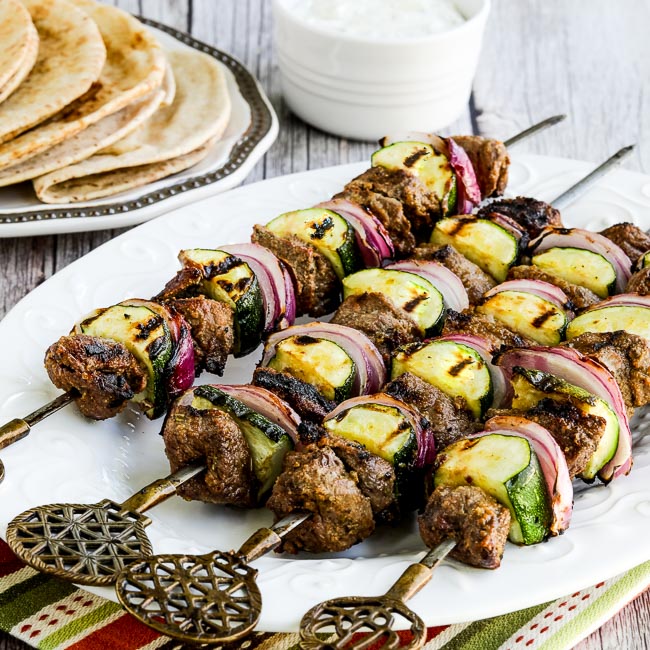 Low-Carb Lamb Shish Kabobs with Tzatziki Sauce
(Don't serve with pita bread for gluten-free.)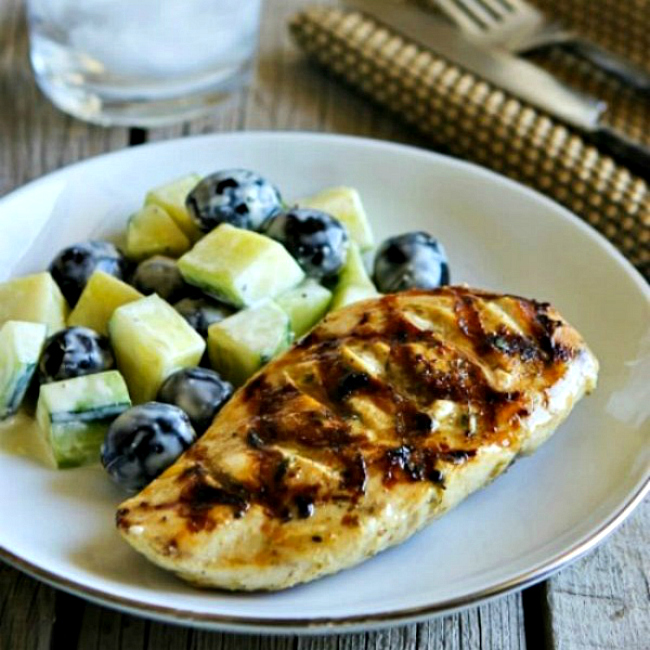 Grilled Chicken with Lemon and Capers
Soy-Grilled Mahi Mahi with Korean Dipping Sauce
Completely Foolproof 100% Delicious Grilled Chicken
Grilled Lamb Chops with Garlic, Rosemary, and Thyme
Grilled Salmon with Maple-Sriracha-Lime Glaze
Ultra Easy Pesto Lemon Chicken Kabobs
Rosemary Mustard Grilled Chicken
Grilled Halibut with Basil Vinaigrette
Kalyn's Souvlaki (Pork Souvlakia)
Grilled Garlic Chicken with Roasted Red Pepper Aioli Sauce
Grilled Ginger-Soy Pork Chops (World's Greatest Pork Chops)
Low-Carb Marinated Beef Kabobs
Grilled Flat Iron Steak with Chimichurri Salsa
Greek Lamb Souvlaki (or Souvlakia)
Garlic, Lemon, and Herb Grilled Chicken Breasts
Low-Carb Side Dishes to Cook on the Grill:
Easy Grilled Vegetables
Easy Low-Carb Grilled Greek Zucchini
Grilled Zucchini Greek Salad
Tapas Salad with Grilled Bell Pepper, Olives, and Capers
Grilled Asparagus with Parmesan
Grilled Halloumi Cheese Skewers with Mushrooms and Sweet Onions
Perfect Grilled Zucchini
Grilled Eggplant with Garlic-Cumin Vinaigrette, Feta, and Herbs
Super Easy Grilled Mushrooms
Spicy Grilled Eggplant and Zucchini Salad with Thai Flavors
Want More Low-Carb Recipes?
Check Recipe Round-Ups to find more low-carb round-ups like this one.
We are a participant in the Amazon Services LLC Associates Program, an affiliate advertising program designed to provide a means for us to earn fees by linking to Amazon.com and affiliated sites. As an Amazon Associate, I earn from qualifying purchases.