35 Amazing Low-Carb and Keto Grilling Recipes
Here are 35 Amazing Low-Carb and Keto Grilling Recipes, with enough ideas for the grill to keep you grilling all summer long! There are recipes here for grilling chicken, fish, pork, beef, and vegetables, and they're all low in carbs!
PIN the grilling recipes to try some later!
If you've followed this blog for any time at all you've probably noticed how I love grilling, right? And doesn't everyone love food that's cooked on the grill, even people who don't really care about carbs? I've been grilling for many, many years, so it was hard to limit it to just 35 recipes for this collection Low-Carb and Keto Grilling Recipes!
I've included lots of ideas for chicken, fish, pork, beef, and vegetables, and all these grilling recipes are gluten-free as well! If you're looking for tasty low-carb summer dinners cooked on the grill you can't go wrong with any of the recipes here, and there are enough fabulous grilling ideas to keep you happily cooking on the grill all summer long! Happy Summer everyone!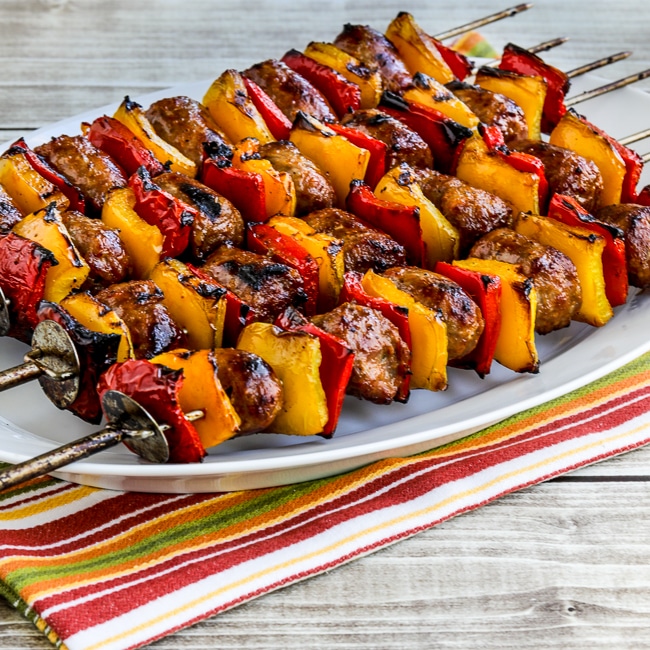 Grilled Sausage and Peppers is one of the newer grilling recipe on the site, and this is delicious and so, so easy to make!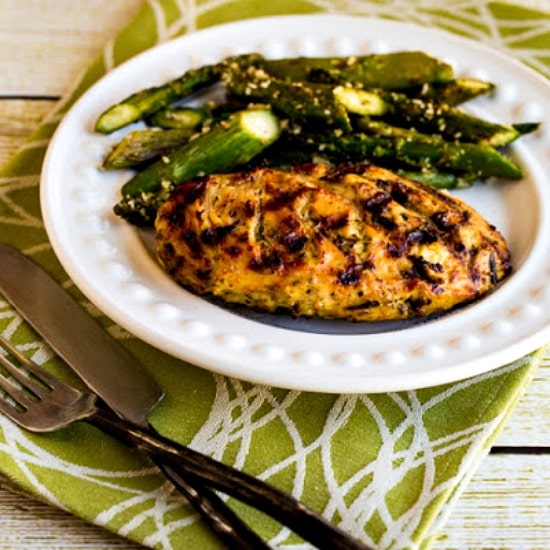 No grilling round-up would be complete without my now-famous recipe for Rosemary-Mustard Grilled Chicken, which is something I make often for my family!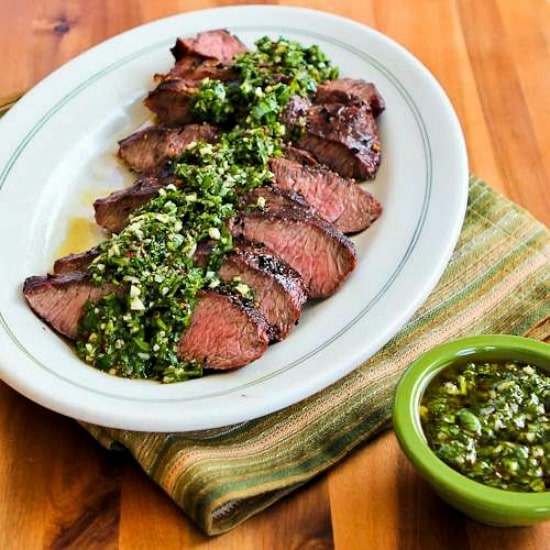 Grilled Flat Iron Steak with Chimichurri Sauce is something I could eat over and over. (The sauce is also delicious on chicken, pork, or fish.)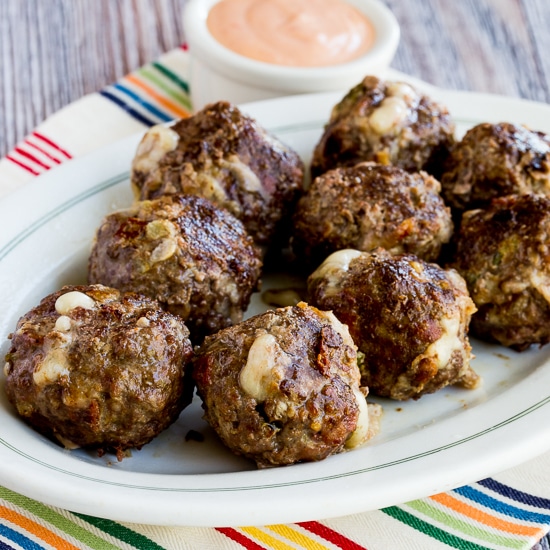 These Bacon Cheeseburger Meatballs are one of the most fun things I've ever made on the grill!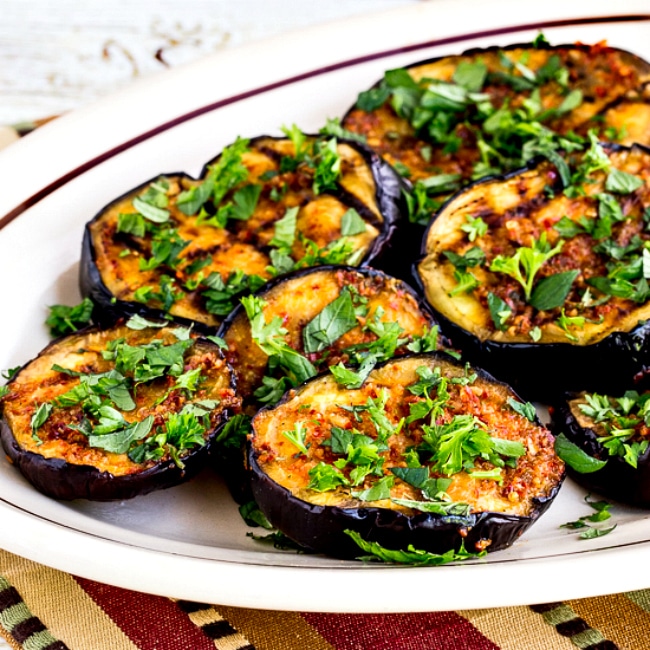 Spicy Grilled Eggplant is a big favorite of my brother Rand, and this is delicious!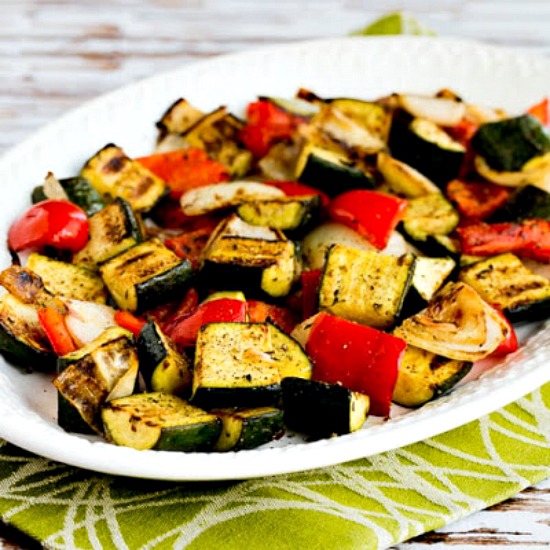 No matter what else I'm cooking on the grill, the Easy Grilled Vegetables are almost always on the side.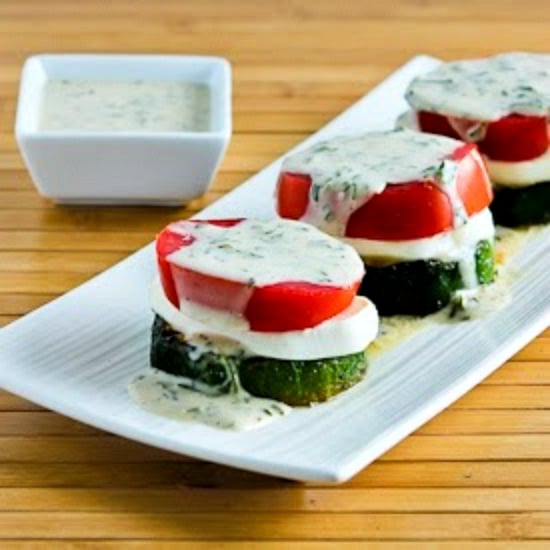 If you can get your hands on some good tomatoes this early in the year, these Grilled Zucchini Caprese Stacks are totally a wow.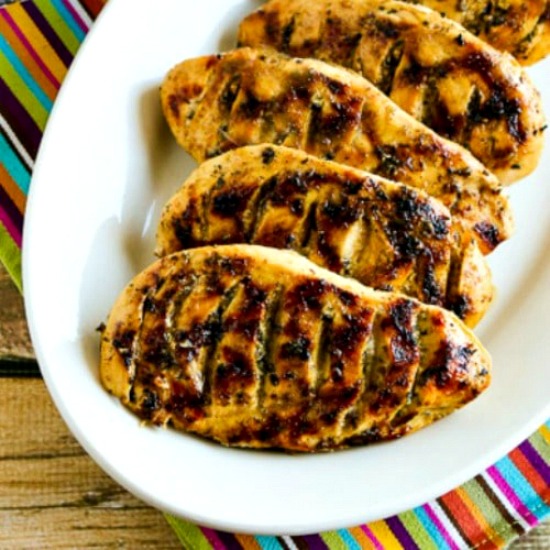 If you're grilling chicken, you can't go wrong with Garlic, Lemon, and Herb Grilled Chicken Breasts.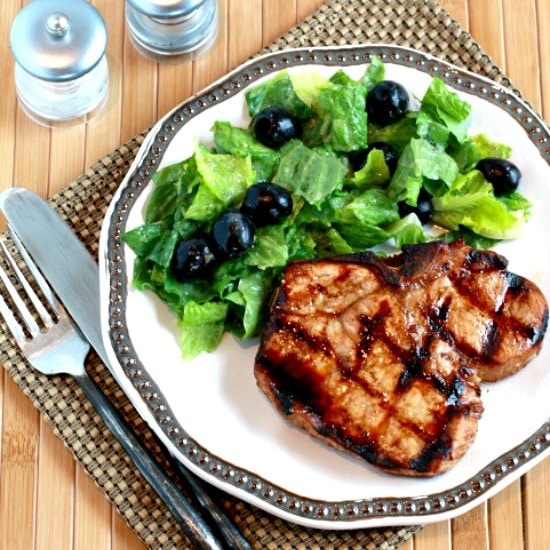 Back when I used to cater houseboat trips a client once called these Grilled Ginger-Soy Pork Chops the "World's Best Pork Chops."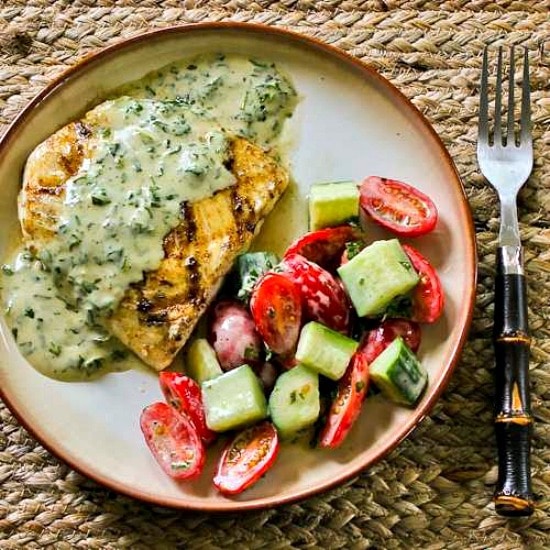 Basil Vinaigrette is something I love to make all summer long, and this Grilled Halibut with Basil Vinaigrette is mind-blowingly good! Use other firm fish if halibut is not in the budget.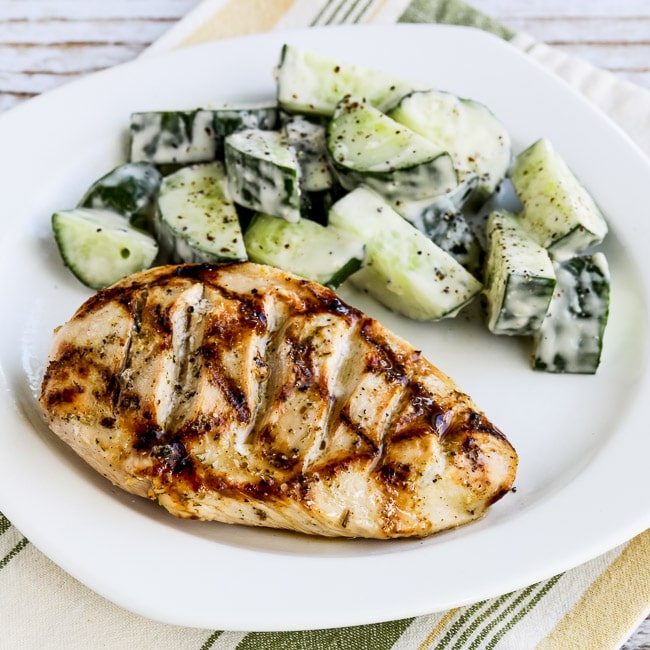 Very Greek Grilled Chicken is a recipe I've made over; if you like Greek flavors you'll love this one. This has been one of the most popular grilling recipes on the blog for a while now.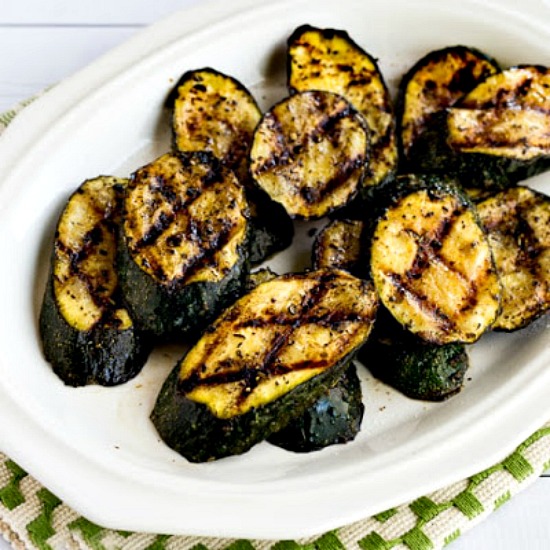 My tips for How to Grill Zucchini have been popular on the blog for years now.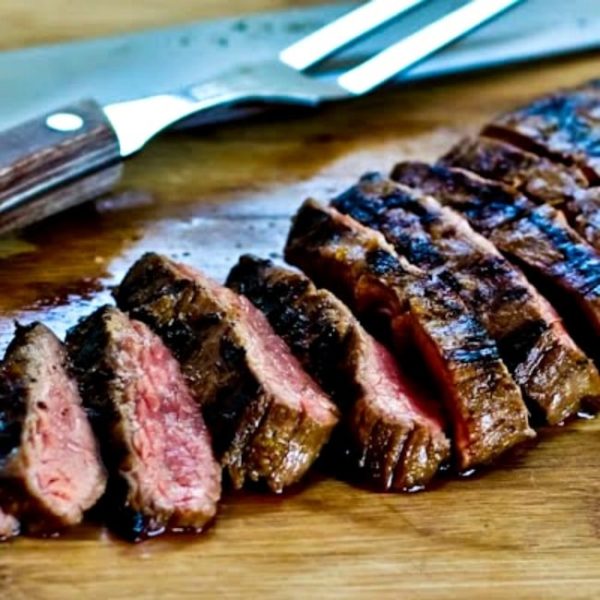 Beef fans will love this Grilled Cuban Flank Steak that's delicious and easy to make!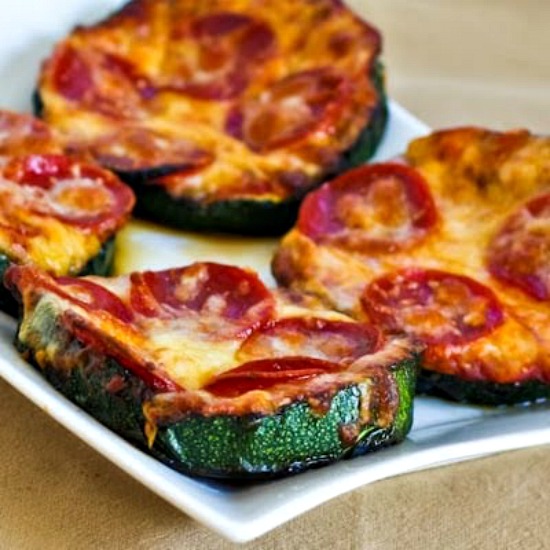 Grilled Zucchini Pizza Slices are a fun low-carb idea that can help scratch that pizza itch! I used large round slices, but if you only have smaller zucchini cut them lengthwise.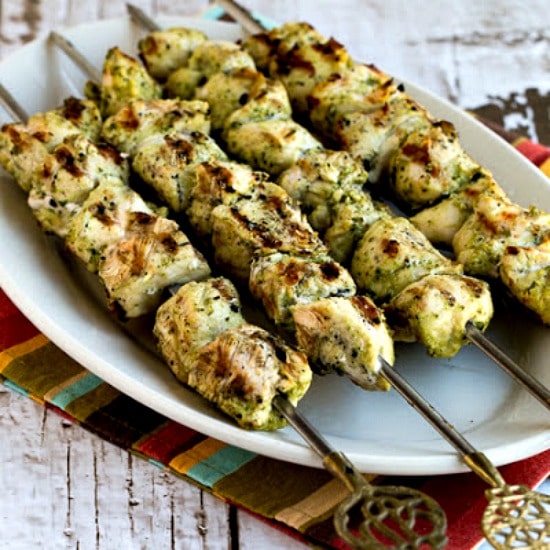 Pesto Lemon Chicken Kabobs are a new favorite and if you like pesto and lemon you'll love this recipe!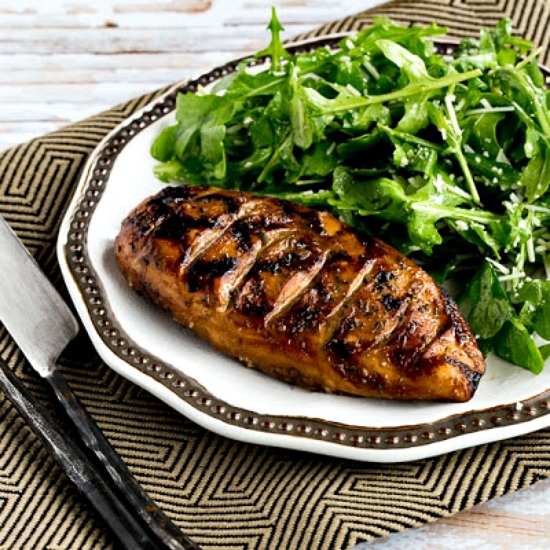 Grilled Chicken with Balsamic Vinegar is so good that I once made it for someone and two years later they still remembered it and asked for the recipe!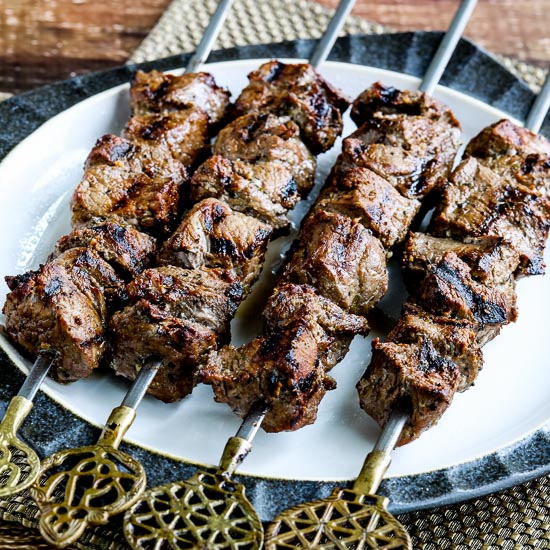 Marinated Beef Kabobs are already a popular recipe this year, and this is another beef idea that's tasty and easy!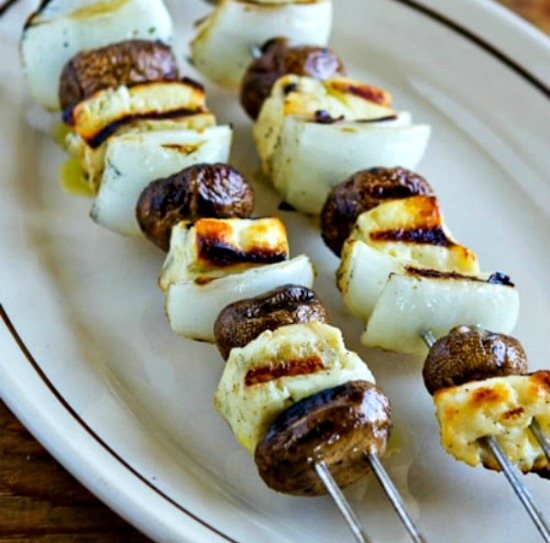 If you haven't tried Halloumi, it's a type of Mediterranean cheese that can be grilled, and these Grilled Halloumi Cheese Skewers with Mushroom and Onion were one of my favorite recipes last summer.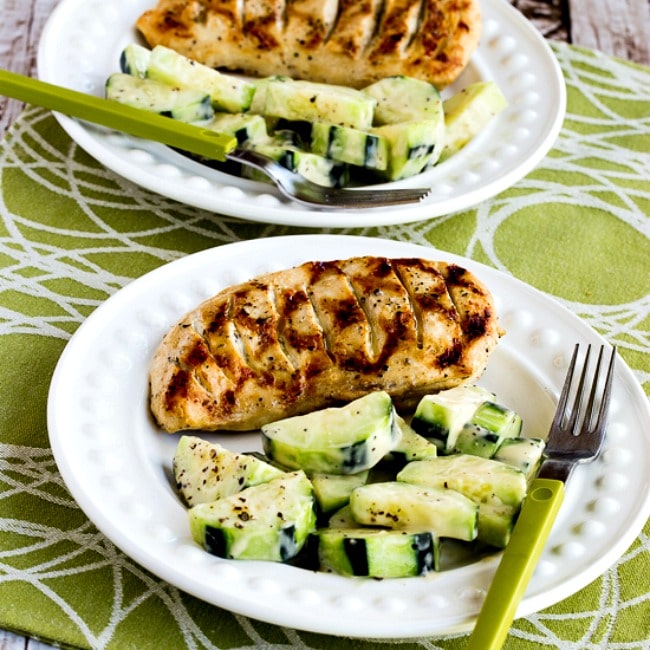 My very easiest recipe for grilled chicken is definitely this Completely Foolproof 100% Delicious Grilled Chicken, using a marinade with only 4 ingredients, and I've made this for years when I needed something easy!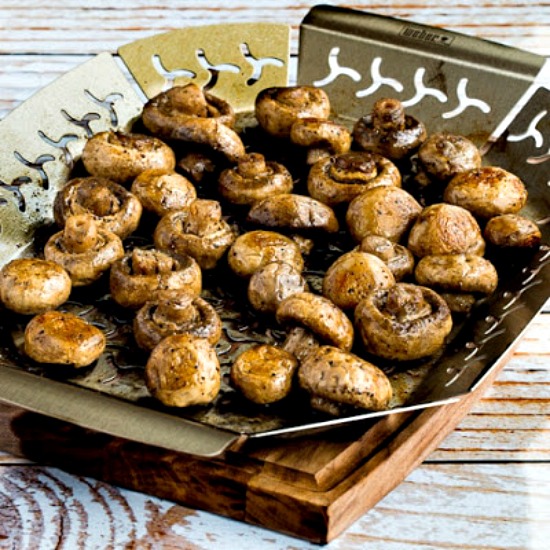 And finally, a very old recipe that I still make over and over every summer is this recipe for Grilled Mushrooms; if you like mushrooms you'll love it!
More Low-Carb Grilling:
Savory Low-Carb Marinade for Chicken, Pork, or Beef
Grilled Chicken Thighs with Lemon and Za'atar
Sanpete County Grilled Turkey Kabobs
Steak and Mushroom Kabobs
Grilled Eggplant with Feta and Herbs
Carol's Easy Steak Marinade (and Grilled Tri-Tip)
Sriracha-Glazed Grilled Chicken Kabobs
Grilled Chicken Kabobs with Asian Marinade
Grilled Fish with Garlic, Basil, and Lemon
World's Easiest Kabobs with Grilled Zucchini and Sausage
Grilled Halibut with Cumin and Lime
Grilled Salmon with Maple-Sriracha-Lime Glaze
Grilled Asparagus with Parmesan
Greek Pork Chops with Lemon and Oregano
Grilled Sausage and Summer Squash with Lemon and Herbs
Want even more ideas for grilling?
Check out Grilling Recipes to see all my low-carb recipes for the grill!
We are a participant in the Amazon Services LLC Associates Program, an affiliate advertising program designed to provide a means for us to earn fees by linking to Amazon.com and affiliated sites. As an Amazon Associate, I earn from qualifying purchases.