Crustless Breakfast Tarts with Mushrooms
Crustless Breakfast Tarts with Mushrooms use a favorite tart pan, and these low-carb tarts are such a treat to make for a special breakfast!
PIN Crustless Breakfast Tarts with Mushrooms to make them later.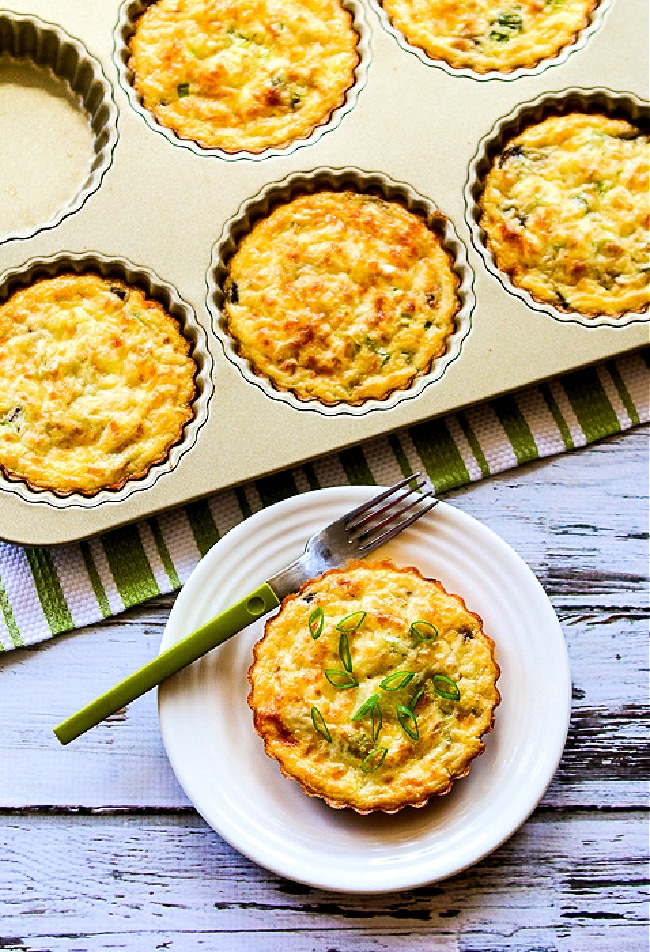 These delicious Crustless Breakfast Tarts with Mushrooms are the type of special breakfast treat that's perfect for the holidays! This fun breakfast tart idea got started when my sister Laurel sent me a generous gift card to William-Sonoma a few years ago as a thank you gift. I went to the Salt Lake William-Sonoma and started looking around for something fun. And if you've visited Williams Sonoma you know how they have so many inspiring cooking treasures for people who love to cook!
When I spotted a fabulous tart pan that was on sale, I experienced one of those unexplainable flashes of cooking inspiration and my mind went immediately to a custardy egg mixture baked in the shape of a tart. It took me several tries to come up with the breakfast tarts recipe you see here, but I loved the final version of this for a savory breakfast treat! Now my blog has lots of crustless tart recipes inspired by this pan.
Of course you can make these breakfast tarts without a fancy pan like mine; keep reading for more about that.
What ingredients do you need for this recipe?
goat cheese
half and half
finely grated Parmesan cheese
eggs
Spike Seasoning (affiliate link), or any all-purpose seasoning blend that's good with eggs
fresh-ground black pepper to taste
mushrooms, preferably Cremini mushrooms
Olive Oil (affiliate link)
green onions
grated Mozzarella cheese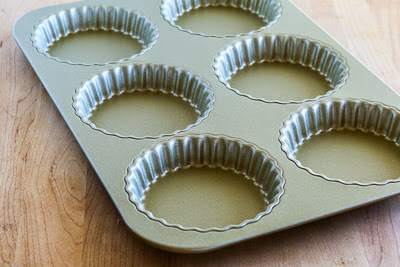 What Tart Pan Did I use for the crustless breakfast tarts?
This type of Mini Tart Pan (affiliate link) is what inspired the recipe. (I got my pan from Williams-Sonoma, but they don't have it any more.)
Can I make Crustless Breakfast Tarts without a Tart Pan?
Use large muffin cups or individual gratin dishes to bake this delicious mixture of eggs, goat cheese, cream, Parmesan, mushrooms, green onions, and Mozzarella if you don't want to buy a tart pan. My breakfast tarts are about 4 1/2 inches across, so if you bake in something smaller you might have to increase the baking time a couple of minutes for a thicker tart. But if you like mushrooms and goat cheese, I promise that this is a lovely way to start the day!
More Breakfast Tart Recipes you might like:
My blog also has Tomato Basil Breakfast Tarts, Asparagus Breakfast Tarts, Cheesy Zucchini Breakfast Tarts, and Southwestern Breakfast Tarts, all inspired by this pan. But I still love these breakfast tarts with mushrooms and goat cheese and these are still the ones I'm most likely to make if I have overnight guests.
How to Make Crustless Breakfast Tarts with Mushrooms:
(This is just a summary; scroll down for complete printable recipe, including nutritional information.)
You want the custard mixture to be room temperature when you bake it, so start by letting the goat cheese soften. (Use another type of soft white cheese if you're not a goat cheese fan.
Slice mushrooms if needed (or buy pre-sliced mushrooms.)
Heat oil in frying pan, then saute the mushrooms until they're nicely browned (and all liquid has evaporated).
Then divide mushrooms between the 6 tart wells.
When goat cheese is soft, mix in the beaten eggs a little at a time. Season the mixture with the Spike Seasoning and pepper.
Fill the wells in the Mini Tart Pan (affiliate link) with the custard mixture, then sprinkle green onions and grated mozzarella over each.
Bake 25-27 minutes, or until the tops are starting to brown.
Tarts will puff up a little and sink down as they cool.
Serve hot.
More Breakfast Recipes with Mushrooms 0r Goat Cheese:
Baked Eggs with Mushrooms and Parmesan
Mushroom, Green Pepper, and Feta Breakfast Casserole
Swiss Chard and Goat Cheese Custard Bake
Weekend Food Prep:
This recipe has been added to a category called Weekend Food Prep to help you find recipes you can prep or cook on the weekend and eat during the week!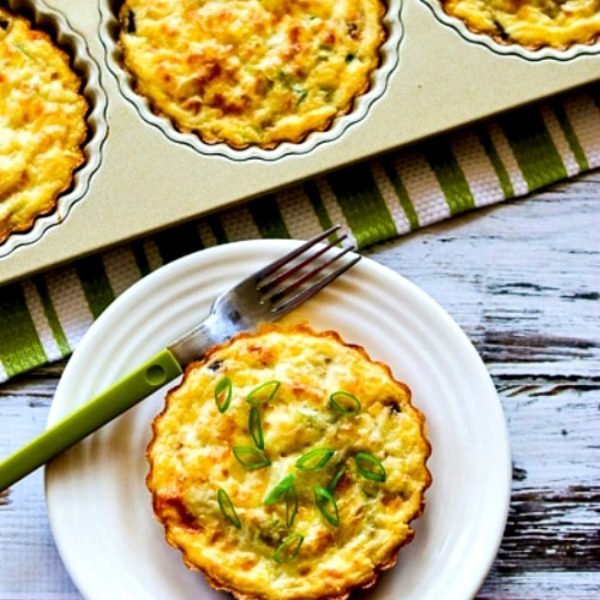 Yield: 6 servings
Crustless Breakfast Tarts with Mushrooms
Prep Time 30 minutes
Cook Time 27 minutes
Total Time 57 minutes
Crustless Breakfast Tarts with Mushrooms are a delicious meatless breakfast that's perfect to make for a special occasion!
Ingredients
4 oz. goat cheese, crumbled and softened (see notes)
1/4 cup half and half (see notes)
2 T finely grated Parmesan
8 eggs, beaten
1 tsp. any all-purpose seasoning blend that's good with eggs
fresh-ground black pepper to taste
12 oz Cremini mushrooms, washed and sliced (see notes)
2 tsp. olive oil
2 green onions, thinly sliced
6 T grated Mozzarella cheese
Instructions
Remove goat cheese from the fridge, cut off 4 ounces, crumble, and put it in a bowl to start to soften.
Preheat oven to 375F/190C. Spray Mini Tart Pan (affiliate link) or large muffin cups or gratin dishes with olive oil or non-stick spray.
Wash the mushrooms and slice about 3/8 inch thick. (Or buy pre-sliced mushrooms, which makes it easy!)
Heat the oil in a non-stick frying pan (use the biggest pan you have so the mushrooms aren't too crowded.)
Cook mushrooms over medium-high heat until all the released liquid has evaporated and mushrooms are starting to brown, about 10 minutes.
Divide mushrooms between the wells in the tart pan.
When the goat cheese has softened, use a fork to mix half and half into the goat cheese; then mix in the Parmesan.
Beat eggs in a different bowl and then mix about 1/3 of the egg at a time into the goat cheese mixture, stirring each time you add more egg. (The mixture doesn't need to be completely smooth.)
Season the mixture with the Spike Seasoning (affiliate link) and black pepper.
Add the custard mixture on top of the mushrooms and gently stir to get mushrooms distributed evenly.
Then sprinkle a generous pinch of green onions on top of each tart, followed by one tablespoon of grated Mozzarella.
Bake 25-27 minutes (or slightly longer if you don't have this tart pan and your tarts are a little thicker.)
Cook just until the tarts are starting to barely brown on the top; the custard mixture should be soft. Serve hot.
Notes
Use the type of goat cheese that comes in a log. You can use milk or heavy cream instead of half and half if that's what you have. I used Spike Seasoning (affiliate link) for this recipe. I loved this with brown Cremini mushrooms, but regular white mushrooms would also be fine.
These breakfast tarts will keep in the fridge for at least a week and can be reheated in a microwave or hot toaster oven.  (It only takes just over a minute in my microwave; don't microwave too long or the eggs will get rubbery.)
Recipe created by Kalyn with inspiration from a new Williams-Sonoma Tart Pan.
Nutrition Information:
Yield:
6
Serving Size:
1
Amount Per Serving:
Calories: 226
Total Fat: 16g
Saturated Fat: 7g
Unsaturated Fat: 8g
Cholesterol: 298mg
Sodium: 531mg
Carbohydrates: 5g
Fiber: 1g
Sugar: 2g
Protein: 17g
Nutrition information is automatically calculated by the Recipe Plug-In I am using. I am not a nutritionist and cannot guarantee 100% accuracy, since many variables affect those calculations.
Low-Carb Diet / Low-Glycemic Diet / South Beach Diet Suggestions:
Crustless Breakfast Tarts with Mushrooms are perfect for low-carb or Keto diets. The tart has low-glycemic ingredients and goat cheese is relatively low in fat, but the original South Beach Diet would recommend using low-fat milk and Mozzarella for this recipe. With those cautions, I think this would be great for any phase of South Beach.
Find More Recipes Like This One:
Use Breakfast Recipes to find more recipes like this one. Use the Diet Type Index to find recipes suitable for a specific eating plan. You might also like to follow Kalyn's Kitchen on Pinterest, on Facebook, on Instagram, or on YouTube to see all the good recipes I'm sharing there.
We are a participant in the Amazon Services LLC Associates Program, an affiliate advertising program designed to provide a means for us to earn fees by linking to Amazon.com and affiliated sites. As an Amazon Associate, I earn from qualifying purchases.