WHB Giveaway #2: Tell Us Your Favorite Vegetable of 2008 and You Might Win a Fantastic Prize!
We started our three days of giveaways yesterday by asking about
your favorite herb of 2008
. Now you have a second chance to win one of
three amazing prizes
by leaving a comment naming your favorite vegetable of 2008. This is all part of our Week-Long Celebration for the three year anniversary of Weekend Herb Blogging. Thanks to
New West KnifeWorks
and
Fissler USA
who have donated
two amazing prizes
. I'm also is giving away a set of my three favorite cookbooks of 2008, so keep reading to see how to enter.
It's easy to enter! First, read more about the prizes at
the post announcing the anniversary celebrations
. Then come back to this post and leave a comment naming your favorite vegetable of 2008. Feel free to use any interpretation of the word "vegetable" that works for choosing your favorite. If you're a blogger, you must sign in using Open ID or name/url so we can contact you if you're the winner. Readers who are not bloggers must leave an e-mail address typed into the body of the comment. Use the format kalynskitchen (at) comcast (dot) net to protect your e-mail from spammers. Comments left without a way to verify or contact the person leaving the comment will be deleted! (Remember comments are moderated, so you won't see your comment until I approve it. If you're in Europe or Asia and I'm asleep in my part of the world, that might take a while!)
More Chances to Win!
If you haven't already done so, be sure to vote for your favorite herb too. There will be voting for favorite fruit (on Thursday) so come back for that too. Comments on all prize posts will close at 10:00 P.M. (MST – Salt Lake Time) on Friday, October 31, and the winners will be announced in the Anniversary Edition of Weekend Herb Blogging on Sunday evening. (Duplicate entries on the same post will result in all comments from that person being deleted, so please be careful to enter only once on each post.)
Kalyn Recommends:
Of course I can't enter to win the prizes, but nothing can stop me from doing a little campaigning, can it? I might be going out on a limb here by endorsing chickpeas (also called garbanzo beans) as my favorite vegetable of 2008, because I know chickpeas are really legumes, and I'm not actually sure if legumes are considered vegetables. But I was so overcome with the love of chickpeas in 2008 that I don't really care what they're categorized. Here are three reasons I think you should vote for chickpeas.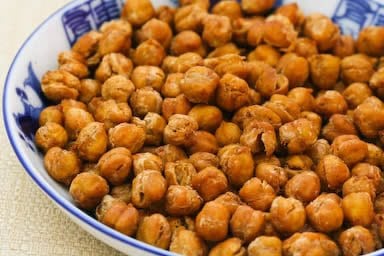 Spicy Roasted Chickpeas with Moroccan Spices
were a completely new way to cook chickpeas for me, and I loved them (as did a lot of other people who tried them!)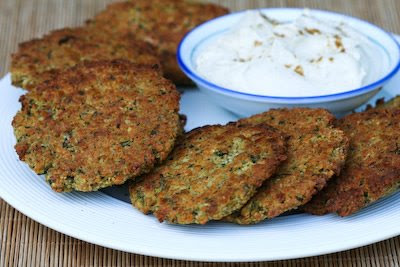 Another chickpea recipe that really was a hit around here was this Baked Falafel Patties with Yogurt Tahini Sauce. The recipe was sent to me by a reader (Thanks Jamie!) and when I tried it, I found out a few other food bloggers had also liked the recipe.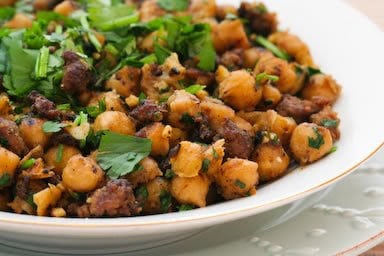 Finally, sneaking in another pitch for my favorite herb, another dish that really rocked was this Spicy Sauteed Chickpeas with Beef and Cilantro which came from Mark Bittman. This is simple and delicious, and completely my kind of food.

Are You Blogging About Vegetables?
Of course, Weekend Herb Blogging is really about the posts that are submitted each week, by great bloggers from all over the world, so here is information about how to submit a post if you'd like to join in for the anniversary edition. You can write about your favorite herb, favorite vegetable, or favorite fruit for this special edition.
(P.S. I can't publish off-topic comments or respond to questions in comments on these give-away posts because it will foul up the numbering system for the random number selection.)
We are a participant in the Amazon Services LLC Associates Program, an affiliate advertising program designed to provide a means for us to earn fees by linking to Amazon.com and affiliated sites. As an Amazon Associate, I earn from qualifying purchases.