Stir-Fried Broccolini
Stir-Fried Broccolini is kicked up a notch with Oyster Sauce, and it's a delicious way to cook the interesting vegetable called broccolini! This is a healthy low-carb side dish; see notes in the recipe for a vegetarian option.
PIN Stir-Fried Broccolini to try it later!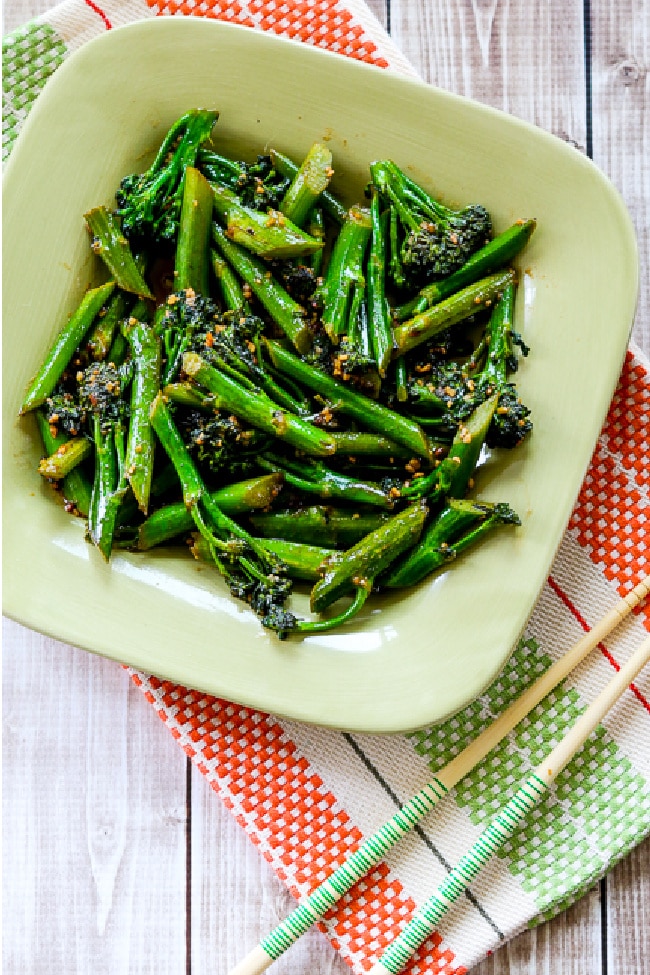 Have you ever cooked the Japanese vegetable called Broccolini? It's is something I discovered by accident when I become obsessed with broccoli rabe and tried for weeks to get my local store to order it. One of the produce managers sold me broccolini instead, and when I tried it in this recipe for Stir-Fried Broccolini I discovered I love broccolini, and have been cooking it ever since.
You may also find it called Baby Broccoli in some stores, and regular broccoli can be used in this recipe as well.
I hope you'll try this recipe if you haven't had broccolini, because I'm guessing most broccoli fans will love it! And if you're not that experienced with stir-fry cooking, see my tips below for this quick and easy cooking method.
What ingredients do you need for this recipe?
What is Broccolini?
Broccolini is a natural hybrid between broccoli and Gai Lan or Chinese Kale and since I first found it this Asian vegetable has become more common in U.S. stores. You can eat the entire vegetable, and the flavor has been described as being a bit milder than regular broccoli. Read more about the difference between Broccoli, Broccolini, Chinese Broccoli and Broccoli Raab.
What if you don't want to use Oyster Sauce?
There are lots of options for Vegetarian Oyster Sauce (affiliate link) and if you use one of those with vegetable stock, this can easily be a vegan dish. I also think Hoisin Sauce or Gluten-Free Hoisin Sauce (affiliate link), or another vegetarian stir-fry sauce could be substituted for the Oyster Sauce, but it would probably be higher in carbs.
Check Out My Tips for Stir-Frying:
If you're new to stir-frying, before you make this you might want to read these basic rules for stir-frying that I learned when I studied Chinese cooking.
Preheat the wok (or pan) before you add the oil.
Season the oil (add slices of fresh garlic cloves and ginger root and stir-fry very briefly, just until they become fragrant.)
Remember the importance of symmetry of cut (all pieces should be the same size for stir-fry cooking.)
Have all ingredients cut and sauces mixed before you start to cook.
Use very high heat and cook fast.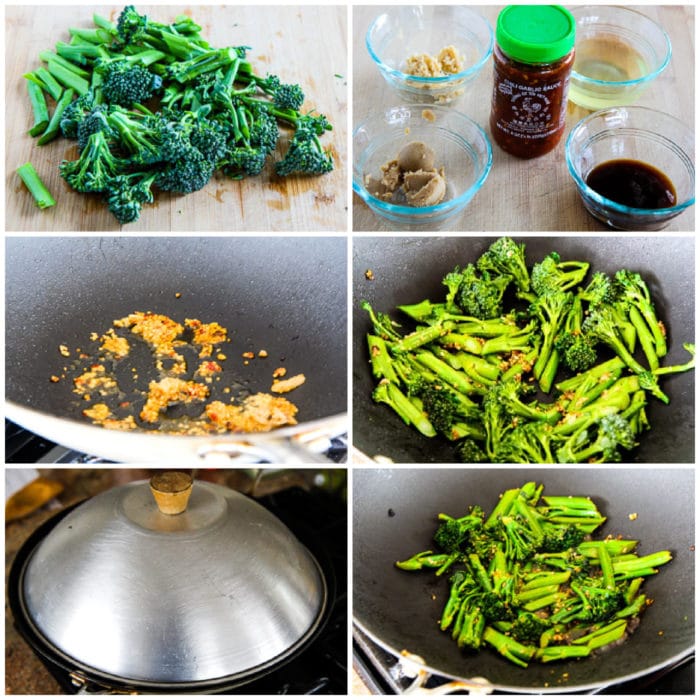 Steps for Making Stir-Fried Broccolini:
Cut up the broccolini into pieces about 2 inches long and wash if needed. Dry with paper towels or spin dry in a salad spinner.
For stir-frying it's essential to have ingredients ready when you start to cook. Assemble minced garlic, minced ginger, chicken (or vegetable) broth, Oyster Sauce (affiliate link) (or vegetarian Oyster sauce), and Chili Garlic Sauce (affiliate link). You also need sesame oil, which I missed getting in this photo!
I used a Chinese Wok (affiliate link) but you can make this in a large frying pan.
Heat the wok for 1 minute over high heat, then add the oil and heat 1 minute more.
Add garlic, ginger, and Chili Garlic Sauce and cook about 15 seconds, just long enough to flavor the oil.
Add the broccolini and stir-fry about 2 minutes, stirring several times.
Cover the pan, reduce heat to medium high, and cook 3-4 minutes.
Remove the lid, add the Oyster Sauce (or Vegetarian Oyster Sauce) and cook about 2-3 minutes more.
Drizzle with a few drops of sesame oil.
Serve Stir-Fried Broccolini hot and wait for compliments!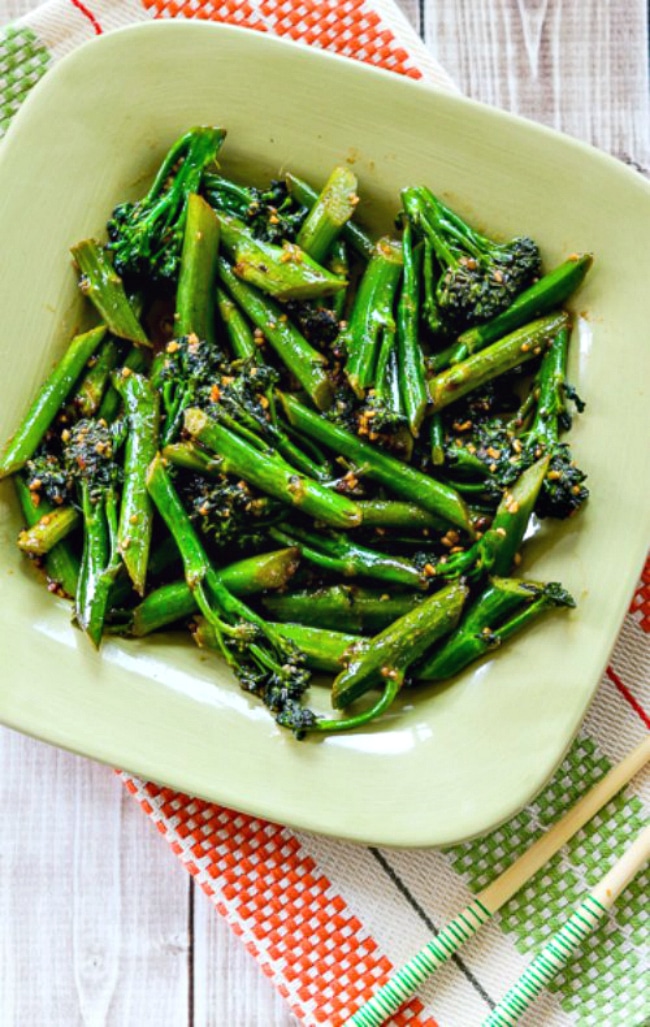 Make It a Low-Carb Meal:
Stir-Fried Broccolini would taste great with Sauteed Scallops with Garlic, Grilled Shrimp Skewers, Instant Pot Teriyaki Chicken, Air Fryer Pork Chops or Marinated Beef Kabobs for a low-carb dinner.
More Stir Fried Vegetables You Might Like:
Yield: Makes about 4 servings
Stir-Fried Broccolini
Prep Time 15 minutes
Cook Time 9 minutes
Total Time 24 minutes
Stir-Fried Broccolini has amazing flavor from Oyster Sauce, and this is a delicious way to cook the interesting vegetable called broccolini.
Ingredients
1 large bunch broccolini, about 1 pound
1 T peanut oil or vegetable oil
2 tsp. minced garlic (I used minced garlic from a jar)
2 tsp. minced ginger root (I used minced ginger from a jar)
1/2 tsp. Chili Garlic Sauce (optional, it's quite spicy with this added)
1/4 cup chicken broth (or use vegetable broth for vegan version)
3 T oyster sauce, or a bit less (see notes)
5 drops toasted sesame oil 
Instructions
Cut broccolini into 2 inch pieces and wash if needed. (If you do need to wash the broccolini, spin dry in a salad spinner or dry with paper towels before you cook.)
Heat wok or large heavy frying pan for 1 minute over high heat, then add peanut oil, and heat 1 minute more.
Add garlic, ginger, and Chili Garlic Sauce if using, and stir-fry 15 seconds.
Add the broccolini and stir-fry about 2 minutes more. (Be sure to stir constantly when you're cooking at high heat.)
Add chicken broth (or vegetable broth), cover pan, reduce heat to medium-high, and cook about 3-4 minutes (depending on how crisp you like it.)
Uncover the wok and add oyster sauce (or whichever sauce you are using), then cook over medium heat 2-3 minutes more, or until broccolini is bright green and still a little tender-crisp.
Drizzle with a few drops of sesame oil and serve immediately.
Nutrition Information:
Yield:
4
Serving Size:
1
Amount Per Serving:
Calories: 235
Total Fat: 24g
Saturated Fat: 3g
Trans Fat: 0g
Unsaturated Fat: 20g
Cholesterol: 0mg
Sodium: 411mg
Carbohydrates: 5g
Fiber: 1g
Sugar: 1g
Protein: 1g
Nutrition information is automatically calculated by the Recipe Plug-In I am using. I am not a nutritionist and cannot guarantee 100% accuracy, since many variables affect those calculations.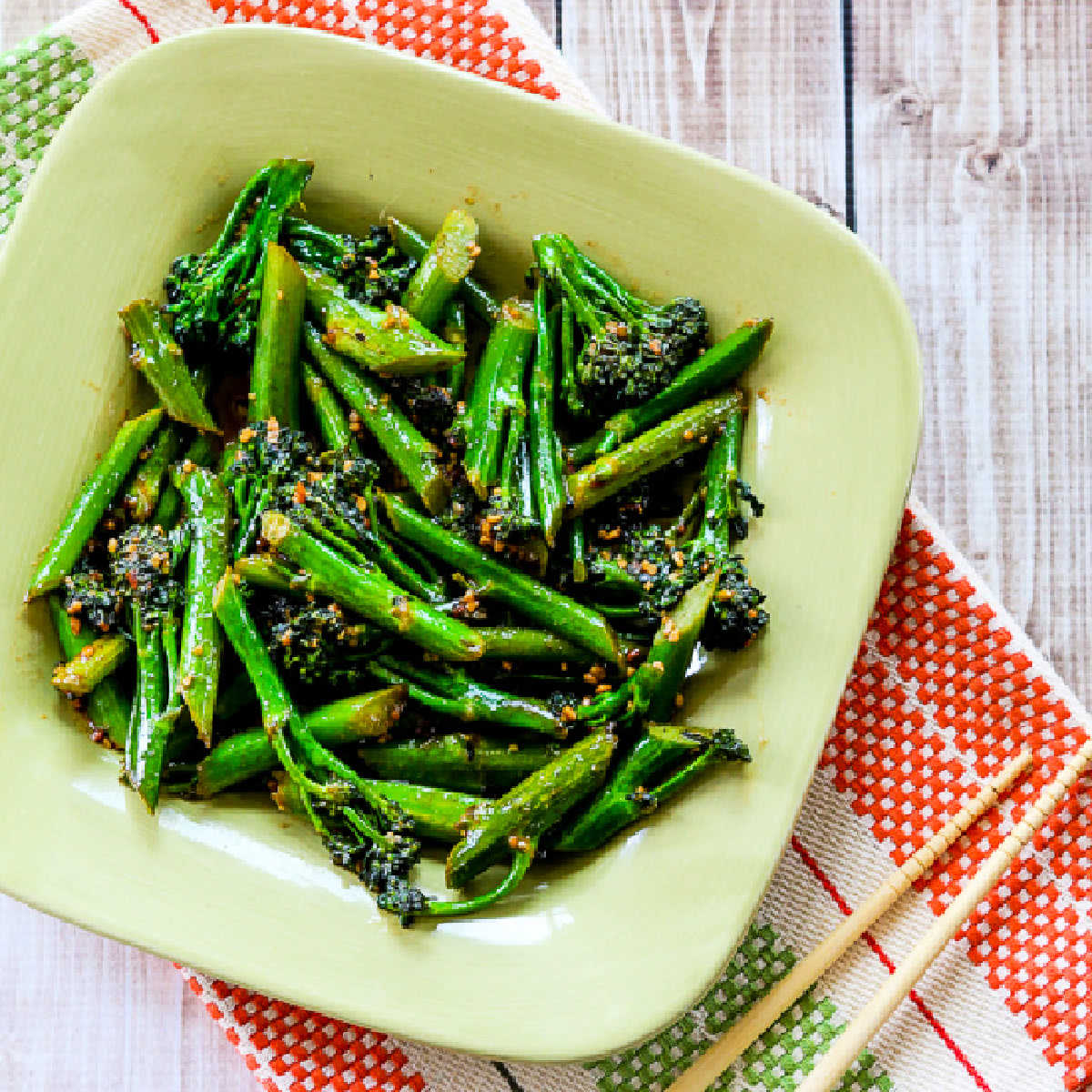 Low-Carb Diet / Low-Glycemic Diet / South Beach Diet Suggestions:
Stir-Fried Broccolini would be great for low-carb or Keto diets, and this is also perfect for a side dish for any phase of the original South Beach Diet. (Oyster sauce does contain a small amount of sugar, but you're only eating the small amount of sauce that sticks to the broccolini and divided over 4 servings it's not a huge amount of sugar.)
Find More Recipes Like This One:
Use Side Dishes to find more veggie side dishes or Stir-Fry to find more stir fry recipes. Use the Diet Type Index to find recipes suitable for a specific eating plan. You might also like to Follow Kalyn's Kitchen on Pinterest to see all the good recipes I'm sharing there.
Historical Notes for this Recipe:
This Stir-Fried Broccolini was first posted in 2006! Photos were updated in 2014, and the recipe was updated with more information in 2022.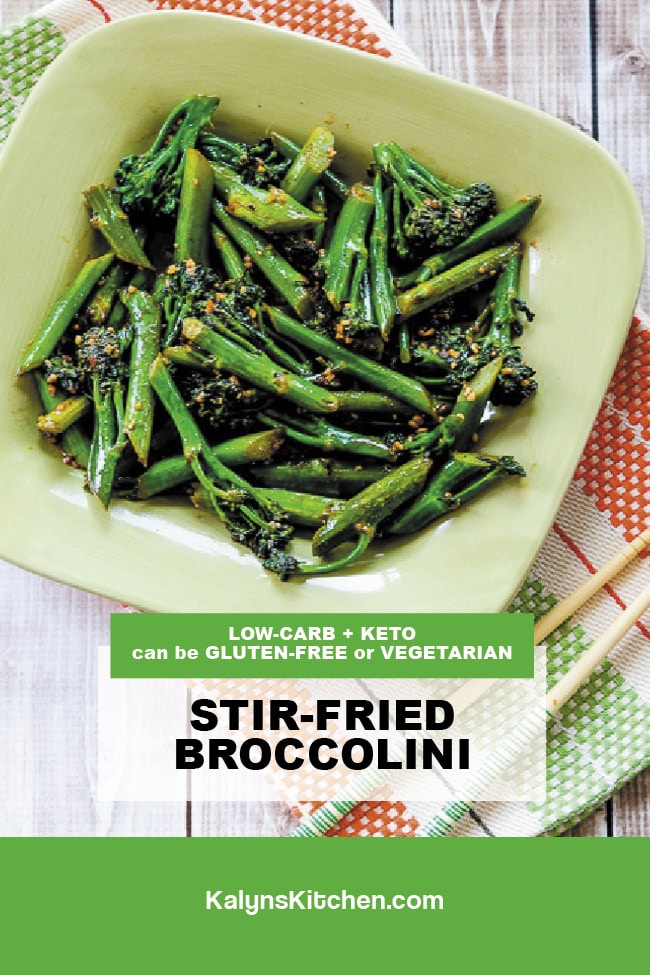 We are a participant in the Amazon Services LLC Associates Program, an affiliate advertising program designed to provide a means for us to earn fees by linking to Amazon.com and affiliated sites. As an Amazon Associate, I earn from qualifying purchases.