Tomato Salad with Hearts of Palm, Olives, and Feta (Video)
I love this Tomato Salad with Hearts of Palm, Olives, and Feta, and this amazing combination is even better with Basil Vinaigrette used as the dressing!
PIN the salad to try it later!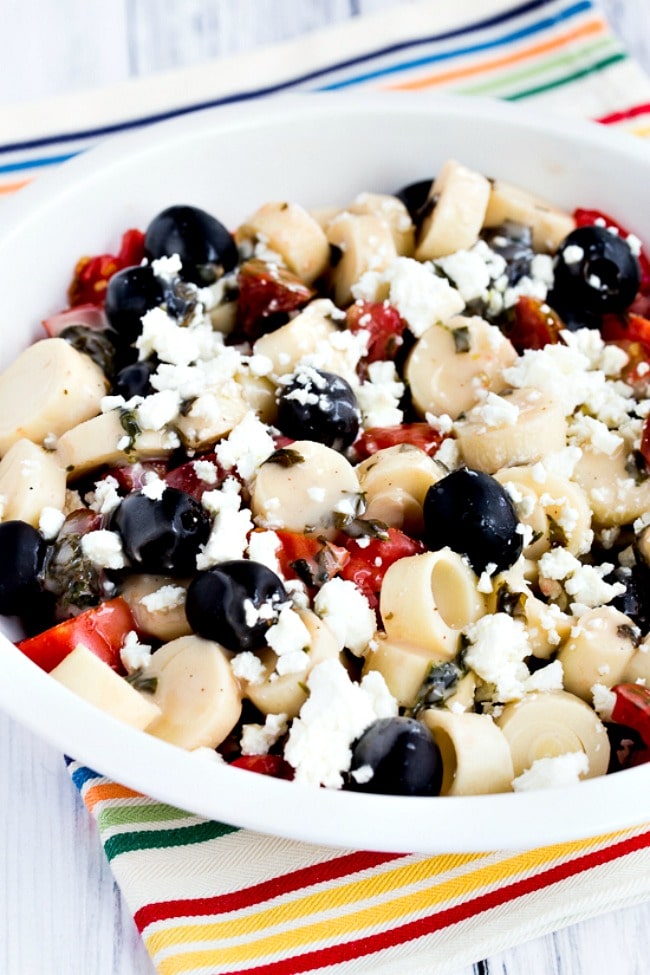 Years ago Sun Pix Hearts of Palm appeared in big jars at my Costco, and I was overjoyed. I'd learned to like them while working at a French restaurant in college, but they were expensive in the grocery store, so I hadn't used them that much. For a while the hearts of palm seemed to appear every summer, and I always stocked up when I saw them. And one of those times when I had plenty of hearts of palm on hand I came up with this amazing Tomato Salad with Hearts of Palm, Olives, and Feta.
I love this type of summer salad which combines all my favorite summer flavors. The recipe also features basil vinaigrette, one of my favorite summer treats and something I love to drizzle over garden tomatoes when I have lots of fresh basil. If you don't have fresh basil to puree or frozen basil in the freezer, you can definitely make this salad with purchased Basil Pesto as well. And it's summer tomato season right now so today I'm reminding you about this favorite salad for Friday Favorites!
When I decided to take more photos to show the steps of this favorite recipe I had a few tomatoes from my new garden to make it with! Some of those tomatoes are Black Zebras, which is why they look so dark, and the Zebra tomatoes have wonderful flavor. Sadly, those big jars of hearts of palm no longer show up at Costco, but I love this Tomato Salad with Hearts of Palm, Olives, and Feta so much I'd still splurge on a small jar from the grocery store so I could make it.
What ingredients do you need for this recipe?
tomatoes, cut up into chunks
Hearts of Palm (affiliate link)
black olives
crumbled feta
What are Hearts of Palm?
Hearts of palm are a slightly-crunchy vegetable that's harvested from the center of domesticated palm trees. They used to be a controversial ingredient, but now harvesting methods don't damage the trees and wild palms are protected in many places. And Hearts of Palm are so delicious! Here's more about Hearts of Palm and how to use them.
Where can you buy Hearts of Palm?
Most grocery stores will sell Hearts of Palm, sold near the olives and artichokes in cans and jars, but they are often pricey at a regular grocery store. You can buy hearts of Palm at Amazon.com (affiliate link) and occasionally you'll find some there that are a bit more inexpensive. (Amazon even carries those two packs of big jars like I loved so much at Costco, but they were definitely more of a bargain at Costco, or course!)
How to make this recipe:
(Scroll down for complete recipe with nutritional information.)
I used 6 small tomatoes from my garden; you could also use about 1 cup of grape tomatoes cut in half.
If you're using large tomatoes, drain in a colander after you cut them.
Slice the hearts of palm and measure out the olives.
In a large salad bowl layer the tomatoes, hearts of palm, and olives.
Drizzle Basil Vinaigrette over the salad. Then crumble Feta and sprinkle it over the salad. Yum!
Make it a Meal:
This would be delicious with any of my Best Low-Carb and Keto Grilling Recipes for a summer dinner!
More Recipes with Hearts of Palm:
Low-Carb and Keto Salads with Hearts of Palm ~ Kalyn's Kitchen
Two Bean Salad with Hearts of Palm and Blue Cheese from Taste and Tell
Hearts of Palm, Avocado, Avocado, and Butter Lettuce Salad ~ That Skinny Chick Can Bake
Want More Summer Tomato Salads?
Check out Favorite Summer Tomato Salads for more amazing salad ideas for summer tomatoes!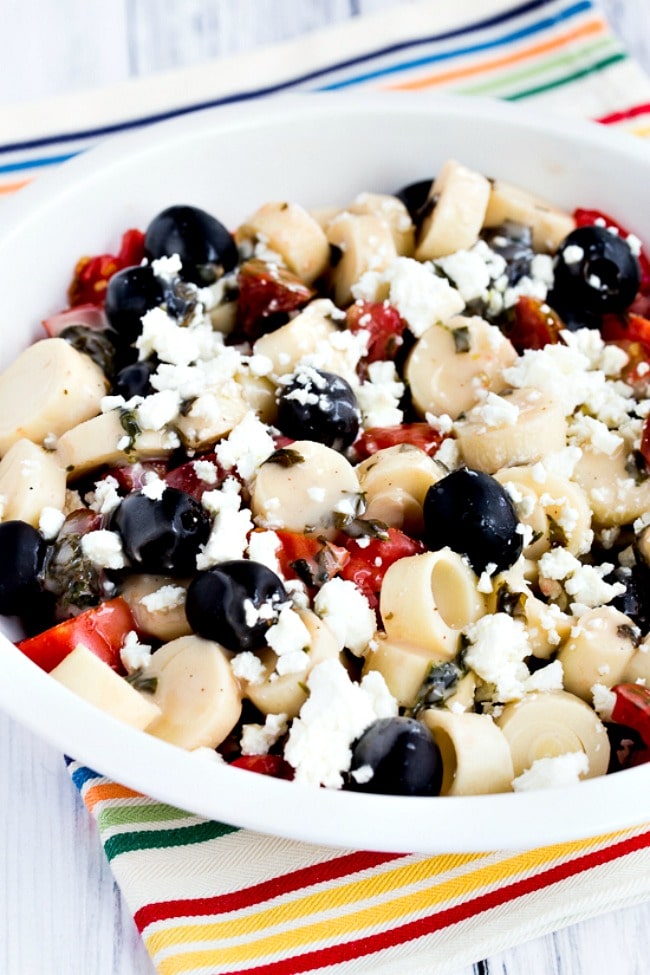 Yield: 4 servings
Tomato Salad with Hearts of Palm, Olives, and Feta
Prep Time 25 minutes
Total Time 25 minutes
The summer flavors in this Tomato Salad with Hearts of Palm, Olives, and Feta are enhanced by the amazing Basil Vinaigrette used as the dressing.
Ingredients
6 small garden tomatoes, cut up into chunks (see notes)
1 cup hearts of palm, sliced (or more)
1/2 cup black olives
1/4 cup crumbled feta
1/3 cup basil vinaigrette
Instructions
Wash tomatoes and cut into chunks; draining them in a colander if the tomatoes are really juicy.
Slice the hearts of palm, measure the olives, and crumble the Feta.
In salad bowl, layer tomatoes, hearts of palm, and olives.
Drizzle basil vinaigrette over veggies, then crumble feta over.
This will keep for a day in the fridge, but it's definitely best the day it's made.
Notes
If you don't have garden tomtoes, use about 1 generous cup cherry tomatoes, cut in half. I use my basil vinaigrette for this recipe.
Recipe created by Kalyn.
Nutrition Information:
Yield:
4
Serving Size:
1
Amount Per Serving:
Calories: 97
Total Fat: 6g
Saturated Fat: 2g
Trans Fat: 0g
Unsaturated Fat: 3g
Cholesterol: 8mg
Sodium: 445mg
Carbohydrates: 9g
Fiber: 3g
Sugar: 5g
Protein: 4g
Nutrition information is automatically calculated by the Recipe Plug-In I am using. I am not a nutritionist and cannot guarantee 100% accuracy, since many variables affect those calculations.
Low-Carb Diet / Low-Glycemic Diet / South Beach Diet Suggestions:
This Tomato, Hearts of Palm, Olive, and Feta Salad with Basil Vinaigrette is a perfect side dish for most low-carb eating plans or any phase of the South Beach Diet. For low-carb basil vinaigrette, be sure to choose a vinaigrette with less than 2 grams of sugar per serving.
Find More Recipes Like This One:
Use Tomato Recipes to find more like this one! Use the Diet Type Index to find more recipes suitable for a specific eating plan. You might also like to Follow Kalyn's Kitchen on Pinterest to see all the good recipes I'm sharing there.
Historical Notes for this Recipe:
This recipe was first posted in 2006. It was last updated in 2021.
We are a participant in the Amazon Services LLC Associates Program, an affiliate advertising program designed to provide a means for us to earn fees by linking to Amazon.com and affiliated sites. As an Amazon Associate, I earn from qualifying purchases.