Slow Cooker Peach Crisp (Video)
Slow Cooker Peach Crisp is a great dessert idea when you have fresh peaches, and this peach crisp recipe is low in sugar and gluten-free! Of course fresh peaches have some natural sugar, but check the net carbs and see what you think!
PIN Slow Cooker Peach Crisp to try it later!
In Utah, peaches are amazing when they're in season, and when my friend Trina brought me some gorgeous peaches I was excited to try the making Slow Cooker Peach Crisp after I'd spotted it on a few other blogs. I wanted a version of peach crisp without added sugar, and I also decided to substitute almond flour to make Peach Crisp that was also gluten-free.
Desserts are not my specialty, but I was thrilled with how this turned out. (Well, maybe a little *too* thrilled, since I ate the two servings you see in these photos within a few minutes after I finished photographing them, and the leftovers didn't last long in the fridge either.)
It's fresh peach season, and if you have peaches, you must make this right away so I'm featuring this recipe as my Friday Favorites pick this week. Hope you enjoy!
What ingredients do you need for this recipe?
What if you don't have fresh peaches?
If you don't have any fresh peaches, I would use partly-thawed frozen peaches for this recipe.
How can you make the recipe even lower in carbs?
I experimented with making the recipe even lower in carbs by replacing the rolled oats with an equal amount of almond flour. That will give you a crisp topping with a bit less texture, but it was still quite delicious.
Want more Slow Cooker Recipes?
Use Slow Cooker Recipes to see all the slow cooker recipes on Kalyn's Kitchen, or check out the huge collection of Slow Cooker / Instant Pot Recipes on my other site.
Steps for making Slow Cooker Peach Crisp:
(Scroll down for complete recipe with nutritional information.)
I used six peaches to make 6 small servings of peach crisp. (A few more wouldn't hurt if you have a lot of peaches.)
Peel peaches and cut into slices or half-slices.
Spray the slow cooker with nonstick spray before you put the peaches in.
I'm not a baker, so I don't have a pastry cutter, and I don't use butter often so it's always in the freezer at my house. I solved that problem by grating the frozen butter on the large side of a cheese grater.
Mix together the almond flour, oatmeal, Golden Monkfruit Sweetener (or sweetener of your choice), cinnamon, nutmeg, and grated butter to make the topping.
Spread the topping over the peaches in the slow cooker.
Then put a paper towel over the top of the slow cooker and cover it with the lid.
Then cook on high for 2 hours. You can see from this photo how the paper towel helps absorb the moisture.
Serve hot. This would be great with vanilla ice cream or whipped cream if you want to splurge on that, but I thought it was really delicious just as is.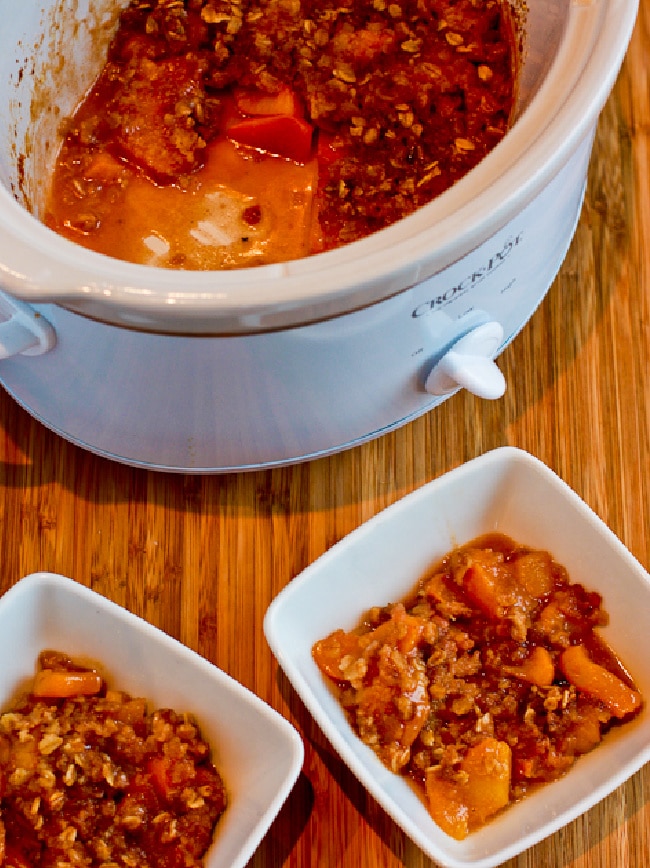 More Low-Sugar Desserts with Fruit:
Yield: Makes 6 small servings
Slow Cooker Peach Crisp
Prep Time 30 minutes
Cook Time 2 hours
Total Time 2 hours 30 minutes
Slow Cooker Peach Crisp is delicious and easy to make with fresh peaches and this peach crisp is low in sugar and gluten-free.
Ingredients
6 peaches, peeled and cut into slices
1/4 cup butter (frozen if you don't have a pastry cutter)
1/3 cup almond flour (see notes)
1/3 cup rolled oats (be sure to use gluten-free rolled oats if you need it to be gluten-free)
1/2 cup Golden Monkfruit Sweetener (see notes)
1/2 tsp. cinnamon
pinch of freshly-grated or ground nutmeg
Instructions
Spray the inside of a 3.5 Quart Slow Cooker (affiliate link) with nonstick spray.
Wash peaches, peel off skins, remove pits, and cut the peaches into slices.
Put sliced peaches in an even layer in the bottom of the slow cooker.
If you don't have a pastry cutter, use a large grater and grate the frozen butter into a small bowl.
If you have a pastry cutter, just add the softened butter and cut it into a few pieces with a knife.
Add the Almond Flour (affiliate link), rolled oats, Golden Monkfruit Sweetener (affiliate link), cinnamon, and nutmeg and use a pastry cutter or a fork to combine the mixture until it's well mixed.
Sprinkle the topping mixture over the peaches.
Put a piece of paper towel over the top of the slow cooker so it's completely covered, then put the lid over that.
Cook on high for 2 hours.
Remove lid and paper towel carefully so the accumulated liquid doesn't drip down into the peach crisp.
Serve hot, with ice cream or whipped cream if desired.
This will keep for a day in the refrigerator, although you may have a hard time not eating it all right away.
Nutrition Information:
Yield:
6
Serving Size:
1
Amount Per Serving:
Calories: 188
Total Fat: 11g
Saturated Fat: 5g
Trans Fat: 0g
Unsaturated Fat: 5g
Cholesterol: 20mg
Sodium: 61mg
Carbohydrates: 21g
Fiber: 4g
Sugar: 15g
Protein: 3g
Nutrition information is automatically calculated by the Recipe Plug-In I am using. I am not a nutritionist and cannot guarantee 100% accuracy, since many variables affect those calculations.
Low-Carb Diet / Low-Glycemic Diet / South Beach Diet Suggestions:
Slow Cooker Peach Crisp could never be sugar free, because the peaches are naturally sweet, but made with an approved sweetener, I would eat this for a "once-in-a-while treat" for Phase 2 or 3 of the original South Beach Diet. Check the nutritional information to see the net carbs if you're making this for a low-carb diet plan; you might be surprised.
Find More Recipes Like This One:
Use Slow Cooker Recipes for more easy slow cooker desserts like this one. Use the Diet Type Index to find recipes suitable for a specific eating plan. You might also like to follow Kalyn's Kitchen on Pinterest, on Facebook, on Instagram, or on YouTube to see all the good recipes I'm sharing there.
Historical Notes for this Recipe:
This recipe was posted in 2013. It was last updated with more information in 2022.
We are a participant in the Amazon Services LLC Associates Program, an affiliate advertising program designed to provide a means for us to earn fees by linking to Amazon.com and affiliated sites. As an Amazon Associate, I earn from qualifying purchases.