Roasted Tomato Hummus
You can make this delicious Roasted Tomato Hummus with homemade Slow Roasted Tomatoes or sun-dried tomatoes from a jar, and this tasty hummus is delicious!
PIN Roasted Tomato Hummus to try it later!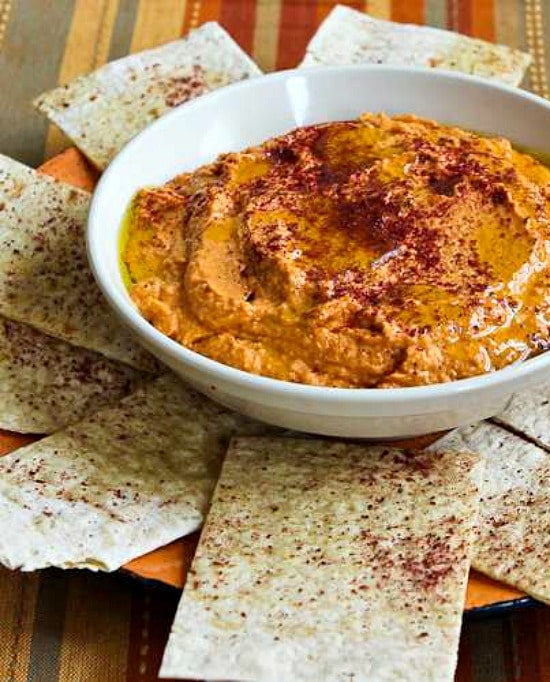 This Roasted Tomato Hummus Recipe is a little bit of a public service announcement for anyone who has Roma or San Marzano tomatoes in the garden; this is prime time to be making Slow Roasted Tomatoes, those delicious little morsels of roasted tomato that capture the flavors of summer. I've been making them every summer for quite a few years now, and a few years ago when I had some thawed in the fridge I used them to come up with this recipe for Slow Roasted Tomato Hummus, which is now one of my favorites!
BUT If you don't have slow roasted tomatoes, just make this recipe into Sun-Dried Tomato Hummus using sun-dried tomatoes from a jar; just add a little water and process to soften the dried tomatoes.
What ingredients do you need for this recipe?
What Pita Bread would I use?
I first served this with Lavash that I brushed with olive oil and sprinkled with Sumac and then toasted in a toaster oven for a few minutes, but low-carb pita bread is what I'd use now. My photos below were for a double batch of hummus, and this is so good you might want to double it as well when you make it.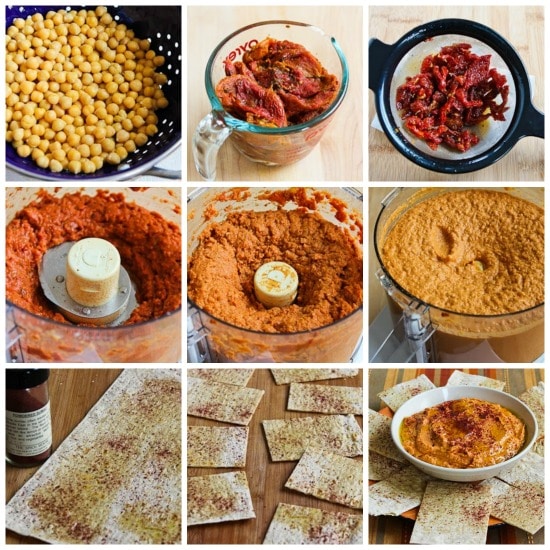 How to Make Roasted Tomato Hummus:
(Scroll down for complete recipe with nutritional information.)
Rinse the canned garbanzo beans with cold water and let them drain well.
These are the slow roasted tomatoes after they've been frozen and thawed; remember I'm making a double batch of hummus here!
If you don't have slow roasted tomatoes, rinse the oil from sun-dried tomatoes and add a little water.
Puree the slow roasted tomatoes (or sun-dried tomatoes plus a little water) with the garlic until they are mostly smooth.
Add drained garbanzos to the tomatoes and process until the beans are pureed and the mixture is well combined.
Then add tahini, lemon juice, olive oil, and water and process until the mixture is smooth. (I might add part of the water, process, and then decide if it needs more water.)
I brushed Lavash with olive oil and sprinkled with Sumac, then toasted it just until the bread was firm.
Then I cut the bread into squares to use to dip the hummus.
You can also eat this with low-carb pita bread, celery, carrot sticks, or red pepper strips.
More Delicious Hummus Variations:
Parsley Hummus
Black-Eyed Pea Hummus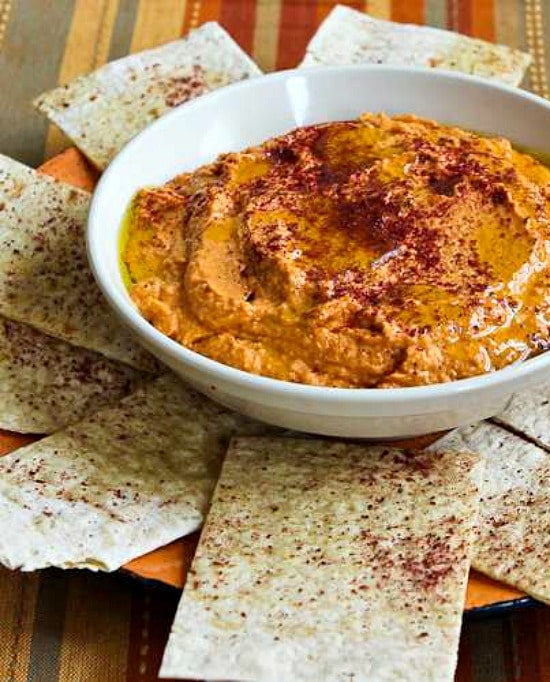 Yield: 6 servings
Roasted Tomato Hummus
Prep Time 15 minutes
Total Time 15 minutes
Roasted Tomato Hummus is delicious served with or low-carb pita bread or veggies.
Ingredients
1/2 cup slow roasted tomatoes (or use scant 1/2 cup sun-dried tomatoes and a little water)
1 can (15.5 oz.) garbanzo beans (also called chickpeas)
2 T garlic puree (or less if you're not a huge garlic fan)
1/4 cup tahini sauce
3 T fresh lemon juice (see notes)
2 T olive oil, plus more for drizzling on finished hummus if desired
1/4 cup water
1/2 tsp. sea salt, or to taste
Optional:  Sumac for sprinkling on finished hummus
Instructions
Drain garbanzo beans into colander, then rinse well with cold water until no more foam appears.
Leave beans in colander to continue draining.
In bowl of food processor fitted with steel blade, place slow roasted tomatoes (or rinsed sun-dried tomatoes) and garlic.
Process about 30 seconds, or slightly longer for sun-dried tomatoes.
Add drained beans, process about 1-2 minutes, until beans and tomatoes are completely blended together.
Add Tahini Sauce (affiliate link), 2 T lemon juice, olive oil, and half the water and process 30 seconds to one minute more, until all ingredients are well blended.
Check the thickness and see if you want to use the other 2 tablespoons of water.
Taste to decide whether to add more lemon juice and salt, add if desired and process a few seconds more.
This will keep in the refrigerator for several weeks if it's in a container with a tight lid.
Sprinkle finished hummus with Sumac (affiliate link) if desired.
Serve with pita bread, lavash, crackers, celery sticks, carrots, or red pepper strips.
Notes
You will need a food processor to make this successfully. There are many good brands, but I love my Cuisinart Food Processor DLC 10. (affiliate link) You might start with 2 T of lemon juice and taste to see if you want to add more.
Nutritional information is based on 1/4 cup serving size, and doesn't include lavash or pita bread.
Recipe created by Kalyn.
Nutrition Information:
Yield:
6
Serving Size:
1
Amount Per Serving:
Calories: 183
Total Fat: 12g
Saturated Fat: 2g
Trans Fat: 0g
Unsaturated Fat: 10g
Cholesterol: 0mg
Sodium: 433mg
Carbohydrates: 16g
Fiber: 4g
Sugar: 4g
Protein: 6g
Nutrition information is automatically calculated by the Recipe Plug-In I am using. I am not a nutritionist and cannot guarantee 100% accuracy, since many variables affect those calculations.
Low-Carb Diet / Low-Glycemic Diet / South Beach Diet Suggestions:
Roasted Tomato Hummus is not suitable for low-carb diets except in very small amounts, but beans are acceptable for all phases of the original South Beach Diet, and they're great for other low-glycemic diets as well. This is great with low-carb pita bread if you'd like to keep the carbs lower.
Find More Recipes Like This One:
Use Appetizers to find more recipes like this one. Use the Diet Type Index to find more recipes suitable for a specific eating plan. You can also Follow Kalyn's Kitchen on Pinterest to see all the good recipes I'm sharing there.
Historical Notes for this Recipe:
This recipe was first posted in 2007, when I was regularly making slow roasted tomatoes with tomatoes from my garden! The recipe was updated with better photos in 2012 and was updated with more information in 2021.
We are a participant in the Amazon Services LLC Associates Program, an affiliate advertising program designed to provide a means for us to earn fees by linking to Amazon.com and affiliated sites. As an Amazon Associate, I earn from qualifying purchases.