Low-Carb Slow Cooker Pulled Pork
Low-Carb Slow Cooker Pulled Pork is a low-carb version of barbecued pulled pork that's savory and delicious! See the link to an Instant Pot version if you prefer that method.
PIN Low-Carb Slow Cooker Pulled Pork to try it later!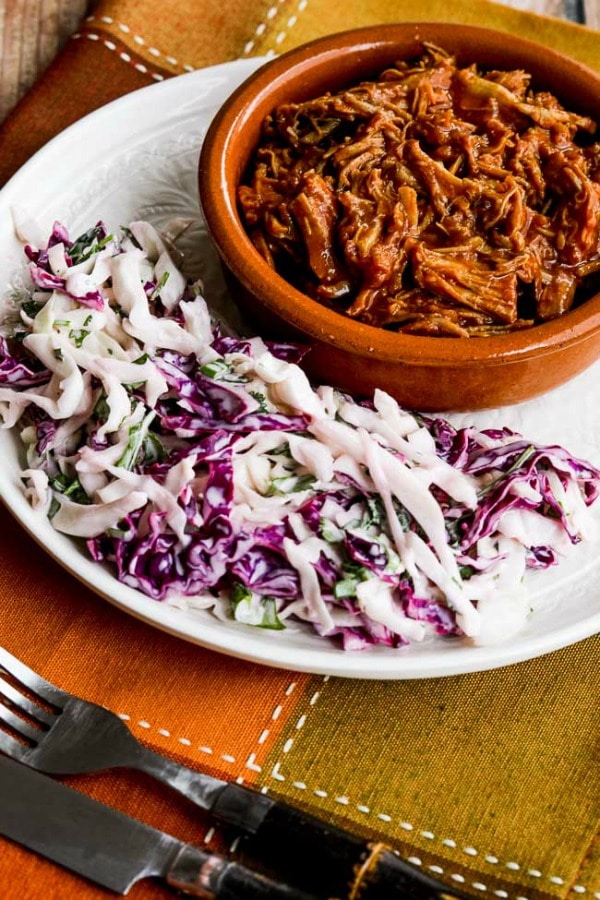 Low-Carb Slow Cooker Pulled Pork is my lower-carb take on a classic American dish, and one reason I decided to tackle this recipe was because I find most barbecue sauce recipes to be too sweet. I wanted to see if I could come up with a low-sugar pulled pork that would suit my preference for more savory flavors, so if you try this recipe, be prepared for a sauce with plenty of mustard flavor, smokiness, and spice, and just the barest touch of sweetness.
I didn't want a result that was super fatty, so I consulted my butcher for ideas about a lean cut of pork that would pull apart when cooked for a long time at a low temperature. I and ended up going with a pork loin roast that I cut into two pieces against the grain, so I had shreds of pork that were 3-4 inches long. (You could also use those Pork Sirloin Roasts that are such a good buy at Costco, or use boneless pork shoulder roast if you don't care about fat.)
And this was so delicious for a great low-carb version of pulled pork! I hope you'll try it in the slow cooker or the Instant Pot!
What ingredients do you need?
How did I make this barbecued pork recipe low in carbs?
I used G. Hughes Sugar-Free Ketchup (affiliate link) as the base of my sauce. And I sweetened it with Golden Monkfruit Sweetener (affiliate link).
Can I make this in the Instant Pot?
I do think pulled pork is the kind of recipe that's perfect for the slow cooker, but to see how to make this in the Instant Pot, check out Low-Carb Instant Pot Pulled Pork.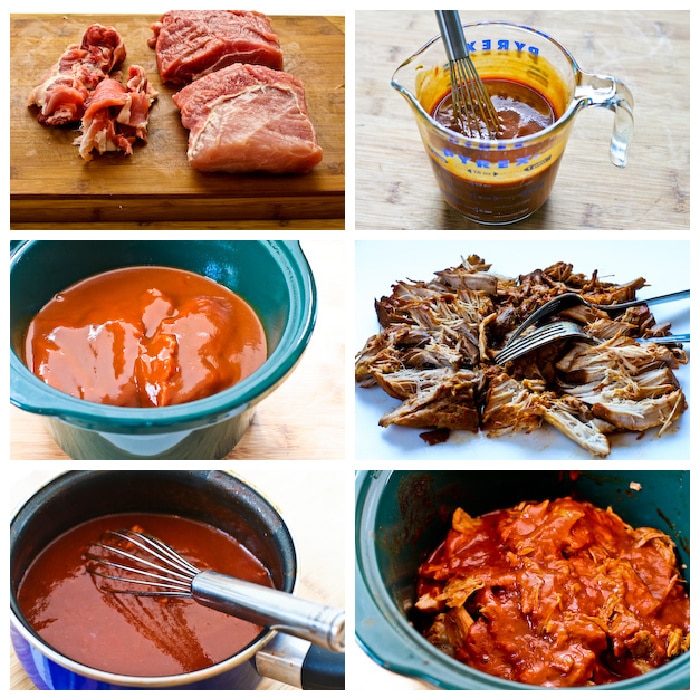 How to make Low-Carb Slow Cooker Pulled Pork :
(Scroll down for complete recipe with nutritional information.)
I trimmed all the outside fat off my pork loin roast, and then cut it in half against the grain. This roast was about 2.5 pounds after trimming, but next time I'd get one just a little bigger.
I use either Heinz Low-Sugar Ketchup (affiliate link) or G. Hughes Sugar-Free Ketchup (affiliate link) for my low-sugar barbecue sauce. If you don't want ketchup with artificial sweetener, look for a natural ketchup without added sugar.
Mix the barbecue sauce in a measuring cup or bowl. I tasted a few times and added a little more of this or that until it tasted good to me. (The flavors will get more intense as it cooks.)
Spray the crockpot with olive oil, then put the trimmed pork roast that you've cut in half in, pour the sauce over and cook all day on low. I used a 2.5-Quart Slow Cooker (affiliate link), so if you only have a big crockpot I'd double the amount of everything and make this a Weekend Food Prep recipe!
When the meat is done enough to pull apart easily, remove from crockpot with a slotted spoon, then shred with two forks. (I ate some before I took this photo, so a two pound roast will be a little more than this!) Pork should cook about 7-8 hours, on low, depending on how hot your crockpot cooks.
I thought the sauce seemed a little thin, so I took it out of the crockpot and simmered on the stove until it was reduced by about 1/3. This also concentrated the flavor just a bit more. (This step is completely optional.)
You can put the shredded meat back into the crockpot with the sauce to keep it warm, or serve right away.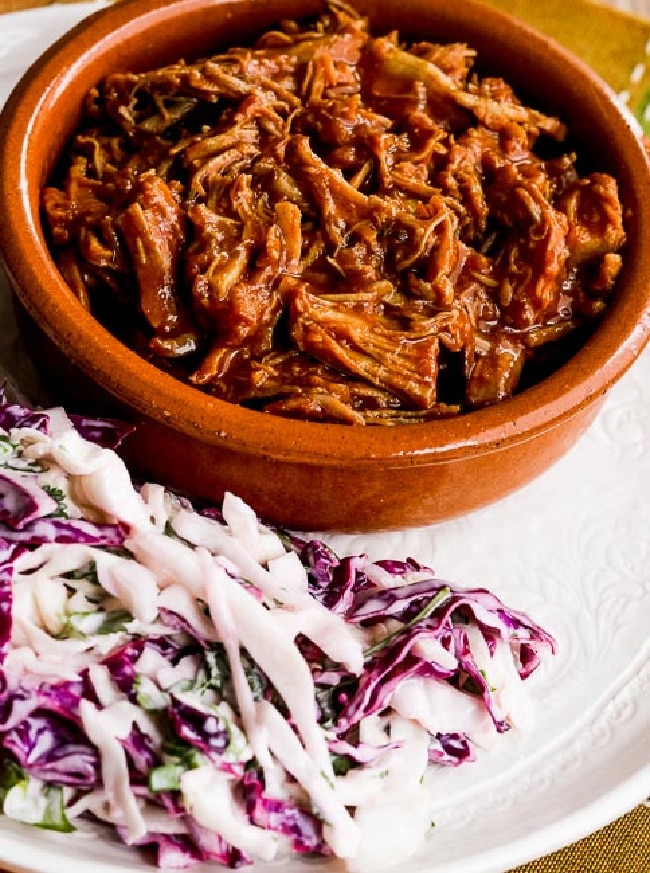 Make it a low-carb Meal:
Low-Carb Slow Cooker Pulled Pork would be great on sandwiches of course, but for a low-carb meal I just ate it with a salad of shredded lettuce, shredded, cabbage, and homemade blue cheese dressing.
More Slow Cooker Pork Recipes:
Slow Cooker Bavarian Pork Sirloin Roast with Sour Cream Gravy
Slow Cooker Pork Sirloin Roast with Spicy Peanut Sauce
Weekend Food Prep:
This recipe has been added to a category called Weekend Food Prep to help you find recipes you can prep or cook on the weekend and eat during the week!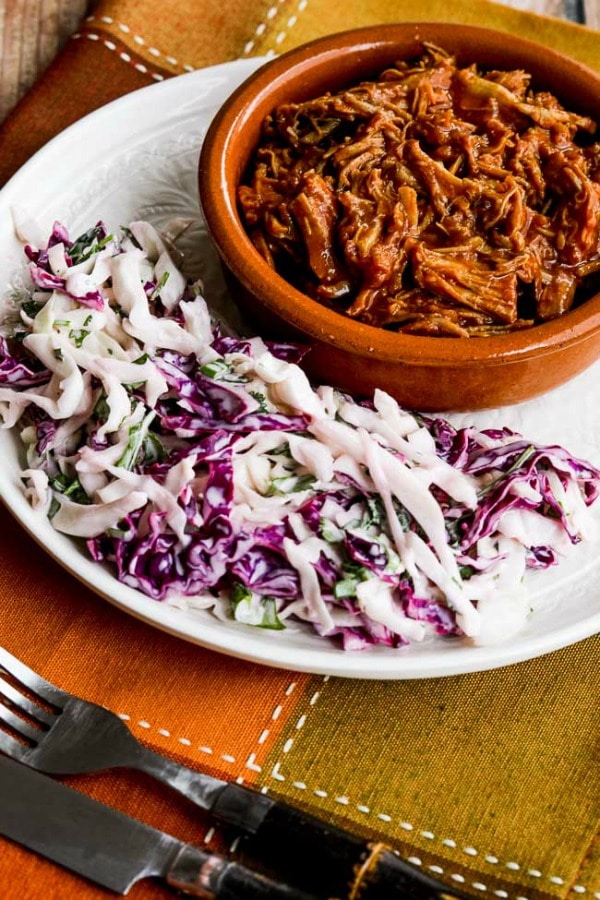 Yield: 8 servings
Low-Carb Slow Cooker Pulled Pork
Prep Time 30 minutes
Cook Time 8 hours
Total Time 8 hours 30 minutes
This Low-Carb Slow Cooker Pulled Pork uses sugar-free ketchup and your favorite sweetener to cut down on the carbs! If you have a large slow cooker, definitely double this recipe!
Ingredients
3 lbs. boneless pork loin roast (see notes)
olive oil, for spraying crockpot (or use non-stick spray)
1/2 cup sugar-free ketchup
2 T tomato paste
6 T Golden Monkfruit Sweetener, or to taste
1/4 cup apple cider vinegar
1/4 cup mustard (regular yellow mustard, not Dijon)
2 tsp. Green Tabasco Sauce (or 1 tsp. red Tabasco)
1 1/2 T Worcestershire Sauce
1/2 tsp. Liquid Smoke (or more, optional but recommended)
Instructions
Spray slow cooker with olive oil or non-stick spray.
Trim most of the visible fat from pork loin roast, then cut in half against the grain and place in slow cooker.
Combine sugar-free ketchup, tomato sauce, Golden Monkfruit Sweetener (or sweetener of your choice), apple cider vinegar, mustard, Green Tabasco, Worcestershire sauce, and Liquid Smoke in measuring cup or bowl and whisk together, then pour over roast.
Turn slow cooker to low and cook 7-8 hours, or until meat shreds apart easily.
Use a slotted spoon to remove meat from slow cooker, and place on cutting board.
Check the sauce in slow cooker and if you'd like it a bit thicker, pour sauce into small saucepan and simmer at medium-low heat until reduced by 1/3, probably not longer than 10-15 minutes.
While sauce thickens, use two forks to shred apart the meat, placing back in slow cooker to keep warm if desired.
When sauce is as thick as you want it, pour over meat.
This can be kept warm in the slow cooker for an hour or two, or served immediately.
Low-Carb Slow Cooker Pulled Pork will keep in the fridge for quite a few days and quickly reheated in the microwave or in a pan on the stove. This also freezes well.
Nutrition Information:
Yield:
8
Serving Size:
1
Amount Per Serving:
Calories: 363
Total Fat: 17g
Saturated Fat: 5g
Trans Fat: 0g
Unsaturated Fat: 9g
Cholesterol: 136mg
Sodium: 369mg
Carbohydrates: 4g
Fiber: 1g
Sugar: 2g
Protein: 46g
Nutrition information is automatically calculated by the Recipe Plug-In I am using. I am not a nutritionist and cannot guarantee 100% accuracy, since many variables affect those calculations.
Low-Carb Diet / Low-Glycemic Diet / South Beach Diet Suggestions:
This recipe would be great for low-carb and Keto diet plans. If you're making this Low-Carb Slow Cooker Pulled Pork for the South Beach Diet, follow the suggestions about using pork with only 10% fat and using sugar-free ketchup and an approved sweetener to sweeten the sauce. I'd probably limit this to Phase 2 or 3 for South Beach and I'd use portion control if you're actively trying to lose weight.
Find More Recipes Like This One:
Use Slow Cooker Recipes to find more recipes like this one.Use the Diet Type Index to find recipes suitable for a specific eating plan. You can also Follow Kalyn's Kitchen on Pinterest to see all the good recipes I'm sharing there.
We are a participant in the Amazon Services LLC Associates Program, an affiliate advertising program designed to provide a means for us to earn fees by linking to Amazon.com and affiliated sites. As an Amazon Associate, I earn from qualifying purchases.