Red and Green Fruit Salad
This Red and Green Fruit Salad uses berries, grapes, and kiwi, and this delicious kid-friendly salad is also gluten-free. This is a bit of a splurge on carbs, but it's festive for an extra-easy holiday salad!
Click to PIN Easy Red and Green Fruit Salad!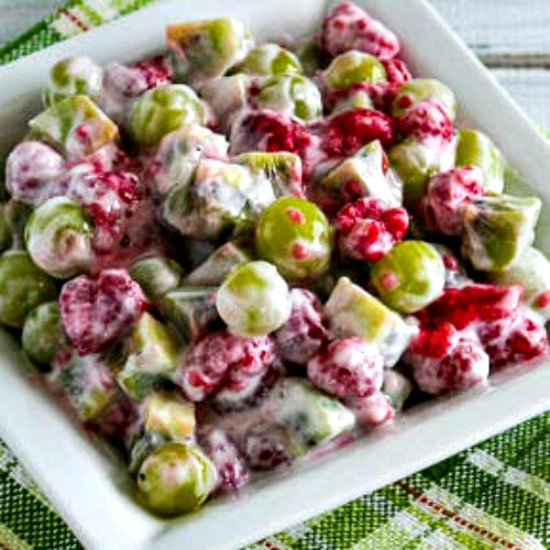 Recently I started learning about anti-oxidant rich foods, but when I tried to eat more of them I noticed I was ignoring the berries. Truthfully, I've never been that much of a fruit eater, and now that I'm watching for carbs, I'm even less likely to choose fruit for a salad ingredient. But berries do have amazing nutritional value, so I am making a vow to include them in my meals a little more often, starting with this delicious Red and Green Fruit Salad!
This recipe is dedicated to my brother Rand, the absolute fruit lover in my family. I remember when Rand lived in Chicago, every time he came to visit my mother would put out a big bowl of fruit on the table for him. For Rand and all the other fruit lovers out there, you're going to love this recipe!
The ultra-simple idea of combining berries with vanilla yogurt to make a healthy fruit salad is one I got from a woman named Kaye that I used to work with. I admit, this is so simple it's almost foolish to call it a recipe. Through the years, I've tried different combinations, and this is one I've really liked.
How to Make Easy Red and Green Fruit Salad:
(Scroll down for complete printable recipe.)
Wash grapes if needed and pat dry with paper towels. (I cut them in half if they're big.)
I used this little pack of perfect raspberries.
Peel the kiwi and cut into bite-sized pieces.
I used to use a low-carb vanilla yogurt as a dressing for the salad; that's a great option for even easier! Uou probably only need one container unless you really like a lot of dressing.
Now I usually make a dressing by combining plain Greek yogurt, Monkfruit Sweetener (affiliate link), and a little vanilla.
Gently combine the fruit in a bowl.
Then stir in the desired amount of dressing and serve.
That's all!
More Tasty Salads with Fruit:
Arugula Grape Salad with Manchego and Almonds
Apple-Jicama Slaw with Sweet and Spicy Sriracha Dressing
Caprese Salad with Kiwifruit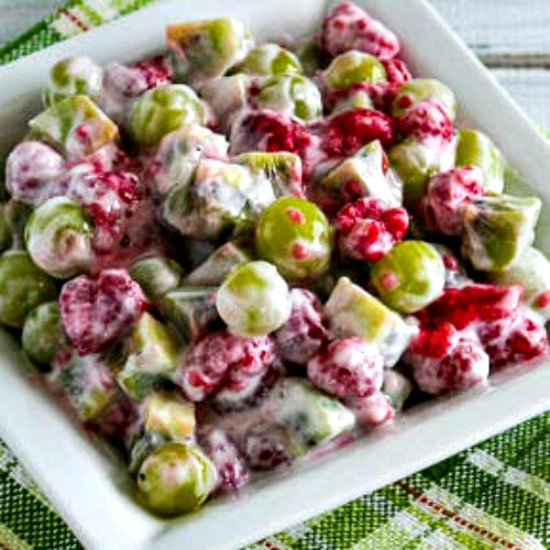 Yield: Makes 4 servings
Red and Green Fruit Salad
Prep Time 15 minutes
Total Time 15 minutes
This Red and Green Fruit Salad uses berries, grapes, and kiwi and a yogurt dressing for a fruit salad that's extra easy to make.
Ingredients
Ingredients:
1 cup green grapes, cut in half lengthwise if they're large
6 oz. raspberries
2 kiwi, peeled and cut in 1/2 inch pieces
Yogurt Dressing Ingredients:
6 oz. plain Greek yogurt
1 T Monkfruit sweetener (see notes)
1/2 tsp. Vanilla (or a little more, to taste)
Instructions
Wash grapes if needed and pat dry with paper towels. (You can cut them in half if they're extra big.)
Peel the kiwi and cut into bite-sized pieces.
Gently combine the grapes, berries, and kiwi in a bowl.
If you're making the Greek yogurt dressing, combine the yogurt, agave nectar and vanilla with a whisk.
Combine ingredients with desired amount of dressing, being careful not to over mix, although some breaking apart of the raspberries will improve the flavor.
Chill if desired.
This will keep in the refrigerator for a day or two, although it's best freshly made.
Other fruits you can use include blueberries, blackberries, plums, or red grapes.
Notes
You could use a low-carb yogurt like Kroger Carb Master vanilla yogurt for the dressing if desired. I love Monkfruit Sweetener (affiliate link), but use any sweetener you prefer.
Inspiration for the idea was from Kaye.
Nutrition Information:
Yield:
4
Serving Size:
1
Amount Per Serving:
Calories: 97
Total Fat: 1g
Saturated Fat: 0g
Unsaturated Fat: 0g
Cholesterol: 2mg
Sodium: 18mg
Carbohydrates: 18.2g
Fiber: 4g
Sugar: 13g
Protein: 6g
Nutrition information is automatically calculated by the Recipe Plug-In I am using. I am not a nutritionist and cannot guarantee 100% accuracy, since many variables affect those calculations.
Low-Carb Diet / Low-Glycemic Diet / South Beach Diet Suggestions:
Using low carb yogurt or making a low-sugar dressing with fat-free Greek yogurt will make this a suitable dish for the South Beach Diet, phase two or three. Kroger brand Carb master Yogurt has only 4 carbs and 1 1/2 grams fat in six ounces, but there are other good low carb yogurts available if you can't find the Kroger brand. Since this salad is mostly fruit, it's probably too high in carbs for a traditional low-carb diet plan.
Find More Recipes Like This One:
Use Fruit Recipes to find more like this one. Use the Recipes by Diet Type photo index pages to find more recipes suitable for a specific eating plan. You can also Follow Kalyn's Kitchen on Pinterest to see all the good recipes I'm sharing there.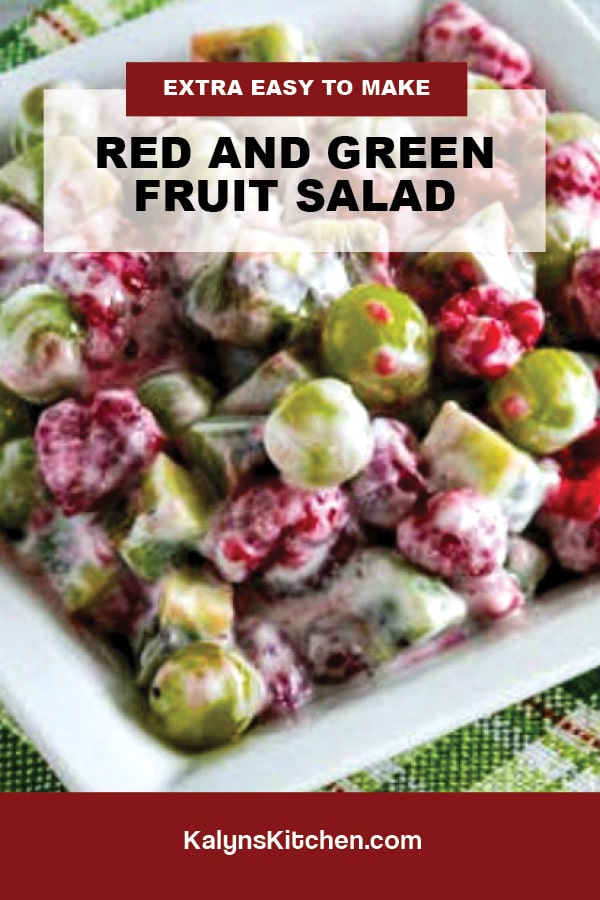 We are a participant in the Amazon Services LLC Associates Program, an affiliate advertising program designed to provide a means for us to earn fees by linking to Amazon.com and affiliated sites. As an Amazon Associate, I earn from qualifying purchases.