Kalyn's Kitchen Picks: Kroger Carbmaster Yogurt
If you're looking for a tasty yogurt that's low in carbs, this Kroger Carbmaster Yogurt is one I buy over and over. And this low-carb yogurt goes on sale regularly, which is when I stock up on it!
PIN the Kroger Carbmaster Yogurt to remember it later!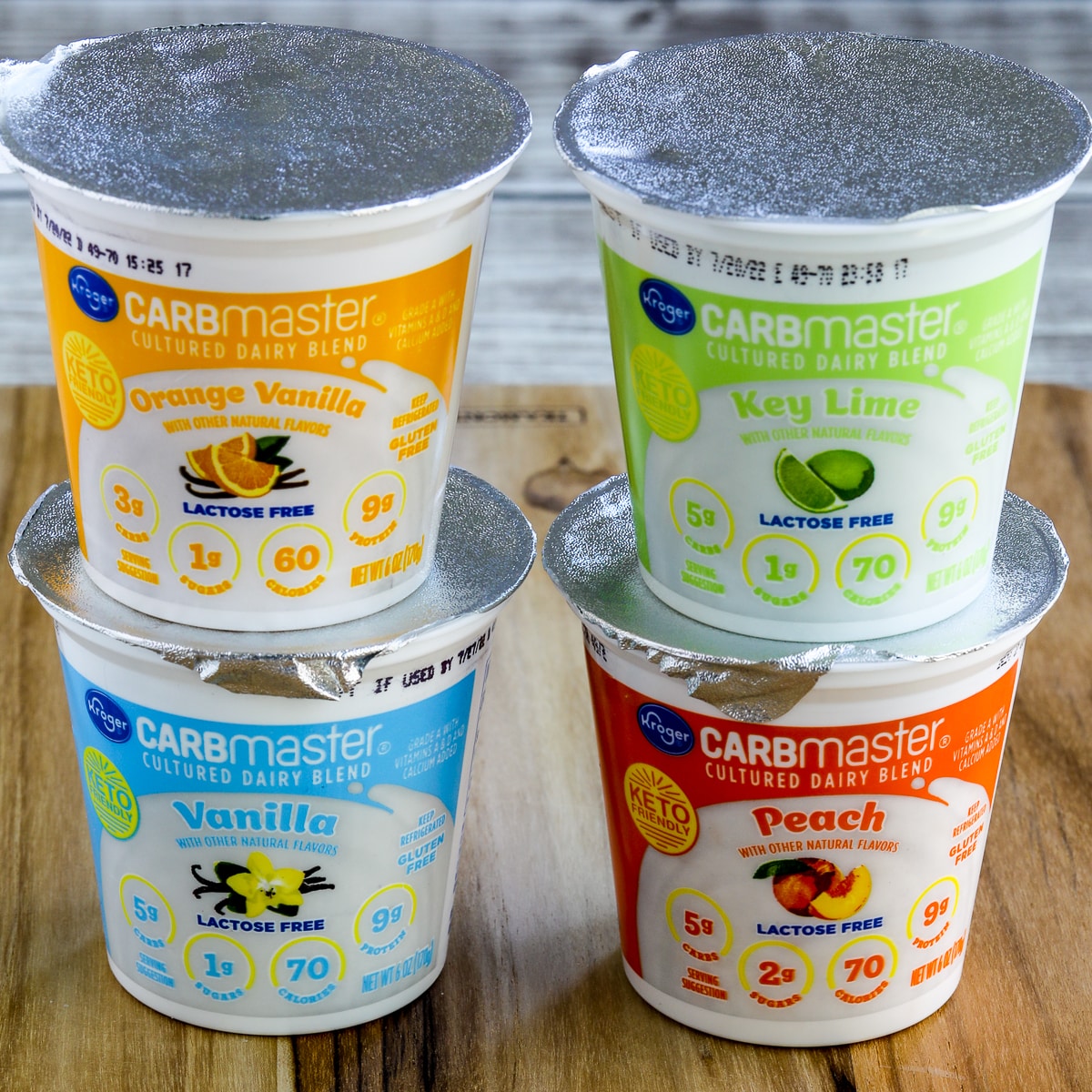 Are you a label reader? When I'm reading labels the first thing I look for is how many grams of sugar the product has. This Kroger Carbmaster Yogurt is a tasty low-carb yogurt that has only 1 or 2 grams of sugar in 6 ounces of yogurt (and only four or five total carbs, depending on the flavor you choose.) And it's much less expensive than most other reduced-carb yogurts on the market.
I've been eating this low-carb yogurt for years and it's one of those things that are always in my fridge, so I think it deserves a spot on my list of Kalyn's Kitchen Picks, where I feature food products I'd happily buy over and over.
Is Kroger Carbmaster Yogurt Keto Friendly?
The label says Keto Friendly but if you're following the strictest forms of Keto you may not feel this product is Keto friendly due to the use of artificial sweeteners and modified corn starch. If you shop at a Kroger store, check out the label and see what you think.
What flavors of Carbmaster Low-Carb Yogurt do I buy most?
The Orange Vanilla, Key Lime, and Peach you see in the photo are the three flavors I buy often and am likely to grab just as a snack. And truthfully, I although this comes in a lot of flavors I've never tried one I didn't think was good.
Do I use this low-carb yogurt in recipes?
I did use Carbmaster vanilla yogurt in my recipe for Red and Green Fruit Salad, and that flavor is also the one I'd eat mixed with low-carb granola and maybe a few blueberries as a breakfast dish. But if I'm using plain yogurt as a recipe ingredient I'm probably going to choose Fage Greek Yogurt or another Greek yogurt for that.
Where can you get Kroger Carbmaster Yogurt?
In Utah I buy this yogurt at Smith's Marketplace, but I'm assuming that most Kroger stores will have it. Of course that's not going to be much help to readers who don't live near a Kroger store, so if you're a reader who enjoys another brand of low-sugar or low-carb yogurt that's comparable to the sugar content of this one, please share the product name and nutritional information in the comments.
About Kalyn's Kitchen Picks:
I purchased this Kroger Carbmaster Yogurt myself and the company has no idea that I'm writing about their product. All items featured as Kalyn's Kitchen Picks are things I happily buy over and over, and because I want readers to know that my opinions are completely unbiased, I no longer accept sample products of any kind. You can see the complete list of products I've chosen under the tab Kalyn's Picks below the blog header.
We are a participant in the Amazon Services LLC Associates Program, an affiliate advertising program designed to provide a means for us to earn fees by linking to Amazon.com and affiliated sites. As an Amazon Associate, I earn from qualifying purchases.