Low-Carb and Keto Salads with Hearts of Palm
Hearts of palm are a treat and they're a perfect ingredient for salads, so today I'm sharing Low-Carb and Keto Salads with Hearts of Palm!
PIN the Salads to try some later.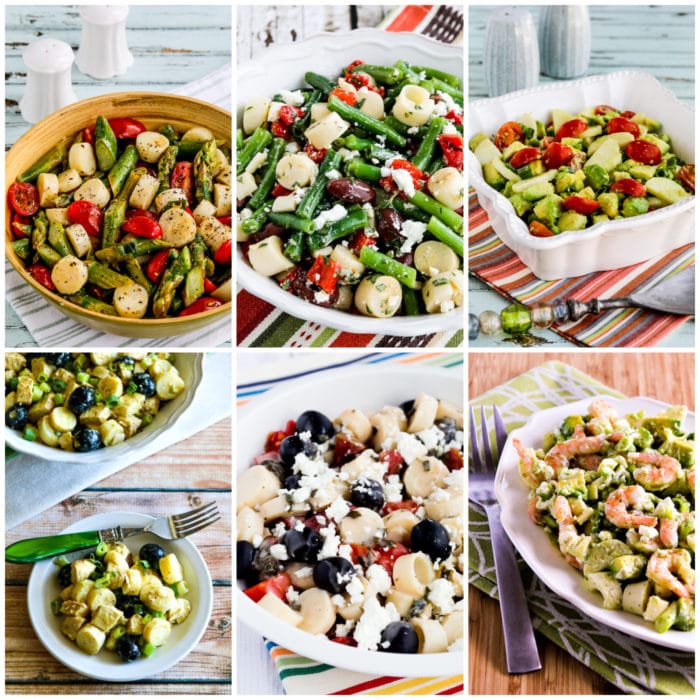 Summer weather is here in Utah, and for me that means I'll be eating lots of salads! When the temperature is in the high nineties, I never want hot food, and that's when cold summer salads like these Low-Carb and Keto Salads with Hearts of Palm are such a winner. All the salads I'm featuring here include hearts of palm, an ingredient I became infatuated with a few years back when Costco started carrying them in big jars. And I have LOVED hearts of palm for years and years now!
Sadly I haven't been able to find those big jars at Costco for several years now, but even if you have to cut down on the amount of hearts of palm a little, I hope you'll try a few of these salads. Hearts of palm are such a perfect low-carb food, and the taste is delightful. And in these favorite salads I'm combining them with some of my favorite summer ingredients for salads that you'll want to make over and over!
What are Hearts of Palm?
Hearts of palm are a slightly-crunchy vegetable that's harvested from the center of domesticated palm trees. They used to be a controversial ingredient, but now harvesting methods don't damage the trees and wild palms are protected in many places. And Hearts of Palm are so delicious! Here's more about Hearts of Palm and how to use them.
Where can you buy Hearts of Palm?
Most grocery stores will sell Hearts of Palm, sold near the olives and artichokes in cans and jars, but they are often pricey at a regular grocery store. You can buy hearts of Palm at Amazon.com (affiliate link) and occasionally you'll find some there that are a bit more inexpensive. (Amazon even carries those two packs of big jars like I loved so much at Costco, but they were definitely more of a bargain at Costco, of course!)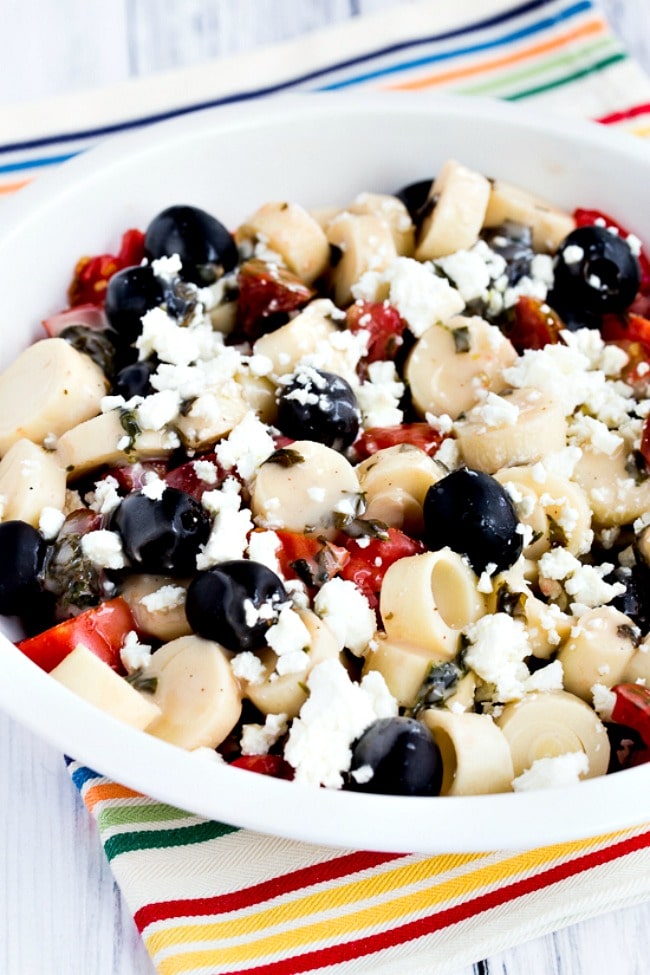 Tomato Salad with Hearts of Palm, Olives, and Feta is something I make every summer! And I love the Basil Vinaigrette on many other things too! (9 carbs, 3 grams fiber)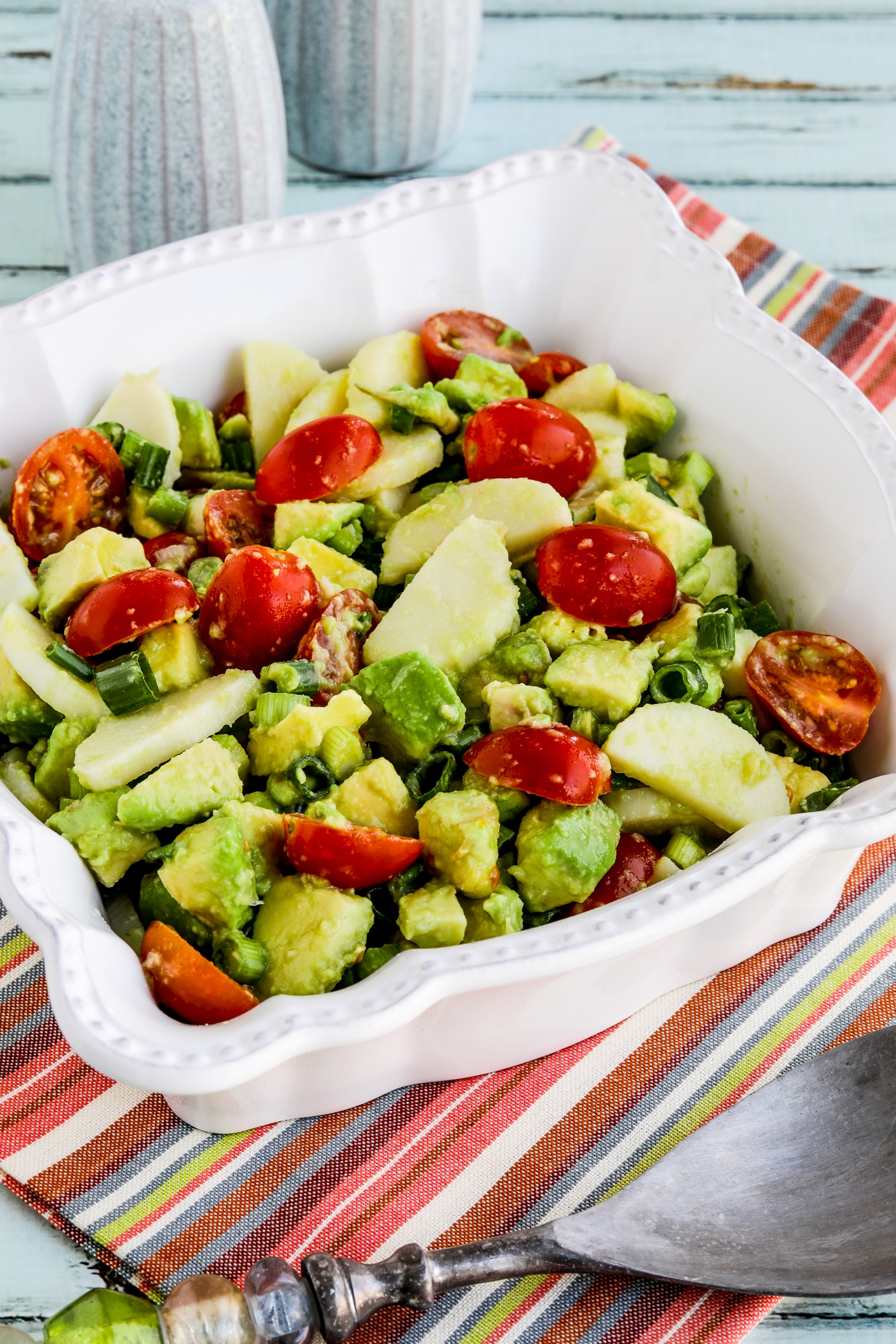 Heart of Palm Salad with Tomato and Avocado is flavored with lime, and the salad can be made with or without Cilantro. (15 carbs, 10 grams fiber)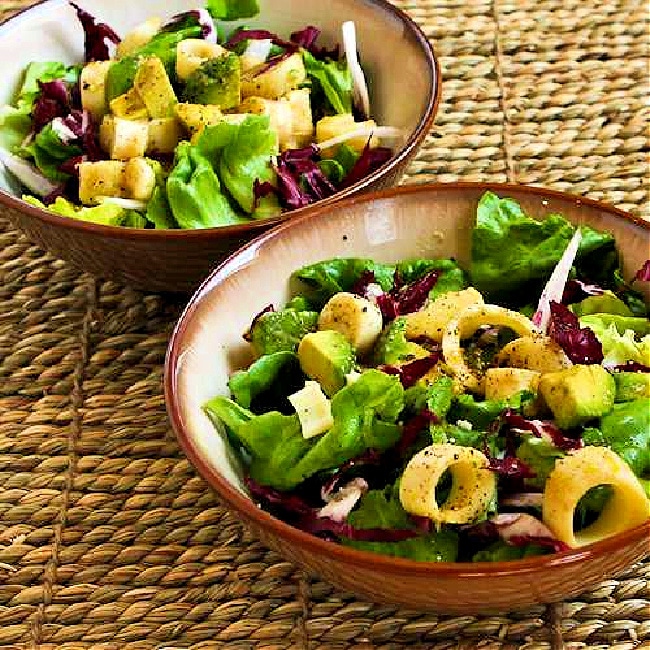 Hearts of Palm Salad with Avocado and Radicchio is a nice side dish when you're making a special dinner for guests. (9 carbs, 5 grams fiber)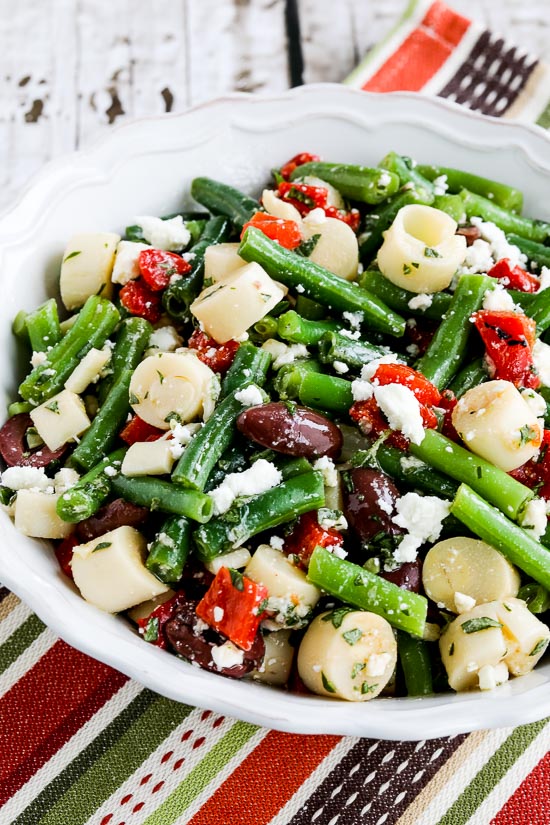 Green Bean Salad with Hearts of Palm is a think-outside-the-box green bean salad, and this salad is definitely a WOW! (13 carbs, 5 grams fiber)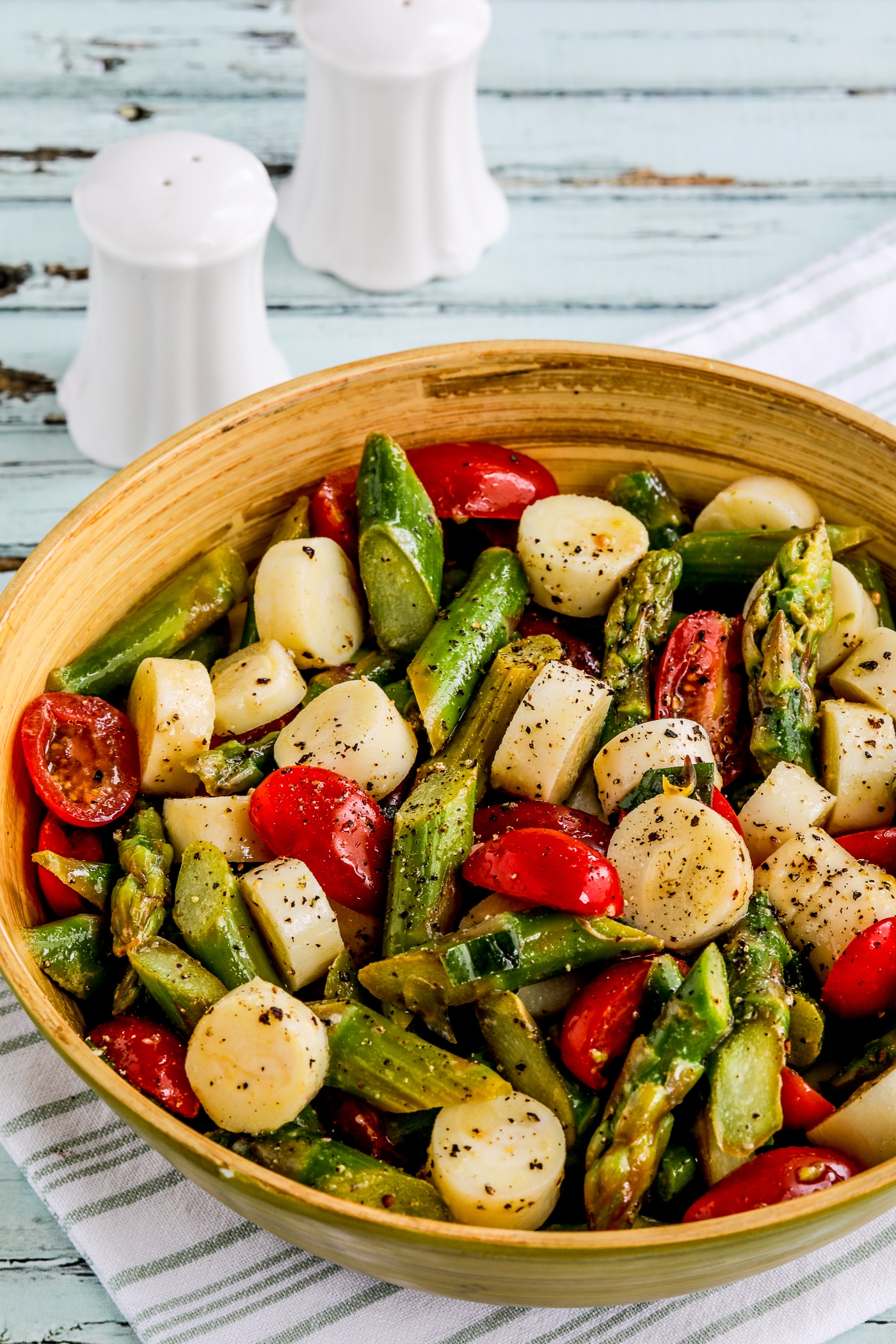 Asparagus and Tomato Salad with Hearts of Palm is a lovely combination of flavors, and this is something I always make when it's asparagus season. (8 carbs, 3 grams fiber)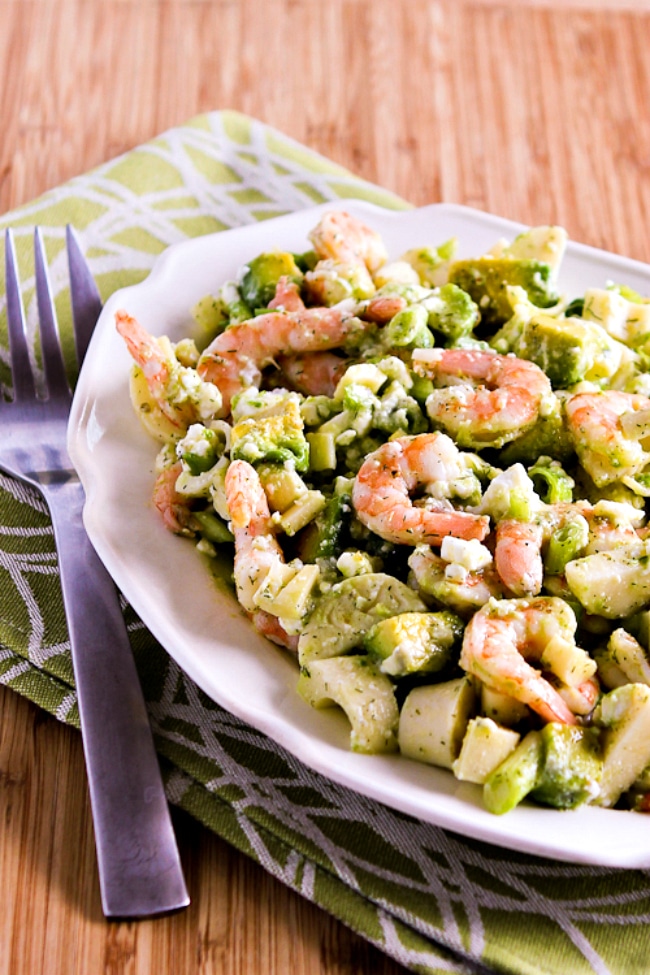 Lemony Shrimp Salad with Avocado, Heart of Palm, and Feta is a salad I've tried out on a few different people, and it's always been a hit! (15 carbs, 4 grams fiber)
Heart of Palm and Avocado Salad is another one I could eat over and over, and you can make this with or without cilantro depending on your tastebuds! (13 carbs, 8 grams fiber)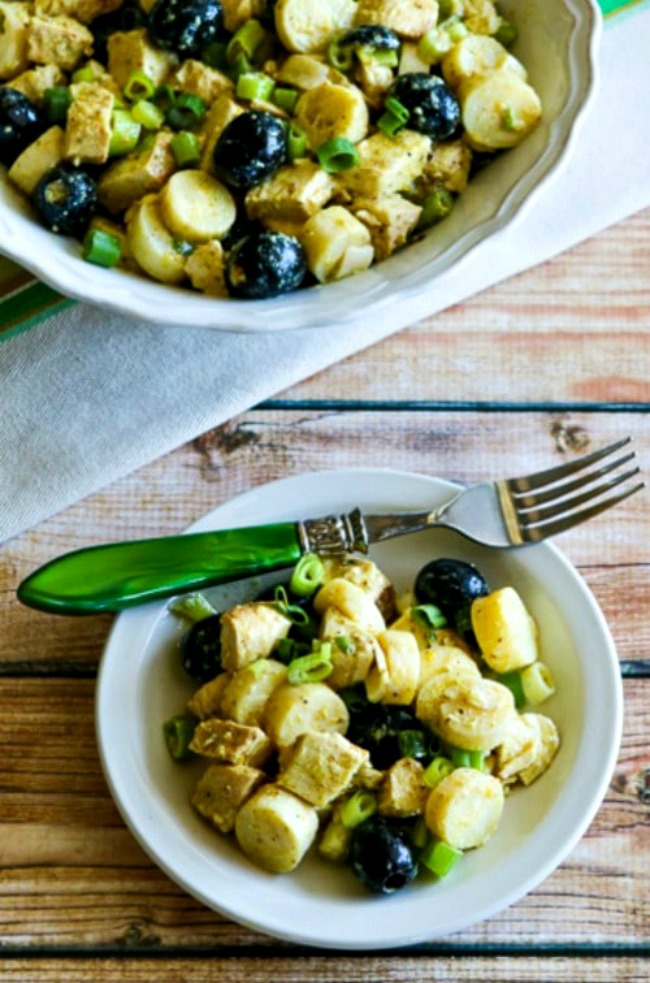 Chicken Salad with Hearts of Palm is a salad combination I came up with when I had leftover Rosemary Mustard Chicken and the olives and mustardy dressing bumped up the flavor here! (6 carbs, 3 grams fiber)
And finally, Hearts of Palm are a great addition to this favorite low-carb Antipasto Chopped Salad! (carb count will vary by ingredients chosen)
Have you cooked with hearts of palm? Let us know in the comments about how you like to use them!
We are a participant in the Amazon Services LLC Associates Program, an affiliate advertising program designed to provide a means for us to earn fees by linking to Amazon.com and affiliated sites. As an Amazon Associate, I earn from qualifying purchases.