CrockPot Steel-Cut Oats with Maple Syrup and Pecans
CrockPot Steel-Cut Oats with Maple Syrup and Pecans show how easy it is to cook steel cut oats in the crockpot if you haven't tried that!
Pin CrockPot Steel Cut Oats with Maple Syrup and Pecans!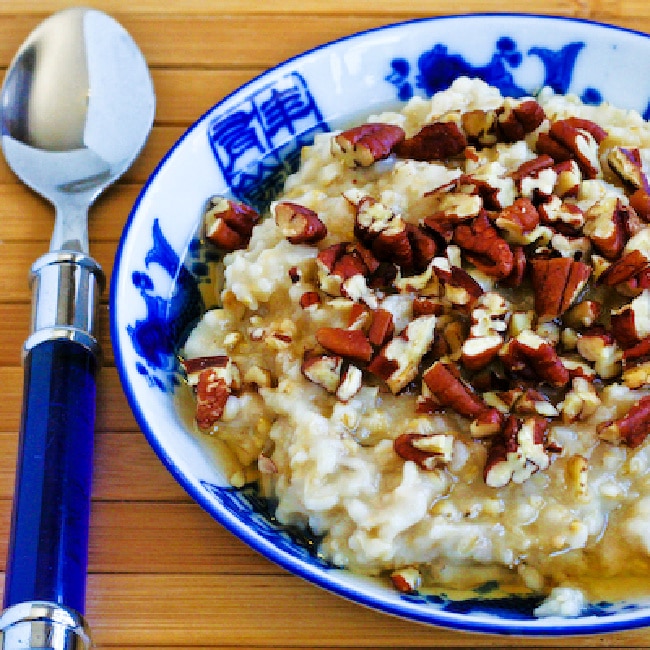 One of my favorite carb-splurge breakfasts is Peanut Butter Oatmeal, which I usually make with Extra Thick Rolled Oats cooked in the microwave, a method I learned from my blogging friend Alanna. I've been wanting to try steel cut oats, but I wasn't sure about the longer cooking time, reported to be as much as 45 minutes on the stove. Then I heard about cooking steel cut oats in the crockpot, and when I tried it, I loved the crockpot version of steel cut oats.
Then I made these CrockPot Steel-Cut Oats with Maple Syrup and Pecans, and they were so good. (And I originally made this with agave nectar, but now I would use Sugar-Free Maple Syrup (affiliate link) which reduces the carbs, although this will never be a low-carb dish.)
Different Types of Oats:
The least processed form of oats are oat groats. However, they need soaking, and take a very long time to cook. Steel cut oats are oat groats chopped into smaller pieces, making them easier to cook. Rolled oats are steamed and rolled into flakes so they cook more quickly. Here's a great post on all the different varieties of oats.
More Recipes for Steel Cut Oats:
There's a great collection of Slow Cooker or Instant Pot Recipes for Steel Cut Oats on my other site, Slow Cooker or Pressure Cooker.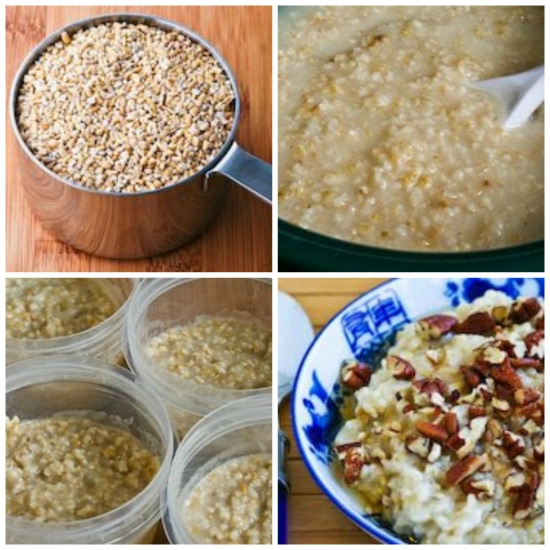 How to Make Steel-Cut Oats with Maple Syrup and Pecans:
(Scroll down for complete recipe with nutritional information.)
Here's what the steel cut oats look like before they're cooked. I used Bob's Red Mill Steel Cut Oats (affiliate link) for this recipe.
I used a 2.5 quart Crockpot to cook 1 cup of steel cut oats, and it took me a few tries to get the amount of thickness and chewiness I wanted. (You can definitely double the recipe if you have a large slow cooker. Just keep extra servings in the fridge and microwave to eat later.)
I decided that 5 cups water and just over three hours cooking time gave the best results with my crockpot. Newer crockpots cook much hotter than the older "slow cooker" models, and different sizes of crockpots also cook differently, so you may have to experiment a little to get the best result.
Steel cut oats are great reheated, so make some extra and keep them in the refrigerator, then microwave for a few minutes for an extra quick breakfast.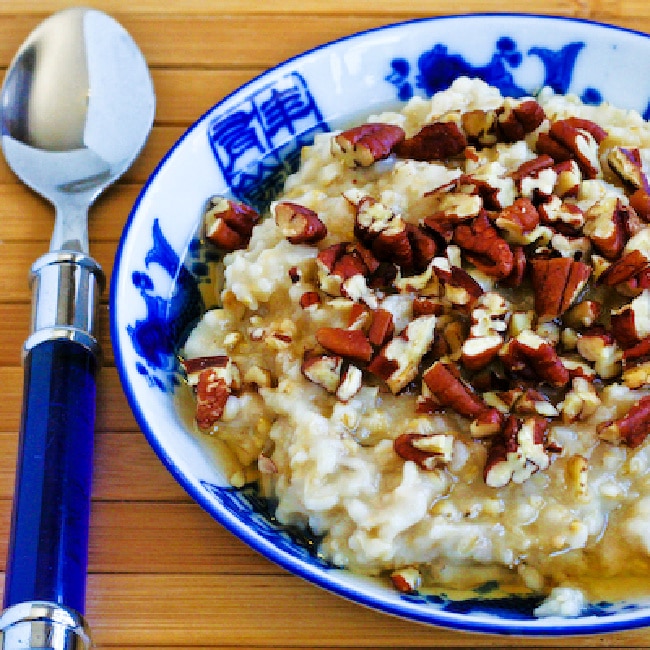 Yield: 4 servings
CrockPot Steel-Cut Oats with Maple Syrup and Pecans
Prep Time 10 minutes
Cook Time 3 hours
Total Time 3 hours 10 minutes
If you haven't tried cooking steel cut oats in the crockpot, these CrockPot Steel-Cut Oats with Maple Syrup and Pecans are amazing!
Ingredients
1 cup steel cut oats
5 cups water (or less for extra thick oats)
1/2 tsp. salt (do not skip the salt)
1/4 cup sugar-free maple syrup
1/2 cup pecans, coarsely chopped with knife
Instructions
Combine steel cut oats, water, and salt in crockpot. (I sprayed the crock with non-stick spray to prevent sticking.)
Cook on low, stirring every hour or so.
After 3 hours start checking to see if the oats are as done as you'd like.
I cooked the oats in these photos for 3 hours and 15 minutes, but a larger batch or an older model crockpot will take longer.
Put one-fourth of the hot cooked oats in a bowl, drizzle with maple syrup and sprinkle nuts over.
If you're reheating extra steel cut oats later in the microwave, you may want to add a few tablespoons of water before you microwave them.
Nutrition Information:
Yield:
4
Serving Size:
1
Amount Per Serving:
Calories: 249
Total Fat: 12g
Saturated Fat: 1g
Trans Fat: 0g
Unsaturated Fat: 10g
Cholesterol: 0mg
Sodium: 336mg
Carbohydrates: 31g
Fiber: 5g
Sugar: 1g
Protein: 7g
Nutrition information is automatically calculated by the Recipe Plug-In I am using. I am not a nutritionist and cannot guarantee 100% accuracy, since many variables affect those calculations.
Low-Carb Diet/ Low-Glycemic Diet / South Beach Diet Suggestions:
Steel cut oats with sugar-free maple syrup and nuts would be a great breakfast option for phase 2 or 3 of the original South Beach Diet or other low-glycemic diets, but this is too high in carbs for low-carb diet plans.
Find More Recipes Like This One:
Use Slow Cooker to find more recipes like this one. Use the Recipes by Diet Type photo index pages to find more recipes suitable for a specific eating plan. You might also like to Follow Kalyn's Kitchen on Pinterest to see all the good recipes I'm sharing there. Click here to see Slow Cooker / Pressure Cooker Recipes on my other site!
We are a participant in the Amazon Services LLC Associates Program, an affiliate advertising program designed to provide a means for us to earn fees by linking to Amazon.com and affiliated sites. As an Amazon Associate, I earn from qualifying purchases.