Spicy Stir-Fried Sugar Snap Peas
You have to try Spicy Stir-Fried Sugar Snap Peas; these are loaded with flavor from soy sauce, sesame oil, and Sriracha!
PIN the Sugar Snap Peas to try them later!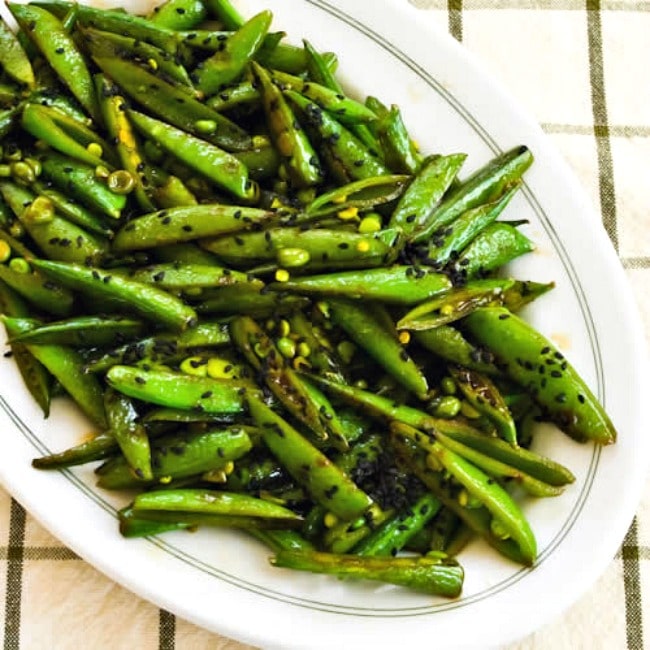 Sugar Snap Peas are an ingredient I like enough to make them one of my Kalyn's Kitchen Picks, and for this week's Friday Favorites feature I'm reminding you about this recipe for Spicy Stir-Fried Sugar Snap Peas. This is a recipe I came up with years ago when I decided it might be fun to experiment with snap peas as the starring ingredient in a stir-fried vegetable side dish.
Not that I hadn't stir-fried sugar snap peas before, but I had never cooked them sliced diagonally to reveal the tiny peas inside! And I have no idea where I got the idea of slicing the peas lengthwise for a stir-fry, but I loved this method! The pods cooked more quickly, and a few tiny peas spilled out, adding visual interest and a lot of sweet pea flavor to the finished dish.
And the stir-fry sauce for these stir-fried sugar snap peas has soy sauce, sesame oil, and Sriracha Sauce bumping up the flavor! If you get those big bags of sugar snap peas at Costco and have a hard time using them, this might become your new favorite side dish.
What ingredients do you need for this recipe?
Can you make Stir-Fried Sugar Snap Peas without a wok?
The large surface area and curved sides of a wok make it the ideal pan for stir-fry cooking. But if you have a large non-stick frying pan, that will work just fine for this dish.
Basic Rules for Stir-Fry Cooking
Many years ago I took a class in Chinese cooking and learned these basic rules for stir-frying. Even if you've never stir-fried, you can do it successfully if you follow these tips:
Preheat the wok (or pan) before you add the oil.
Season the oil (add slices of fresh garlic cloves and ginger root and stir-fry very briefly, just until they become fragrant.)
Remember the importance of symmetry of cut (all pieces should be the same size for stir-fry cooking.)
Have all ingredients cut and sauces mixed before you start to cook.
Use very high heat and cook fast.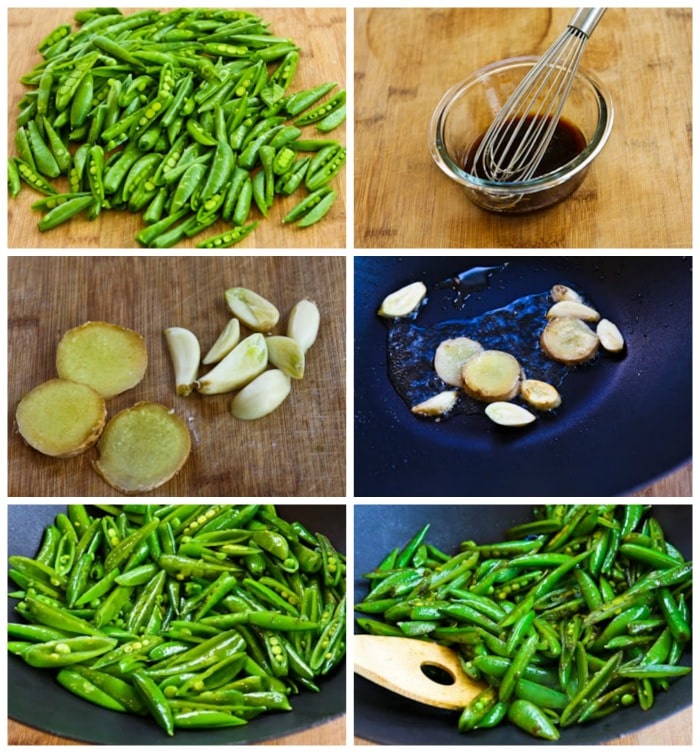 How to make Stir-Fried Sugar Snap Peas:
(Scroll down for complete printable recipe with nutritional information.)
The only part of making this that's a tiny bit labor intensive is pulling off the strings and then slicing the sugar snap peas lengthwise.
Whisk together soy sauce, sesame oil, and Sriracha Sauce to make the finishing sauce.
Cut slices of fresh ginger root and slice garlic cloves for "seasoning the oil." Don't skip this step.
Preheat the wok or heavy frying pan for about a minute, then add oil.
When the oil is very hot (shimmering), add garlic and ginger slices and stir-fry just until they become fragrant, less than a minute.
Remove garlic and ginger pieces before they start to brown. (VERY important!)
Add the sugar snap peas to the seasoned oil and stir-fry about 2 minutes, or until the peas are bright green and just starting to be cooked.
Then add the sauce mixture and cook about 1-2 minutes more, stirring the entire time.
Serve hot, sprinkled with Black Sesame Seeds or sesame seeds if desired.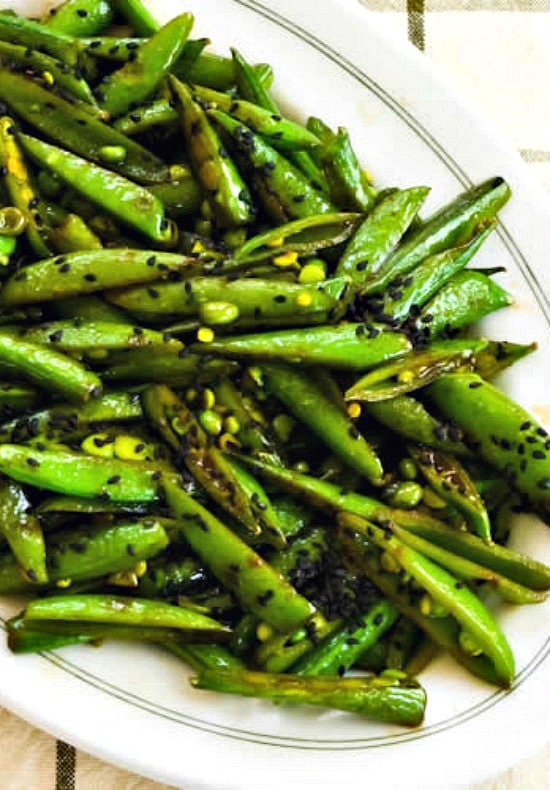 Make it a Low-Carb Meal:
For a low-carb meal, serve with Grilled Fusion Chicken, Chicken with Peanut Sauce, Baked Cilantro Lime Chicken, Air Fryer Marinated Chicken Breasts, or Instant Pot Teriyaki Chicken.
More Ways to Use Sugar Snap Peas: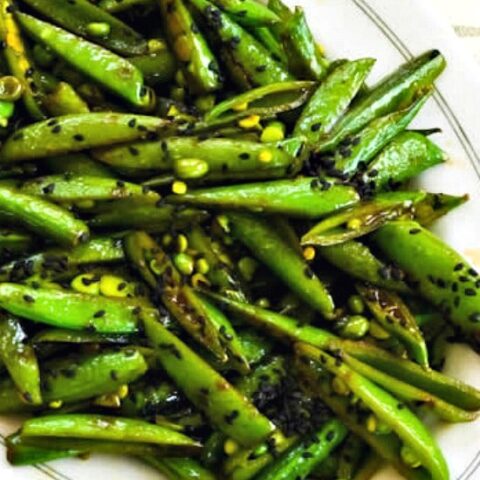 Yield: 4 side dish servings
Spicy Stir-Fried Sugar Snap Peas
Prep Time 20 minutes
Cook Time 5 minutes
Total Time 25 minutes
These Spicy Stir-Fried Sugar Snap Peas make a delicious side dish for any kind of Asian main dish!
Ingredients
1 lb. sugar snap peas
2 T soy sauce (see notes)
1 tsp. sesame oil
1 tsp. Sriracha sauce (more or less to taste)
3 slices fresh ginger root
2 large garlic cloves, sliced
1 T peanut oil
1 tsp. black sesame seeds or sesame seeds for garnish (optional)
Instructions
Remove the strings from the each sugar snap pea by snapping the stem end and pulling the string down the side, then slice each one on the diagonal. (The sugar snap peas actually have a string on each side, but on most of them I only removed the string from one side.)
Cut slices of fresh ginger root and slice garlic cloves for "seasoning the oil." Don't skip this step.
Put the wok or heavy frying pan on the burner and preheat at least one minute. (It should feel very hot if you hold your hand above the wok.)
When wok is hot, add the oil and let it heat until the oil is shimmering (about 15-30 seconds, depending on how hot your stove gets.)
Add the sliced ginger root and garlic and stir-fry just long enough so that they become fragrant and season the oil, then remove. (Be careful not to brown the ginger and garlic or they will have a bitter taste.)
Add the sliced sugar snap peas and cook over high heat, stirring constantly, until the peas turn bright green and are just starting to cook, about 2 minutes.
Pour in the sauce mixture and cook, stirring constantly, until the sauce just starts to coat the peas, about 2 minutes more. (There will be some sauce in the bottom of the wok, but not much.)
I had some of this left over and was pleasantly surprised at how great it tasted cold when I ate it for lunch the next day.
Notes
You can use low-sodium soy sauce or Gluten-Free Soy Sauce (affiliate link) if you prefer.
Recipe created by Kalyn.
Nutrition Information:
Yield:
4
Serving Size:
1
Amount Per Serving:
Calories: 93
Total Fat: 4.8g
Saturated Fat: .8g
Trans Fat: 0g
Unsaturated Fat: 3.7g
Cholesterol: 0mg
Sodium: 478mg
Carbohydrates: 8.7g
Fiber: 3.3g
Sugar: 4.8g
Protein: 4.4g
Nutrition information is automatically calculated by the Recipe Plug-In I am using. I am not a nutritionist and cannot guarantee 100% accuracy, since many variables affect those calculations.
Low-Carb Diet / Low-Glycemic Diet / South Beach Diet Suggestions:
Stir-fried sugar snap peas like this are a great side dish for any phase of the original South Beach Diet or any type of low-carb or Keto eating plan. Despite the word sugar in the name, Sugar Snap Peas aren't super high in carbs, and they also have some fiber, so enjoy!
Find More Recipes Like This One:
Use Stir-Fry Recipes to find more like this one. Use the Diet Type Index to find recipes suitable for a specific eating plan. You might also like to follow Kalyn's Kitchen on Pinterest, on Facebook, on Instagram, or on YouTube to see all the good recipes I'm sharing there.
Historical Notes for this Recipe:
This recipe was first posted in 2011, and I have made these so many times since then. The recipe was listed updated and featured for Friday Favorites in 2022.
We are a participant in the Amazon Services LLC Associates Program, an affiliate advertising program designed to provide a means for us to earn fees by linking to Amazon.com and affiliated sites. As an Amazon Associate, I earn from qualifying purchases.