Onion Gratin
My family always had creamed onions for holiday dinners, and that inspired this tasty Onion Gratin that's flavored with rosemary and thyme. Onions are definitely a higher-carb vegetable but my version doesn't use flour and it's a tasty treat for a special meal!
PIN this delicious Onion Gratin to try it later.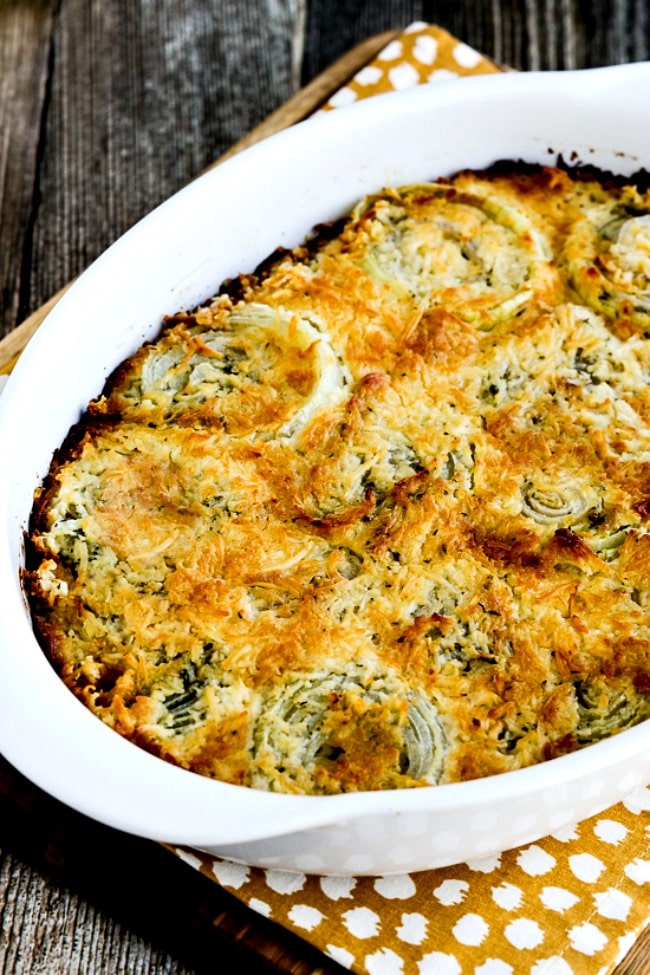 This Onion Gratin is a delicious Thanksgiving side dish and it's also great for a special meal! I first came up this recipe when I wanted something similar to the creamed onions my family always had for Thanksgiving.
But I knew I'd have to get creative for a healthier onion dish, since the old family version had flour, butter, cream, and lots of cheese. What I ended up with was kind of a riff on my delicious Broccoli Gratin that's also perfect for Thanksgiving. (Check out that recipe if onions are too much of a carb splurge for you!)
When I first made this I was having my house remodeled, and my contractor's son loved it even though he told me, "I don't like onions." So I think a lot of people who aren't normally onion fans might be won over by the cheesy topping.
What ingredients do you need?
onions
Olive Oil (affiliate link)
minced fresh rosemary, or use a smaller amount of ground rosemary (affiliate link)
minced fresh thyme leaves, or use a smaller amount of Ground Thyme (affiliate link)
mayo
fresh-squeezed lemon juice, I used my fresh-frozen lemon juice
Dijon mustard (affiliate link)
Pizza cheese blend
Pecorino-Romano cheese
fresh ground black pepper to taste
What is a gratin?
A Gratin is traditionally a dish where food is topped with a browned crust that contains cheese, breadcrumbs, or butter. I've become a huge fan of cheesy gratin dishes like this one, and I don't think breadcrumbs are needed to make it taste good!
What kind of onions did we use?
I first tried this recipe with sweet Vidalia onions, but they're much higher in carbs, so now I just use small yellow onions for the recipe.
What steps add flavor to this Onion Gratin?
Please don't skip the step of roasting the the onions with rosemary and thyme before you assemble the gratin. When they're in the gratin dish, the partly-cooked onions are spread with a topping made with mayo, lemon juice, Dijon, a blend of cheeses, and Pecorino-Romano (or Parmesan). Put that back into the oven to cook until the topping is starting to brown and you'll have a winner.
Want Low-Carb Thanksgiving Side Dish Ideas?
Check out my Keto Vegetable Recipes for Thanksgiving or Keto Side Dishes, Appetizers, and Salads for the Holidays to see more options if you want to keep it strictly low-carb!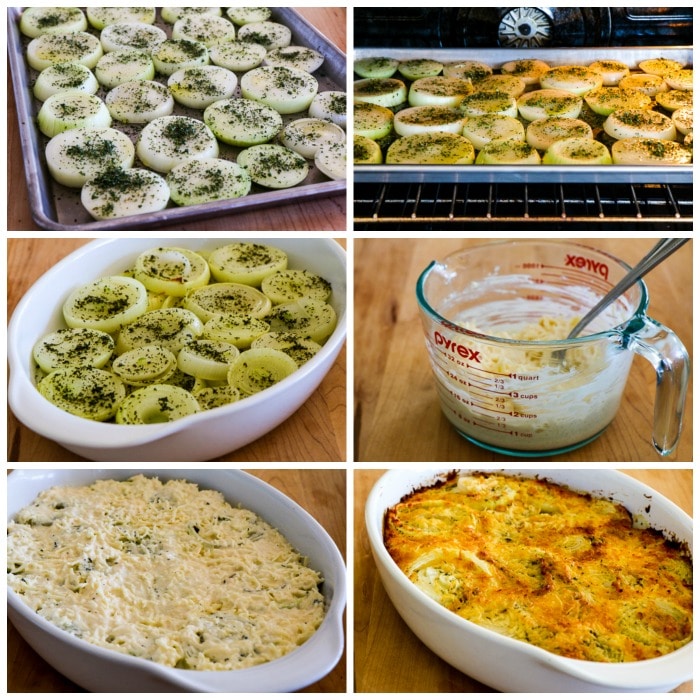 How to Make Onion Gratin:
(Scroll down for complete printable recipe with nutritional information.)
You can use any kind of onions, but cut the onions in thick half-inch slices after you peel them.
I brushed the onions with olive oil, sprinkled them with fresh chopped rosemary and thyme, and roasted them for 15 minutes. (I used fresh herbs since I still have them growing, but finely chopped dried herbs or ground herbs will be just fine in this.)
While the onions roast, mix together mayo, lemon juice, Dijon mustard, grated low-fat pizza cheese, Pecorino Romano (or Parmesan) cheese, and pepper.
Then spread the mayo-cheese mixture over, and bake until the topping is nicely browned.
I baked it in a flatter dish this time, so I increased the amount of the topping to be sure it would cover all the onions.
Bake about 30 minutes or until nicely browned; then serve hot and wait for the compliments!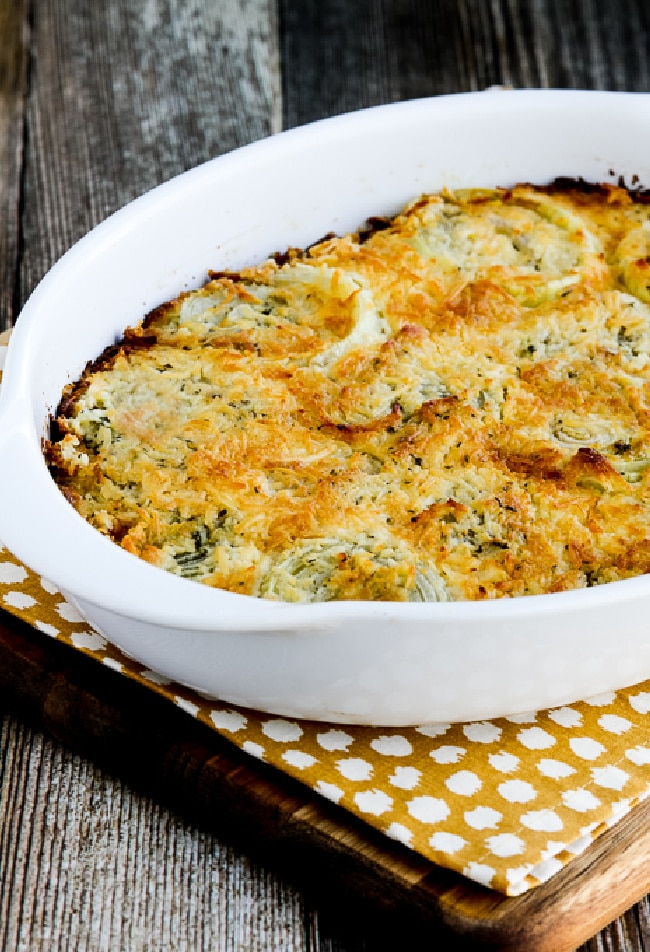 More Tasty Gratins for the Holidays: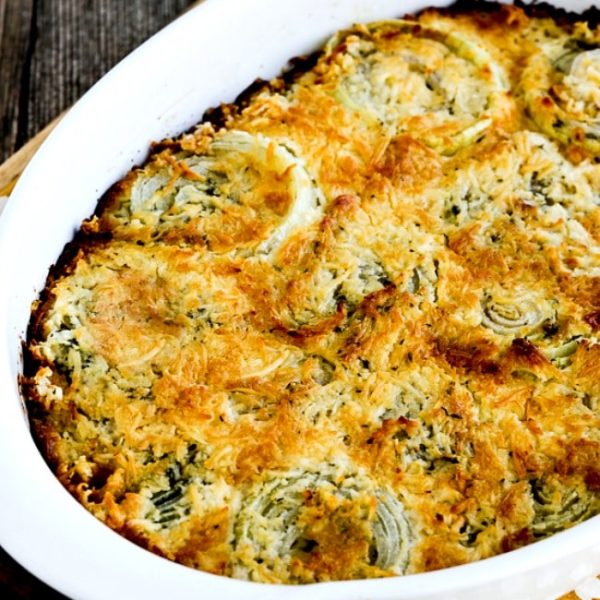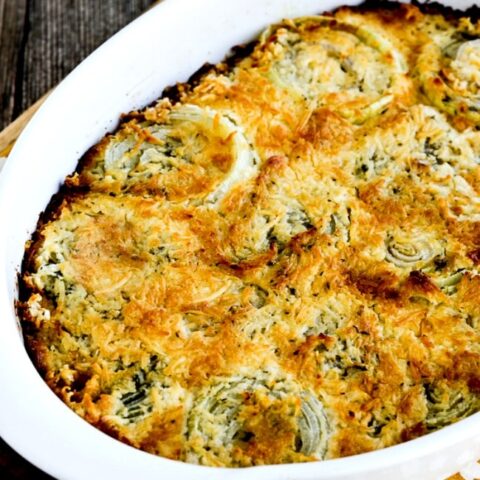 Yield: 6 servings
Onion Gratin
Prep Time 15 minutes
Cook Time 45 minutes
Total Time 1 hour
Onions do have some carbs, but I love this Onion Gratin flavored with rosemary and thyme, and this is a perfect easy side dish for a special meal!
Ingredients
6 small onions
2 tsp. olive oil, for brushing onions
1 tsp. finely minced fresh rosemary (see notes)
2 T minced fresh thyme leaves (see notes)
Gratin Topping Ingredients:
1/2 cup mayo
1 T + 1 tsp. fresh-squeezed lemon juice
3/4 tsp. Dijon mustard
1 1/2 cups Pizza cheese blend (see notes)
3 T grated Pecorino-Romano cheese (see notes)
fresh ground black pepper to taste
Instructions
Preheat oven to 450F/230C.
Peel onions and cut in 1/2 inch slices. Spray or brush baking sheet with olive oil or non-stick spray, then arrange onion slices in a single layer. Spray or brush onions with oil, then sprinkle with fresh minced herbs or dried ground herbs.
Roast onions 15 minutes, then take them out and turn oven down to 375F/190C.
While onions roast, combine mayo, lemon juice, Dijon mustard, pizza cheese, Pecorino-Romano cheese, and black pepper in a small bowl. Mix together with a fork. (The mixture will be lumpy.)
Spray a rectangular or oval 9″ x 13″ casserole dish with olive oil or nonstick spray.
Remove baking sheet from the oven and use a turner to layer onions in the casserole dish.
Spread topping over onions (I used a rubber scraper to spread it around. Don't worry if the mixture doesn't cover every bit of the onions.)
Place casserole dish in oven and bake about 30 minutes, or until top is golden brown and onions are slightly bubbling. Serve hot.
Notes
You can use white, yellow, or Vidalia onions for this recipe.
Use 1/2 tsp. (or less) ground rosemary if you don't have fresh rosemary. Use 1/2 tsp. (or less) ground thyme if you don't have fresh thyme.
I used a cheese blend that had Mozzarella, Provolone, Parmesan, and Romano; any similar blend of cheeses will be fin27. Use grated Parmesan if you don't have Pecorino-Romano cheese.
I'm guessing this would keep for at least a day in the refrigerator, but even though I have made this quite a few times, I've never had any leftovers!
This recipe was inspired by Onion Gratin at Closet Cooking and many creamed onion casseroles from my childhood.
Nutrition Information:
Yield:
6
Serving Size:
1
Amount Per Serving:
Calories: 327
Total Fat: 22g
Saturated Fat: 5.3g
Trans Fat: 0g
Unsaturated Fat: 15.3g
Cholesterol: 20mg
Sodium: 510mg
Carbohydrates: 26g
Fiber: 2.4g
Sugar: 5g
Protein: 8.4g
Nutrition information is automatically calculated by the Recipe Plug-In I am using. I am not a nutritionist and cannot guarantee 100% accuracy, since many variables affect those calculations.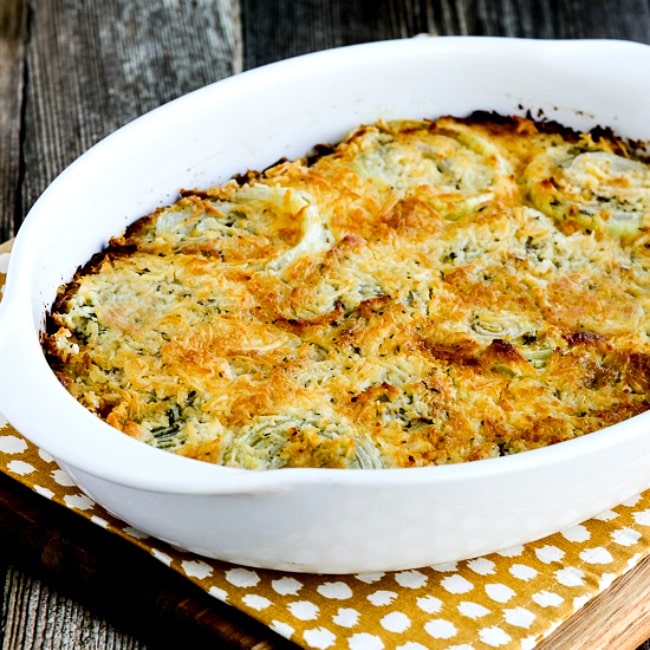 Low-Carb Diet / Low-Glycemic Diet / South Beach Diet Suggestions:
Onions are relatively high in carbs, so even without a breadcrumb topping this might be a splurge for low-carb diets. The gratin topping here is more friendly for the original South Beach Diet than the creamed onions of my childhood but South Beach would recommend reduced fat mayo and cheese and this should probably be a "once in a while treat" for South Beach Dieters.
Find More Recipes Like This One:
Use Side Dishes to find more recipes like this one. Use the Diet Type Index to find recipes suitable for a specific eating plan. You might also like to follow Kalyn's Kitchen on Pinterest, on Facebook, on Instagram, on TikTok, or on YouTube to see all the good recipes I'm sharing there.
Historical Notes for this Recipe:
This recipe was posted in 2009, and I have made it for many Thanksgiving dinners since then! It was last updated with more information in 2022.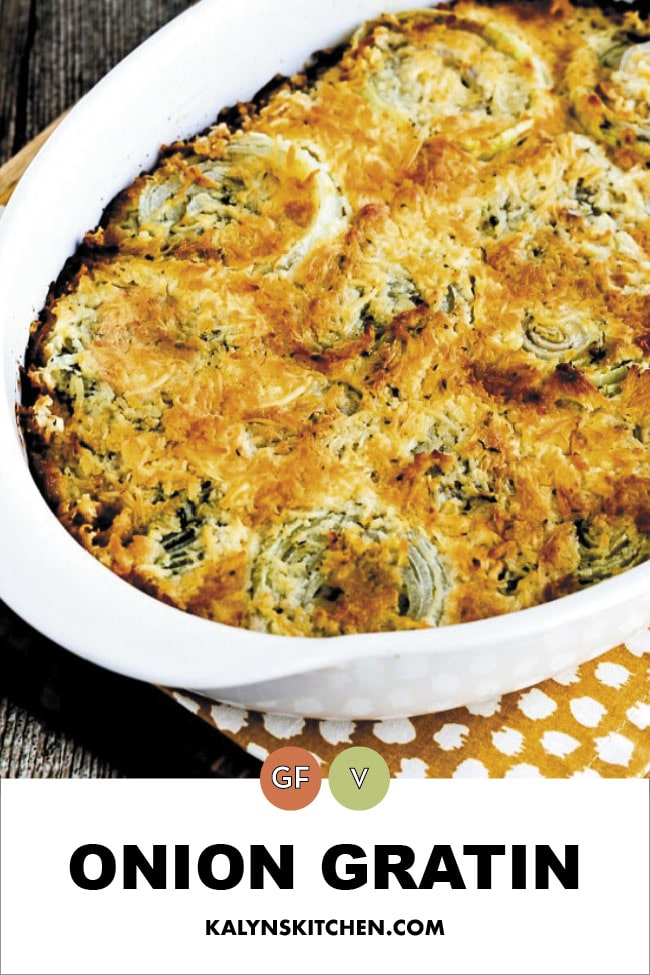 We are a participant in the Amazon Services LLC Associates Program, an affiliate advertising program designed to provide a means for us to earn fees by linking to Amazon.com and affiliated sites. As an Amazon Associate, I earn from qualifying purchases.