Antipasto Chopped Salad
I love this low-carb Antipasto Chopped Salad, and this post has tips for making restaurant-quality salads at home! And this antipasto salad recipe is a framework for making this type of salad; you can vary the ingredients based on what's in the fridge!
PIN Antipasto Chopped Salad to try it later!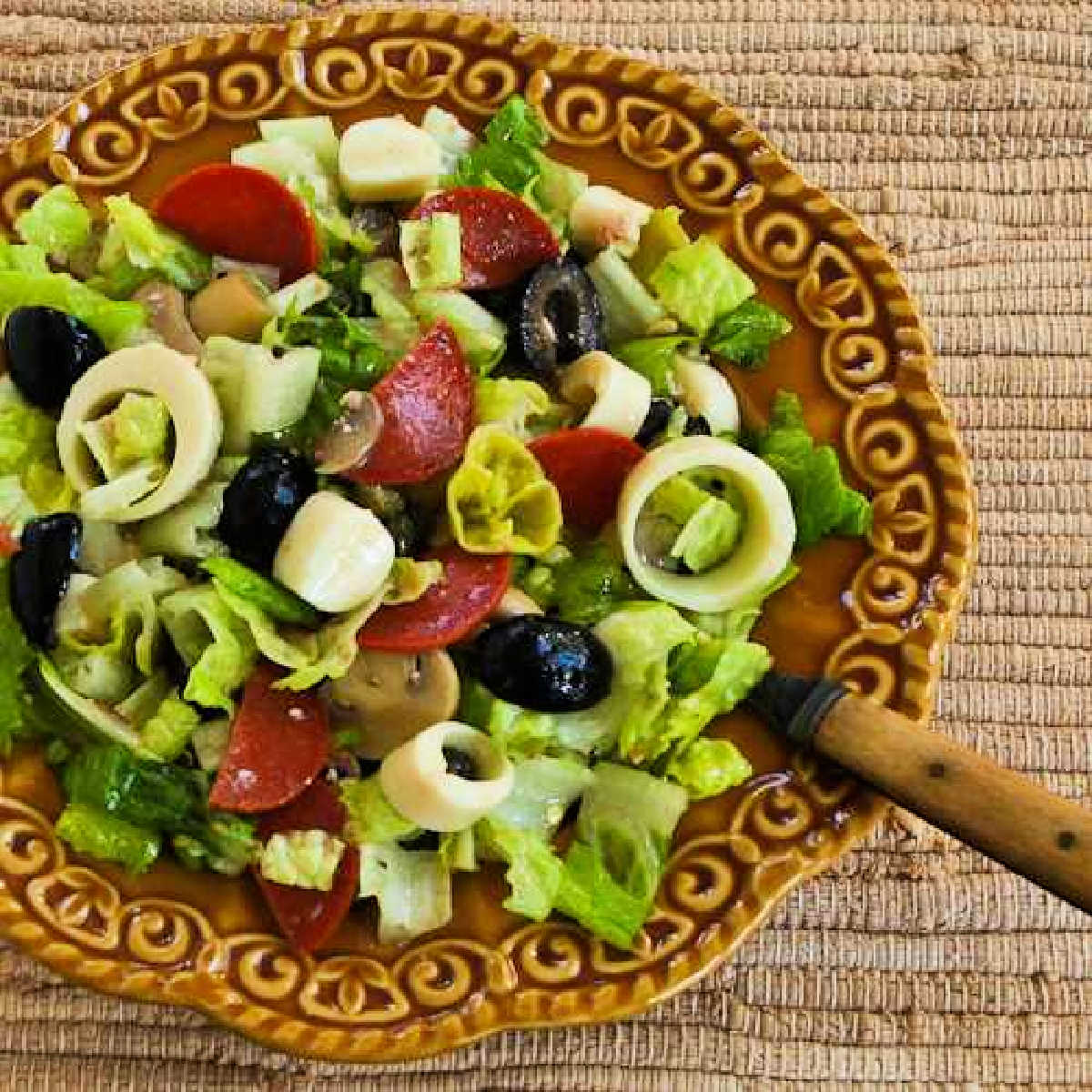 My favorite Antipasto Chopped Salad is on the menu today; doesn't that look good? This salad is like the kind of salad you might order in an Italian restaurant, loaded with tasty ingredients like olives, hearts of palm, pepperoni, marinated mushrooms, Peperoncini, slices of Mozzarella and capers.
Some people might look at all that's going on in this Antipasto Salad and decide to skip it because it will take too long to chop up all those ingredients. But truthfully, interesting salads like this can be easy to pull together once you master a few tricks for satisfying salads.
I'm giving you an antipasto salad template in this post but you can assemble your own salad from the antipasto ingredients you prefer. And don't miss my tips for prepping ingredients and suggestions for creating satisfying salads at home!
What ingredients do you need?
(This is only a list of ingredients; please scroll down for complete printable recipe. Or if you use the JUMP TO RECIPE link at the top of the page, it will take you directly to the complete recipe.)
What does Antipasto mean?
The word Antipasto refers to the first course of an Italian meal and acording to Wikipedia it includes things like "cured meats, olives, Peperoncini, mushrooms, anchovies, artichoke hearts, various cheeses, and pickled meats or vegetables in oil or vinegar."
Tips for Satisfying Salads at Home:
Always keep lettuce that's chopped or torn, washed, and ready to eat in the fridge. You can even seal prepped lettuce in jars with a FoodSaver Vacuum Sealer (affiliate link) but when I'm eating salad often I just keep it in a plastic container with a snap-tight lid.
When I'm prepping lettuce I do enough for at least 3-4 salads so that I'll always have prepared lettuce in the fridge.
For a satisfying salad it's important to have a dressing that's really flavorful, and tasty dressings with healthy oils like olive oil and not much sugar are abundant if check the label.
For my antipasto salads, I sometimes buy my favorite dressings from a couple of restaurants, but Newman's Own Olive Oil and Vinegar Dressing (affiliate link) is one low-sugar dressing I use often.
My main tip for making satisfying salads like this in a flash is to prep generous amounts of all the special ingredients each time you're doing it, so that it's easy to just pull the prepared ingredients out of the fridge and throw together a salad. All the things I use in this favorite salad will last in the fridge for more than a week, and I can eat this salad often without being tired of it.
Even if you only use a few of these things, your salad will be pretty tasty, and there are other things you could also use if I've missed some of your own favorite salad additions.
Prepping and assembling the Antipasto Chopped Salad:
Drain olives and cut all the olives in half. (I used regular black olives.)
Chop up a generous amount of pepperoni or salami. (Use turkey or regular pepperoni, your choice.)
I love hearts of palm in my salad. Drain and cut in half.
Marinated mushrooms are a splurge, but it only takes a small handful of them to really bump up the flavor in the salad.
I always have jars of Peperoncini in the fridge, and a small handful of sliced Peperoncini adds a lot of flavor.
I use string cheese sliced into little rounds for the cheese in my salad.
This photo shows how much of each ingredient I prep at once. I keep those in the fridge to make more salads another da
Lettuce is a personal choice, but I mostly use romaine lettuce, chopped or torn and washed in a salad spinner
And one ingredient I would never skip in a salad like this is capers, those briny little morsels that add so much flavor.
To make the salad, toss desired amount of lettuce with a couple of tablespoons of your favorite dressing.
Then toss in all the other ingredients of your choice and toss again.
I like a generous amount of freshly-ground black pepper on this Antipasto Chopped Salad, then serve right away
More Satisfying Low-Carb Green Salads from Kalyn:
Weekend Food Prep:
This recipe has been added to a category called Weekend Food Prep where you will find recipes you can prep or cook on the weekend and eat during the week!
Yield: Makes at least 4 salads
Antipasto Chopped Salad
This master recipe can show you how to make Antipasto Chopped Salad at home, using ingredients of your choice.
Ingredients
chopped romaine lettuce, washed and spun dry in a salad spinner
black olives, drained and cut in half
pepperoni or turkey pepperoni, cut in halves or quarters
hearts of palm, cut into slices
marinated mushrooms, cut into halves or quarters
peperoncini, stem cut off, drained, seeds removed, and cut into slices
string cheese, cut into small rounds
capers, 2-3 tsp. per salad
your favorite garlicky Italian dressing (see notes)
see notes for other ingredient options
Instructions
Chop several heads of romaine lettuce, then wash and spin dry in a salad spinner (or wash by hand and dry with paper towels or a clean kitchen towel.
Cut up the olives, pepperoni, hearts of palm, mushrooms, peperoncini, and string cheese as described above. (For the peperoncini, I cut the stem off with kitchen shears and put them in a colander to drain before I remove the seeds and cut them into strips, otherwise it's a rather juicy job!)
To make each salad, put desired amount of lettuce into a bowl that's big enough to toss ingredients.
Add salad dressing and toss until the lettuce is well-coated with dressing.
Add other ingredients as desired and toss again. (Please don't skip the capers, which I think are one of the best things about this salad.)
Season salad with a generous amount of freshly-ground black pepper and serve on individual serving plates.
Notes
Other Antipasto Ingredients You Could Use:
-roasted red peppers from a jar
-marinated asparagus
-green olives
-artichoke hearts
-roasted garlic
-chopped pickles
-thinly sliced smoked ham or turkey
-boiled eggs
I love Newman's Own Olive Oil and Vinegar Dressing for this salad.
It's not possible to calculate nutritional information for a recipe like this that doesn't give specific amounts, but all the ingredients here are in in carbs and Keto-Friendly.
Low-Carb Diet / Low-Glycemic Diet / South Beach Diet Suggestions:
This Antipasto Chopped Salad is suitable for any low-carb or Keto diet, and with the right choices on ingredients it can be adapted for any phase of the original South Beach Diet.
Find More Recipes Like This One:
Use Salad Recipes to find more recipes like this one. Use the Diet Type Index to find recipes suitable for a specific eating plan. You might also like to follow Kalyn's Kitchen on Pinterest, on Facebook, on Instagram, on TikTok, or on YouTube to see all the good recipes I'm sharing there.
Historical Notes for this Recipe:
This antipasto salad recipe was first posted in 2012. It was last updated with more information in 2023.
We are a participant in the Amazon Services LLC Associates Program, an affiliate advertising program designed to provide a means for us to earn fees by linking to Amazon.com and affiliated sites. As an Amazon Associate, I earn from qualifying purchases.