10 Minute Greek Yogurt Dessert
This amazing 10 Minute Greek Yogurt Dessert is easy when you don't have much time, and this is low enough in carbs to enjoy as a treat!
PIN 10 Minute Greek Yogurt Dessert to try it later!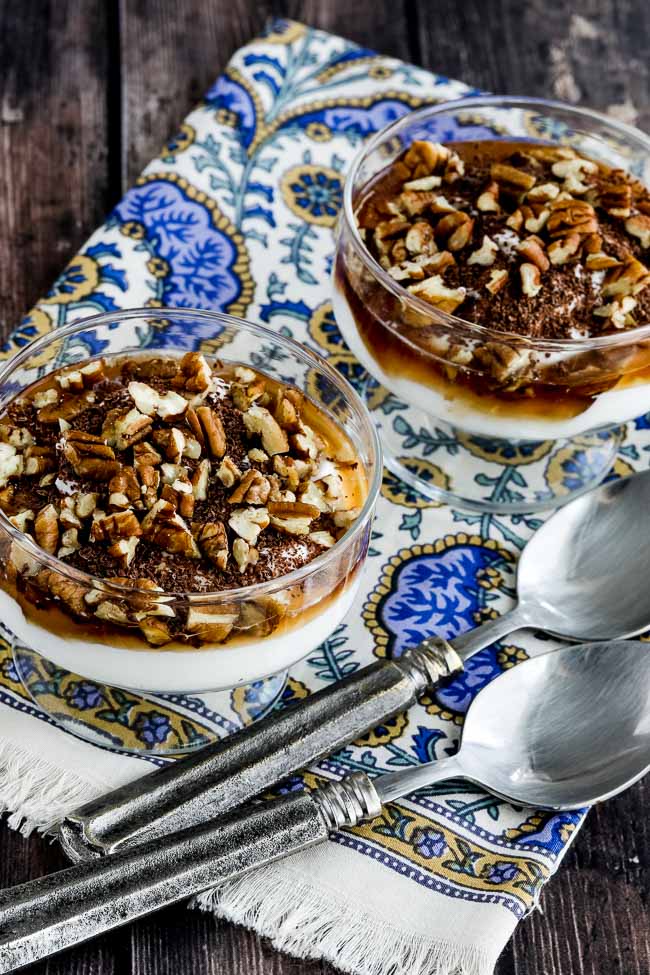 If you're looking for an easy dessert that's not much of a splurge on carbs, this 10 Minute Greek Yogurt Dessert is perfect for a special occasion! I originally made this with agave nectar, but now I make it with Sugar-Free Maple Syrup (affiliate link), which makes it so much lower in carbs!
This quick and easy Greek Yogurt Dessert is inspired the way Greek yogurt is often served in Greece, simply drizzled with a little honey and topped with a few chopped walnuts. I added some shaved dark chocolate, but that's definitely optional.
If you like the idea of a 10 minute dessert that tastes amazing and uses healthy Greek yogurt, I promise this is delicious! And not only does it taste amazing, this dessert is so simple to make you don't really need a recipe.
What ingredients do you need for this recipe?
What kind of Greek Yogurt should you use?
All yogurts labeled Greek Yogurt are definitely not the same. Look at the label and pick the one with the lowest number of carbs if you want to make this Greek Yogurt Dessert a low-carb treat.
Want more ideas for low-carb chocolate desserts?
For the real chocolate fans, I'm going to send you to visit The BEST Low-Carb Chocolate Desserts, where you can find even more low-carb ideas to help you get that chocolate fix!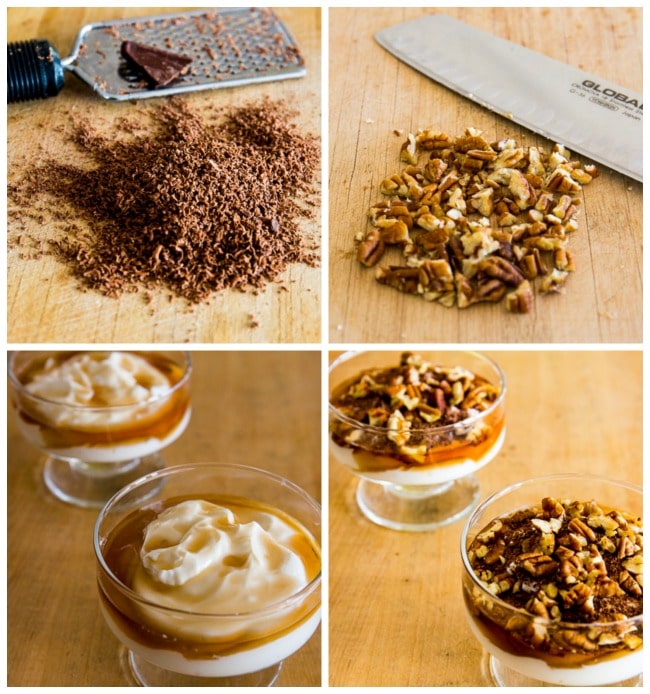 How to Make 10 Minute Greek Yogurt Dessert:
(Scroll down for complete printable recipe with nutritional information.)
It only took a small amount of dark chocolate to make enough shaved dark chocolate for two servings.
Coarsely chop the pecans if you're using them.
Put 5 oz. Greek Yogurt each into two parfait dishes and drizzle with Sugar-Free Maple Syrup (affiliate link).
Then sprinkle with the shaved dark chocolate and pecans and enjoy!
And if you've ever been to Greece and had Greek Yogurt with Honey and Walnuts, this is a spin-off from that classic Greek dessert!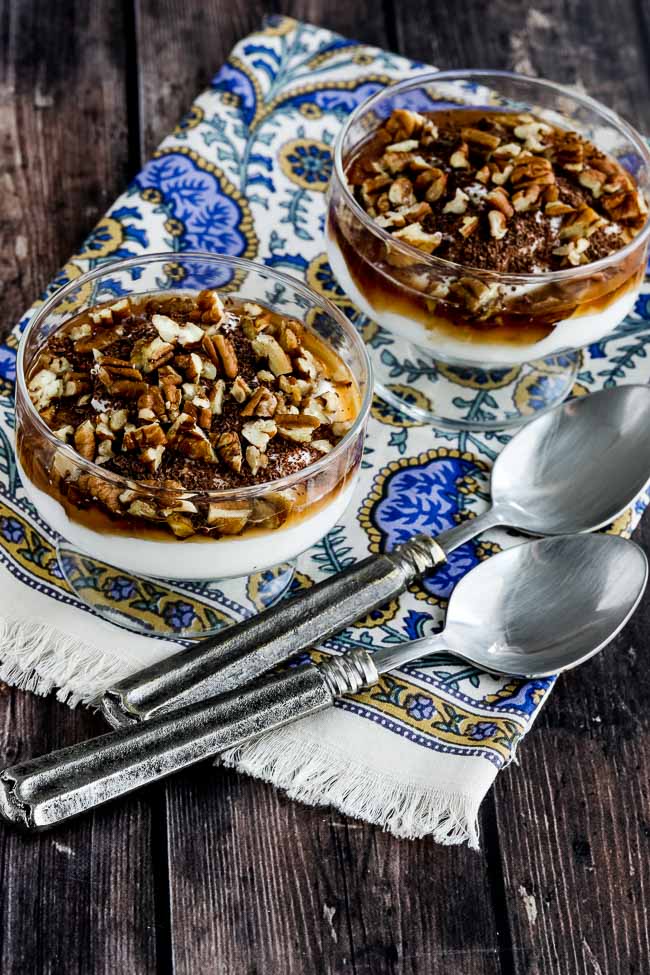 More Recipes with Greek Yogurt:
Low-Sugar Fresh Peach Frozen Yogurt
Low Sugar Strawberry Frozen Yogurt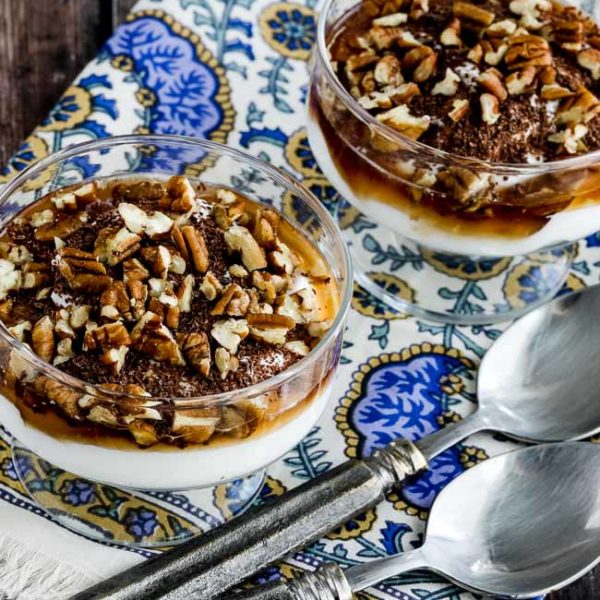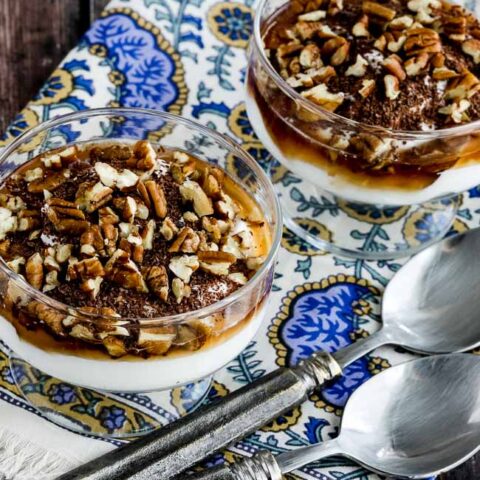 Yield: 2 servings
10 Minute Greek Yogurt Dessert
Prep Time 10 minutes
Total Time 10 minutes
This 10 Minute Greek Yogurt Dessert was inspired by a famous Greek dessert where plain Greek yogurt is drizzled with honey and sprinkled with walnuts.
Ingredients
10 oz. plain Greek yogurt
4 tsp. sugar-free maple syrup
4 tsp. shaved dark chocolate
2 T chopped pecans
Instructions
Use the fine side of a cheese grater to make the shaved dark chocolate.
Chop pecans if using.
Put Greek yogurt into two dessert dishes and drizzle with desired amount of sugar-free maple syrup.
Sprinkle with a few teaspoons of shaved dark chocolate and chopped pecans and serve!
Notes
Recipe developed by Kalyn with inspiration from Greek Yogurt with Honey and Walnuts that she had in Greece many years ago!
Nutrition Information:
Yield:
2
Serving Size:
1
Amount Per Serving:
Calories: 187
Total Fat: 8g
Saturated Fat: 2g
Trans Fat: 0g
Unsaturated Fat: 5g
Cholesterol: 8mg
Sodium: 74mg
Carbohydrates: 13g
Fiber: 1g
Sugar: 9g
Protein: 16g
Nutrition information is automatically calculated by the Recipe Plug-In I am using. I am not a nutritionist and cannot guarantee 100% accuracy, since many variables affect those calculations.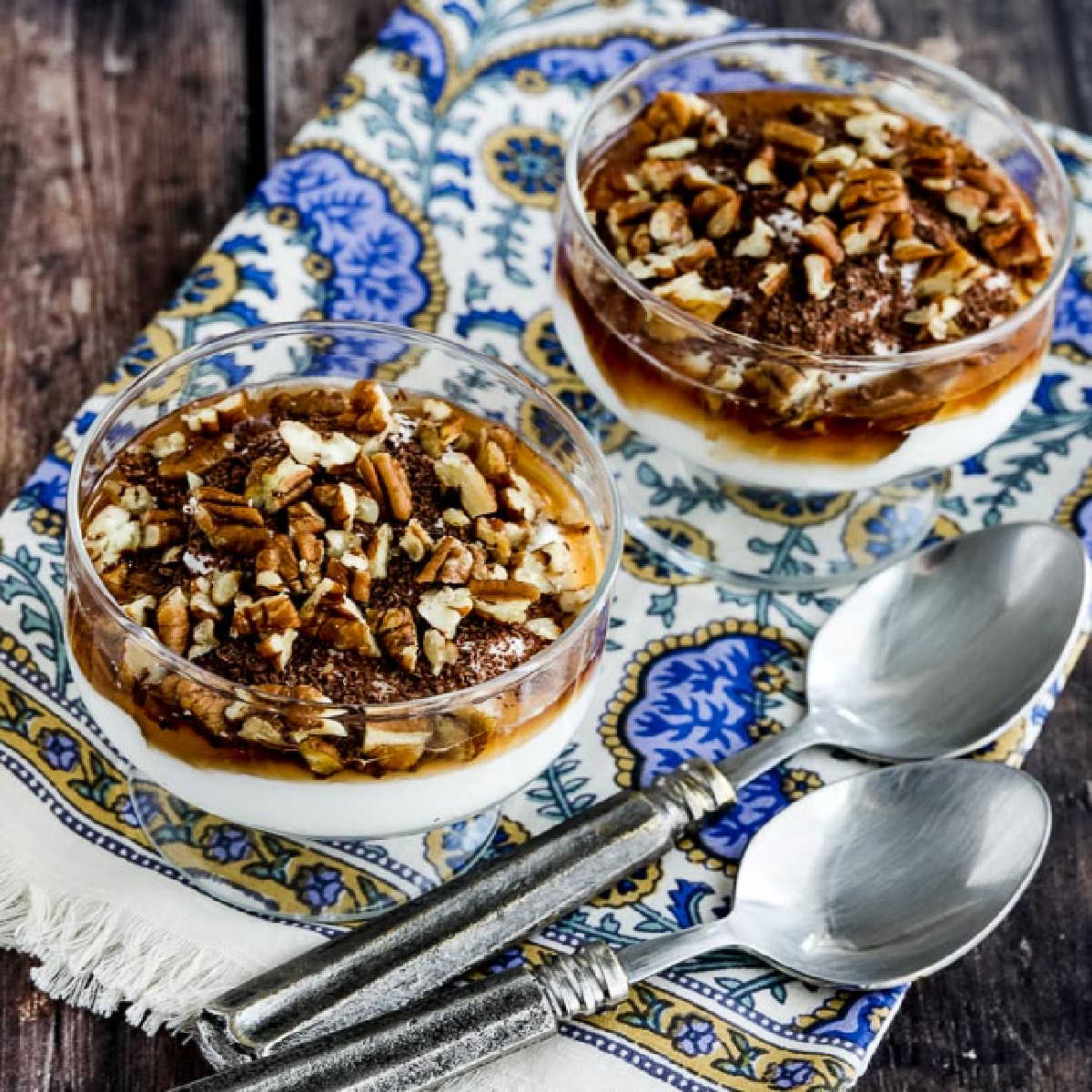 Low-Carb Diet / Low-Glycemic Diet / South Beach Diet Suggestions:
This 10 Minute Greek Yogurt Dessert is pretty low in carbs, so it would be great as a treat for the original South Beach Diet or any low-carb diet plan, although it might be something you'd save for a special treat if you're being really strict on carbs.
Find More Recipes Like This One:
Check out Desserts and Baking Recipes for more low-carb and carb-conscious dessert options. Use the Diet Type Index to find recipes suitable for a specific eating plan. You might also like to follow Kalyn's Kitchen on Pinterest, on Facebook, on Instagram, on TikTok, or on YouTube to see all the good recipes I'm sharing there.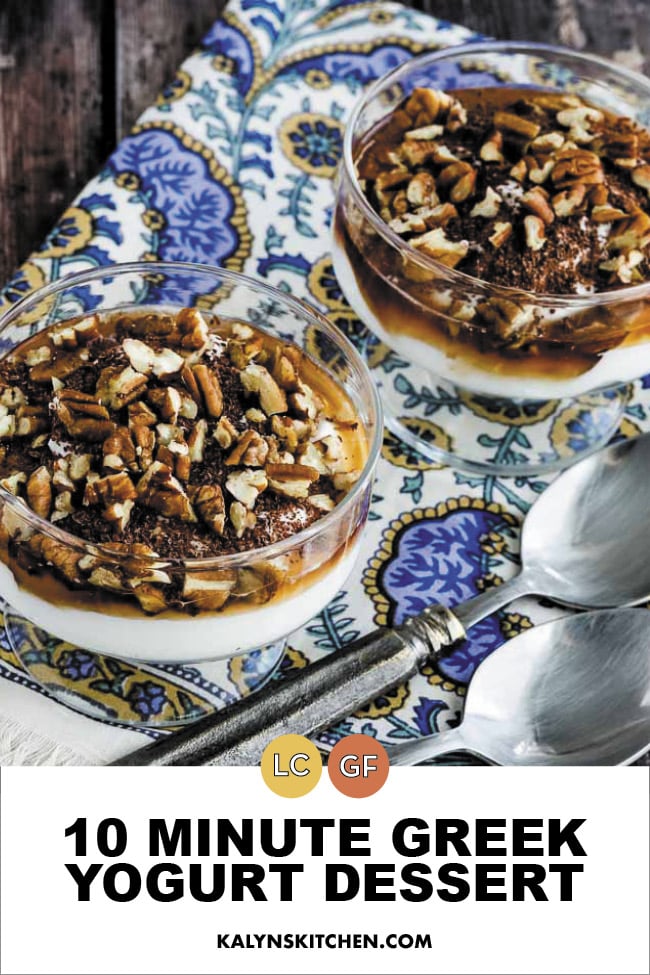 We are a participant in the Amazon Services LLC Associates Program, an affiliate advertising program designed to provide a means for us to earn fees by linking to Amazon.com and affiliated sites. As an Amazon Associate, I earn from qualifying purchases.