Stir-Fried Bok Choy
We loved this amazing Stir-Fried Bok Choy and this bok choy recipe is low in carbs and flavored with soy sauce and butter! And this vegetable side dish can easily be gluten-free if you use gluten-free Oyster Sauce and Gluten-Free Soy Sauce.
PIN Stir-Fried Bok Choy to make it later!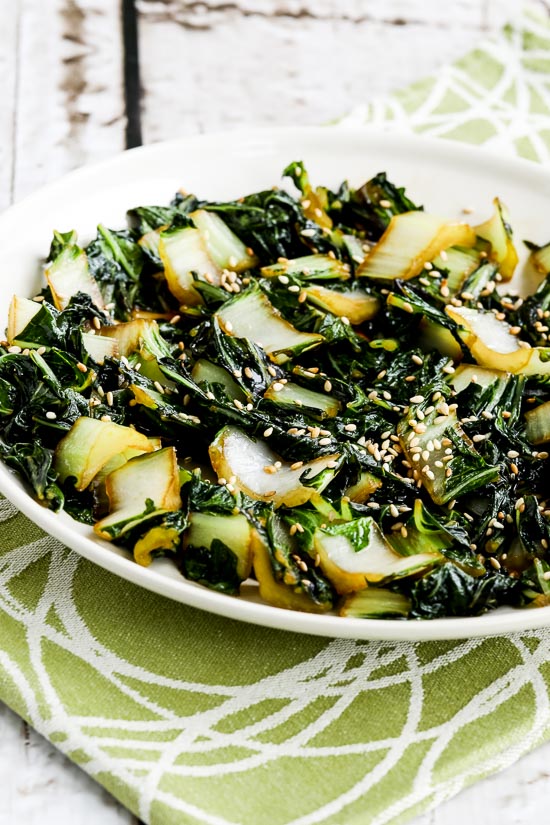 I know that Stir-Fried Bok Choy is going to be a tough sell with some of you. But it would be really sad if you never tried this tasty side dish, because when we made the recipe recently to take new photos, we absolutely inhaled it and then spent about 5 minutes talking about how good it was.
The Bok Choy is flavored with soy sauce and butter in a delightful way, and when we tested it we made this recipe, devoured it, and then wished we had more! Seriously, this was quick, easy, delicious, and really very healthy with only a small amount of butter.
And most of the ingredients here except the Bok Choy are things you'll already have on hand. And as I said, Jake and I wished we had made more, so go ahead and double the recipe if you'd like!
What ingredients do you need?
What is Bok Choy?
Bok Choy is a type of leafy green vegetable that's also called Chinese Cabbage, Pak Choi, or Pok Choi. It's used a lot in Chinese cooking and has a pleasant mild flavor that's somewhat similar to cabbage.
Want Tips for Stir-Fry cooking?
You may want to read my Tips for Stir-Fry Cooking before you make this, although seriously this recipe is about as easy as you could imagine.
How can you make Stir-Fried Bok Choy gluten-free or vegetarian?
You'll want to look for Gluten-Free Oyster Sauce (affiliate link) and Gluten-Free Soy Sauce (affiliate link) if you need this recipe to be gluten-free, and if you're a vegetarian you could substitute a vegetarian stir-fry sauce for the Oyster Sauce.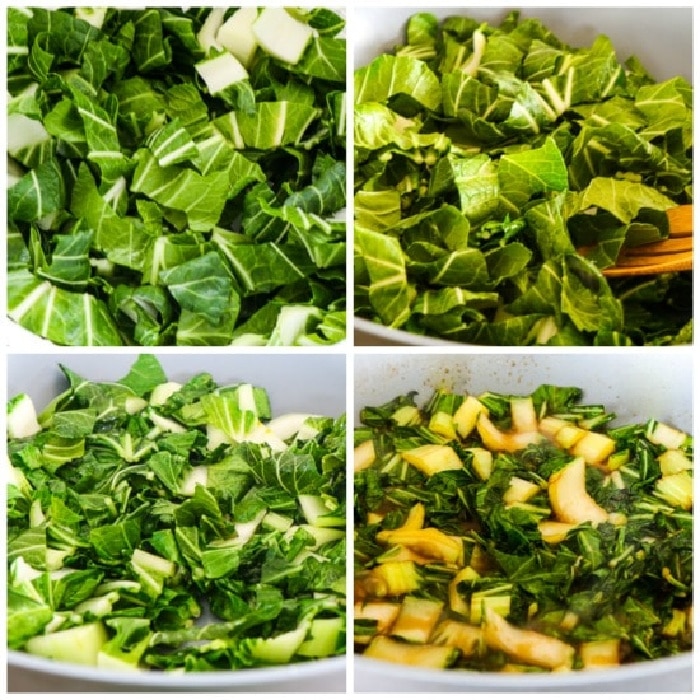 How to make Stir-Fried Bok Choy:
(This is just a summary; scroll down for complete printable recipe with nutritional information.)
Mix the water, soy sauce, sesame oil, and Oyster Sauce.
Chop the bok choy into smallish pieces (and wash in salad spinner and spin dry if it needs it.)
Heat the wok or frying pan until it's very hot.
Then add the peanut oil and let it heat about 30 seconds.
Add the bok choy and stir-fry about 2 minutes.
Then add the soy sauce mixture and the butter and cook about 1-2 minutes more.
That's it! Sprinkle with toasted sesame seeds and serve hot!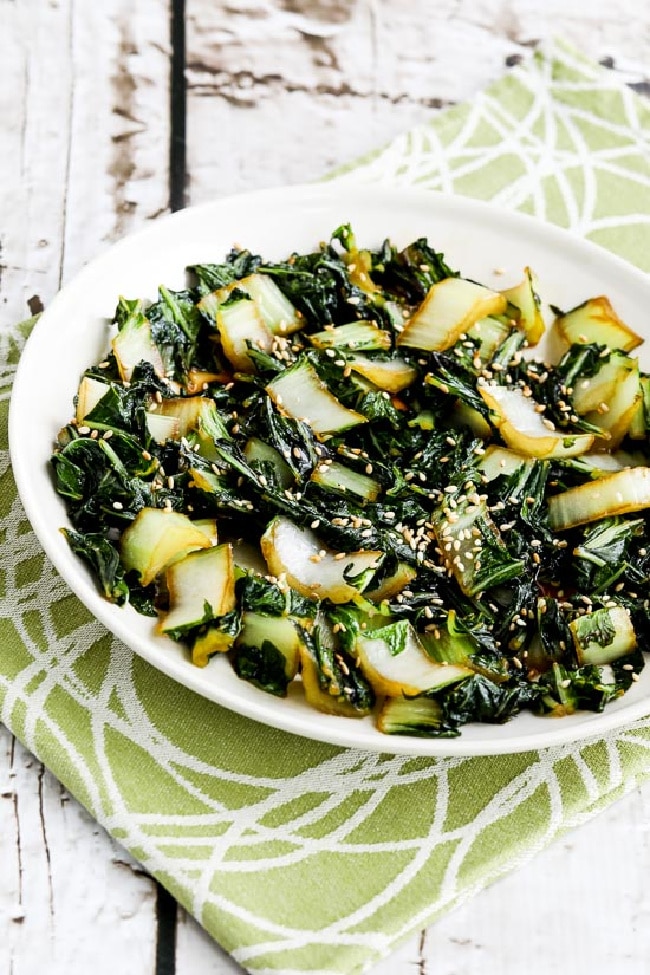 More Stir-Fried Vegetable Recipes!
Garlic-Lover's Vegetable Stir-Fry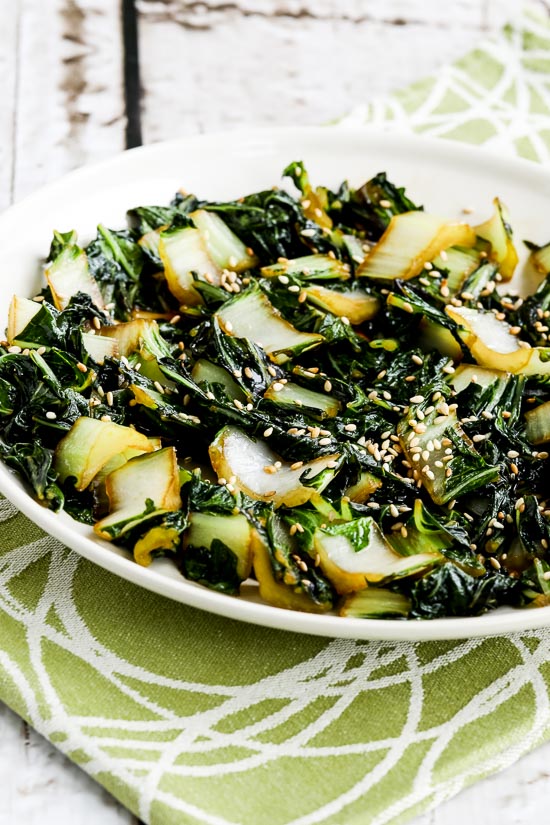 Yield: 4 servings
Stir-Fried Bok Choy
Prep Time 10 minutes
Cook Time 5 minutes
Total Time 15 minutes
This Stir-Fried Bok Choy that's flavored with soy sauce and butter was so tasty we couldn't stop talking about how good it was!
Ingredients
2 T water
2 tsp. soy sauce (see notes)
1 tsp. sesame oil
1 T oyster sauce (see notes)
1 T vegetable oil (see notes)
2 heads head Bok Choy, ends trimmed and cut crosswise into strips and washed if needed
1/2 tsp. salt (optional)
1 T butter
toasted sesame seeds for garnish, optional but recommended
Instructions
Combine water, soy sauce, sesame oil, and oyster sauce and set aside.
Heat wok or heavy frying pan until very hot, about 1-2 minutes, then add oil and heat about 30 seconds more.
Add bok choy and salt and stir-fry for 2 minutes.
Add soy sauce mixture and butter and stir fry 1-2 minutes more, until bok choy is still slightly crisp, but getting tender.
Serve hot, sprinkled with toasted sesame seeds if desired.
Nutrition Information:
Yield:
4
Serving Size:
1
Amount Per Serving:
Calories: 119
Total Fat: 11g
Saturated Fat: 3g
Unsaturated Fat: 8g
Cholesterol: 8mg
Sodium: 612mg
Carbohydrates: 4g
Fiber: 2g
Sugar: 1g
Protein: 3g
Nutrition information is automatically calculated by the Recipe Plug-In I am using. I am not a nutritionist and cannot guarantee 100% accuracy, since many variables affect those calculations.
Low-Carb Diet / Low-Glycemic Diet / South Beach Diet Suggestions:
Oyster sauce has some carbs, but the amount per serving is very small and I'd consider this recipe for Stir-Fried Bok Choy to be suitable for low-carb diet plans, even Keto. I'd also eat it for any phase of the original South Beach Diet, despite the small amount of butter (which isn't recommended for South Beach.)
Find More Recipes Like This One:
Use Stir-Fry Recipes to find more recipes like this one. Use the Diet Type Index to find recipes suitable for a specific eating plan. You might also like to follow Kalyn's Kitchen on Pinterest, on Facebook, on Instagram, or on YouTube to see all the good recipes I'm sharing there.
Historical Notes for this Recipe:
This recipe was updated with new photos in 2017 and last updated with more information in 2022.
We are a participant in the Amazon Services LLC Associates Program, an affiliate advertising program designed to provide a means for us to earn fees by linking to Amazon.com and affiliated sites. As an Amazon Associate, I earn from qualifying purchases.