Garlic Scape Pesto with Chard
Garlic Scape Pesto with Chard is a delicious combination of ingredients, without the too-garlicky flavor that garlic scape pesto can sometimes have!
PIN Garlic Scape Pesto with Chard to try it later!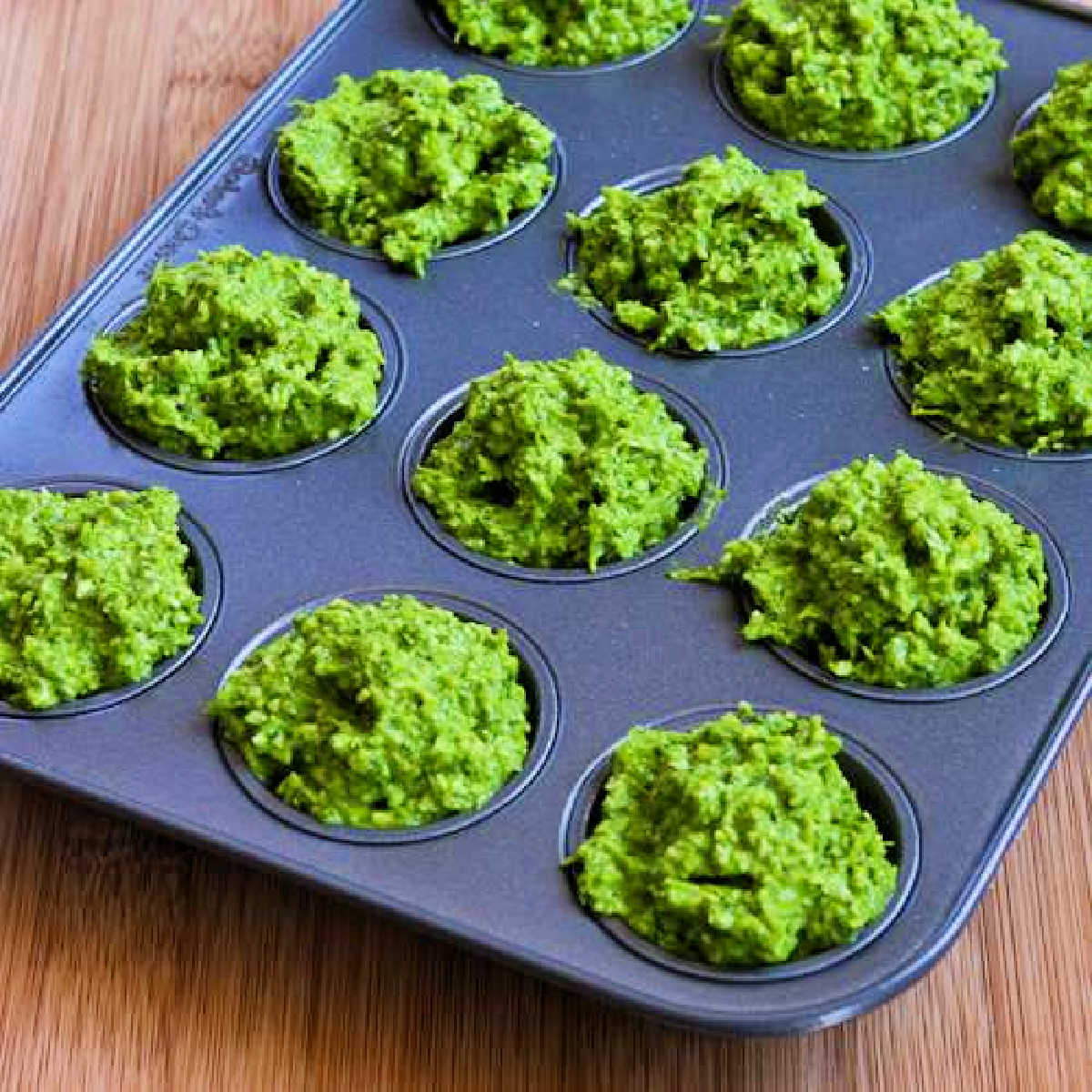 Years ago I discovered garlic scapes and made some Garlic Scape Pesto. I liked the pesto I made with garlic scapes well enough, but they're such a strongly-flavored ingredient that this year when my friend Margarethe gave me some garlic scapes that she'd gotten in her CSA box, I thought it would be fun to try combining them in pesto with something else.
I first thought of kale, but when I went out into the garden the chard was calling out to me, and I thought this Garlic Scape Pesto with Chard was a perfect combination. I like it on pasta, but I've also been mixing a few tablespoons into scrambled eggs when they're nearly cooked and it would also be delicious mixed into soup. If you don't have garlic scapes, I'd still try chard pesto made with minced garlic, which I think would also be a nice blend of flavors.
What ingredients do you need for this recipe?
garlic scapes
Swiss Chard leaves
fresh-squeezed lemon juice
olive oil
pine nuts
Parmesan cheese
salt to taste
What are Garlic Scapes?
Garlic Scapes are long green shoots that grow out of the top or hardneck garlic, and they're a delicacy that shows up in the spring.
Want more ideas with Pesto?
Basil Pesto with Lemon will always be my favorite pesto recipe, but when I don't have much basil yet I'll make Spinach and Basil Pesto or Kale and Basil Pesto. And if you don't have fresh basil I'm also a fan of Kirkland Basil Pesto from Costco. I've also got a good collection of Low-Carb and Keto Recipes with Pesto on this site.
Ideas for using the Garlic Scape Pesto with Chard:
This pesto is good on pasta, stirred into rice, on cooked vegetables, stirred into scrambled eggs or added to soup. And check out my Salute to Swiss Chard for more Swiss Chard ideas!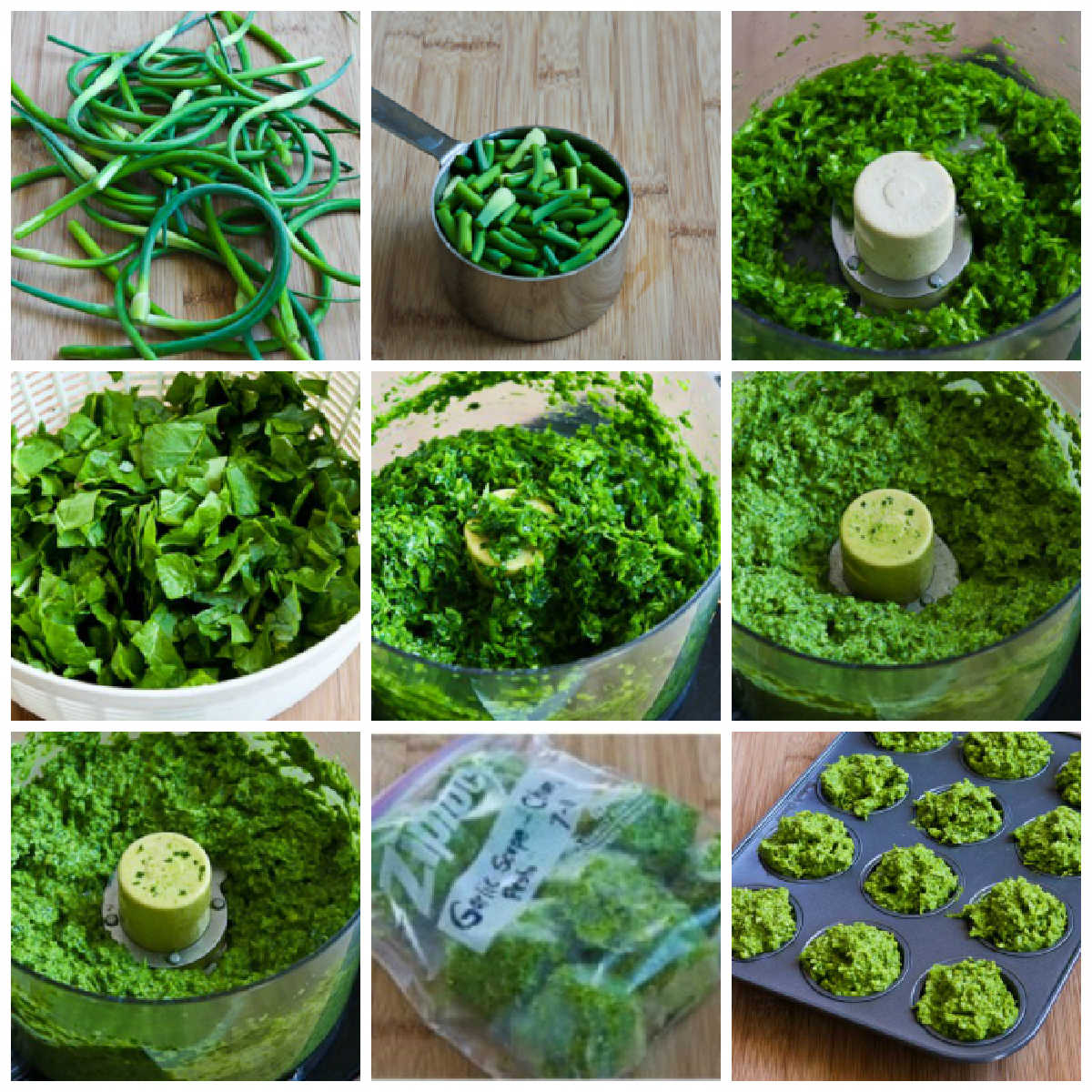 How to Make Garlic Scape Pesto with Chard
If you're not familiar with garlic scapes, the first photo shows what they look like.
I used a cup of chopped garlic scapes. I wanted them cut into short lengths before I put them in the food processor.
It took 2-3 minutes in the food processor before I felt the scapes were chopped enough to start adding other things.
The chard was from my garden, so I chopped it up and gave it a good wash in the salad spinner.
I processed the scapes/chard about 2 minutes more.
Then I added the lemon juice, pine nuts, and olive oil and processed about 2 minutes more.
Last I added the Parmesan cheese and processed about another minute.
I froze the pesto in a mini muffin tin, and then when it was frozen I transferred the cubes to a Ziploc bag.
Have fun thinking of interesting ways to use your Chard and Garlic Scape Pesto!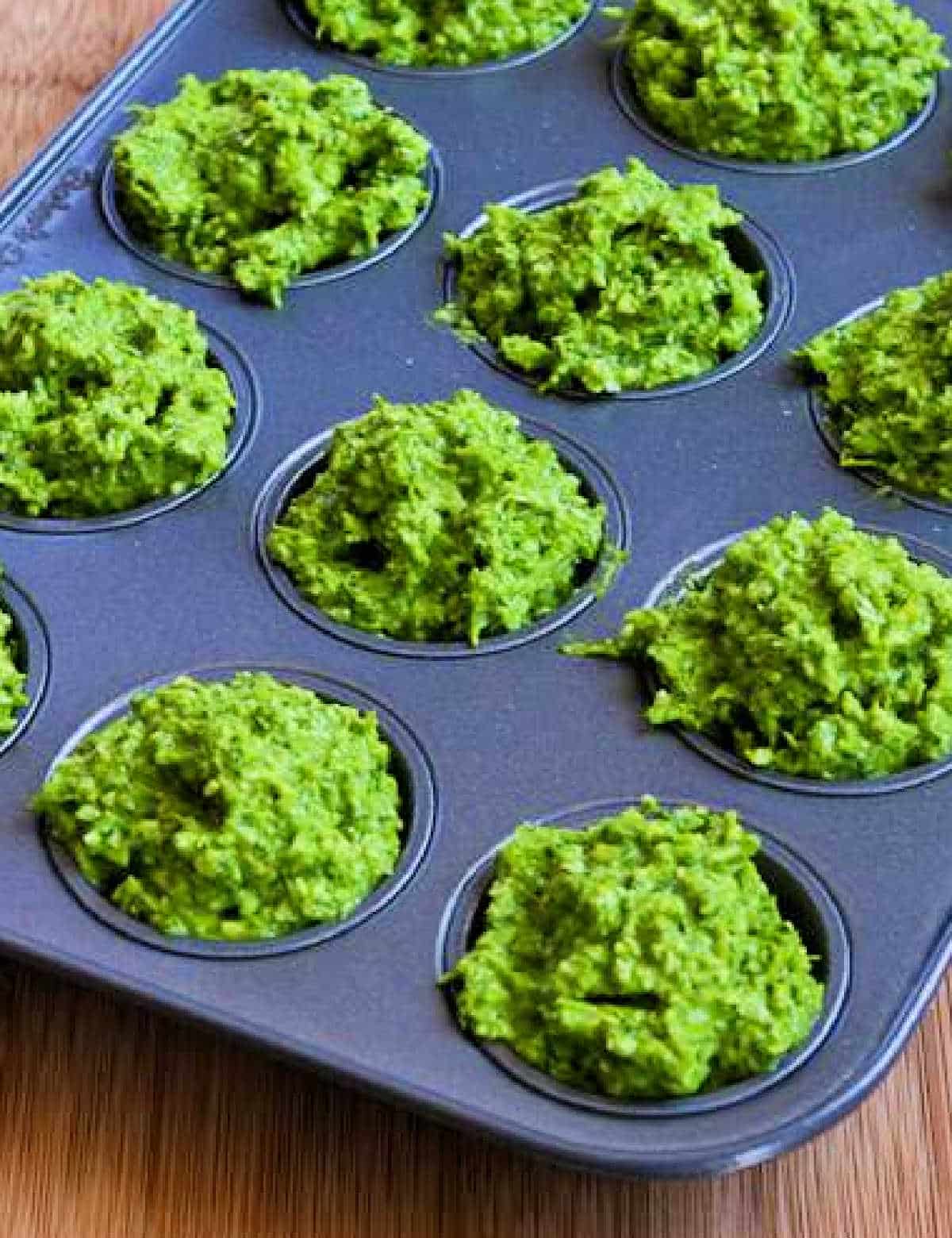 More Recipes for Garlic Scapes:
7 Things to do with Garlic Scapes ~ Serious Eats
Pickled Garlic Scapes ~ Foodie with Family
Pickled Cukes and Garlic Scapes ~ Healthy Green Kitchen
Scrambled Eggs with Oyster Mushrooms and Garlic Scapes ~ Barefeet in the Kitchen
Brie and Garlic Scape Pizza ~ Love and Olive Oil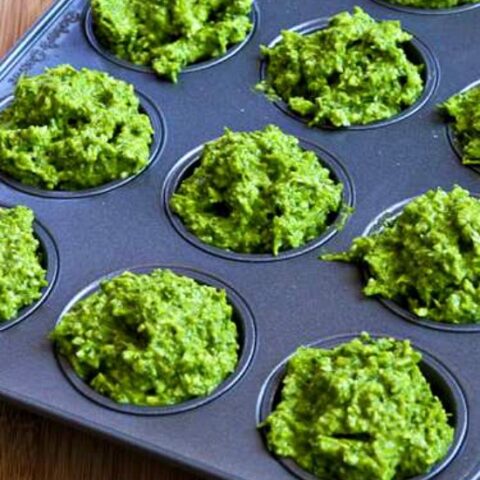 Yield: 12 servings
Garlic Scape Pesto with Chard 
Prep Time 20 minutes
Total Time 20 minutes
Garlic Scape Pesto with Chard is not too-garlicky, and it's a delicious combination of ingredients.
Ingredients
1 cup chopped garlic scapes
4 cups chopped Swiss Chard leaves
1/4 cup fresh lemon juice
1/2 cup olive oil
1/2 cup pine nuts
2 cups Parmesan cheese
salt to taste (I used about 2 tsp. salt)
Instructions
Wash and dry garlic scapes; then cut into short lengths until you have one cup of chopped scapes.
Wash, dry, and chop Swiss Chard until you have 4 cups chopped chard.
Add garlic scapes to the food processor and process until they are starting to look finely chopped, about 2-3 minutes. (It took longer than I thought it would.)
Add chard and process the mixture about 2 minutes more, scraping the sides of the bowl as needed.
Add the lemon juice, olive oil, and pine nuts and process about 2 minutes more.
Add Parmesan and process 1-2 minutes more, or until the pesto reaches the texture you prefer.
I like to keep it slightly chunky.
I froze the pesto in a mini muffin tin and then popped out the cubes and stored them in a Ziploc bag in the freezer. You can also freeze pesto in ice cube trays or small plastic containers with a snap-tight lid.
This pesto is good on pasta, stirred into rice, on cooked vegetables, stirred into scrambled eggs or added to soup. You could also use it as a green sauce on grilled fish or chicken.
Notes
To make this recipe you will need a food processor. There are many good brands, but I love my Cuisinart Food Processor. (affiliate link)
Nutritional information is calculated on 1/4 cup serving size.
Recipe created by Kalyn.
Nutrition Information:
Yield:
12
Serving Size:
1
Amount Per Serving:
Calories: 217
Total Fat: 18g
Saturated Fat: 4g
Trans Fat: 0g
Unsaturated Fat: 12g
Cholesterol: 14mg
Sodium: 456mg
Carbohydrates: 10g
Fiber: 2g
Sugar: 1g
Protein: 7g
Nutrition information is automatically calculated by the Recipe Plug-In I am using. I am not a nutritionist and cannot guarantee 100% accuracy, since many variables affect those calculations.
Low-Carb Diet / Low-Glycemic Diet / South Beach Suggestions:
Pesto is a calorie-dense and high-fat food due to the cheese, but it's not something you'd eat in huge amounts and I would eat this for any type of low-carb or low-glycemic diet and probably for any phase of the original South Beach Diet. Try it over grilled veggies, grilled chicken, or grilled fish for a low-carb meal.
Find More Recipes Like This One:
Use the Sauces Index to find more recipes like this one! Use the Diet Type Index to find recipes suitable for a specific eating plan. You might also like to follow Kalyn's Kitchen on Pinterest, on Facebook, on Instagram, or on YouTube to see all the good recipes I'm sharing there.
We are a participant in the Amazon Services LLC Associates Program, an affiliate advertising program designed to provide a means for us to earn fees by linking to Amazon.com and affiliated sites. As an Amazon Associate, I earn from qualifying purchases.