Power Greens Salad with Blueberries
Power Greens Salad with Blueberries is full of SuperFoods, and this delicious salad is vegan, gluten-free and actually not that high in carbs!
PIN the salad to make it later!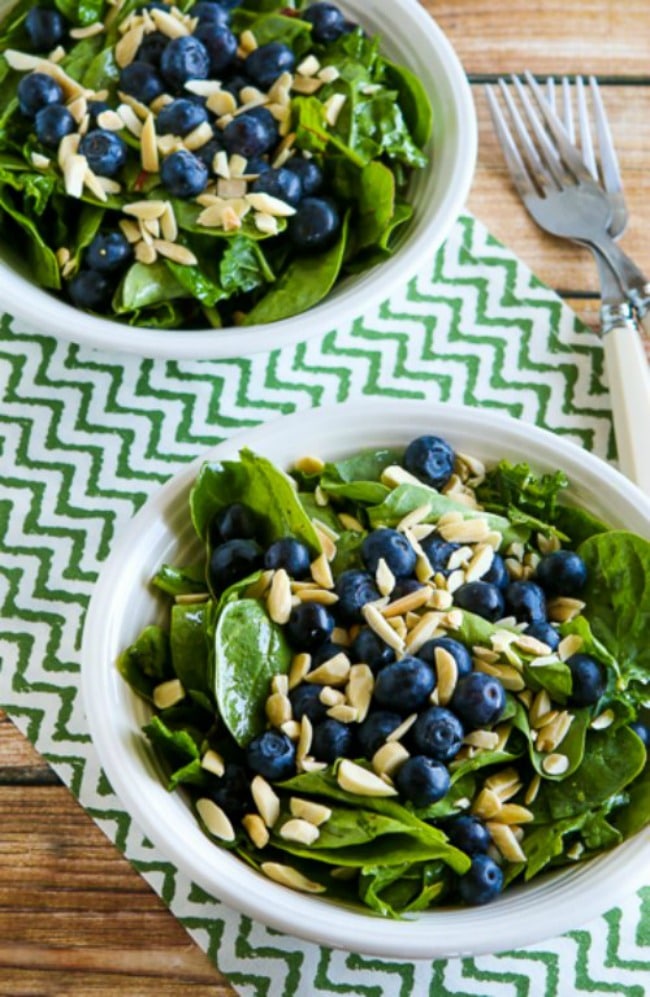 It's Father's Day weekend in the U.S., and all day today I'll be thinking about my amazing father, and wishing I could spend a few hours with him. My dad was a loving and intelligent guy who liked music, reading, Kentucky Fried Chicken, tartar sauce, and any dish that had shrimp in it, and if he was still here there's no doubt I'd be making his favorite Shrimp and Macaroni Salad today.
I don't think anything can prepare you for the loss you feel when both your parents are gone, but I'm still grateful for holidays like today and how they remind me of what amazing parents I had. If you're lucky enough to be spending the day with your dad, I hope you have a wonderful time.
My dad wasn't ever a health-conscious eater like my mom, but towards the end of his life he started to surprise me with some of the things he would eat. Still I think this Power Greens Salad with Blueberries might be a stretch for him! The salad was inspired by a "power greens" mix of baby kale, spinach, and chard that I've been finding at Costco, and lately I am loving everything I make with this mix.
Besides those healthy greens, this salad has blueberries, almonds, and a dressing made with lemon juice, lemon zest, mustard, olive oil, salt, and pepper. I made this while three of my nieces were doing the Whole 30 challenge and every ingredient here is Whole 30/Paleo approved. And for anyone who's trying to eat more nutritious SuperFoods, this salad is a delicious way to do it.
What ingredients do you need for this recipe?
Power Greens mix of baby kale, spinach, and chard (or any mix of greens of your choice)
fresh blueberries
slivered almonds
lemon (zested and squeezed to get lemon zest and lemon juice)
extra-virgin olive oil
mustard
salt and fresh-ground black pepper to taste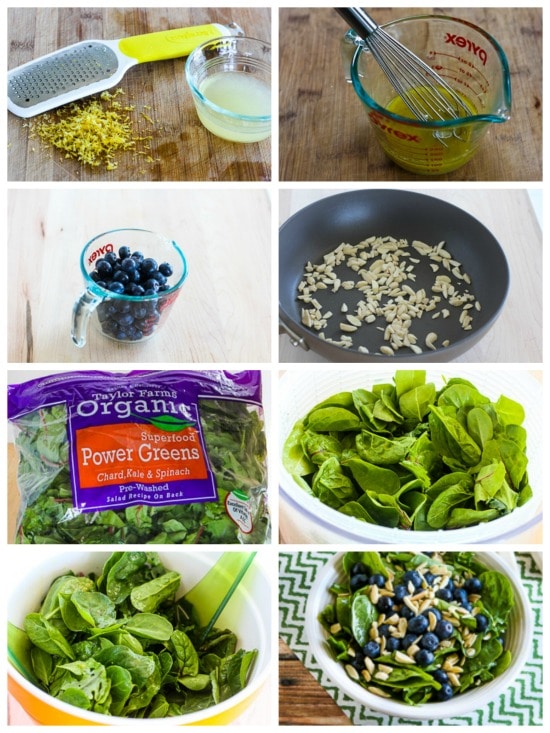 How to make this salad:
(Scroll down for complete recipe with nutritional information.)
Zest about 1 teaspoon of zest from a large lemon and squeeze the juice.
Whisk all the ingredients together to make the dressing.
I used 1 cup of blueberries for 2 large salads. Most blueberries don't need to be washed, but pick them over and discard any that are getting soft.
Toast almonds in a dry frying pan, just until they are showing the tiniest hint of color.
This is the brand of Power Greens I've been finding at my Costco, but if you google "power greens" you will see that there are many companies making a blend of these three greens.
I used about 5 oz. of greens, which I soaked in cold water for a minute in the salad spinner to crisp the greens.
Spin the greens until they're very dry; then put them in a large bowl and toss with enough dressing to moisten.
Then put half the dressed greens in a bowl and top each with half the blueberries and half the almonds. Enjoy!
If you want to make more than 2 salads you can double or triple the recipe, but don't make more than you'll eat at one time because this doesn't keep all that well.
Delicious Salads with Greens and Fruit:
Arugula, Grape Salad with Manchego and Almonds ~ Kalyn's Kitchen
Blueberry and Apple Salad with Parmesan ~ Foodness Gracious
Strawberry Spinach Salad ~ Kalyn's Kitchen
Apple-Blueberry Salad with Apricot Vinaigrette ~ Cafe Johnsonia
Baby Kale Salad with Apples ~ Kalyn's Kitchen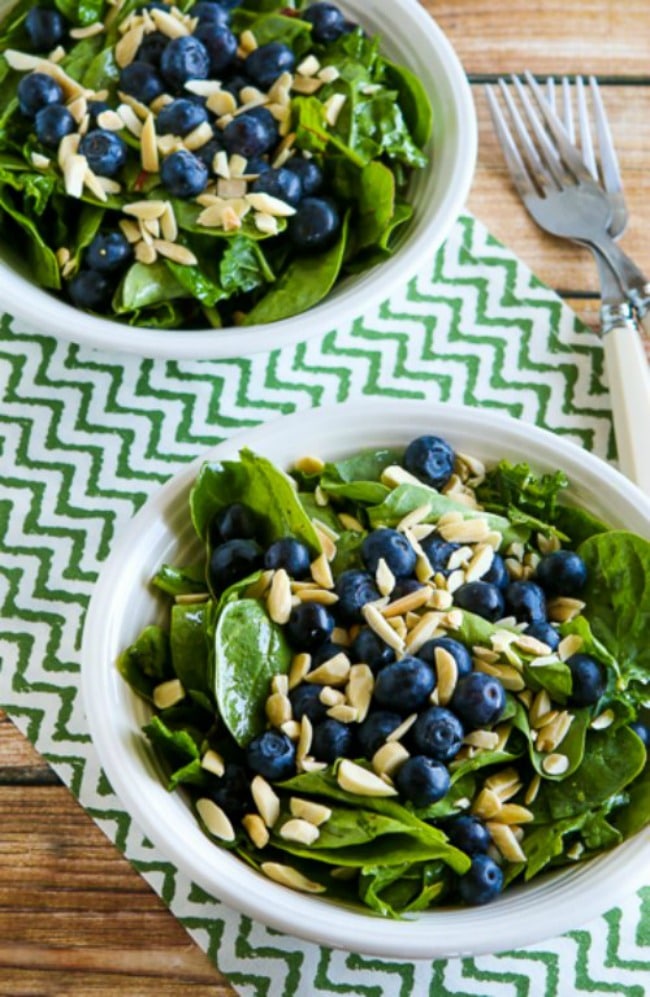 Yield: 2 servings
Power Greens Salad with Blueberries
Prep Time 15 minutes
Total Time 15 minutes
Power Greens Salad with Blueberries will help you eat your SuperFoods, this healthy salad is also delicious!
Ingredients
Ingredients:
5 oz. Power Greens mix of baby kale, spinach, and chard (or any mix of greens of your choice)
1 cup fresh blueberries
1/4 cup slivered almonds, toasted
Dressing Ingredients:
1 large lemon (zested and squeezed to get 1 tsp. lemon zest and 2 T lemon juice)
3 T extra-virgin olive oil
1/4 tsp. mustard (choose mustard without added sugar for Whole 30/Paleo diet)
salt and fresh-ground black pepper to taste
Instructions
Put greens in a salad spinner and soak in very cold water for 5 minutes to crisp the greens. (If your greens are really fresh, they may not need this.)
While greens soak, measure 1 cup blueberries, picking them over to remove any soft ones.
Zest the lemon and then squeeze the juice to get 1 tsp. zest and 2 T juice; then whisk together the lemon zest, lemon juice, olive oil, mustard, salt, and pepper to make the dressing.
Toast the almonds in a dry pan over high heat until they barely start to get some color (only a minute or so.)
Spin the greens until they're very dry or pat dry with paper towels.
Put greens into a salad bowl and toss with desired amount of dressing, until the greens are as moist as you prefer.
Divide greens between two salad bowls and toss each with half the blueberries and half the almonds.
Serve right away.
Notes
Recipe created by Kalyn and inspired by Power Greens mix from Costco and a desire to eat more SuperFoods!
Nutrition Information:
Yield:
2
Serving Size:
1
Amount Per Serving:
Calories: 323
Total Fat: 27g
Saturated Fat: 3.3g
Trans Fat: 0g
Unsaturated Fat: 22.9g
Cholesterol: 0mg
Sodium: 310mg
Carbohydrates: 20g
Fiber: 6.9g
Sugar: 8.6g
Protein: 5.4g
Nutrition information is automatically calculated by the Recipe Plug-In I am using. I am not a nutritionist and cannot guarantee 100% accuracy, since many variables affect those calculations.
Low-Carb Diet / Low-Glycemic Diet / South Beach Diet Suggestions:
This nutritious salad would be approved for phase 2 or 3 of the original South Beach Diet. Of course blueberries have some carbs, but they're lower in carbs than most fruits and do have some fiber, so check the nutritional information to see if this is low enough in carbs for your eating plan.
Find More Recipes Like This One:
Use the Salads Index to find more recipes like this one.Use the Diet Type photo index pages to find more recipes suitable for a specific eating plan. You might also like to Follow Kalyn's Kitchen on Pinterest to see all the good recipes I'm sharing there.
Historical Notes for this Recipe:
This recipe was first posted in 2014. It was last updated in 2021.
We are a participant in the Amazon Services LLC Associates Program, an affiliate advertising program designed to provide a means for us to earn fees by linking to Amazon.com and affiliated sites. As an Amazon Associate, I earn from qualifying purchases.