Kalyn's Kitchen Turns 11 while I'm in Thailand, so Here are 11 Favorite Recipes with Thai Flavors!
While I am traveling around Thailand with some friends, Kalyn's Kitchen is turning eleven years old! I don't know how that happened so quickly, but here are 11 favorite recipes with Thai flavors!
Birthday Candles image fromiamqurat.com.
It feels like I say this every single year, but truthfully when I wrote my first silly post on Kalyn's Kitchen I had no idea how this blog would change my life! And last year I talked about some of those ways blogging has enriched my life for the ten year anniversary of the site.
Now Kalyn's Kitchen is turning 11 years old, and I'm missing the party! I've been off traveling in Thailand with some good friends but I wanted to do something to celebrate the birthday with you. So in the frantic last-minute rush of packing for a two-week trip to a foreign country, I managed to collect 10 Favorite Recipes with Thai Flavors that I've shared on this blog and schedule this post for the big day!
For sure my recipes aren't authentically Thai, but most of them do use at least some Thai ingredients, and hopefully they give you some idea of why I'm so excited to taste the food in Thailand. And while I'm there I'll be watching and taking notes to see if I can find some healthy Thai dishes to share when I get home. Meanwhile, hope you enjoy trying some of these faves if you like Thai food!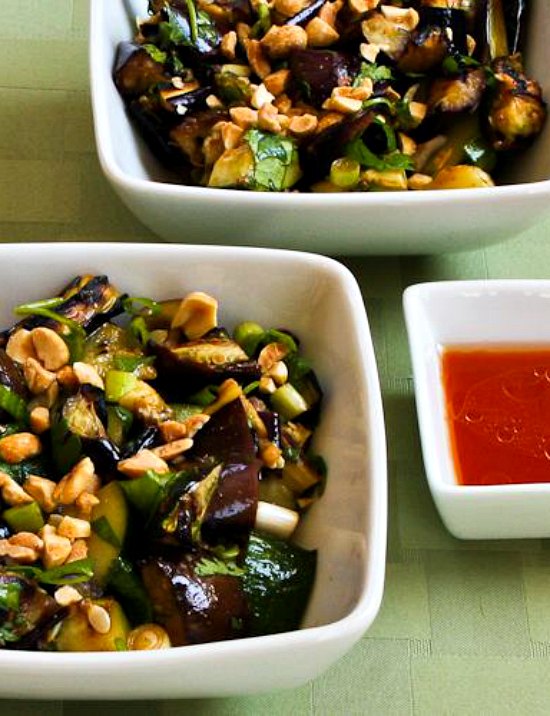 Thai Eggplant and Zucchini Salad is a fun idea for something new to do with zucchini!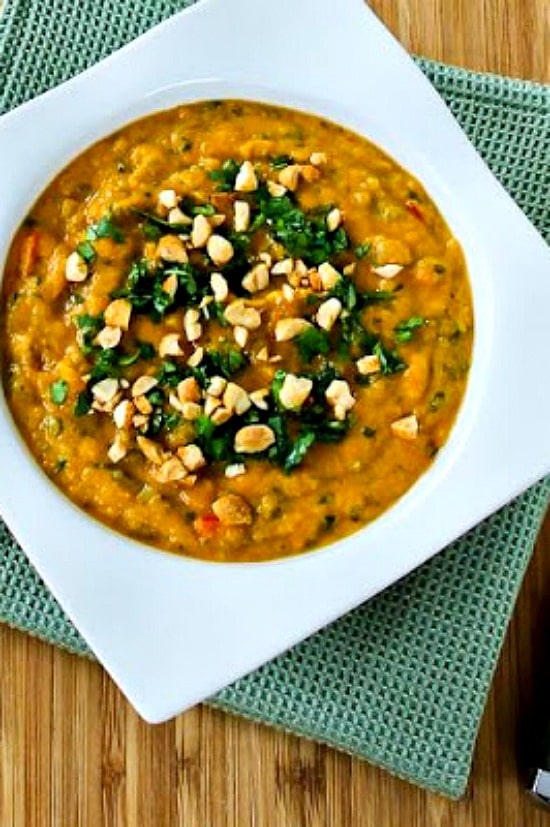 I'm not even sure they actually have butternut squash in Thailand, but this Slow Cooker Thai-Inspired Butternut Squash and Peanut Soup has a lot of Thai flavors.
This Thai-Inspired Ground Turkey Stir-Fry has been a big hit on the site.
This Thai Cabbage Salad is so good, I'd even make it in the winter when (gasp!) I have to buy mint at the grocery store!
Chicken with Peanut Sauce has been pinned over 70K times, and I've made this many times for guests.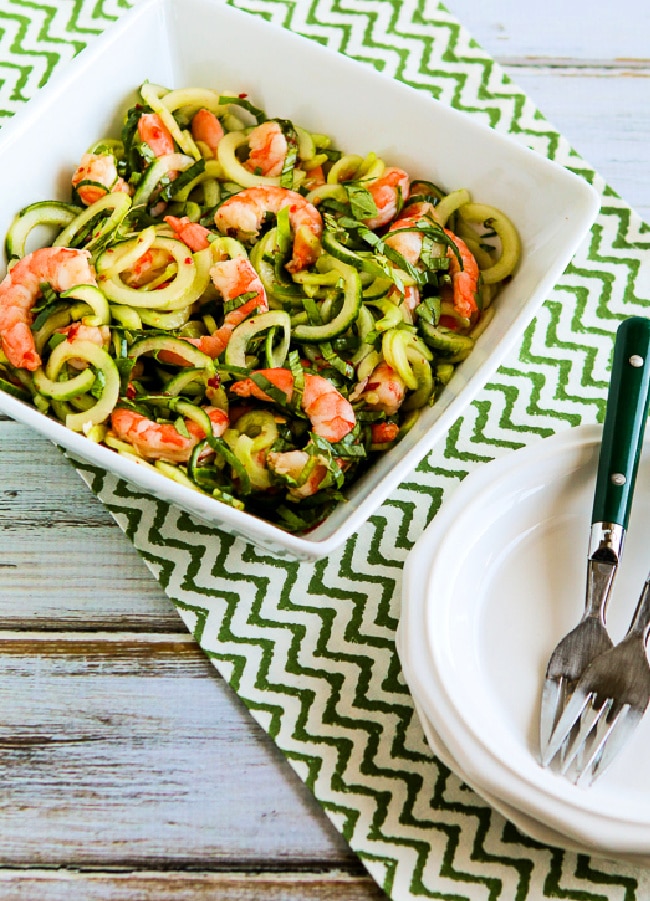 A Thai shrimp salad at one of my favorite restaurants inspired this Cucumber Noodle Salad with Shrimp.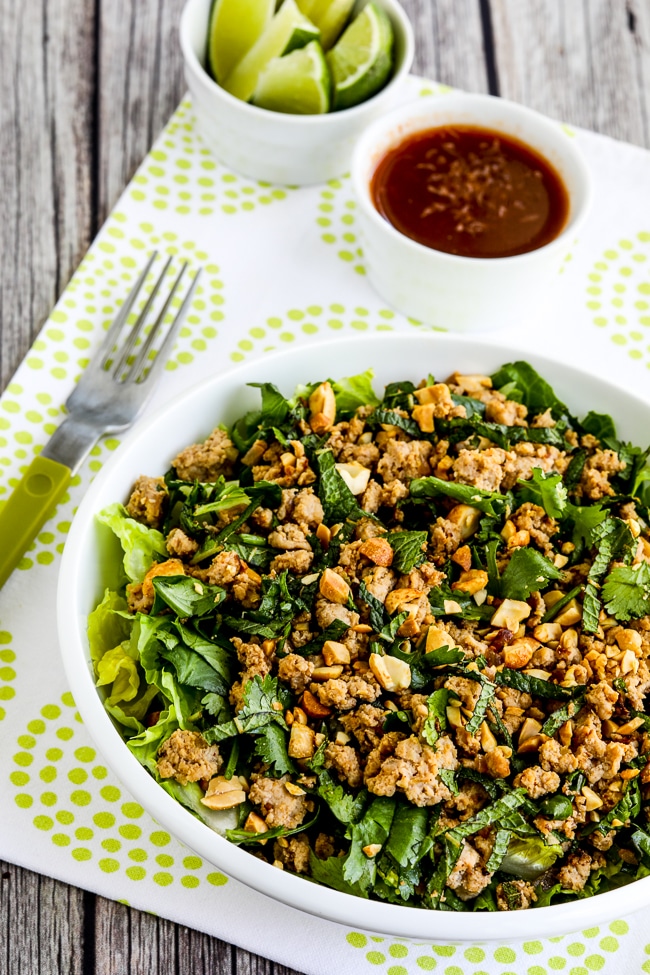 Larb is one of the things I'm looking forward to trying in Thailand, and it's something I often order in a Thai restaurant. I'm sure it's not authentic, but I love this Turkey Larb Salad.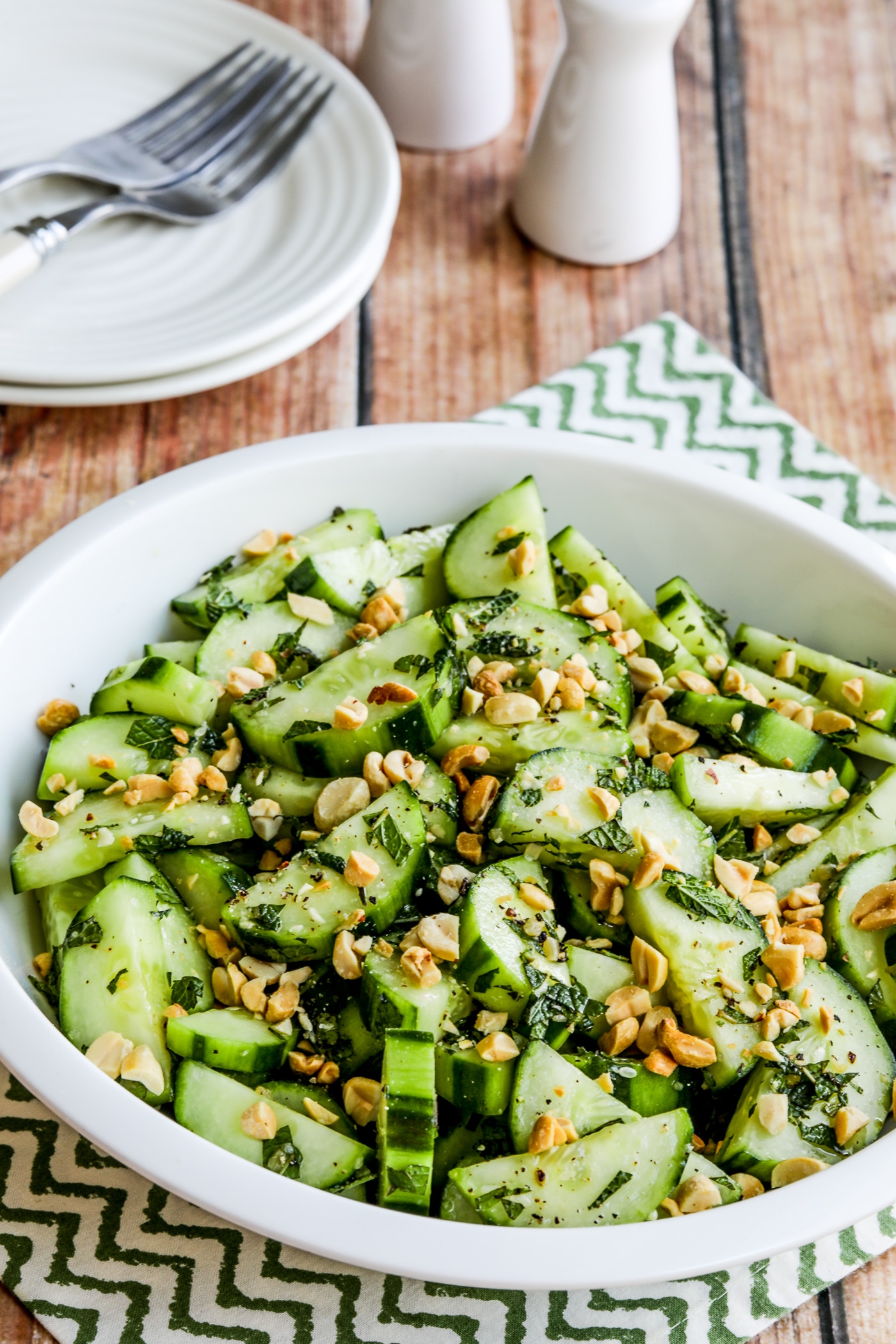 Thai Cucumber Salad has lime juice, fish sauce, sweetener of your choice, Green Tabasco Sauce, and garlic, plus fresh mint. Oh yeah!
Thai Basil is one thing that makes some Thai dishes so good, and I love it in this Stir-Fried Tofu with Eggplant.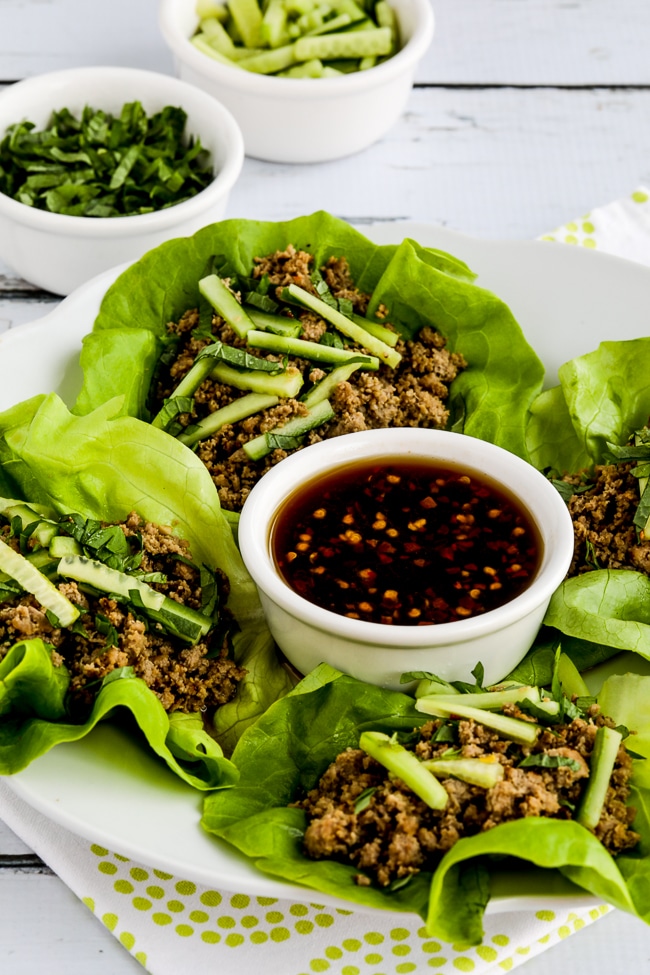 And finally, there are plenty of Thai flavors in these Thai Turkey Lettuce Wraps!
Kalyn's Kitchen Through the Years:
(These are the anniversary posts I've made each year on the birthday of my blog.)
As I'm exploring Thailand I'll be be reflecting on how I'm thankful for my blog, and for the opportunities it's provided me, including this latest chance to see the world! If you're been to Thailand or have any favorite Thai flavors, I'd love to hear about it in the comments.
We are a participant in the Amazon Services LLC Associates Program, an affiliate advertising program designed to provide a means for us to earn fees by linking to Amazon.com and affiliated sites. As an Amazon Associate, I earn from qualifying purchases.