Kalyn's Kitchen Picks: Herdez Salsa Verde
When I want amazing green chile salsa flavor in a recipe, this Herdez Salsa Verde is the product I'll always choose. And Salsa Verde is a low-carb ingredient I've been a fan of for a long time!
PIN this post about Herdez Salsa Verde to find the recipes later!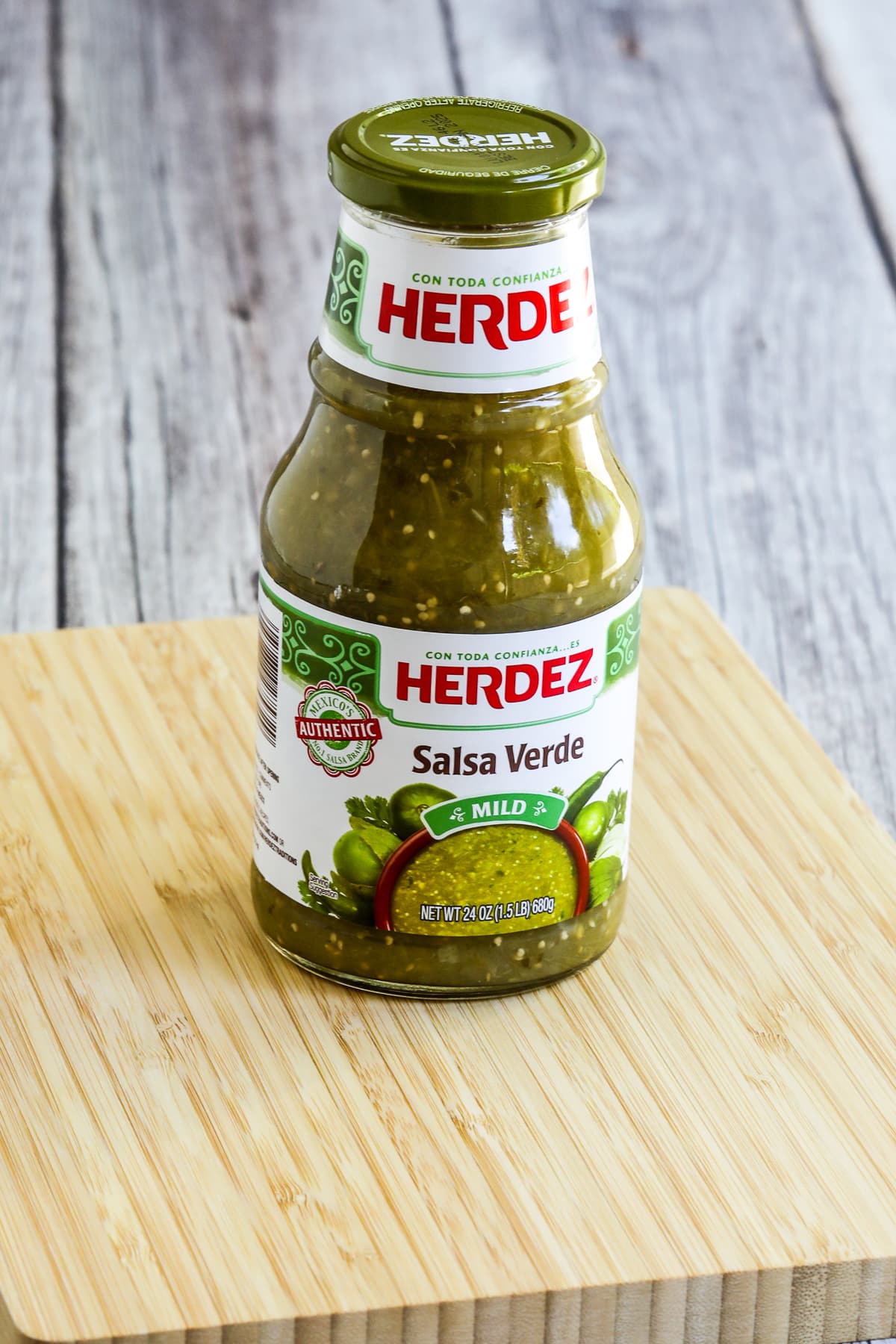 I don't remember when or how I first discovered this Herdez Salsa Verde, but I do know that for a very long time now whenever I want some spicy green chile flavor in a recipe, this is the salsa verde I always choose. And I've made so many recipes using it that I decided it was time I featured this favorite product that you'll always find in my fridge as one of my Kalyn's Kitchen Picks!
What is Salsa Verde?
Salsa Verde is a Spanish name that literally means "green sauce" in English. This spicy green salsa usually includes both tomatillos and green chiles, and it's definitely a staple in Mexican cooking. And if whenever you see a recipe or a restaurant menu item that mentions green chile sauce, it is probably some variation of this classic sauce. The salsa can be mild to very spicy, and as you can see these photos, I buy the mild variety most often.
Is Herdez Salsa Verde low in carbs?
One reason I've used this flavorful green chile salsa so much is that it's quite low in carbs, with only 30 carbs in a 16 oz. jar. And in most recipes this isn't something you use in huge amounts.
Where can you get Herdez Salsa Verde?
If you live in the U.S. many grocery stores will carry this product, but if you don't find it you can buy Herdez Salsa Verde (affiliate link) at Amazon.
Recipes using Herdez Salsa Verde: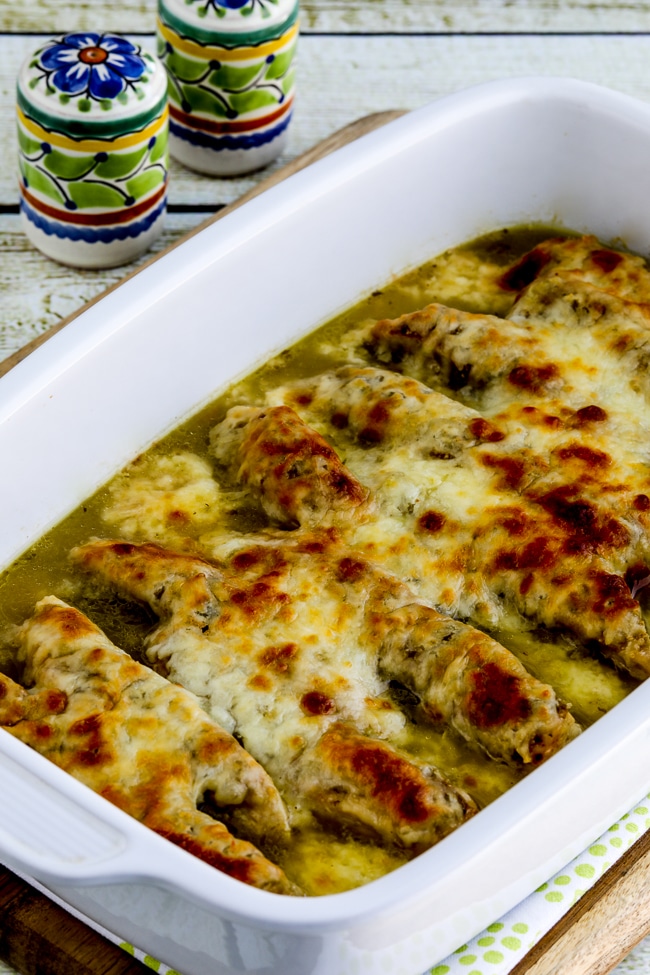 This Salsa Verde Chicken Bake might be the most popular recipe on my site using this ingredient, and people tell me even kids love it!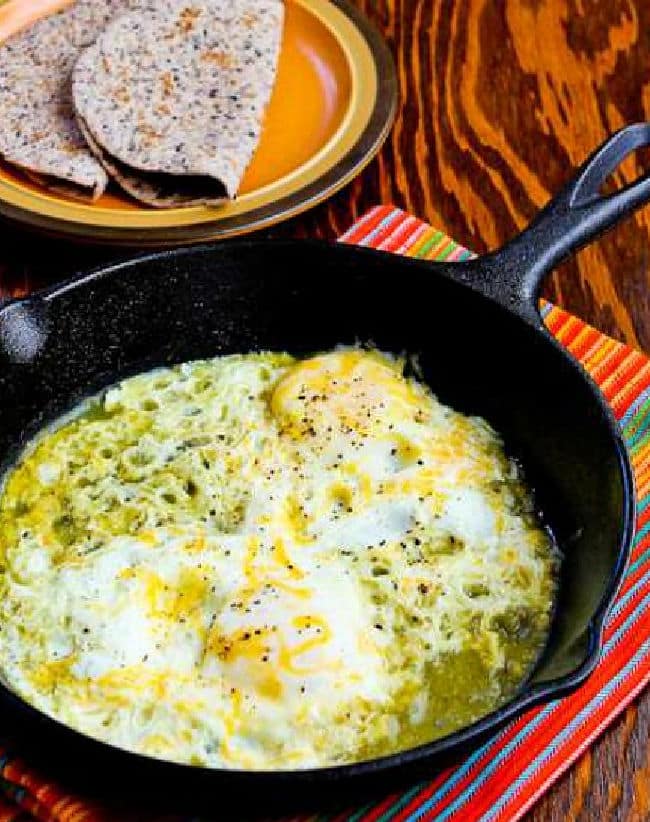 These Fifteen Minute Salsa Verde Eggs are so tasty and you can eat this with low-carb tortillas if you like!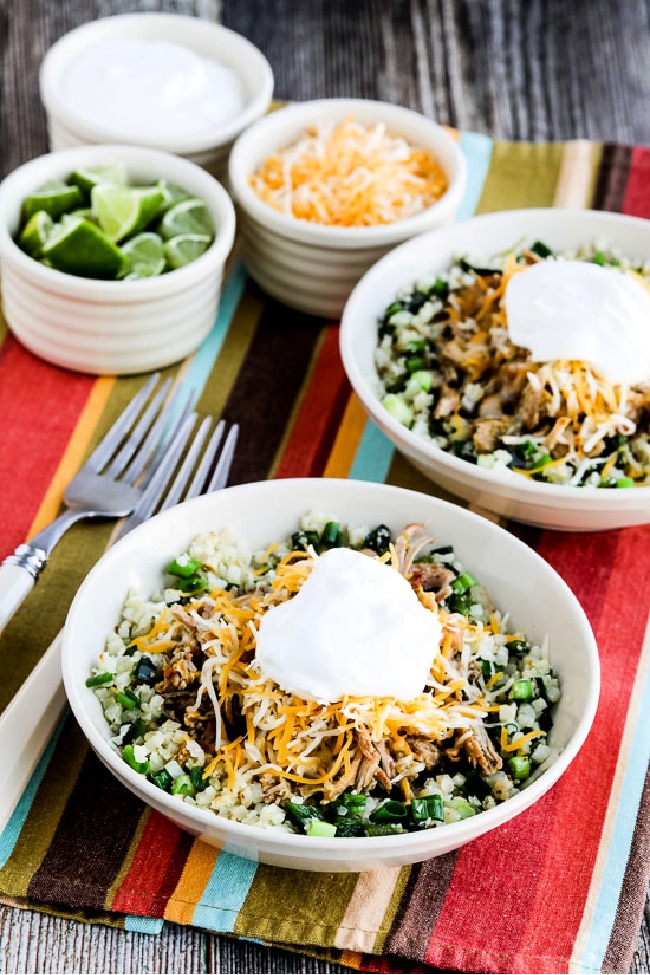 Herdez Salsa Verde is one of the salsa options for making this Green Chile Pork Taco Bowl in the Instant Pot or the Slow Cooker.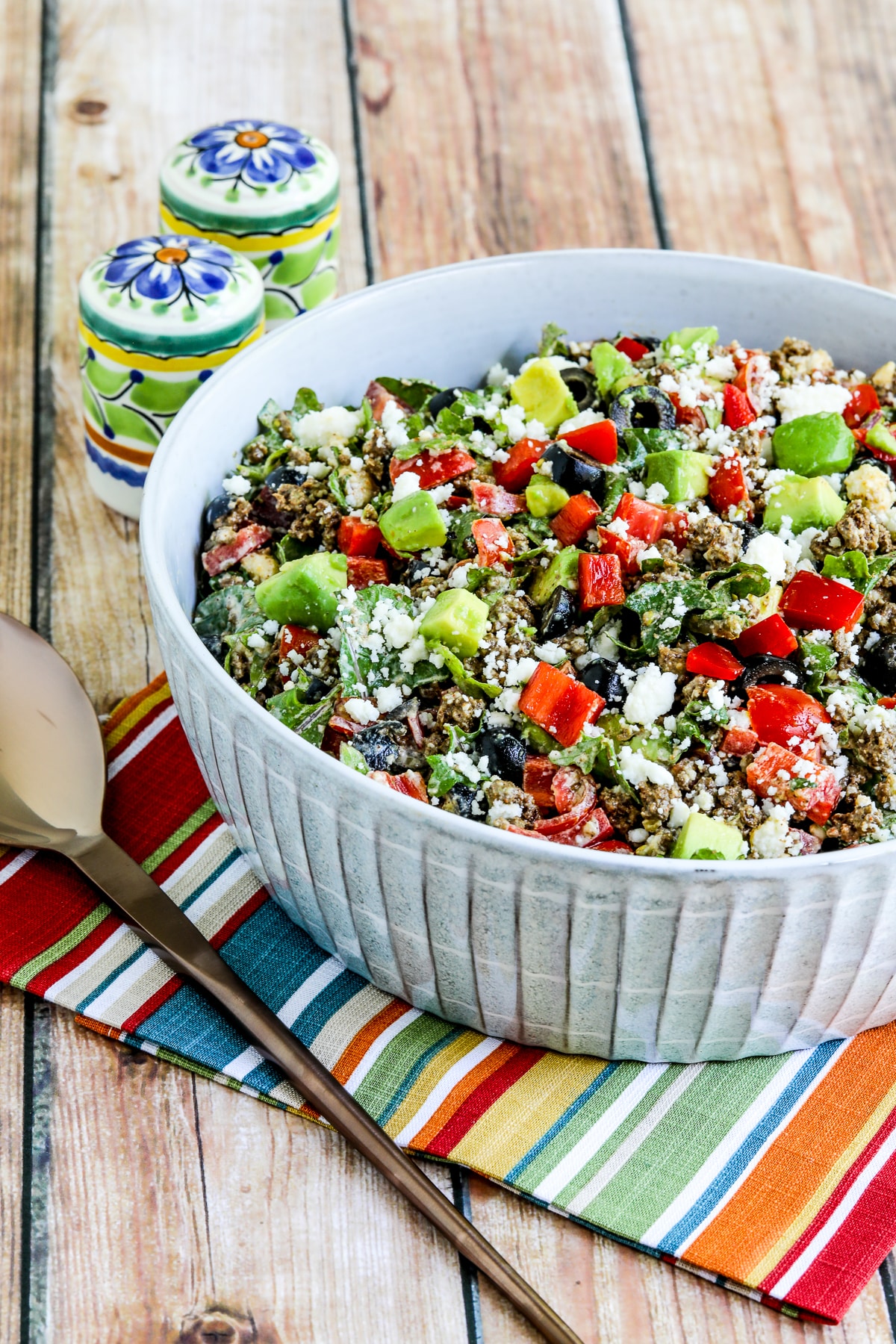 This Ground Beef Taco Salad with Kale, Tomatoes, and Avocado has a delicious creamy salsa verde dressing!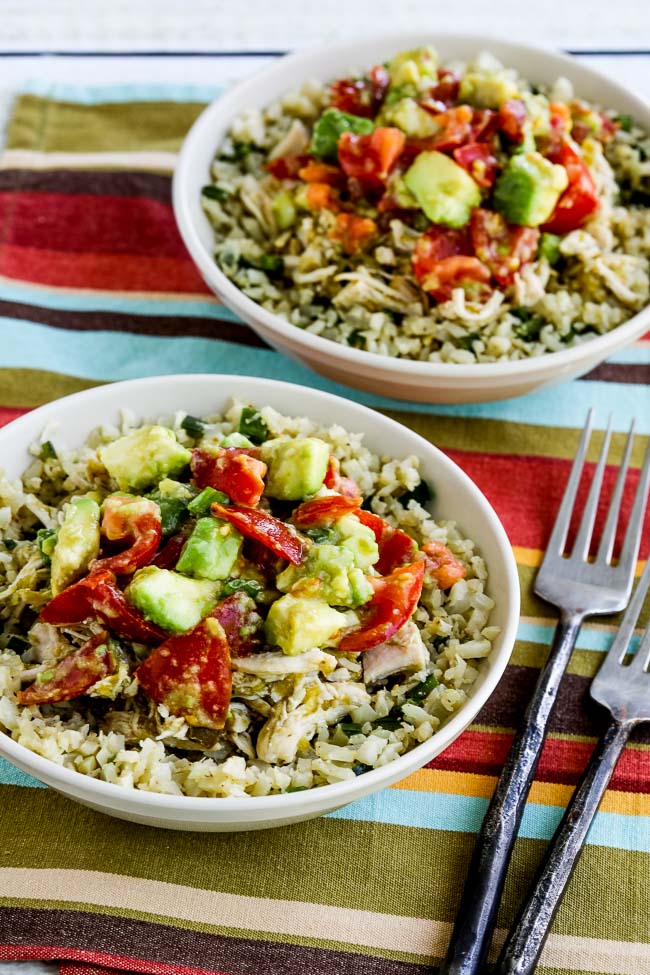 These Green Chile Chicken Burrito Bowls are tasty and easy to make in the Instant Pot.
More Recipes that use Herdez Salsa Verde: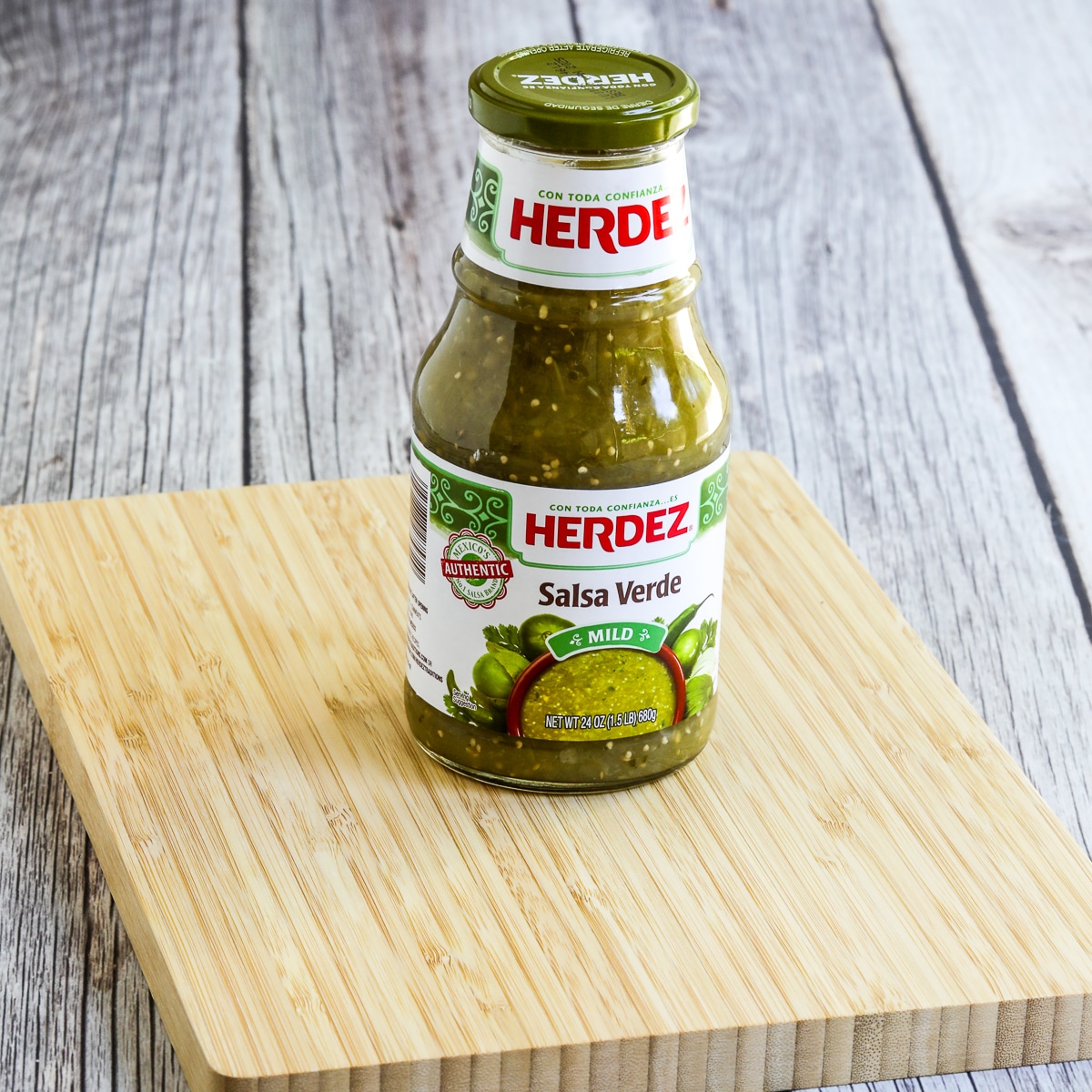 About Products featured as Kalyn's Kitchen Picks:
I purchased the Herdez Salsa Verde myself and this company has no idea whatsoever that I'm writing about their products. I love to feature products that are really a wow for me, and items featured as Kalyn's Kitchen Picks are always things I'd happily buy over and over. So that readers will know that my opinions are completely unbiased, I don't accept review products from the many companies who offer to send them to me.
We are a participant in the Amazon Services LLC Associates Program, an affiliate advertising program designed to provide a means for us to earn fees by linking to Amazon.com and affiliated sites. As an Amazon Associate, I earn from qualifying purchases.