How To Roast Red Peppers on a Grill
This post shows you how to roast red peppers on a grill, and if you've roasted red peppers yourself, you know they're so delicious and much better than roasted red peppers from a jar! And the process for roasted red peppers on a grill is really quite easy!
PIN How To Roast Red Bell Peppers on a Barbecue Grill!
Before I tell you how easy it is to roast sweet bell peppers on a barbecue grill, let me first reassure everyone that there's absolutely nothing wrong with roasted red peppers that come in a jar. In fact for years I kind of pooh-poohed the idea of roasting your own peppers, and then about a month ago I had one of those big packages of six bell peppers you get at Costco, and suddenly I just felt like roasting some peppers.
It took me a few tries to get a process I thought was actually easy, and while I'm not going to claim I'll never use the jarred red peppers again, there's no doubt that the flavor of the freshly roasted peppers is just wonderful. Check below for more ideas for using roasted red peppers!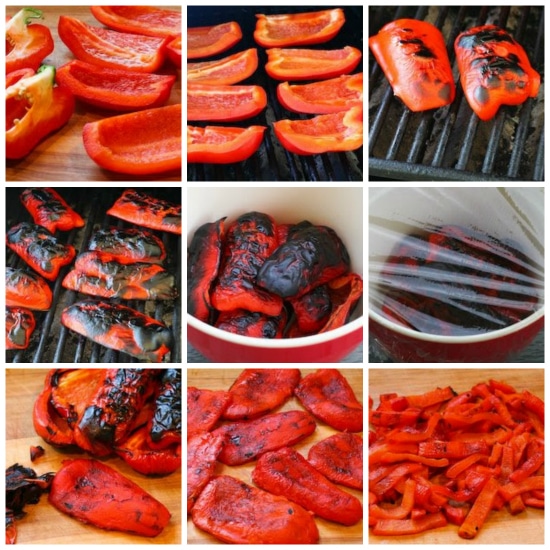 How To Roast Red Peppers on a Grill:
The first time I tried roasting peppers, I kept them whole. This worked just fine, but I found it was hard to get the skin evenly charred, and areas that didn't get as much heat were a bit harder to peel. I also decided removing the seeds would be much easier if you did it before you roasted the peppers.
The second time I roasted peppers, I cut them in half. That was better, but I still wanted a slightly flatter shape.
The method that worked best for me was to cut the whole peppers in fourths like you see in the first photo above, then cutting the seeds out of each quarter piece and slightly trimming both ends where the pepper curls up.
Preheat the gas or charcoal barbecue grill to high before putting the peppers on. Then lay the peppers on, skin side down, making sure not to put them too close together.
Most of my peppers took 20-25 minutes to get that full-charred look I wanted, but time your peppers by how they look because your grill may be hotter or colder than mine. This next shot was after 12 minutes. You can see that the pepper on the right is about half charred, but the one on the left is barely starting to roast.
After a while it's obvious I'm going to need to rotate peppers on the grill to get them all charred black like I want them to be. When all the peppers are quite black, take them directly off the grill and put them in a small glass or heavy plastic bowl.
Immediately cover the bowl with plastic wrap (or a tight fitting lid) and let the hot peppers sit for about 15 minutes. The steam will loosen the skins so they'll peel right off.
Here's one pepper peeled with the removed charred skin to the left of the pepper. You can see there are some areas where the pepper flesh started to slightly char, which adds a lot of smoky flavor.
Here are all eight pieces peeled, which probably took me no more than 3-4 minutes to do. I rinsed my hand a few times, but it's important not to rinse the peppers because that rinses off some of the smoky charred flavor.
This is the stack of roasted pepper strips I got from two sweet red bell peppers.
If you don't have a gas grill, peppers can also be roasted in the oven, under a broiler, or even on top of a gas burner.
If you're lucky enough to have an abundance of peppers in your garden, roasted peppers can be frozen. I would seal them in a bag using the FoodSaver Vacuum Sealer if you have one.
More Roasted Peppers on the Grill:
Check out How to Roast Green Chiles on a Grill if you're a fan of those slightly-spicy peppers. Or use Cooking Tips for more how-to posts like this one.
Favorite Recipes with Roasted Red Peppers:
Grilled Garlic Chicken with Red Pepper Aioli
Roasted Red Pepper Dip with Feta
No-Pasta Salad with Zucchini and Italian Sausage
Roasted Cauliflower Steaks with Red Pepper, Capers, and Olives
We are a participant in the Amazon Services LLC Associates Program, an affiliate advertising program designed to provide a means for us to earn fees by linking to Amazon.com and affiliated sites. As an Amazon Associate, I earn from qualifying purchases.