How to Grill Zucchini
This post can teach you How to Grill Zucchini and perfect amazing grilled zucchini is something I make as a side dish all summer long!
PIN the recipe to grill some zucchini later!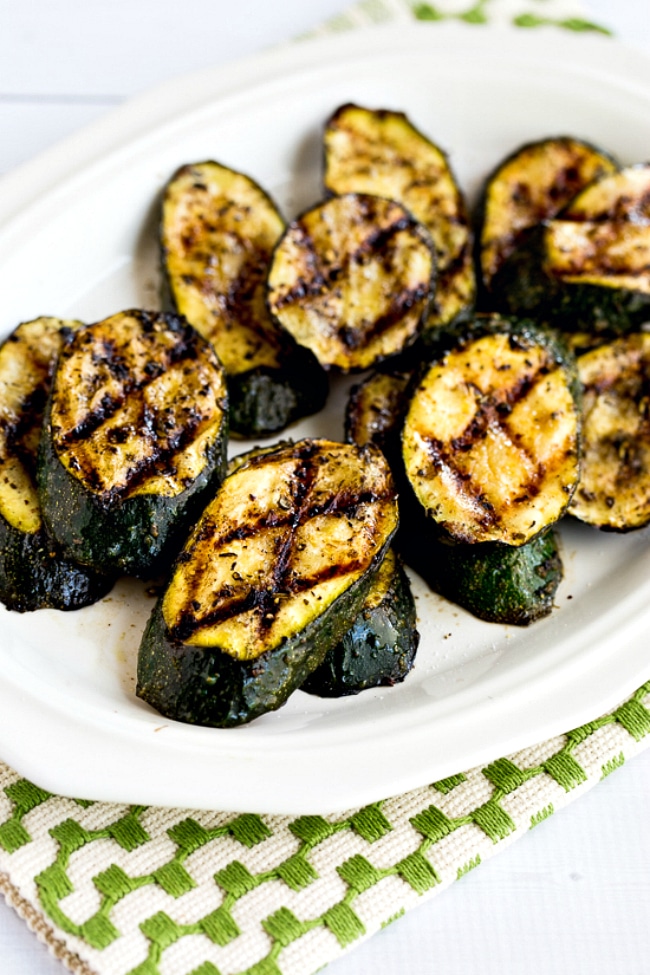 Most of my life I was lukewarm about zucchini. It wasn't until I discovered delicious grilled zucchini that I really started to crave fresh garden zucchini. Now I make this zucchini all summer long as a side dish, or to use in recipes like Grilled Zucchini Greek Salad or Easy Grilled Greek Zucchini. And there's even a round-up of Grilled Zucchini Recipes on the blog!
I think the first weekend in June means it's grilling season, so I'm featuring this long-time favorite as my Friday Favorites pick for this week. This method for How to Grill Zucchini is a recipe to use in the summer when you have fresh garden zucchini or zucchini from the farmer's market. And you want rather thick slices of zucchini when you're cooking them on the grill, so for gardeners this is the perfect way to cook those big zucchinis that don't get picked on time. Once you've tried it, I promise this way of cooking zucchini will become a part of your regular summer rotation for the grill. If you're a zucchini fan but haven't cooked it on the grill, you must try grilled zucchini!
Is Grilled Zucchini a healthy dish?
Perfect grilled zucchini is low-carb, Keto, low-glycemic, gluten-free, dairy-free, vegan, Paleo, and suitable for the original South Beach Diet, so this is a recipe you can make for anyone. That's probably one reason why this delicious grilled Zucchini is one of the Top Ten Low-Carb Zucchini Recipes on Kalyn's Kitchen.
What if you don't have an outdoor grill?
Zucchini can be easily cooked on a stove-top grill pan with ridges (affiliate link) or even a George Foreman Grill (affiliate link) if you don't have an outside grill. Remember the George Foreman Grill cooks both sides at the same time, so the cooking time will be less.
What other vegetables can be cooked using this method?
The same method for marinating the vegetables, draining the marinade, and then grilling it is also very good on good on yellow summer squash or eggplant. You can also use it on mushrooms, peppers, and sweet onions. Check out my Low-Carb and Keto Recipes for Vegetables on the Grill for more ideas.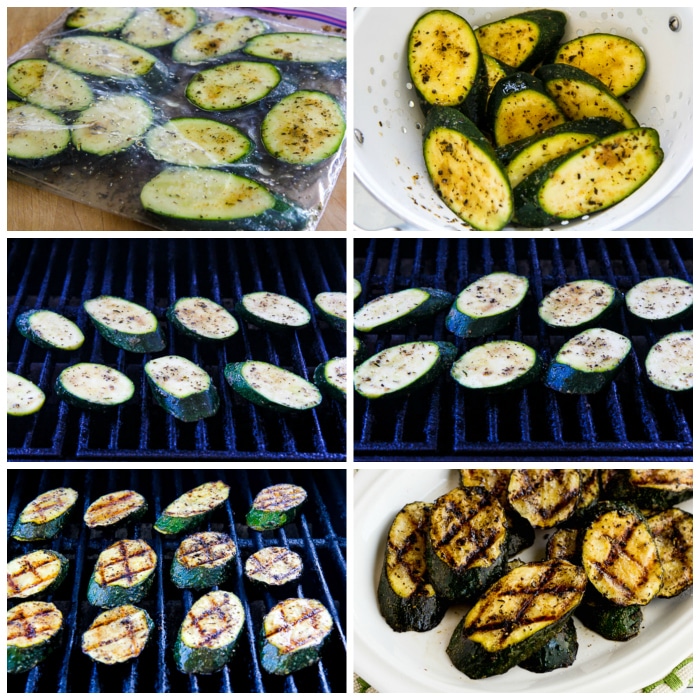 How to Make Perfect Grilled Zucchini:
(Scroll down for complete recipe with nutritional information.)
I like to use a mandoline slices (affiliate link) to slice the zucchini in perfectly even slices, and I cut them on the diagonal for more surface area on the grill.
Mix together your favorite low-sugar vinaigrette, garlic powder, and a few teaspoons of dried Italian herbs like basil, oregano, or rosemary.
I almost always use Newman's Own Classic Oil and Vinegar Dressing (affiliate link) but any dressing that's low in sugar will work.
Put the zucchini in a single layer in a heavy Ziploc bag, dump in the marinade, and let it marinate in the fridge for several hours (or all day while you're at work.)
When it's time to cook, let the zucchini drain well in a colander placed in the sink while you preheat the grill to medium-high.
There is oil in the marinade to keep the zucchini from sticking, but if you have non-stick spray for the grill I'd use it before you start heating the grill.
When the grill is not, lay zucchini on an angle to the grill grates and cook 3-4 minutes.
Then lift one piece to see if grill marks are showing, and when they are, rotate each piece going the opposite direction to get those criss-cross marks.
Then turn and cook a few minutes more on the second side.
I cook zucchini about 10-12 minutes total, or slightly less if you want more crunch left in them.
Season with salt and fresh-ground black pepper and enjoy!
Make it a Low-Carb Meal:
Perfect Grilled Zucchini is a great low-carb side dish for Juicy Grilled Chicken Breasts or for any of Kalyn's Best Low-Carb and Keto Grilling Recipes.
More Ways to Cook Zucchini:
The BEST Slow Cooker Zucchini Recipes ~ Slow Cooker or Pressure Cooker
The Top Ten Low-Carb Zucchini Recipes on Kalyn's Kitchen
Ten Amazing Recipes for Zucchini Noodles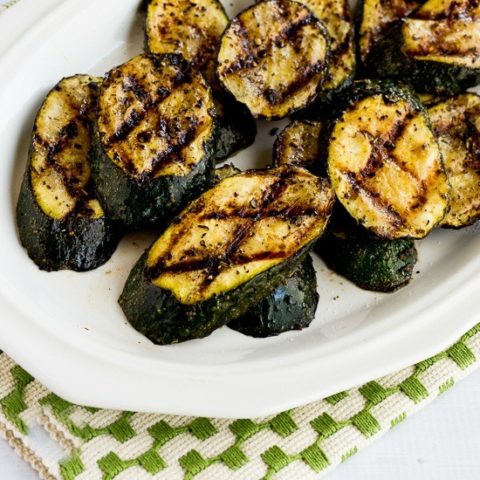 Yield: 4 servings
How to Grill Zucchini
Prep Time 15 minutes
Cook Time 10 minutes
Total Time 25 minutes
This post can teach you How to Grill Zucchini that's a great low-carb side dish all summer long, and your family will love this perfect grilled zucchini!
Ingredients
2 zucchinis 10-12 inches long, sliced in slices 1/2 to 5/8 inch thick (see notes)
1/2 cup of your favorite vinaigrette salad dressing (see notes)
1 tsp. garlic powder or garlic puree (optional, but good)
1-2 tsp. dried oregano, basil, thyme, rosemary, or a combination (optional)
Instructions
Cut zucchini into slices, making sure the slices are the same thickness.
Combine salad dressing with garlic powder and dried herbs of your choice, if using. (I like this both with and without the extra flavorings. This is one place where fresh herbs are not better.)
Put zucchini slices into Ziploc bag, pour in marinade and let zucchini marinate in the fridge 4 hours or longer, even as long as all day if desired.
When you're ready to cook, drain zucchini into a colander placed in the sink.
To cook zucchini, preheat grill to medium-high. (You can only hold your hand there for 3-4 seconds.) You can spray the grill with non-stick spray if desired, but the marinade has plenty of oil so you probably don't really need it.
Place zucchini on grill diagonally to the grill grates, keeping a spray bottle handy for taming any flames that shoot up from the oil in the marinade.
After 3 or 4 minutes, check for grill marks, and when you see them rotate zucchini going the opposite direction. Cook 3 or 4 more minutes after you've rotated.
Turn zucchini to second side and cook a few minutes more, or until zucchini is starting to soften, with the outside slightly charred and browned.
Season with salt and fresh ground black pepper and serve hot.
Notes
I like to use a mandoline slicer (affiliate link) to slice the zucchini in evenly-thick slices on the diagonal so there is more surface area to touch the grill. I like Newman's Own Classic Oil and Vinegar Dressing dressing for this recipe. (affiliate links)
This is an easy recipe that Kalyn came up with and has used for years.
Nutrition Information:
Yield:
4
Serving Size:
1
Amount Per Serving:
Calories: 196
Total Fat: 16g
Saturated Fat: 2g
Unsaturated Fat: 12g
Cholesterol: 2mg
Sodium: 655mg
Carbohydrates: 3.9g
Fiber: 2g
Sugar: 9g
Protein: 2g
Nutrition information is automatically calculated by the Recipe Plug-In I am using. I am not a nutritionist and cannot guarantee 100% accuracy, since many variables affect those calculations.
Low-Carb Diet / Low-Glycemic Diet / South Beach Diet Suggestions:
Zucchini or summer vegetables grilled this way are perfect for any low-carb or low-glycemic eating plan as well as any phase of the original South Beach Diet, as long as you use low-sugar vinaigrette. I like Newman's Own Olive Oil and Vinegar or Newman's Own Balsamic Vinaigrette which has only 1 gram of sugar per serving. For vegan, Paleo, or Whole 30, be sure to choose an approved dressing.
Find More Recipes Like This One:
Use Grilling Recipes to find more recipes like this one. Use the Diet Type index pages to find more recipes suitable for a specific eating plan. You might also like to Follow Kalyn's Kitchen on Pinterest to see all the good recipes I'm sharing there.
Historical Notes for this Recipe:
This recipe was first posted in 2006, and it's literally been popular since the first day I posted it. It was last updated in 2021.
We are a participant in the Amazon Services LLC Associates Program, an affiliate advertising program designed to provide a means for us to earn fees by linking to Amazon.com and affiliated sites. As an Amazon Associate, I earn from qualifying purchases.